Stone Village House
4 bedrooms, near Saint-Clar
Stone archeways and suspended terrace
This old stone property sits in the middle of an ancient medieval village close to Saint Clar and is remarkable for its elegant and classical stone archways on the front façade.
A prominent building in the village and at one time many years ago believed to have been a café, it has been a comfortable home for many years.
The village itself is an extraordinary example of a Gascon medieval village with its ancient cut stone walls and properties which have stood together for centuries, leaning together in tight-knit clusters overlooking mysterious gardens or shaded alleyways. Walking through this village one experiences a very real sense of stepping back in time.
Toutes les mesures sont approximatives
Frais d'agence inclus (6000€) à la charge du vendeur
Frais d'agence 6% à la charge du vendeur
Frais d'agence inclus (5%) à la charge du vendeur
Frais d'agence inclus (4,5%) à la charge du vendeur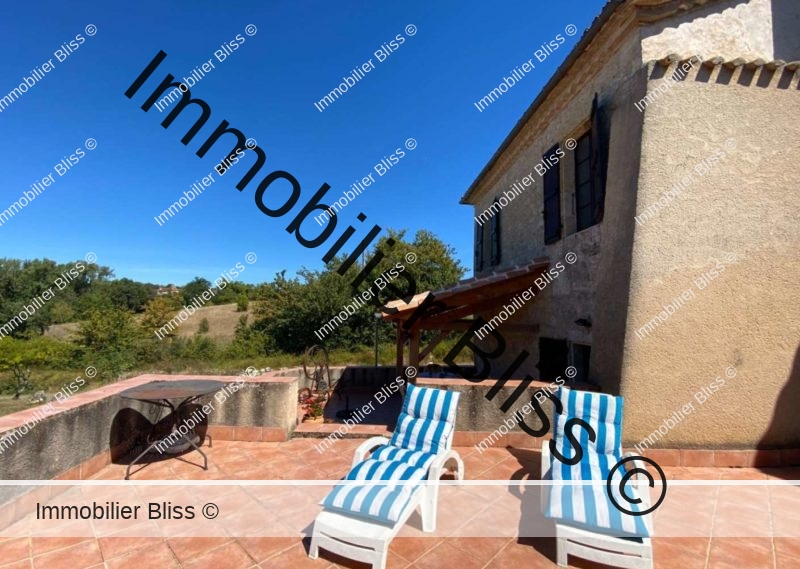 We enter the property through an oak door into a veranda-style room which is light and bright – with stone archways which have been fitted with window panes to form a large and comfortable reception area which doubles up as a summer sitting room, catching the sunlight beautifully, and as a reading area with bookshelves on the rear wall.
The summer salon opens onto the original hallway with a cloakroom/wc at the far end, and on the other side, there is a second doorway leading to the original reception-room.
In the reception room there is an old stone fireplace and tomette-style floor tiles. The walls are stone and the style rustic and warm.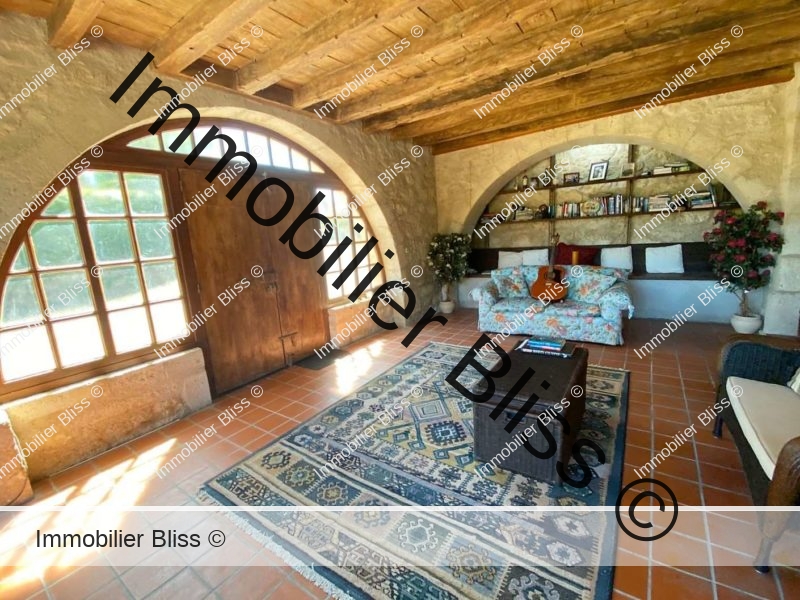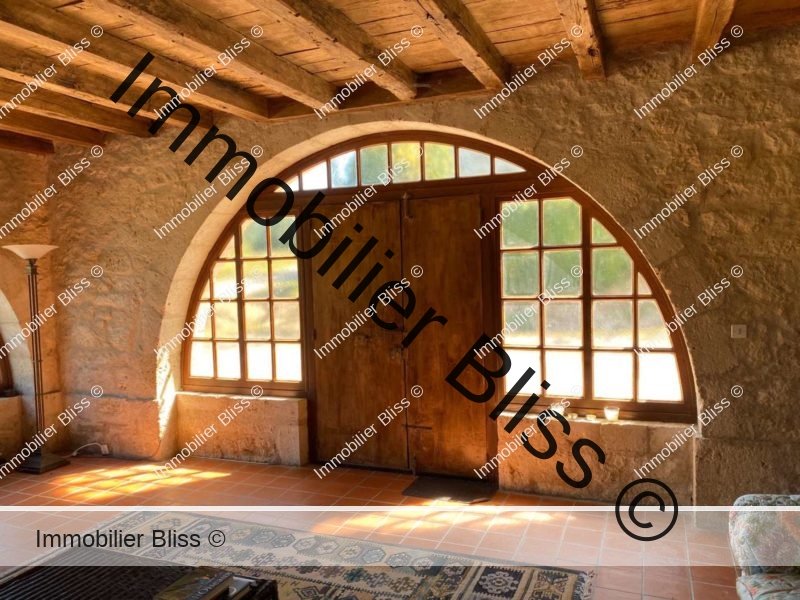 At the far end of the ground floor there is a spacious rectangular shaped kitchen. This room offers a handy number of cupboards and work surfaces and has a pleasant ambience overlooking the village lane on one side and opening via the rear door to a large terrace on the other.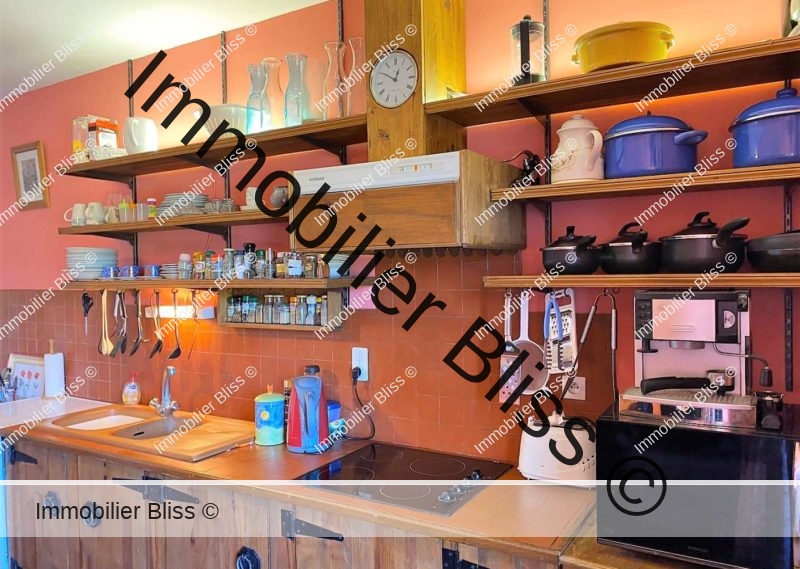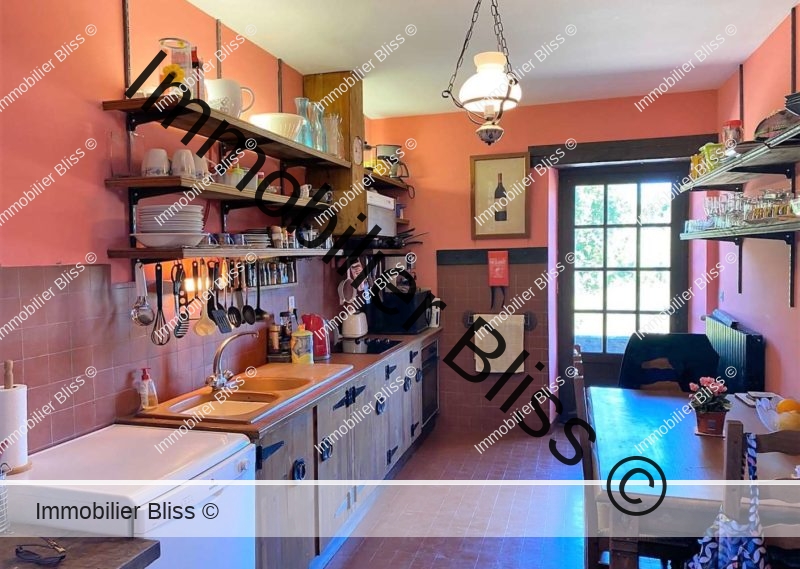 The suspended terrace is one of this property's most delightful features. Tiled for ease it offers two raised sections and is vast in scope, with one section offering a covered area for outdoor dining which has been recently built with a new roof and a good solid wooden framework.
This is the perfect position in which to sit and enjoy a morning coffee overlooking the village from a raised position. Beneath the terrace area is a garage.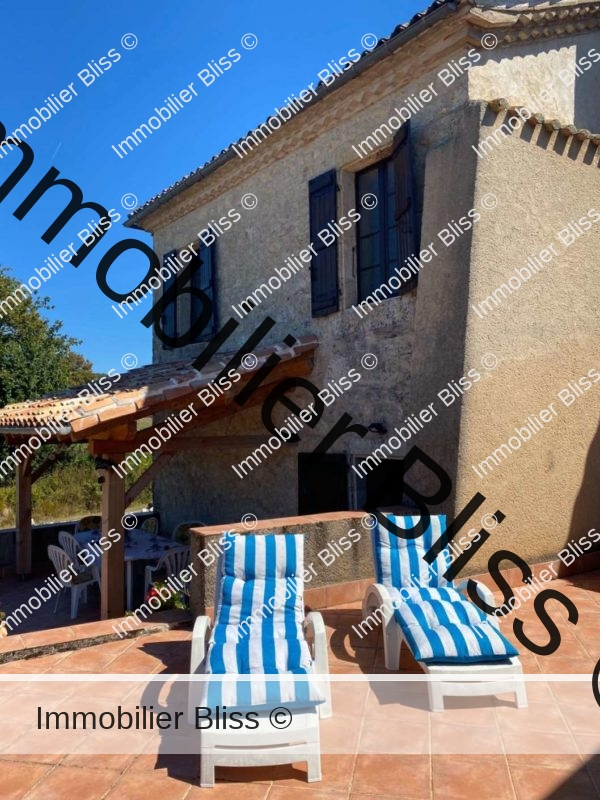 The first floor of the property is accessible via a wooden staircase which opens onto an impressive upstairs landing.
If the ground floor is rustic in style, in keeping with its medieval backdrop, the upstairs living area offers a rather different ambiance with high ceilings and a particularly decorative and appealing black and white tiled chequered floor which lends much character to this space.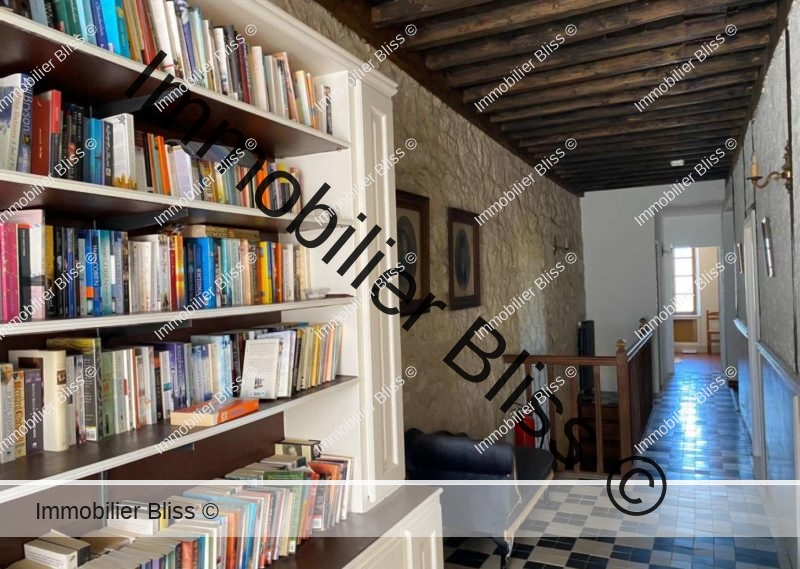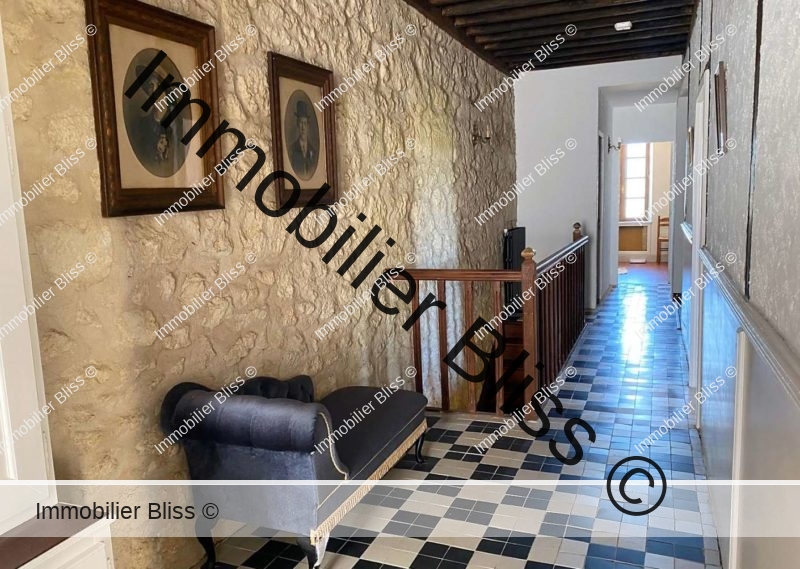 The upstairs bedrooms are light and bright and generous in size with two large double rooms and a third room which is long and rectangular in shape but which comfortably houses two single beds. There is a shared family bathroom.
The second floor of the property is divided into two sections. The first provides a useful fourth bedroom and the rear section a useful storage area beneath the eaves.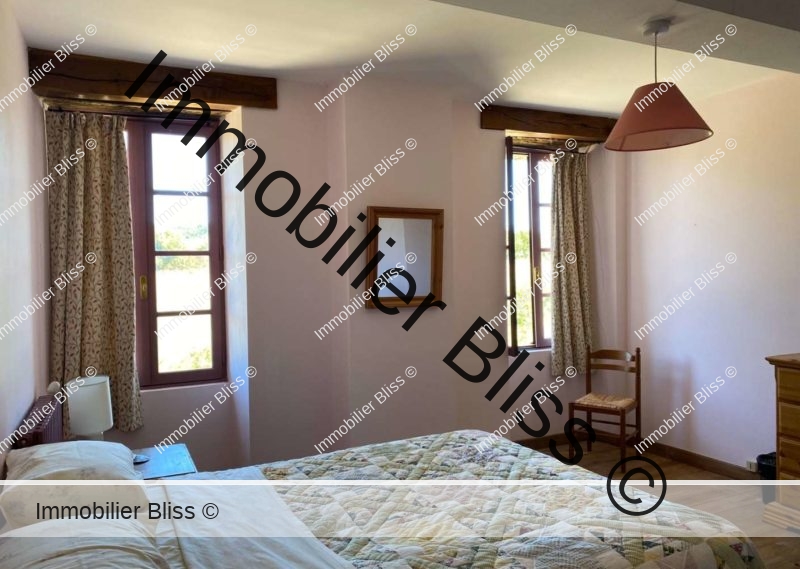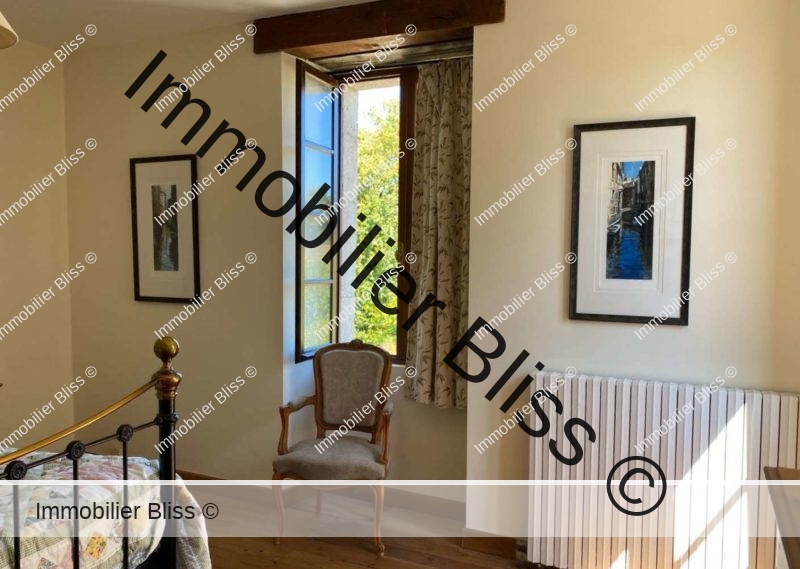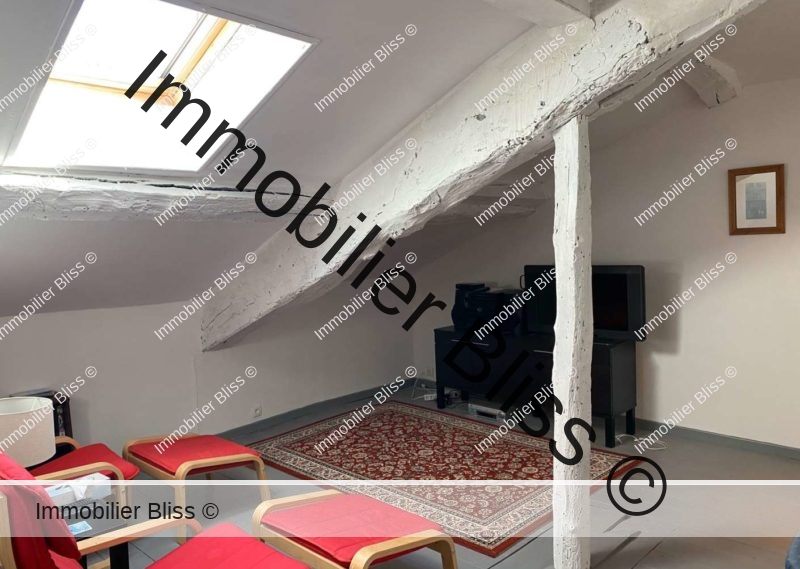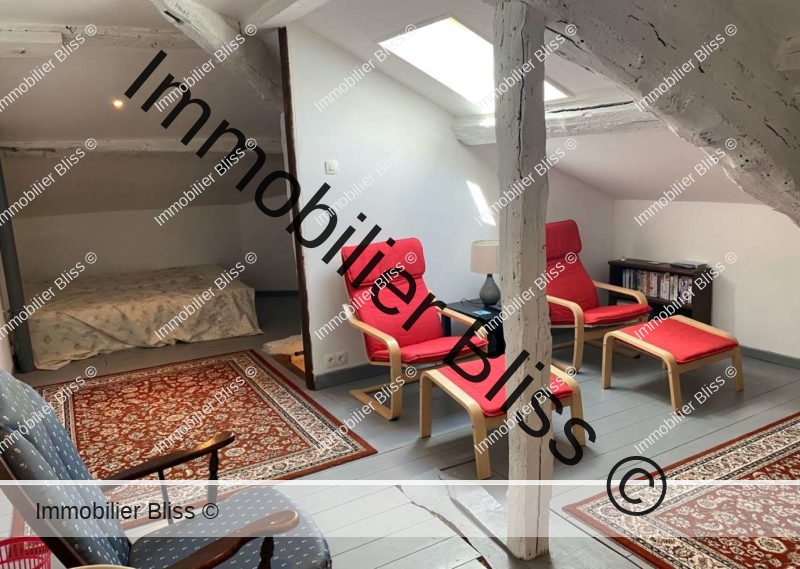 As well as the raised terrace area (which is in effect the property's third reception room throughout the summer months) the property benefits from a strip of private land to the side, and a vegetable plot at the other side of the village, which although not joined to the house, offers the perfect area for a vegetable plot and being secluded could also offer the owners of this property a secret garden to which to escape with a flask of coffee and a good book.
The property has been used as a holiday home for many years and the backdrop to happy summer holidays for an international family. Equally it is generous in size and would work well as a main home.
St Clar is a short drive away, with its restaurants, café, bakers shops, superb library, supermarket and central covered square where the weekly market is held.
Toulouse is just over an hour's drive and the property is within easy driving distance of Agen and the TGV station.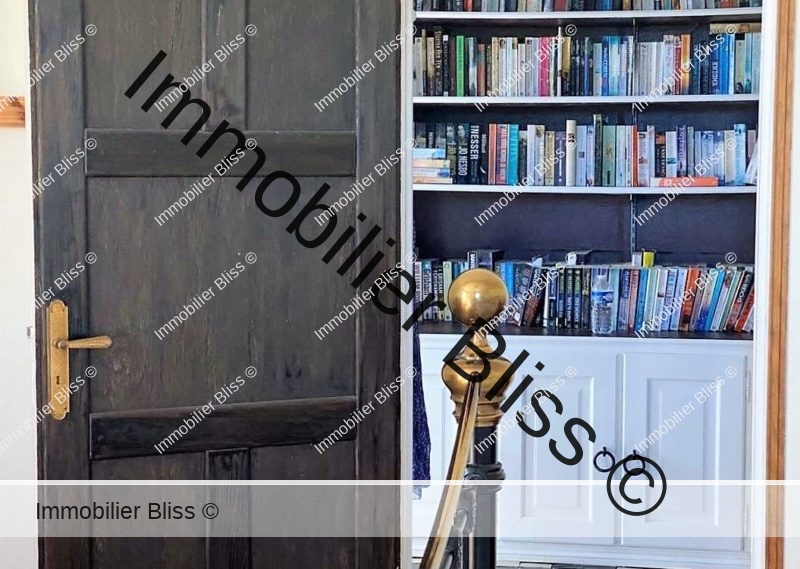 More images…
Click images to enlarge