Renovated property in small hamlet
close to Lectoure
A Wealth of Possibilities in the Heart of Gascony
Less than 10 minutes from Lectoure, and located in a small hamlet, this charming property and its stone outbuildings sits on grounds of 24000m².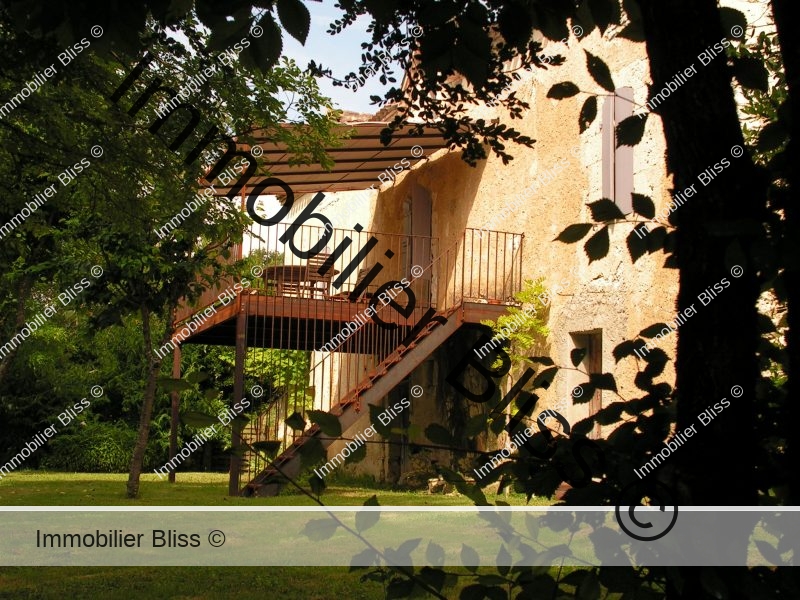 Toutes les mesures sont approximatives
Frais d'agence inclus (5%) à la charge du vendeur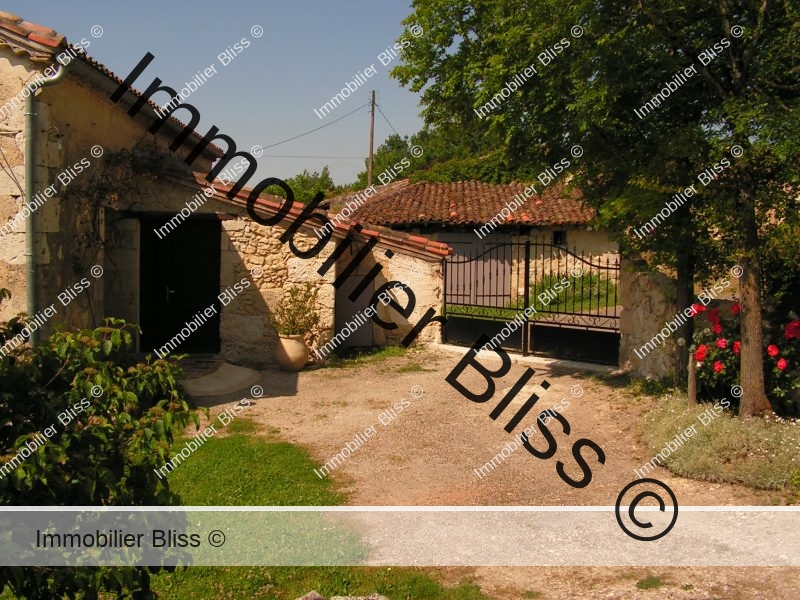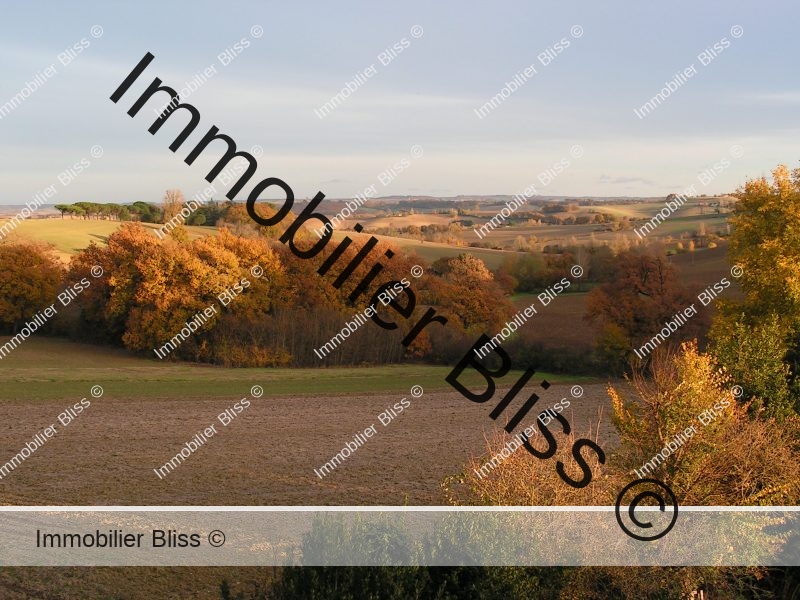 The owners bought the property in 2010, when they carried out extended renovations on two of the buildings, transforming a ruined barn and a dilapidated house into two beautiful homes.
In a tranquil location and with far-reaching views stretching as far as the eye can see, over the rolling hills of Gascony, the property is located just minutes from shops, schools, restaurants, in the popular market-town of Lectoure.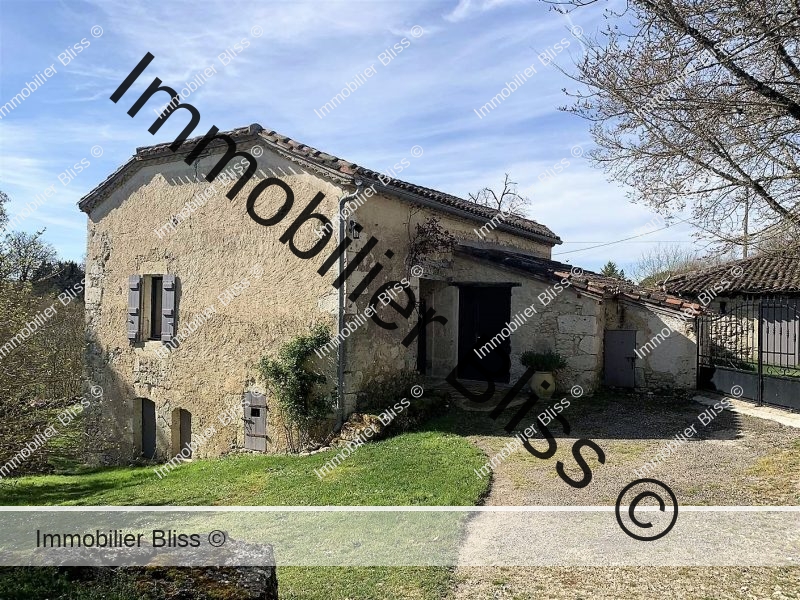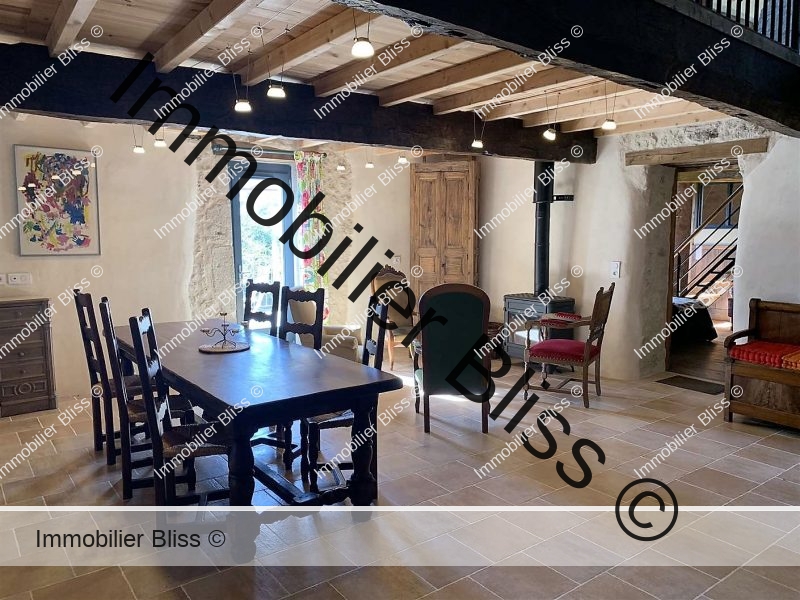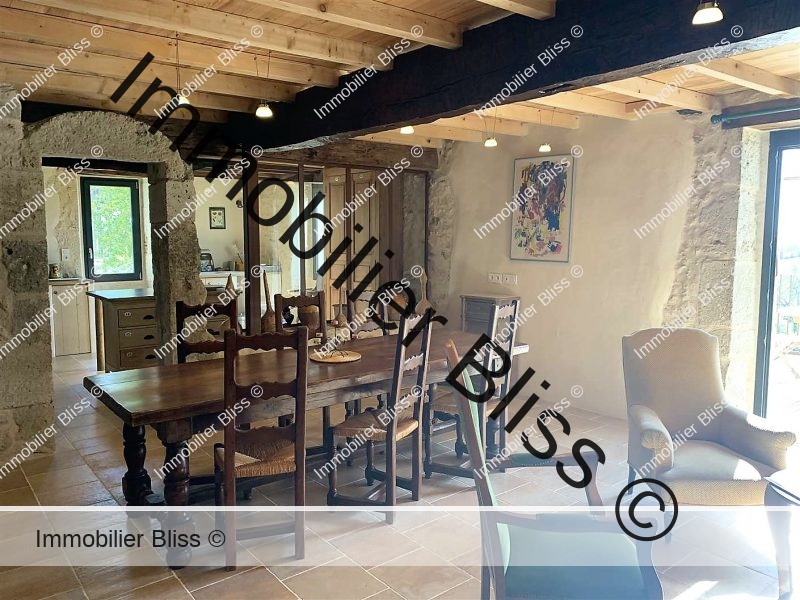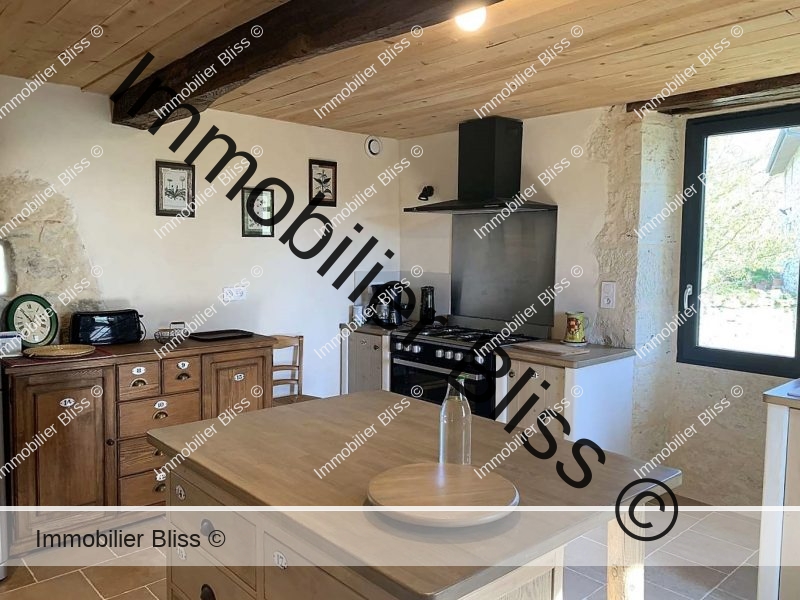 The first house has a large entrance hall with a private cloakroom/WC, leading to a spaciously fitted kitchen.
In the kitchen there is a central island separated by a glass partition from the dining-room and salon. A wood-burner adds to the warmth and cosiness of the room.
On the ground floor, there is a large bedroom with private WC and shower-room.
A wooden staircase leads to a second bedroom which currently houses 3 single beds.
A second staircase leads from the first floor to a generous landing, offering space for a small living-room.
From here we access a third bedroom, with a private bathroom and WC.
From the living-room, a door opens onto a large wooden terrasse, a delightful spot for breakfast in the summer months, or a glass of wine at the end of the day, the Gascon countryside providing a fantastic backdrop.
From here we see a speckling of hens in the gardens below, a reminder that there is an abundance of space for animals, or for a vegetable-plot.
This is a spacious and comfortable home, and entirely renovated.
To whom will the property appeal?
A couple wanting to run a gite or chambre d'hôte. With a hikers' trail at the rear of the property and the Compostella route just a kilometre or so away, the pathway provides a steady flow of potential customers who will pass close by.
This property would also suit a family looking to live close to the shops and schools in Lectoure, but in search of rural life.
For home-seekers not in search of a gîte activity, the two properties provide ample space for an extended family (parents in one property perhaps?) with realms of space to welcome friends, children and grandchildren in the homidays.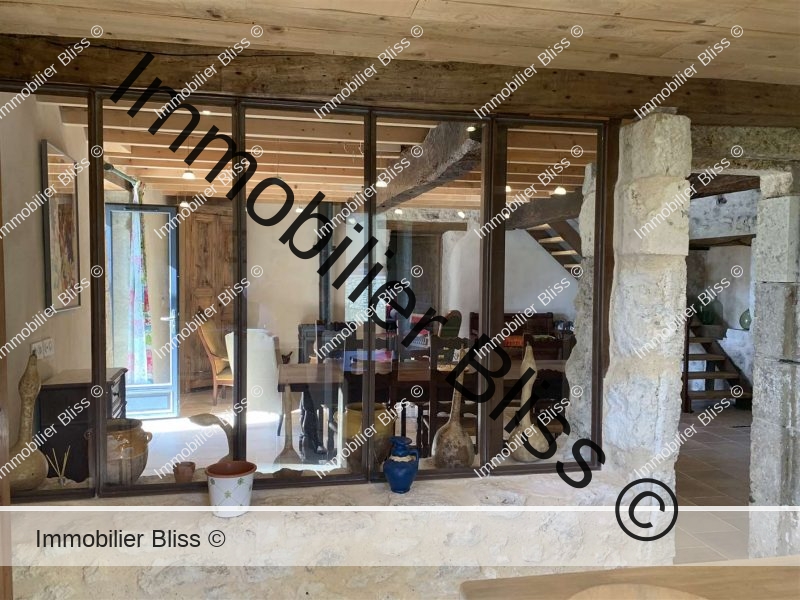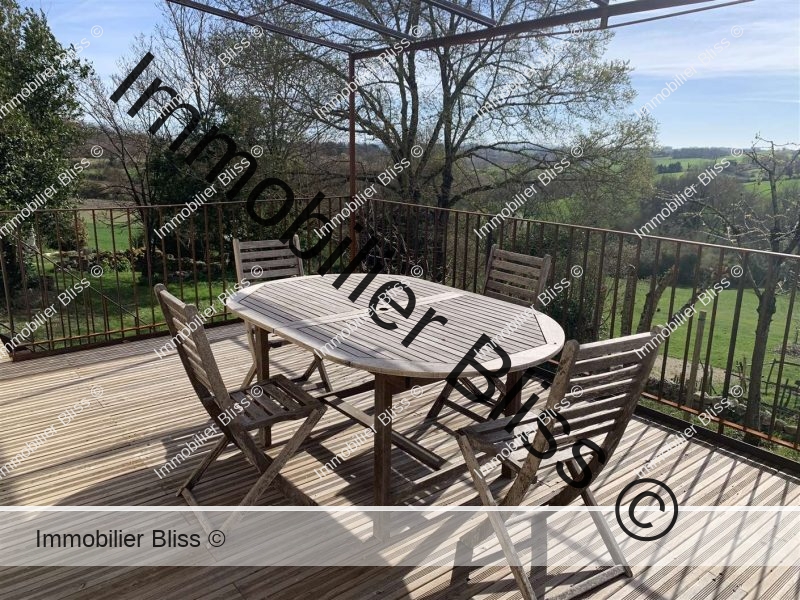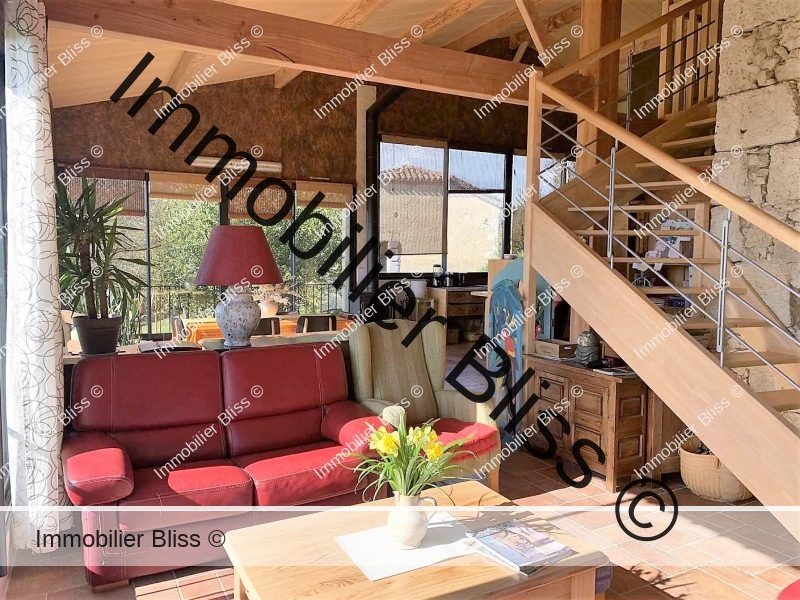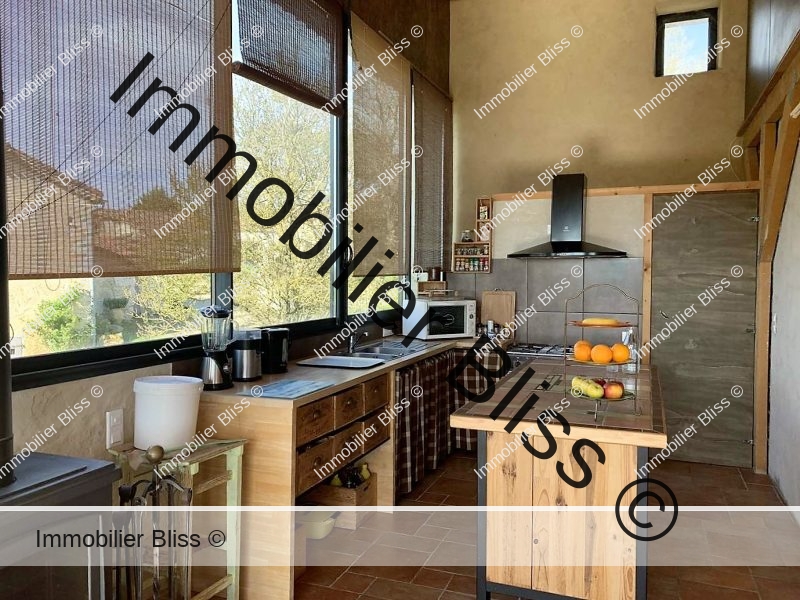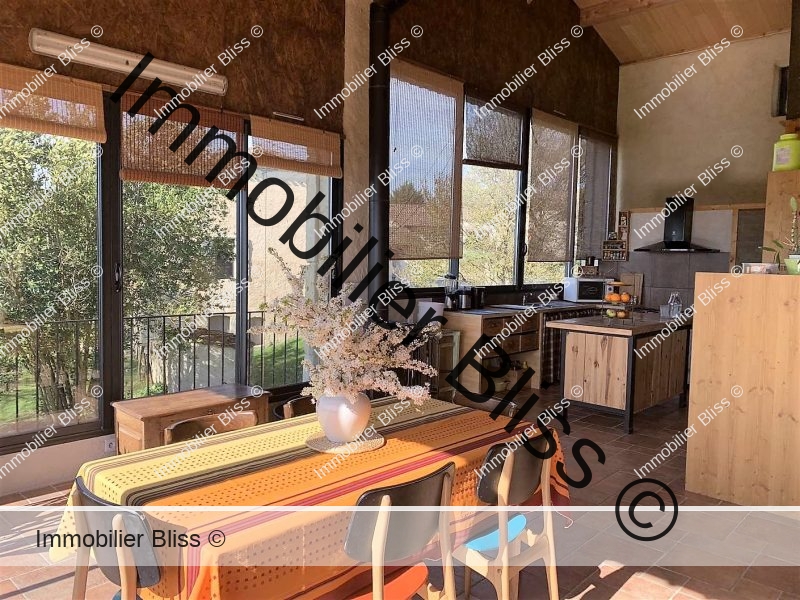 Photographs of the original condition of the property are testament to a fabulous restoration project.
Entirely tranformed from the old abandoned barn that it once was, this beautiful property comprises a ground-floor private apartment on one side, perfect for guests, or for holiday rentals.
There is a lovely kitchen, a living room, a bedroom, a separate shower room and WC.
On the other side of the building there is space provided for storage, and the staircase to the upper level.
The first floor benefits from its own separate entrance thus rendering it completely independant.
From the entrance hall, there is a shower room, a WC and a double bedroom.
Also on this level, a large room houses the kitchen and dining area, alongside a family reception-room.
French doors run the length of two adjacent walls creating a luminous and open space, enabling the owners to fully enjoy the views.
A constantly changing tableau of the seasons is displayed from behind the glass partition, flooding the room with light, and providing a never-ending source of joy to its owners.
The room is spacious, warm and light, with a woodburner adding a final note of warmth to the already cosy ambiance.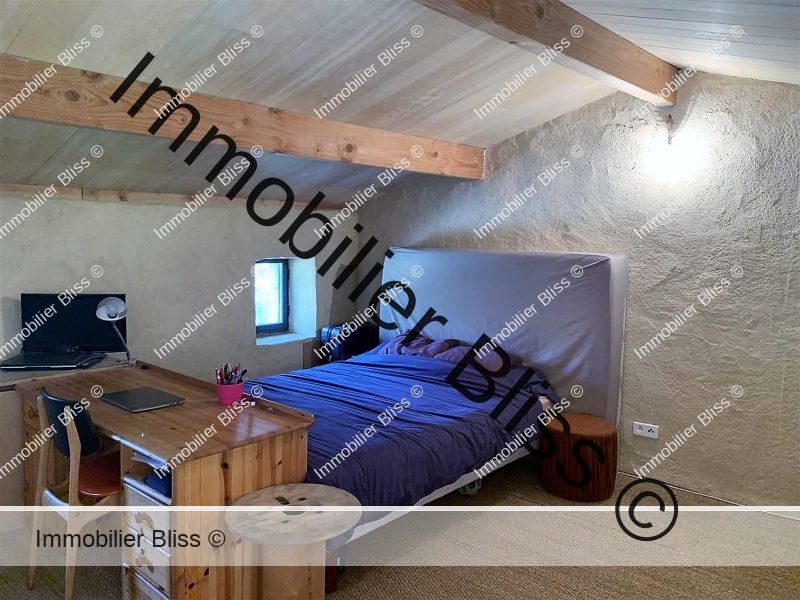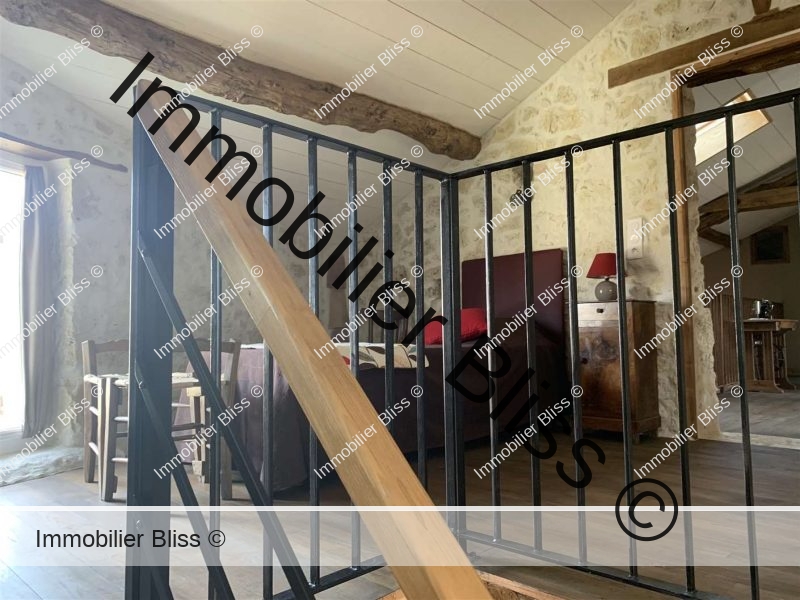 Wooden stairs lead to a mezzanine where there is room for an informal bedroom, office or storage space.
Outside, a large hangar provides parking space and a place to park the tractor.
There is one last building on the property: an old stable, in need of renovation.
The gardens are beautiful, full of trees and flowers, with a multitide of rose bushes and hydrangeas splashes the beds with crimson.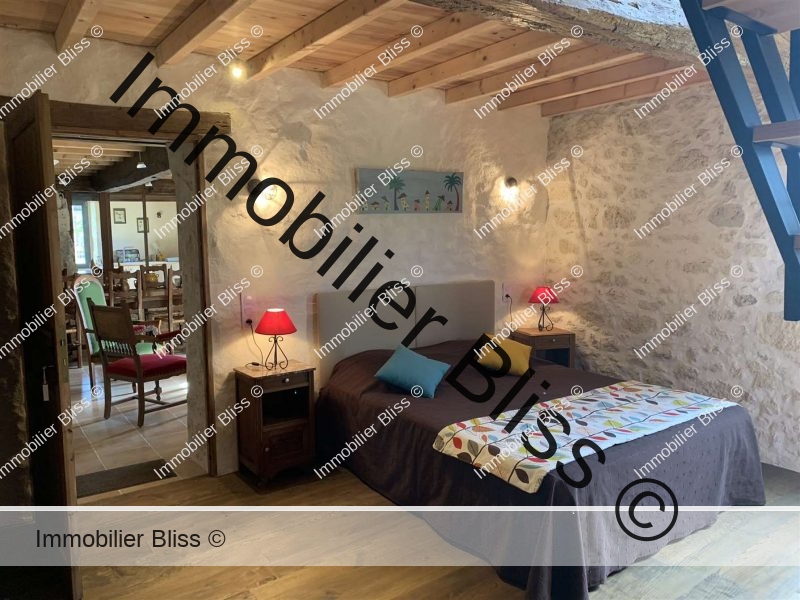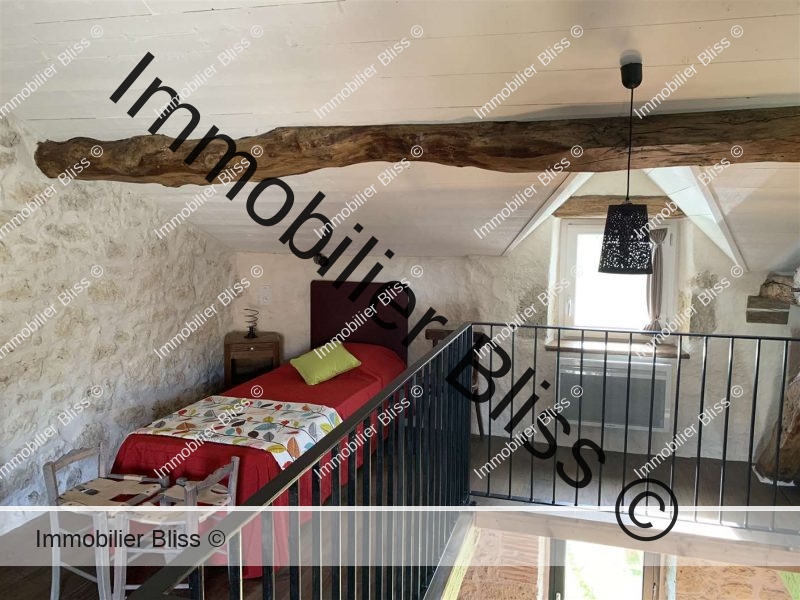 Here at Bliss
Stéphanie :
The view is wonderful, one of which you will never tire, with shades of green and yellow from the fields and woods.
Karen :
The property has the air of a family village and will appeal to anyone not looking to live in isolation but in the context of a rural hamlet, of which this property comprises the greater part.
I particularly love the contemporary loft-syle living-accommodation of the original barn, with its panoramic backdrop and glass frontage.
It is a good thing I don't live here, or I would sit all day with my cup of coffee, and stare out at the ever-changing views.
This property combines an authentic Gascon syle of property with the stone house, and a wooden loft syle in the barn.
I love the contrast.
Perfect as a business opportunity.
What better location for any business activity reliant on walkers, pilgrims or tourists to Gascony?
More images…
Click images to enlarge