Maison de Maitre with far-reaching
close to Lectoure
with far-reaching views
If asked to imagine a home in Gascony you envision a square house in stone situated in a quiet location with far-reaching views across the valley, a pool and an old stone pigeonnier, then perhaps this property is the one for you.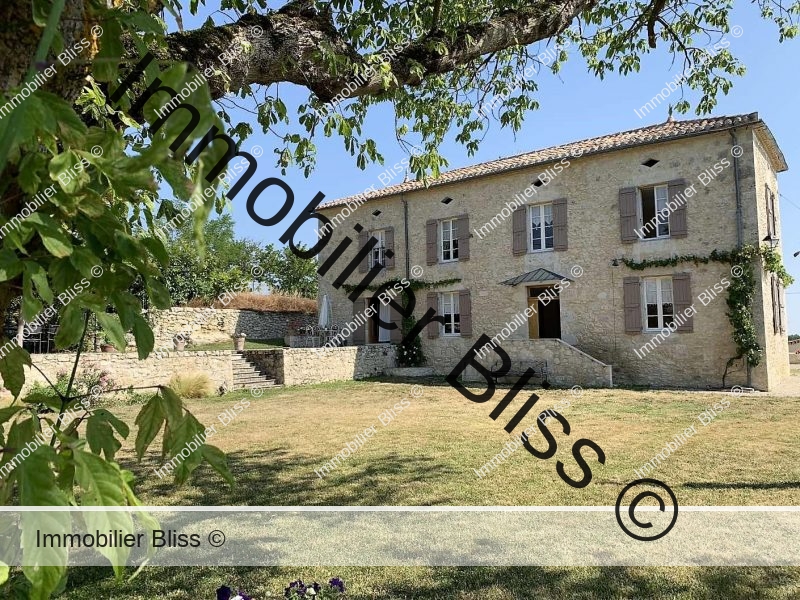 Toutes les mesures sont approximatives
Aéroport de Toulouse
110
Km
Frais d'agence inclus (4%) à la charge du vendeur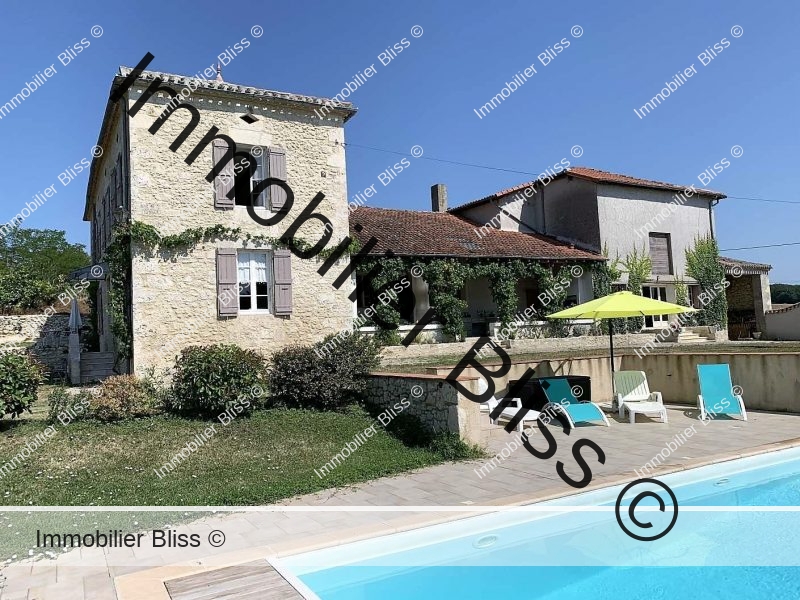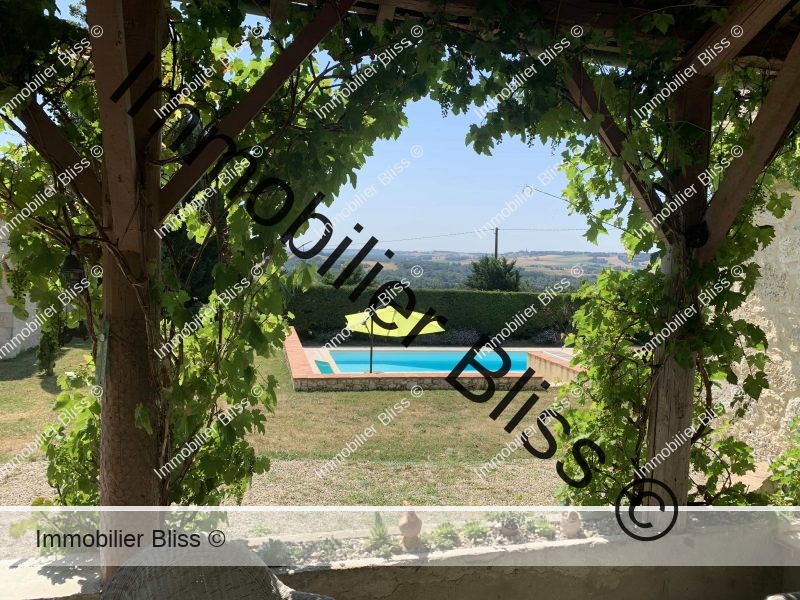 In an elevated position this magnificent maison de maitre, sits in a regal position with rolling fields of wheat and corn unfurling at its feet.
The old stone pigeonnier offers that special Gascon stamp of authenticity, with the estate comprising the main house, a guest house, and the outbuildings of what was once a fully working farm. .
The skyline is vast, the Gascon countryside close to Lectoure rich and undulating.
With a location such as this, it is little wonder that the current owners spend much of their time outdoors absorbing the views from the privacy of the wrought-iron pergola at the top of the garden where they enjoy a quiet Pastis.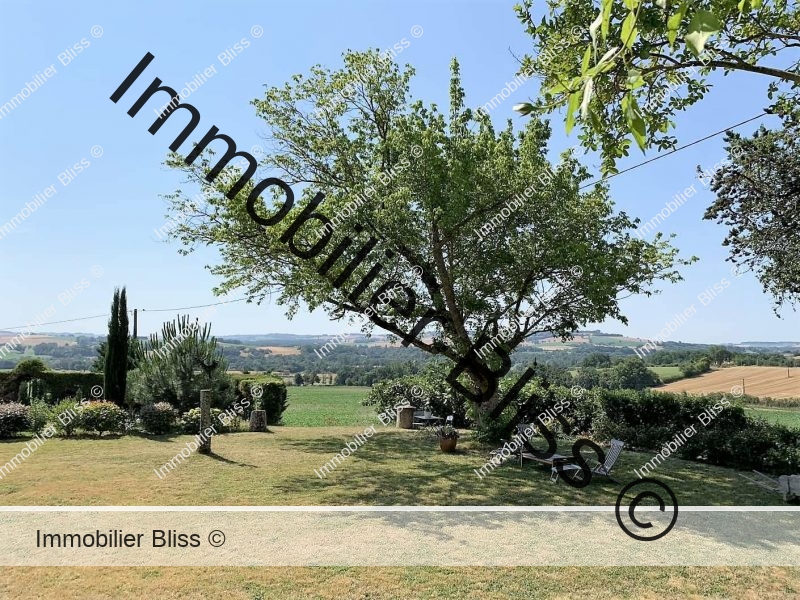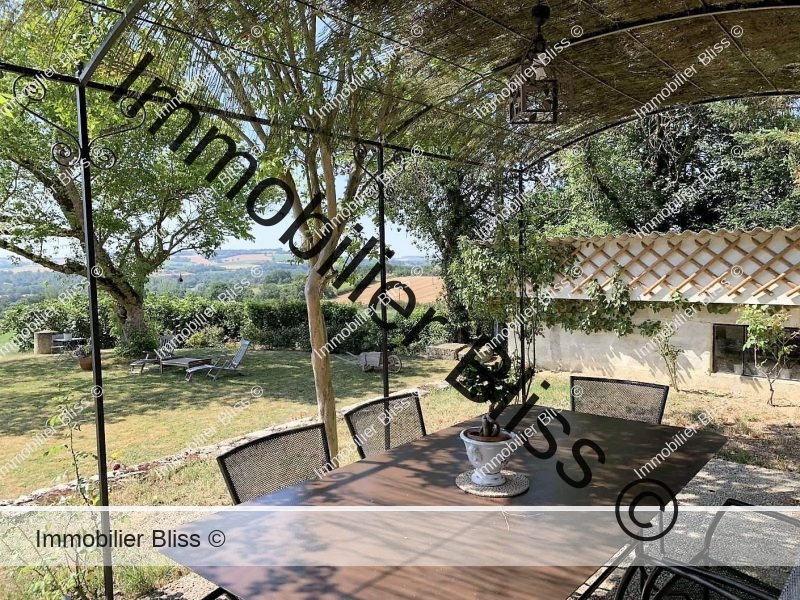 If this property is a delight on the outside, then there is much to offer within. The accommodation is divided between the original farmhouse and a second more contemporary building which is reserved for family and friends and referred to as the guest house and which provides accommodation in two double bedrooms, one of which has an en-suite shower-room.
The guest house has the bonus of a second farmhouse kitchen with a large open fireplace. The two properties are linked via a covered terrace way which offers a shady spot to dine in the warmer months and where we find a family-size table and a barbecue. There are views from the terrace to the pool.
We begin our visit through the main house, entering directly into the kitchen. This is a neat and tidy space with terracotta-style floor-tiles, top and base units in cream, a free-standing fridge, an electric oven and an induction power hob.
To the rear of the kitchen an inner hallway leads to a downstairs cloakroom/WC, a separate bathroom with a double-sink, and a laundry-room which houses the washing-machine and dryer.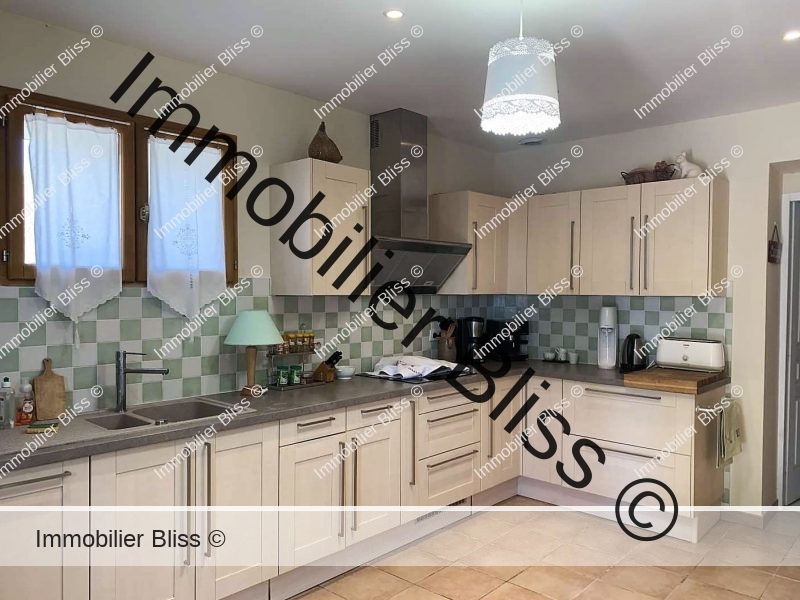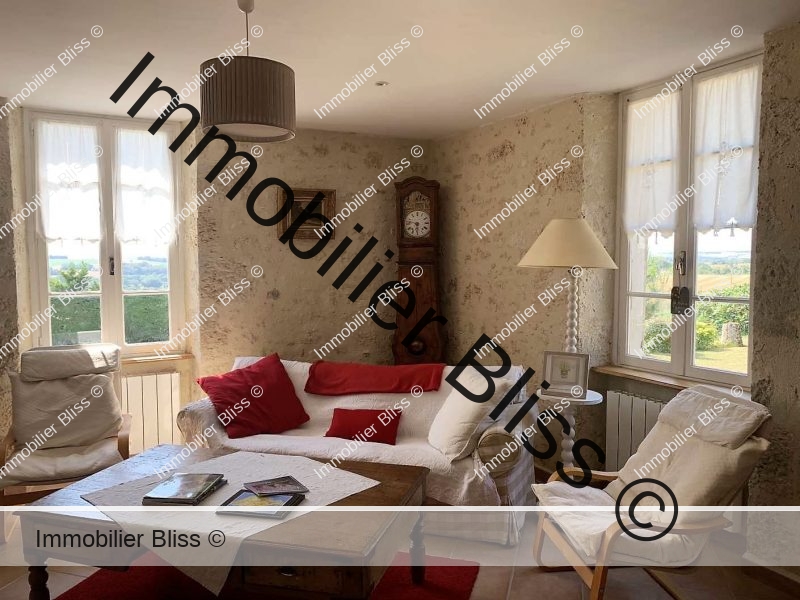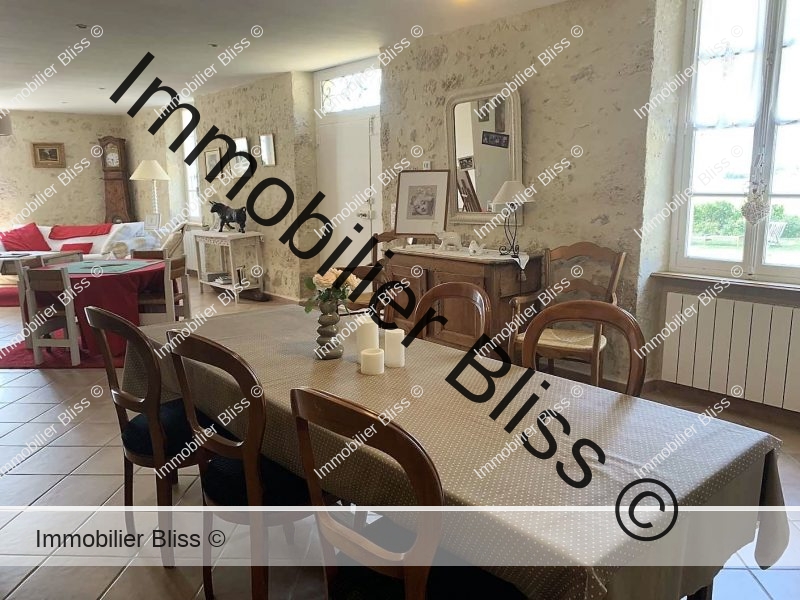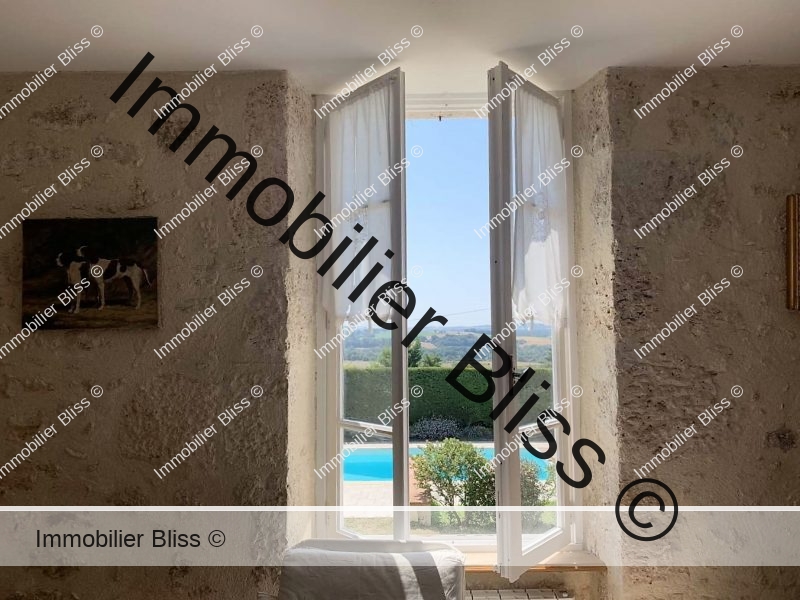 Une terrasse couverte, où nous trouvons une table familiale et un barbecue, offre un endroit ombragé pour dîner pendant les mois les plus chauds.
La maison principale est accessible depuis une entrée formelle avec un perron en pierre surmonté d'une marquise, ou depuis par la cuisine. Nous entrons par cette dernière et découvrons une pièce soignée équipée de nombreux éléments de cuisine, d'un double four et d'une plaque à induction.
À l'arrière de la cuisine, un couloir intérieur mène à la maison d'hôtes. Dans ce couloir se succèdent une buanderie abritant un lave-linge et un sèche-linge, une salle de bains séparée avec double vasque et un vestiaire / WC. Là se trouve également un escalier en bois menant à une spacieuse chambre double avec un parquet au sol. Les occupants de cette chambre utilisent la salle de bains juste en dessous.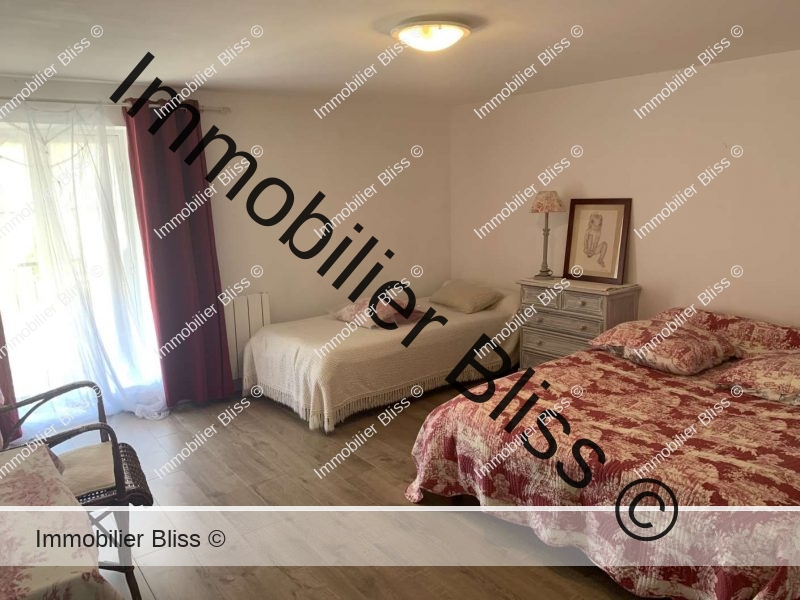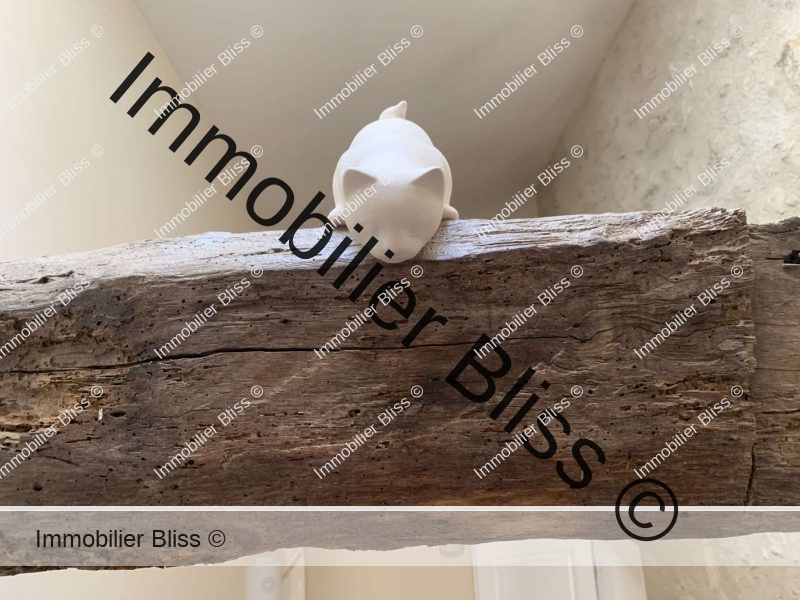 A wooden staircase leads from an inner hallway to a spacious double bedroom with a sprung parquet floor. Guests to this room use the bathroom just below. The main reception room is a bright and sunny, with exposed stone walls and double-aspect windows. At one end of the room is a dining-room table and a wood-burning stove, at the other the salon.
From this room there is access to an unfinished downstairs bathroom, with plaster-board walls and pipes ready to plumb in for a shower or bath. The original curving staircase leads up to a spacious landing and two double bedrooms. The rooms are both carpeted, with plain cream walls and share a shower-room and WC. The current owners have enjoyed this rural retreat for twenty years where it was a place to relax and to play. Nowhere is this more apparent than in the large games' room. This vast space, no doubt once a barn, houses two pool-tables, a Billiards table, a jukebox, a darts board, and a full equipped ranch-style bar.
The room benefits from an open fireplace for winter evenings and Christmas games. The perfect place for all the family to gather and play from the age of 8 to 80.
On the ground floor we also find a downstairs cloakroom/WC, an adjacent storeroom with a concrete floor which houses the surplus garden equipment and the boiler.
Storage and parking are provided in the vast barn adjacent to the property. The pigeonnier offers additional storage while the wood is stored in a shed by the pergola.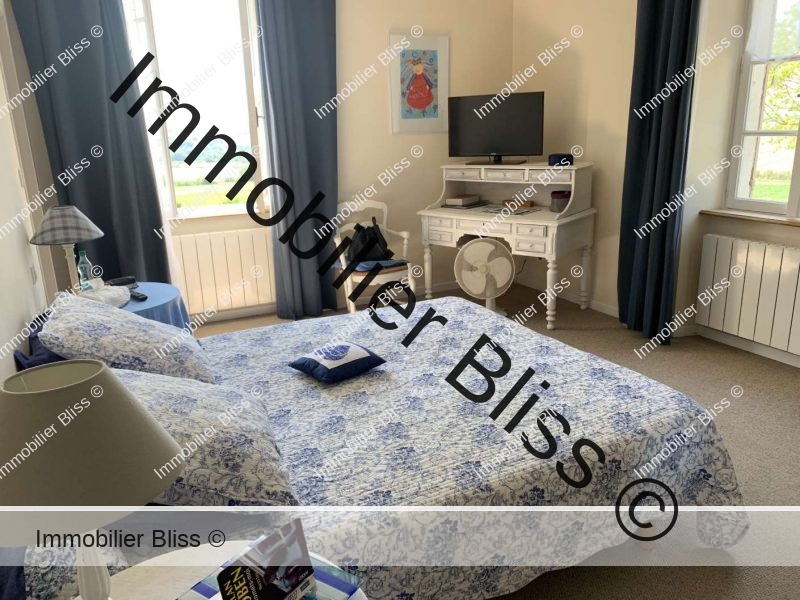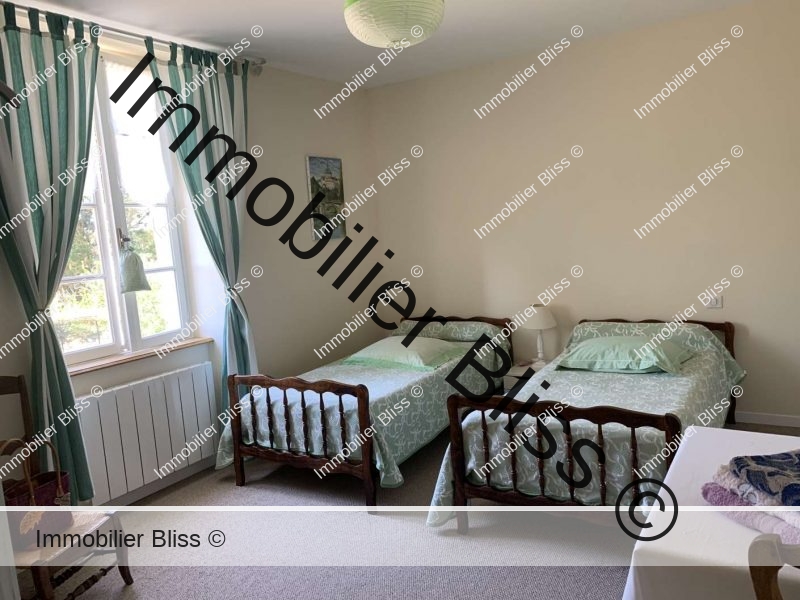 Here at Bliss
The location and architecture of this property lift it into a much sought-after category.
This is the kind of rural spot which buyers often try to describe, but which can take some time to find.
The property photographs beautifully from the outside because of its architectural grace and elegance. This is the Gascon Squire's house (la maison de maître) in all its splendour, but a little cut above the rest with its coquettish pigeonnier and its sweeping views towards the market town of Lectoure. The decoration within is simple and unfussy. Some original elements have been kept such as the exposed stone walls. The floors are more contemporary and much of the decoration was done when the current owners bought the property.
What might I consider doing if this property were mine?
I would consider installing double-glazed windows.
The property has been used as a second home for several years, and I would consider redecorating, particularly in the guest house. The kitchen in the second house is tired, and although perfect for friends and family it would require updating for rentals or year-long usage.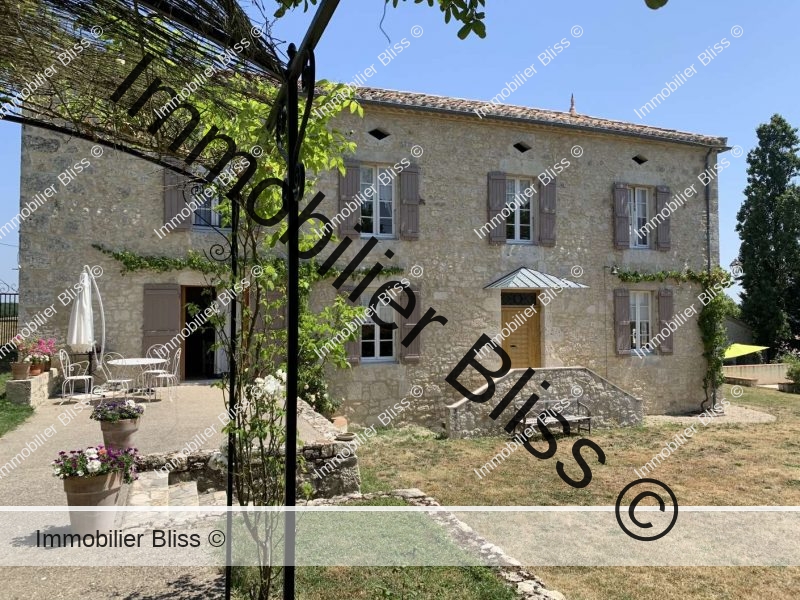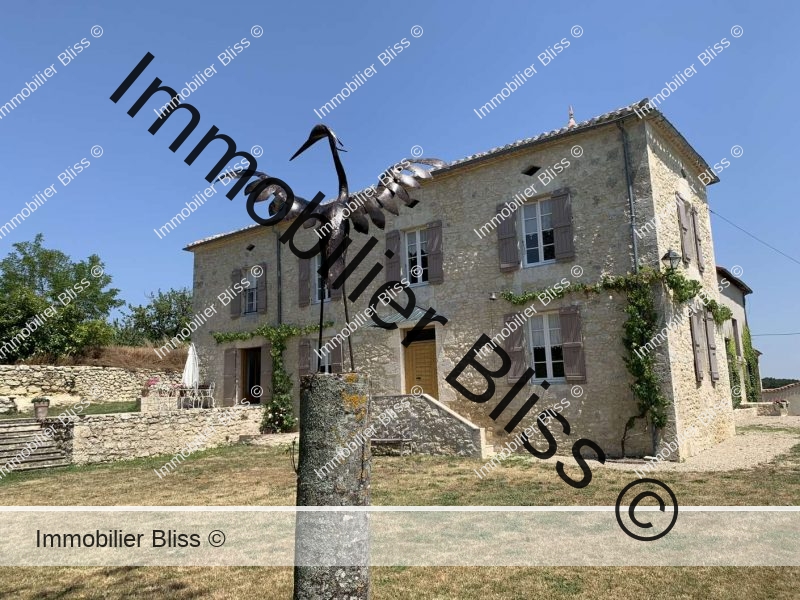 More images…
Click images to enlarge