Elegance, space & privacy in Lectoure
La dolce vita in Gascony
Immaculate condition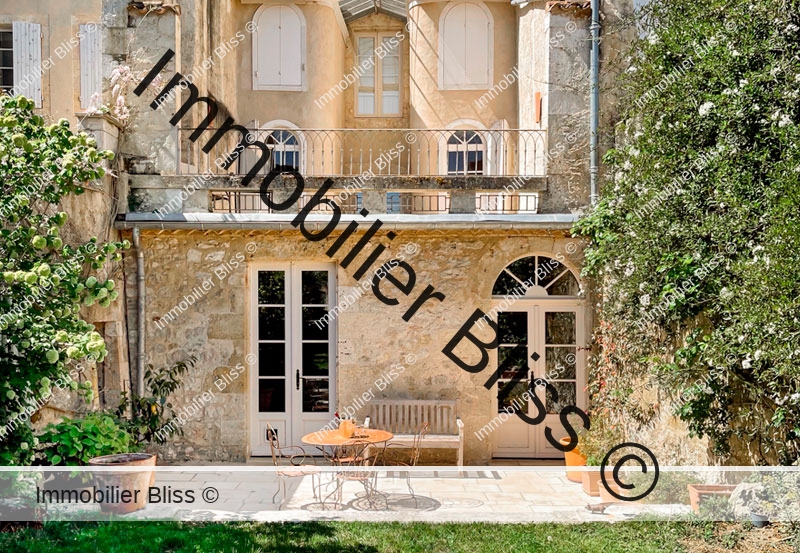 Toutes les mesures sont approximatives
Frais d'agence inclus (5%) à la charge du vendeur
Where are we?
On a quiet road in Lectoure, a few steps from the Cathedral and the main rue Nationale – yet also somehow secluded and tranquil.
As we arrive…
Through a discrete but handsome door, we enter a spacious reception room, with lovely stone fireplace, built-in cupboard, and window seat beneath the westerly windows. This, along with the glass inserts in and above the front door, give a natural luminosity to the entrance of the house. The current owner uses this room as an elegant foyer for storing coats and shoes, and as a place to graciously greet guests, but it could equally serve as a cosy winter salon.
Certainly, once inside this property, the outside world seems instantly very far.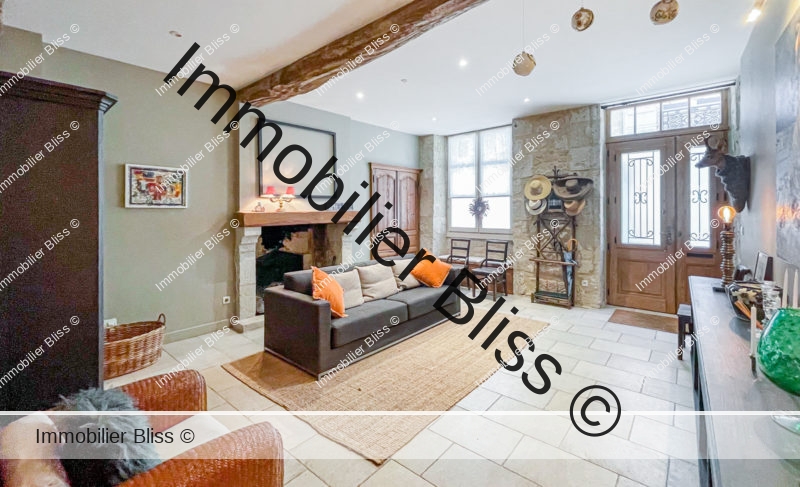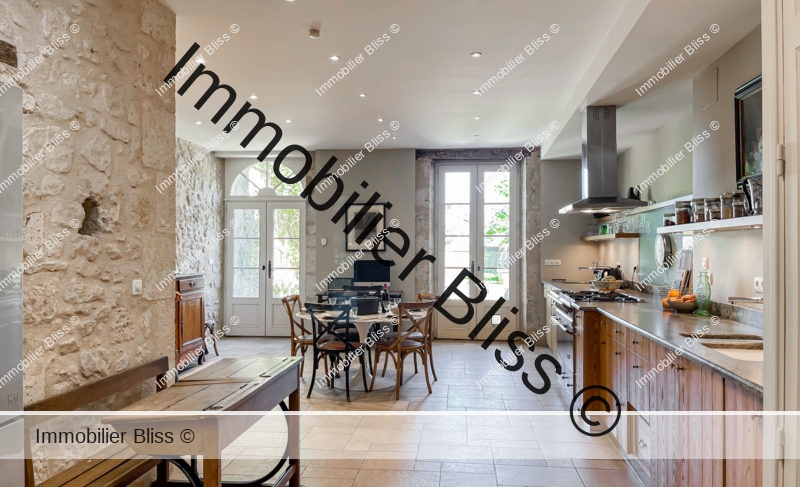 Into the house …
The whole of the ground floor is attractively tiled, in a staggered open plan that allows each space to have its discrete area whilst giving a free-flowing sense of easy, contemporary living.
To the right stands the lovely period staircase, but ahead the corridor leads first to the WC, and then into the lower salon area, which is used at present to relax and read a book or watch a film. Off this area we find the boiler room, with plenty of space for cleaning equipment, as well as additional, expansive storage cupboards.
Up a few stairs we arrive at the heart of this home. This kitchen/dining-room is a splendidly light and airy room that draws one in – at once elegant and cosy.
A long wall of solid wood kitchen cupboards and granite counter-top, and featuring a handsome stainless steel Lacanche stove and extractor fan, give the serious cook as much space as they could desire. Opposite the spaciously accommodated large fridge freezer is even more cupboard space, and there is ample room for not only the dining table but also the dresser that contains the crockery and glass-wear – its roomy and gracious wherever you look. The elegant opening back into the salon area, the sky-light and the two french windows add to the aesthetics of what is so much more than just a functional space.
Throughout the house, the materials and decor have been deftly combined to provide the perfect balance between the oringinal house and contemporary sophistication.
Not just the original stone walls married to plaster, painted in a soberly resplendent colour scheme, but the clever use of wall fittings, lamps and spots to complement and enhance the natural light.
Downstairs benefits from under-floor heating, whereas the upper floors have radiators, and its a comfortable, well-insulated home.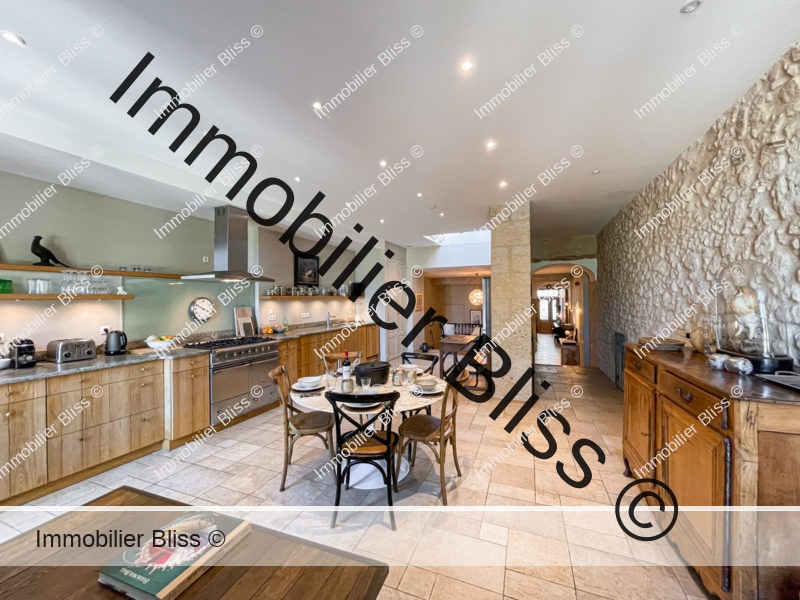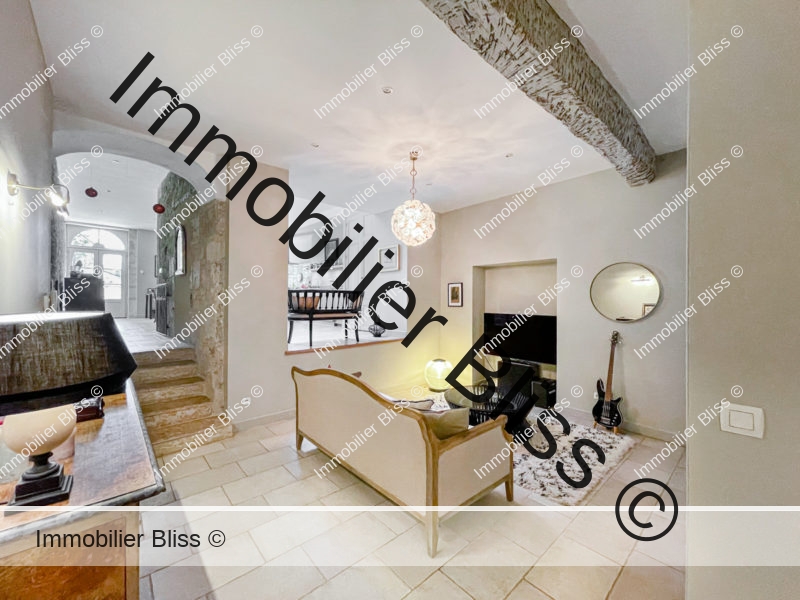 Outside…
Out through either of the two French windows, the charming downstairs terrace, with its hidden storage area for the mower and gardening equipment, provides the ideal eastfacing location for a sun-drenched morning coffee, as well as dining al fresco throughout the day – shaded in summer from the late afternoon's fiercer heat.
Beyond, one steps up to a bijou lawn area gives the perfect spot for sunbathing and enjoying the views over the extensive gardens set far below, whilst affording a delicious privacy.
You look back up at the house with its double tier of elegant French windows and glorious upstairs terrace, draped in wisteria, and it's a trick of the architecture and high walls that the adjoining houses feel very much "à l'écart"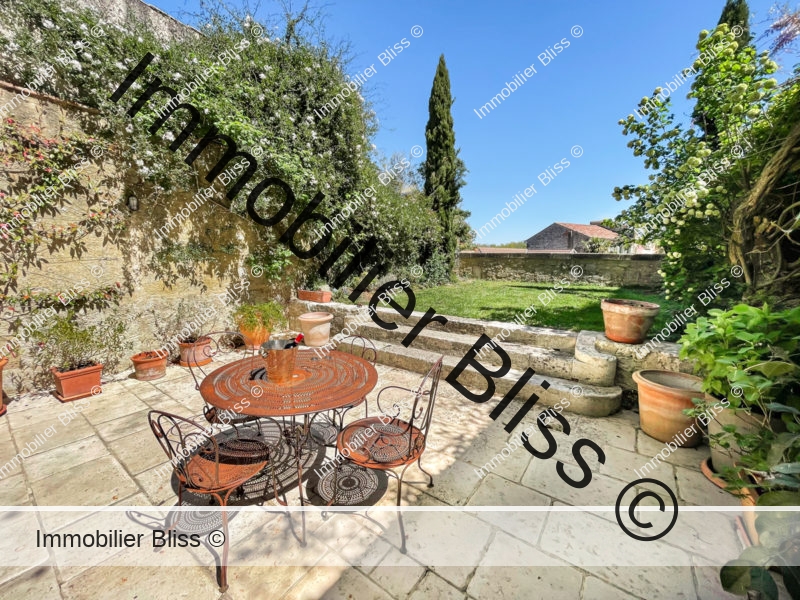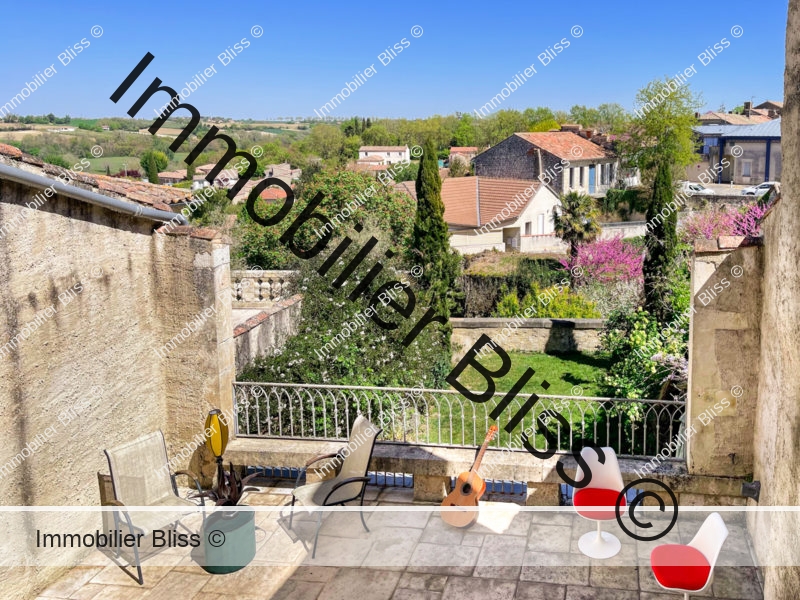 What about upstairs…?
The stairs themselves are lovely, with the original initial stone step and wood stairs. But all the idiosyncratic details, including the repeated arches, wooden column on stone plinth, discrete alcove, inter-floor sky-light and sky light, all serve to enhance the inherent charm.
Practically, there is a useful area for storage in the corner beneath the second flight of stairs.
On the first floor landing, you turn right into a lovely bright bedroom with enviably spacious fitted-cupboards, double windows looking out onto the quiet street and immaculate sisal flooring. This bedroom benefits from its own spacious shower room, tiled and painted, with sink, fitted storage, heated towel-rail and WC.
Across the landing is the summer salon that could equally be used as a very large bedroom apartment, with its impressive stone fireplace, wood flooring and triple windows.
Two vestibules that lead out onto the terrace are currently used as a study and a small kitchenette but could be potentially converted into dressing room and en-suite shower room.
Accessed, therefore, from either of the glazed doors from these small apartments, you walk out onto the large, east-facing terrace, with its views over the rooftops. With garden furniture, this could be made into a wonderful summer lounge, with chilled drinks and light snacks only steps away from the small kitchenette.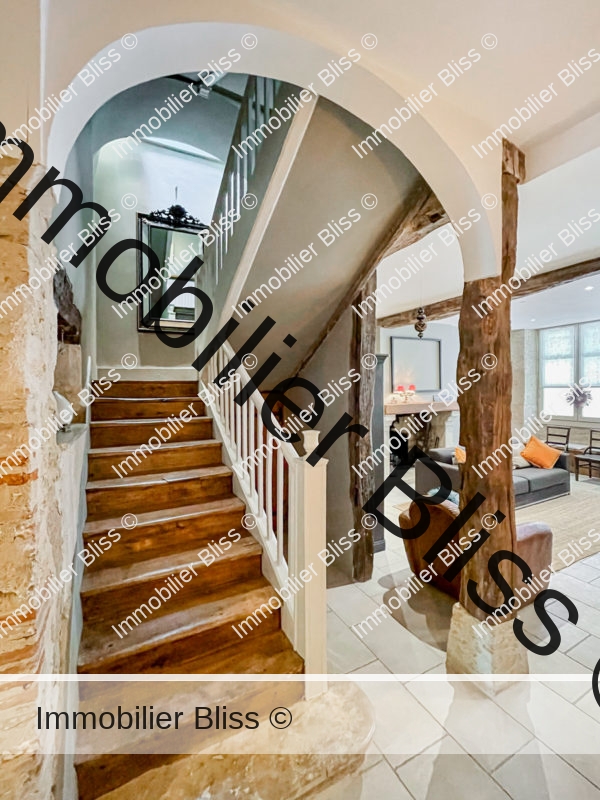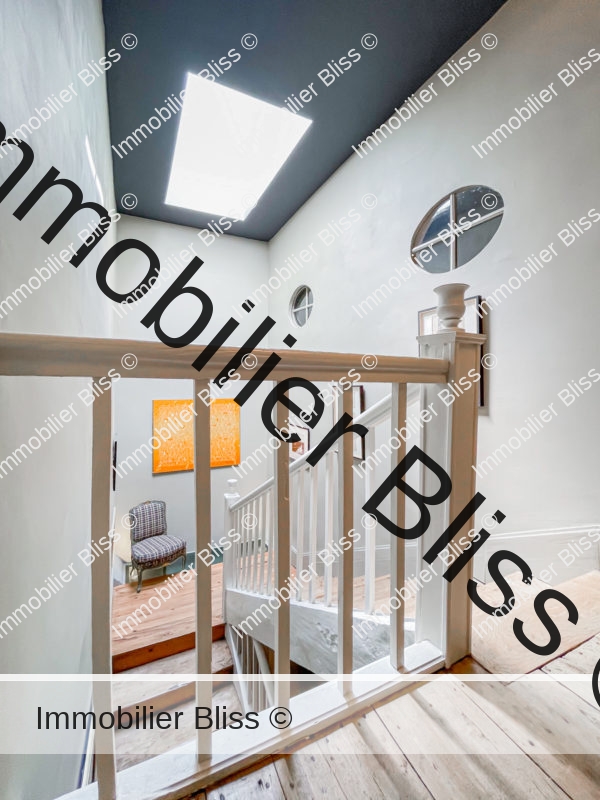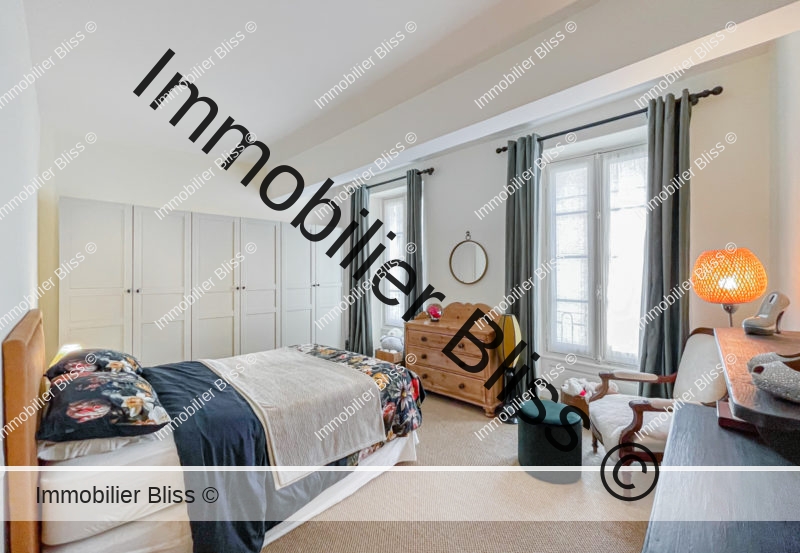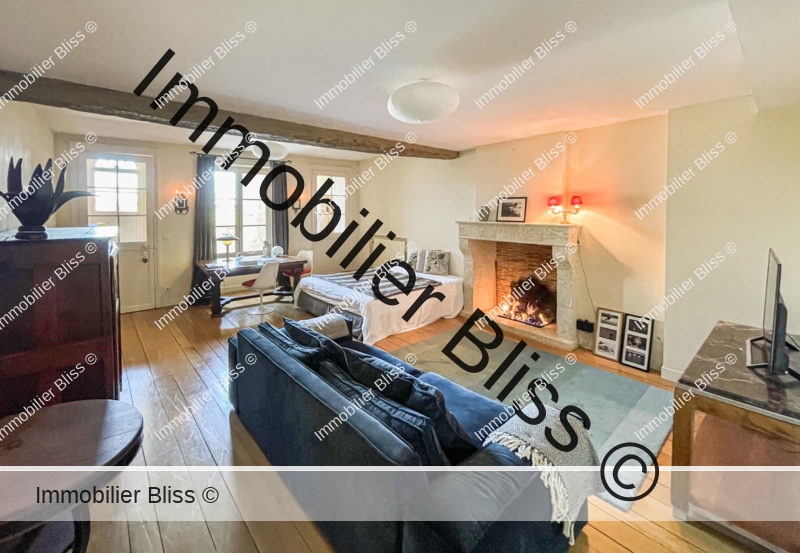 The second floor…
Up the next flight of stairs one reaches a luminous landing with quirky oval windows
These lovely details draw the light into the large Italian shower room, with WC and sink that easily also acts as utility room – with the windows thoughtfully providing additional ventilation.
Beyond this is another bedroom, cosily appointed with sisal carpets, exposed stone wall and two windows giving it a light and airy aspect.
Across this top floor landing is the master bedroom, with its east facing aspect and triple windows. Again, this room benefits not only from its own bathroom, with shower, sink, heated towel rail and WC, accessible through a charming glazed door….
… but also from two vestibules, also with glazed doors, currently used as storage and dressing areas, and with sumptuous views of the terrace, garden and gardens and roofscape beyond.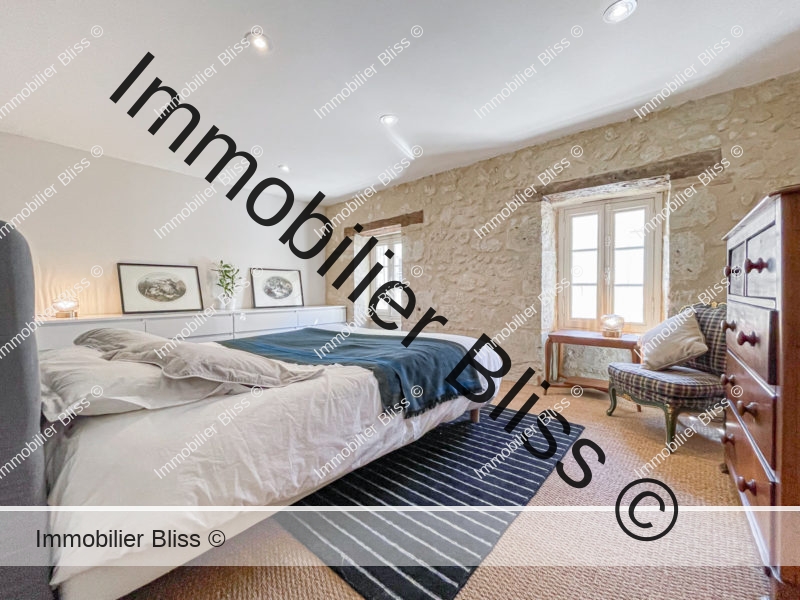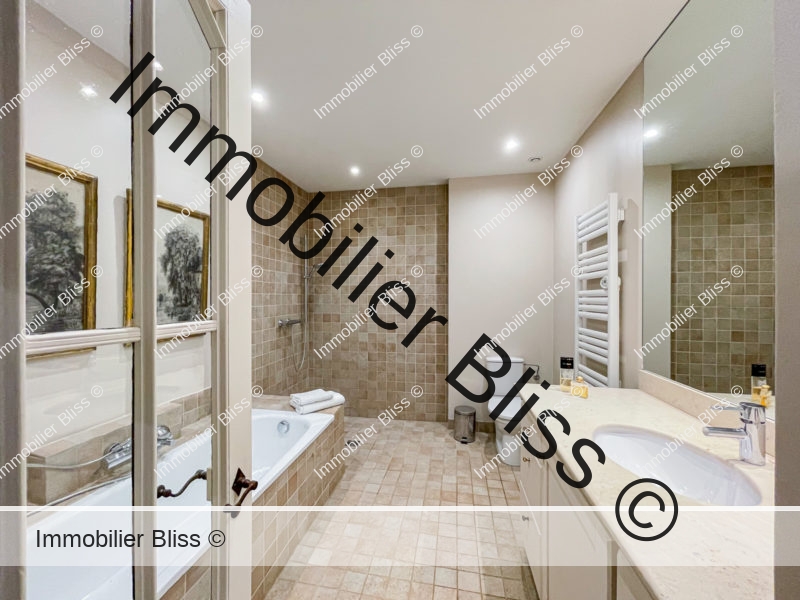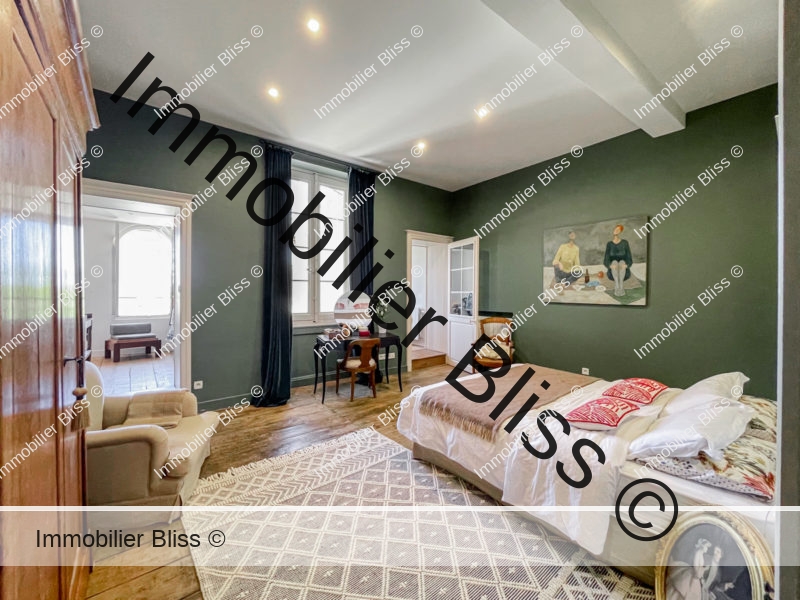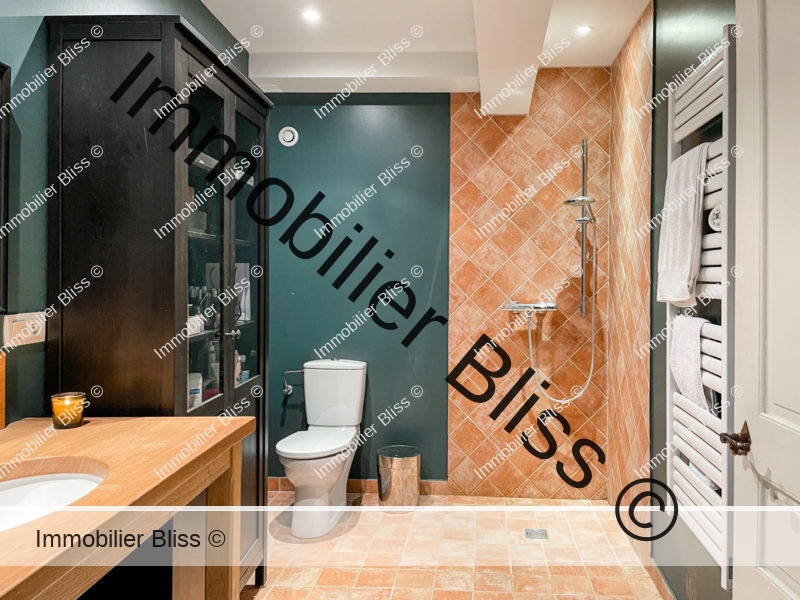 What we think at BLISS
We at BLISS adore this house. It's intimate, functional, cosy, spacious and elegant all in one. There is a sense compactness due to the intelligent lay-out which would mean even a single person could revel in living here, with all of the facilities for welcoming guests.
Whereas a larger family, such as that of the present owner, can live here spaciously together, each with their own facilities, living areas and sense of privacy. Its such a luxury to feel so far from the madding crowd and yet to be moments away from the prettiest high street with its cafes bars and shops. With its garden and terraces, and the open views from the back of the house, the property is remarkably light and airy for a town house.
What a pleasure to live somewhere like this….
Who might this not suit?
Only someone not attracted to easy accessibility year-round to one of the most popular and chic towns of the Gers …. If you struggle with stairs, this home isn't for you.
But otherwise, this is a place that you could just move in and step into the wonderful life of Lectoure, whilst maintaining an expansive, gracious sense of living in your own haven.
More images…
Click images to enlarge