Restoration Project in rural position
at the gates of Lectoure
Large stone Maison de Maitre & Barn with new roofs
This old stone farmhouse sits a short distance from Lectoure on a sizeable plot of land, with an old stone wall and gated entrance which lends an elegant air to this restauration project.
The main farmhouse or maison de maître and the barn have both had a completely new roofs (beams, and tiles).
Between the ground floor of the main house and the first floor (approximately 150m2) there is a floor in place, ready for the implementation of bedrooms and bathrooms, etc.
Other than this, everything else needs to be imagined and implemented: from the electrics, to the plumbing, the internal design, the decoration and the septic tank.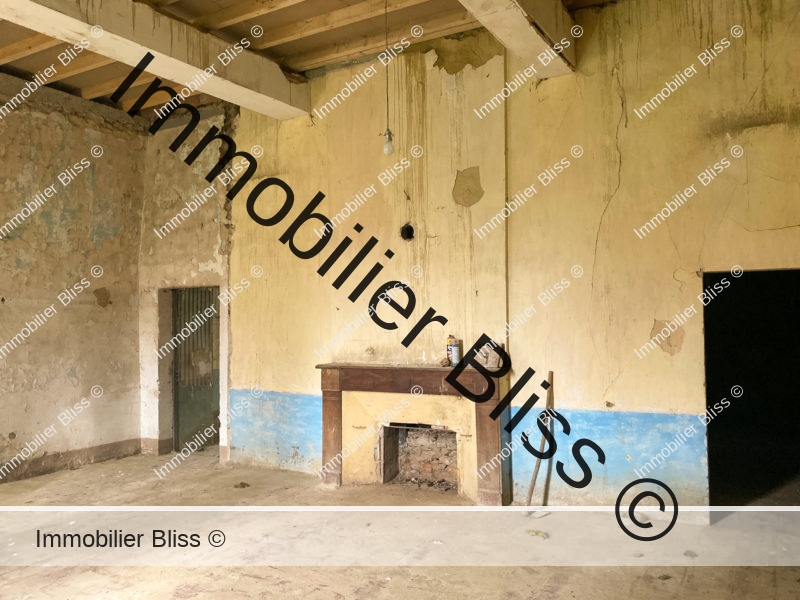 Measurements are approximate, not to scale

10
Frais d'agence inclus (5%) à la charge du vendeur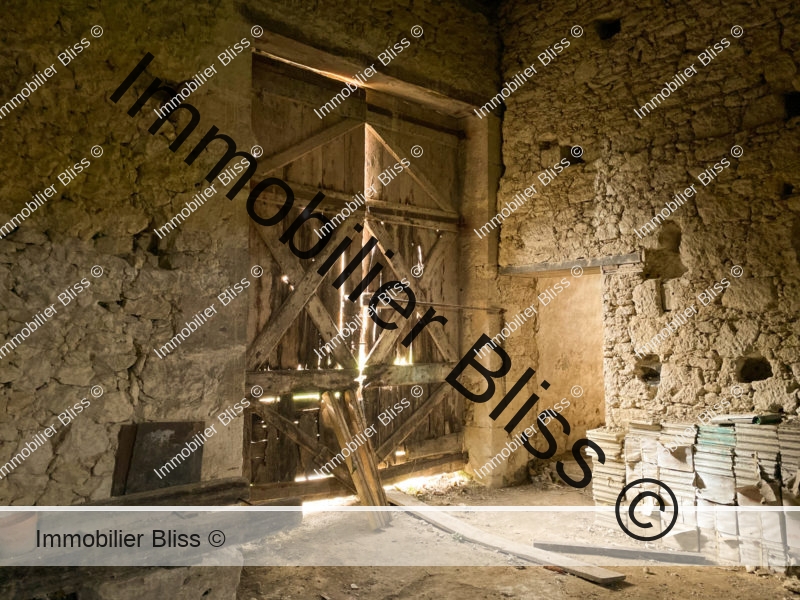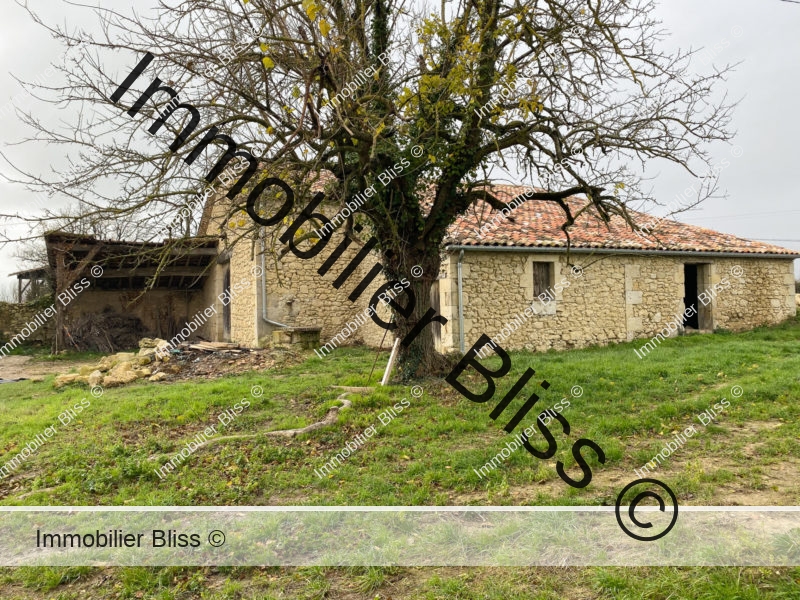 The surface area of the main house is generous, and the rooms are spacious, light and grand.
It is easy walking around to visualise a vast kitchen, a triple-sized reception room, a master en suite ground-floor bedroom and study/bedroom on the ground floor, while on the upper floor (access currently via a ladder) there is both head height and space for three large en suite bedrooms.
The barn has a new roof and provides both adequate space for parking (one or several cars) while the front section of the barn is large enough for the creation of a second house or appartment.
There is also a third ruined property in the far section of the garden, behind a stone wall which requires full restoration and has not had a new roof.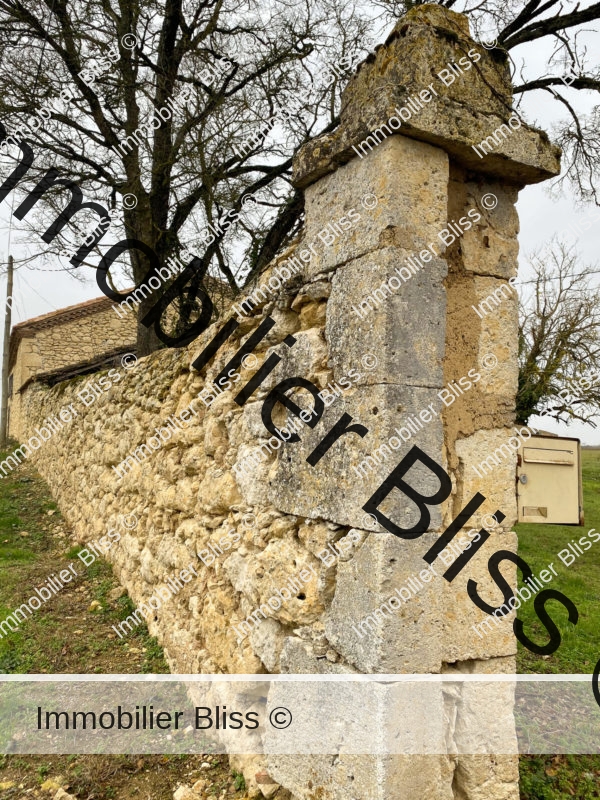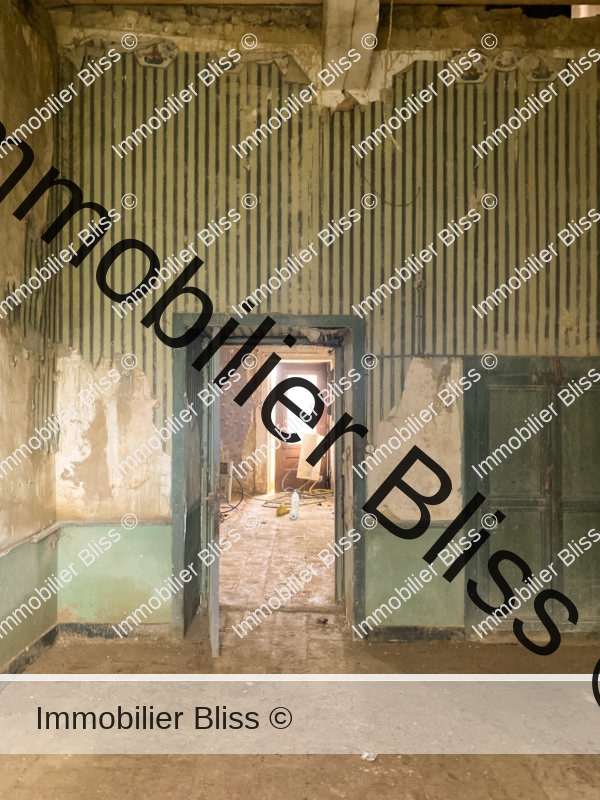 The current owner has had plans drawn up and estimates a finished cost, with a pool around the 350 000 euros mark. This of course is a personal estimation, and much will depend on what the current owners decide to do.
It is also possible to limit works and habitable room space to the ground floor of the main house, which in itself would provide ample room for a generous one-level propery, leaving the upstairs renovations for a secondary phase in time.
The property sits alone on a small rural lane but is not isolated. There are open views across the surrounding fields towards Lectoure, which is a ten-minute drive.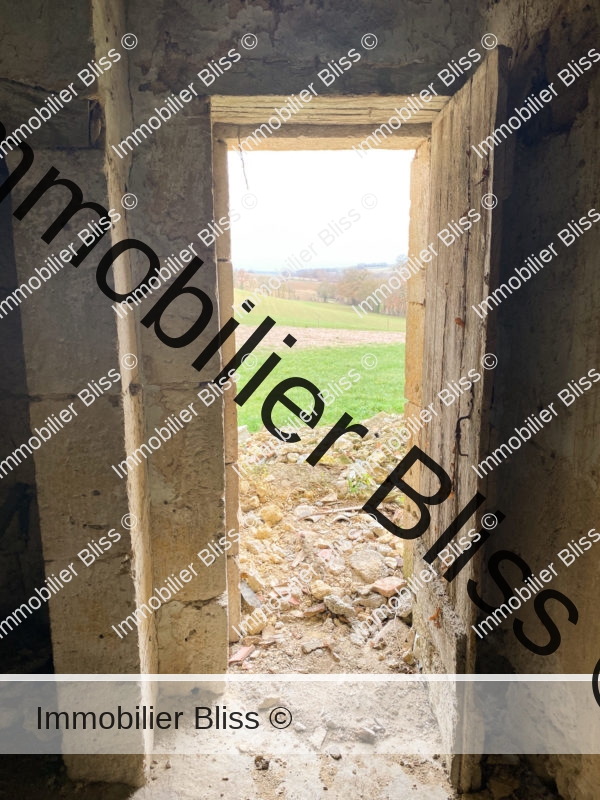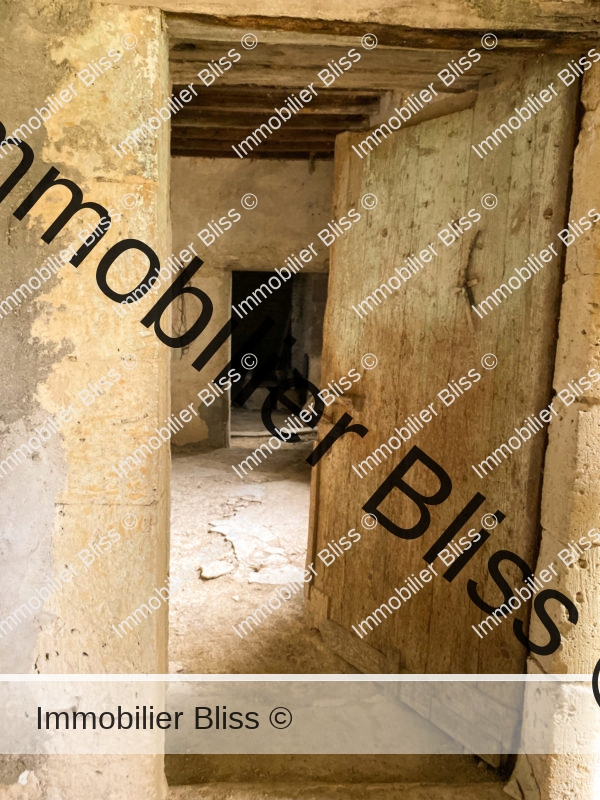 Our thoughts here at Bliss:
We first visited this property on a freezing foggy morning. Stepping inside the ruined buildings, with shreds of old wallpaper hanging from the walls, and even an old pair of net curtains up at the rotten window frame, it was a surprise to look up and see the beautiful finish to the ceilings above and the roof. Knowing that the roof is safely fixed in place and that the water can no longer penetrate the building it was easier to walk around and imagine how the layout would work. The tall ceilings, big open windows and vast rooms lend themselves perfectly to a traditional manor house style – with an enormous family kitchen. The advantage of starting from scratch and not having any pipes or wires running anywhere at present, is that one could imagine under-floor heating, or hiding the wires and pipes in the stone walls and creating a "clean" look to the room.
The vast amount of space available in the barns would also enable future owners to consider a more ecological form of heating such as a wood-pellet burner, since there would be space in the barns for the "silo" or container of wood chips.
In one of the rooms the builder had lit a fire with some old planks of wood in the fireplace, and the heat and light from even such a temporary set up, made the house feel instantly cosy and warm.
There is truly the potential to create something wonderful here, and to choose all of the materials from the outset. Often clients regret the choice of tiles or finishes in a property.
Here there is nothing – just the thick stone walls and the roof!
The current owner works in the building industry and is happy to share plans or talk through any ideas with buyers. Please contact BLISS if you wish to see a plan with current owners' ideas for layout.
It is important to note that in addition to the cost of the building, and the notary fees, there is a substantial budget required in addition. One can start small, and do works over a period of time – but before even sleeping one's first night, the property requires:
New windows & shutters
Insulation
Doors
Electrics throughout
Plumbing throughout
A bathroom and septic tank
Heating
This is a building project of some measure: you need to be a builder or an architect, or to have access to a fantastic team to hand to carry out the works, yet even in its current state, this old property with its elegant stone walls and pillared entrance fires the imagination, and its well deserving of the time and funds it would take to restore it to its former glory.
Lectoure remains an extremely popular place to live, and the owners of this property will have its schools, shops and restaurants on the doorstep. Toulouse airport is just over an hour away, and the fast TGV train to Paris (3.5 hours) leaves from AGEN just forty minutes away.
To whom might this property not appeal?
A car, or a bike, or a brisk walk are required to reach the shops in this semi-rural location, so this would not suit anyone wishing to live in town.
This property will clearly not appeal to anyone wishing to tackle a building project.
Unless the property were in some way sub-divided, this property will not appeal to anyone looking for a mouse-sized cottage. Think big! (Large rooms, high ceilings). There is plenty of habitable space here, spread over three buildings.
What Kind of decorative finish would you Imagine for this property?
"The beauty here is the timeless feel of the old stone walls, and the partially existing floors. If I were to redesign this property I would try to inject warmth into the vast walls, by tempering the ambiance and juggling between exposed stone walls, with mellow lime and possibly an injection of a very subtle tint in some of the other walls, which I might be tempted to plaster rather than expose in stone. This property would work well with an Italian Renaissance ambiance, muted greens and gold, light peach, with a darker base to the walls, and a lighter top. The rooms are big and were everything to be in stone, it might be a little austere. The floors lend themselves to something contemporary, such as tinted polished cement with under floor heating, or terra cotta. Something large, to cover the space. I would avoid anything small and fussy in this house.
I would reinstate the grand fireplaces, perhaps having new stone ones cut in the period style and I would opt for big rooms, and typical high Lectoure style doors opening from one to the next. There could be a lovely play between contemporary and traditional in this building, which would take some tall fine furniture and large paintings on the wall." Karen
More images…
Click images to enlarge