Grand old property
near Vic-Fezensac
with outbuildings and 4,4 hectares to restore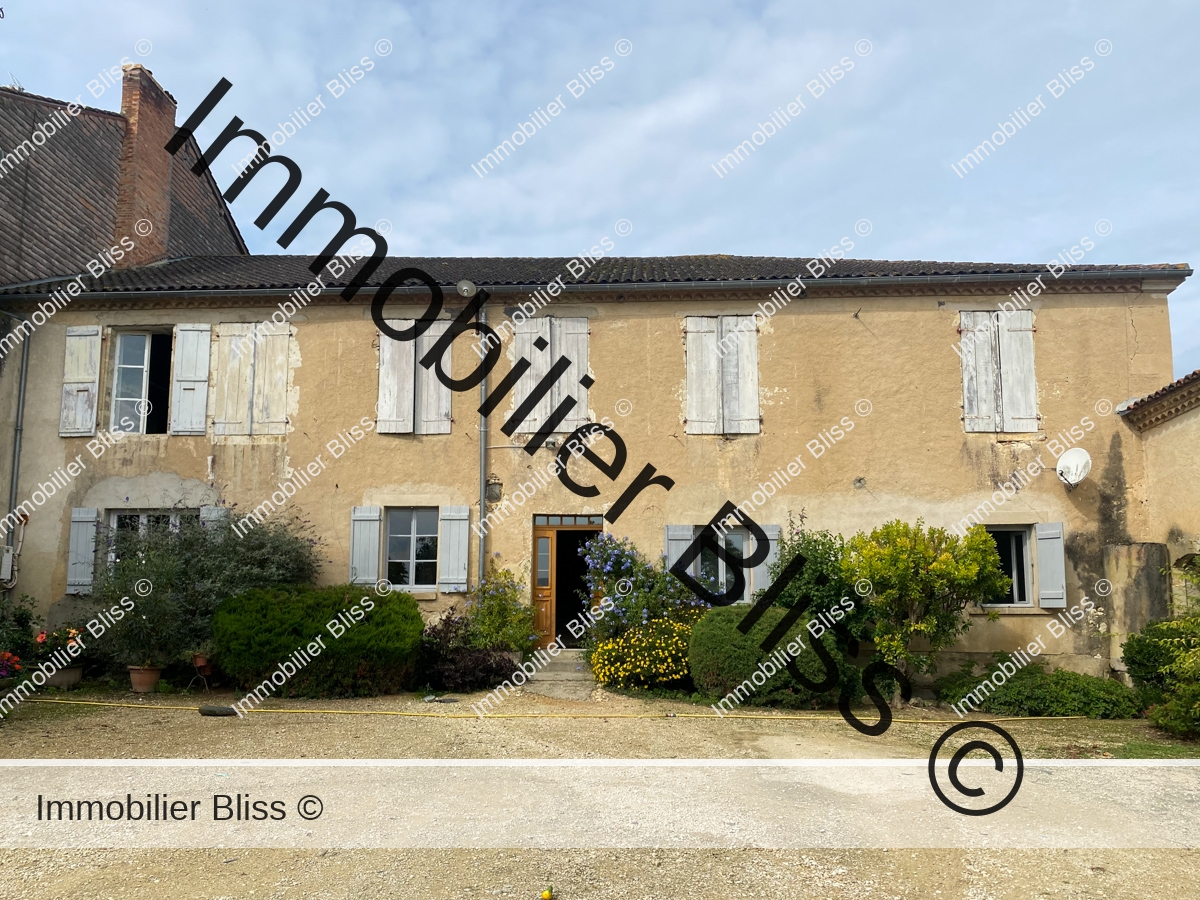 Toutes les mesures sont approximatives
Chauffage
wood burning stove, electric
Frais d'agence inclus (5%) à la charge du vendeur
Overview
This is the kind of property that has become so hard to find in the South West – a large farm that has been expanded and built-on over the decades and centuries, a property that has never been exposed to poor quality dated renovations, that has kept its character and charm as well as its inconveniences.
Offering approximately 670 m² of liveable space, plus ample attic space and an attached 88m² annex to completely redo, this is a project that requires both energy and passion.
As well as the main house and adjoining outbuildings, there are two further outbuildings, an open hangar, a pond, a stone fish pond and an immense vegetable and flower garden which is walled on two sides.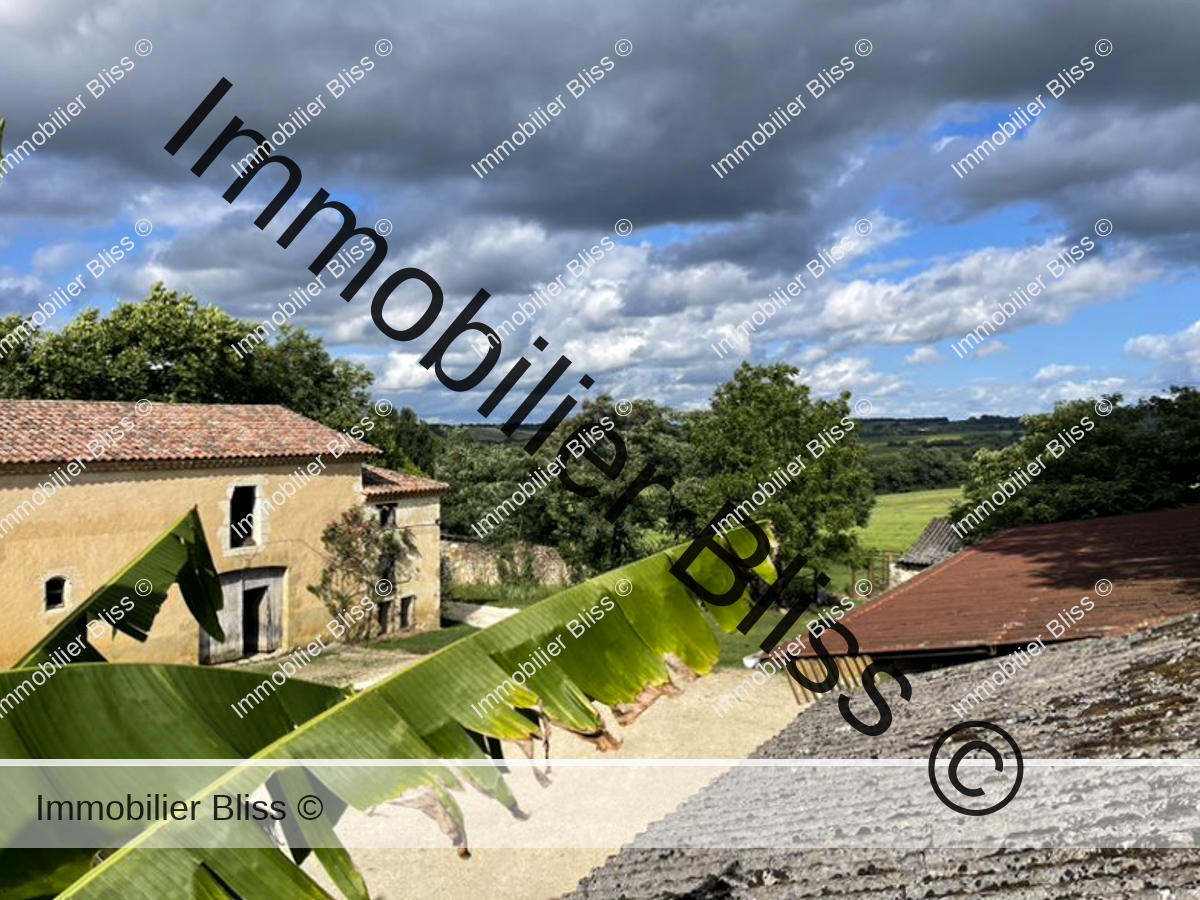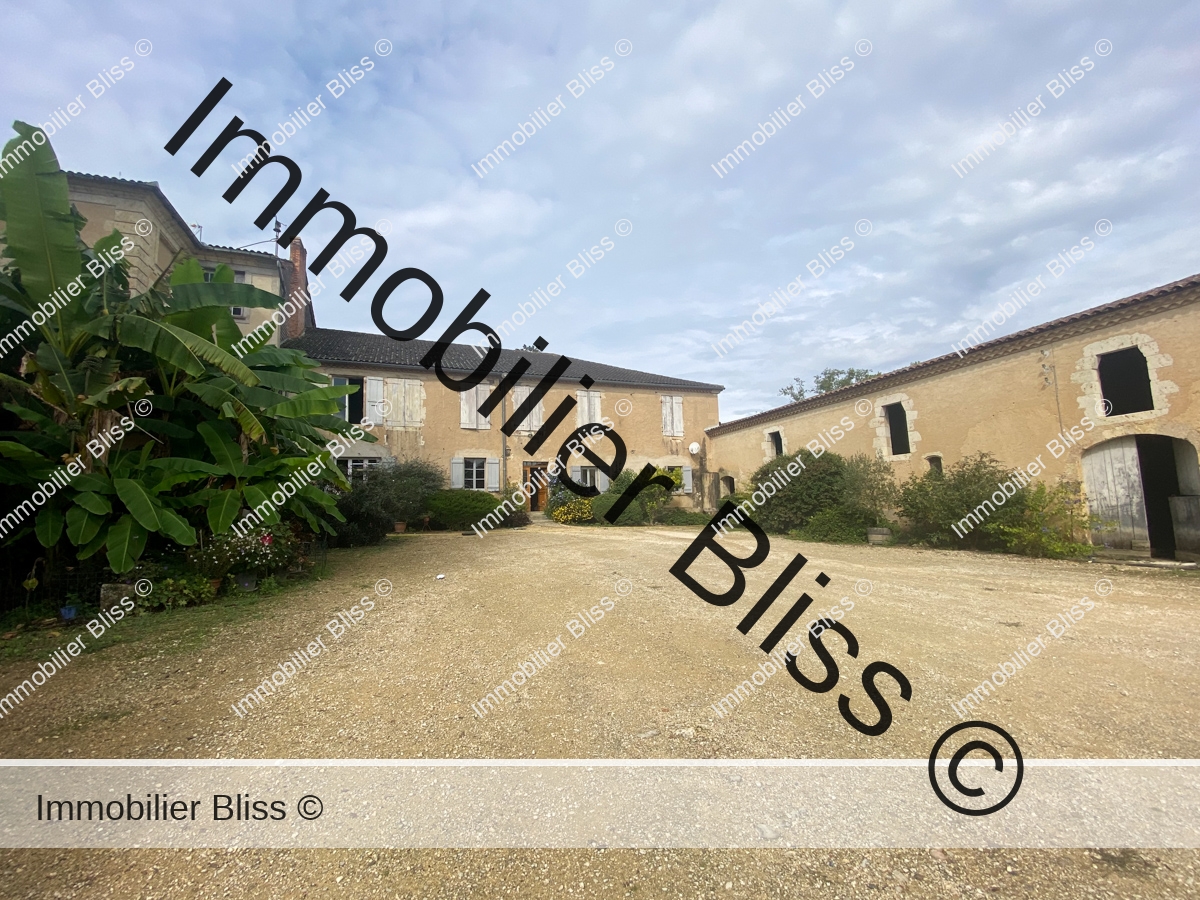 Main house
This property has been owned by the same family since 1936 and has been farmed over the years by successive generations.
Two long lines of mature plane trees form the entrance to the property. You pass two large stone outbuildings, a well and a stone fishpond – surely used in the past to wash clothes – and a small pond as you approach the house. On one side of the lane green fields stretch out, all belonging to the property. The farm buildings are on the other side.
We come to the main entrance, which feels like it might have been a fortified farm many centuries ago.
The house sits in the middle of a huge courtyard, with a large stone outbuilding forming one side of a U-shaped main building. On the other side of the U is a large open hangar and a stone outbuilding comprising a series of vaulted storerooms and a small tower. The house forms the back.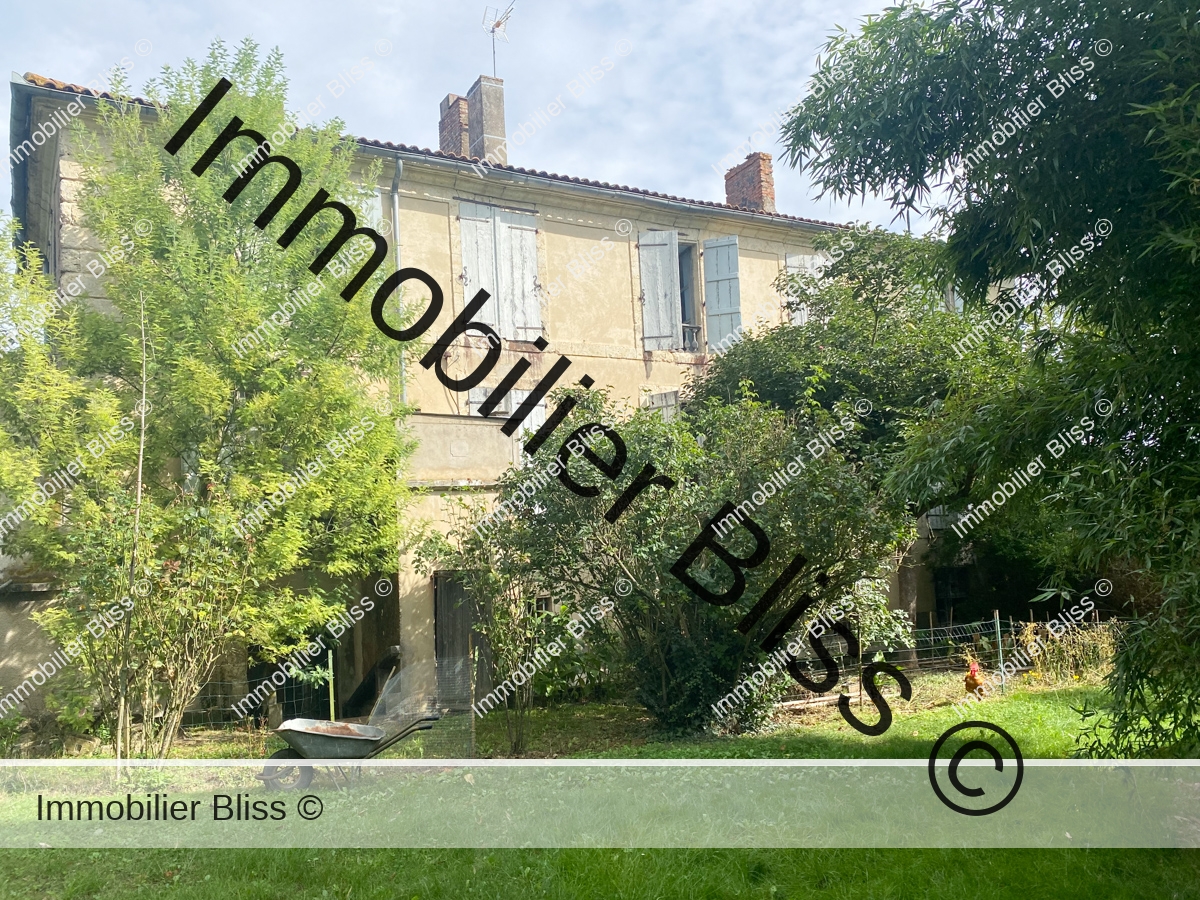 House
The house is huge and many of the rooms have been empty and unused for a long time. The current owners live on the ground floor and mainly use the spacious (42 m²) kitchen and the living room which is the same size. There are back kitchens here too, and outside two lovely vaulted rooms which are now used for storage; one of them was a forge in the owner's youth.
There is a bedroom with en suite shower room and separate WC on the ground floor. There are also two large store rooms.
On the first floor, there are three separate sections; first we have a door that leads to an area that has not been used in generations, where farmhands used to live. There is then a central section which consists of a number of empty rooms; there is a back entrance to the house here.
The third section has been lived in more recently and comprises a long open landing leading to a large terrace and the back garden. Here there are 5 bedrooms and two shower rooms.
On the second floor, there is a huge attic, but there is also the surprise of three renovated bedrooms, each of which has an attached box room which could become en suite bathrooms.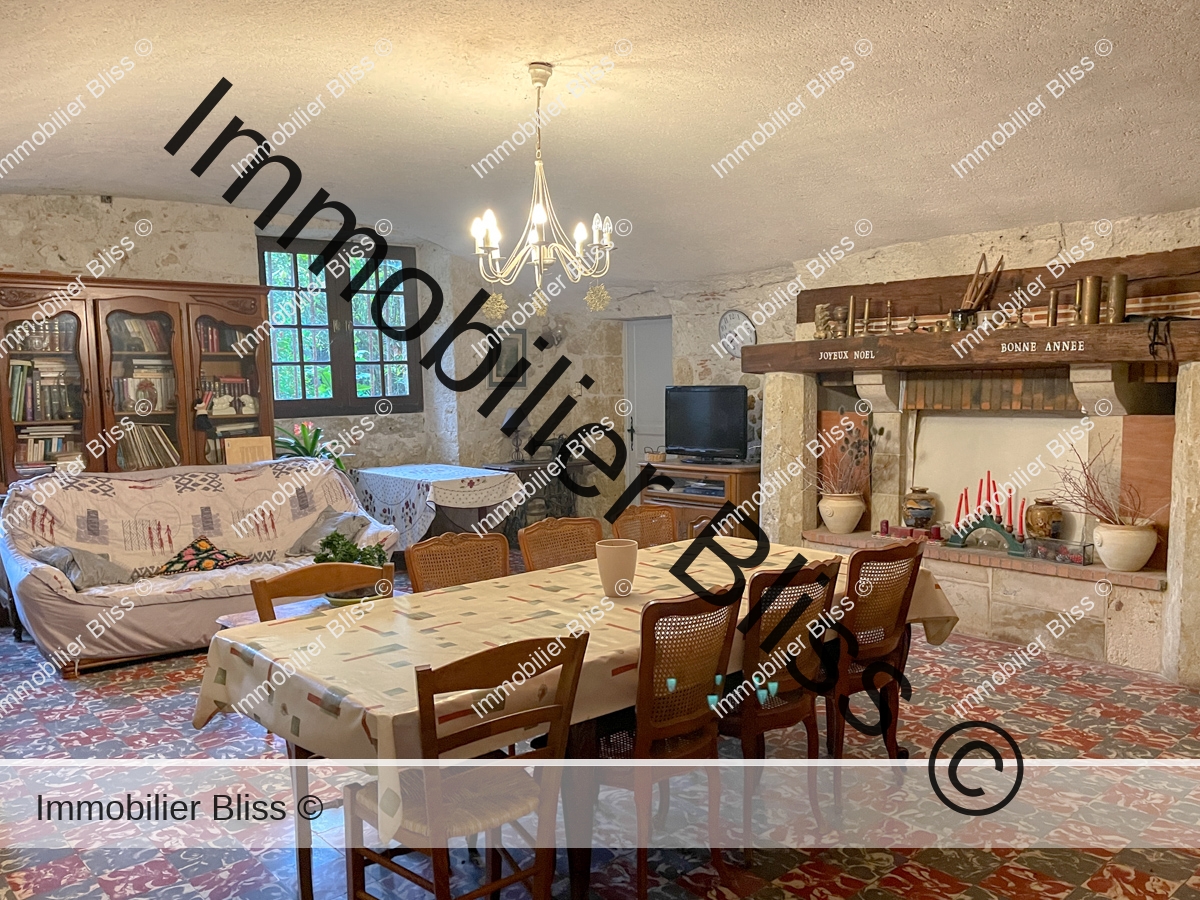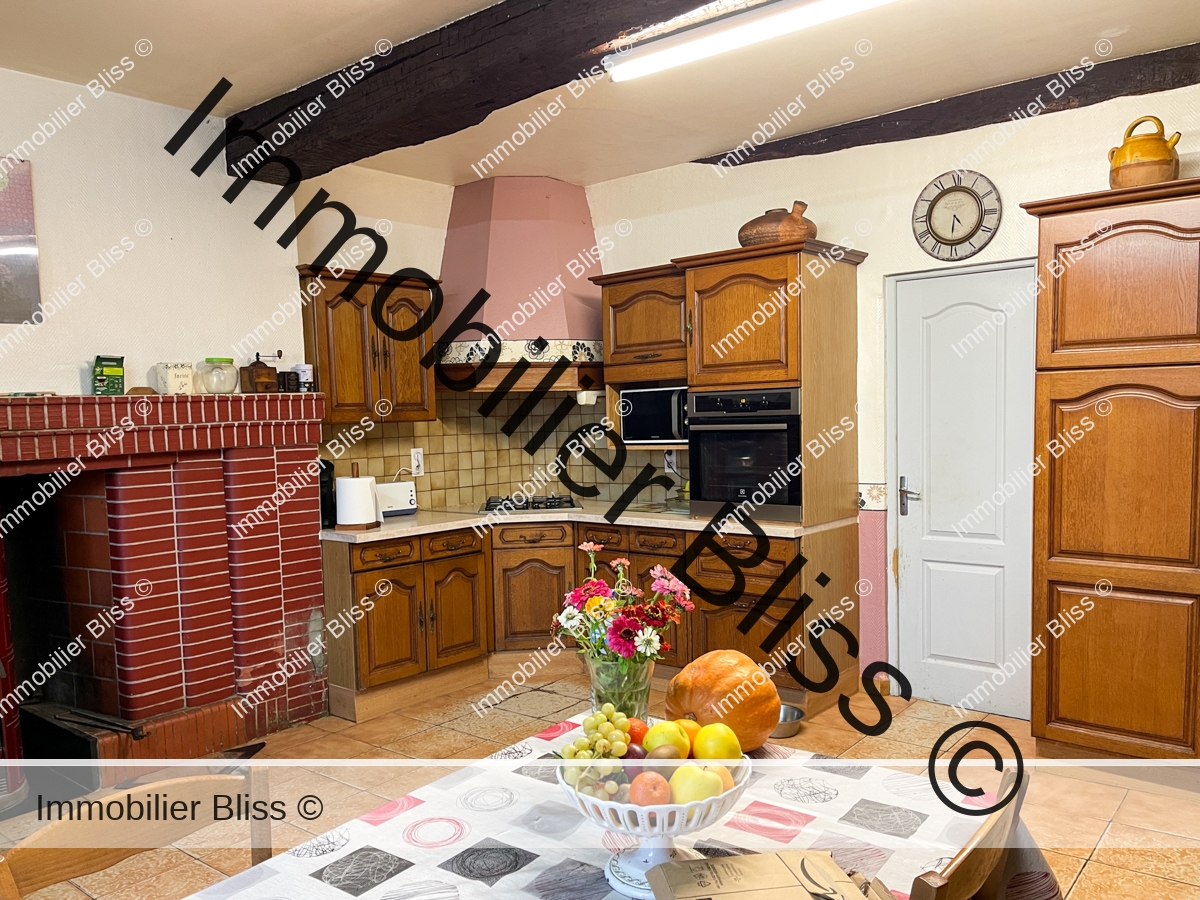 Land
There is a well, a natural spring and a pond, as well as a fishpond.
There are many beautiful mature trees, including a stand of sequoia and a lovely weeping willow.
Around the main house and outbuildings, there are long green fields which would be perfect for grazing horses or other animals – in fact this was a cattle farm for a long time. Past the cattle shelter a long stone wall with a gate opens to a really big (2850 m²) vegetable garden which has stands of grapes and cutting flowers, as well as delicious tomatoes, peppers and courgettes. This haven of old-fashioned peace is still walled on two sides and fed by a large pond which runs along the third size.
There is still a long stone barn and two open hangars. This property has everything on a large scale, but it could be a very exciting project.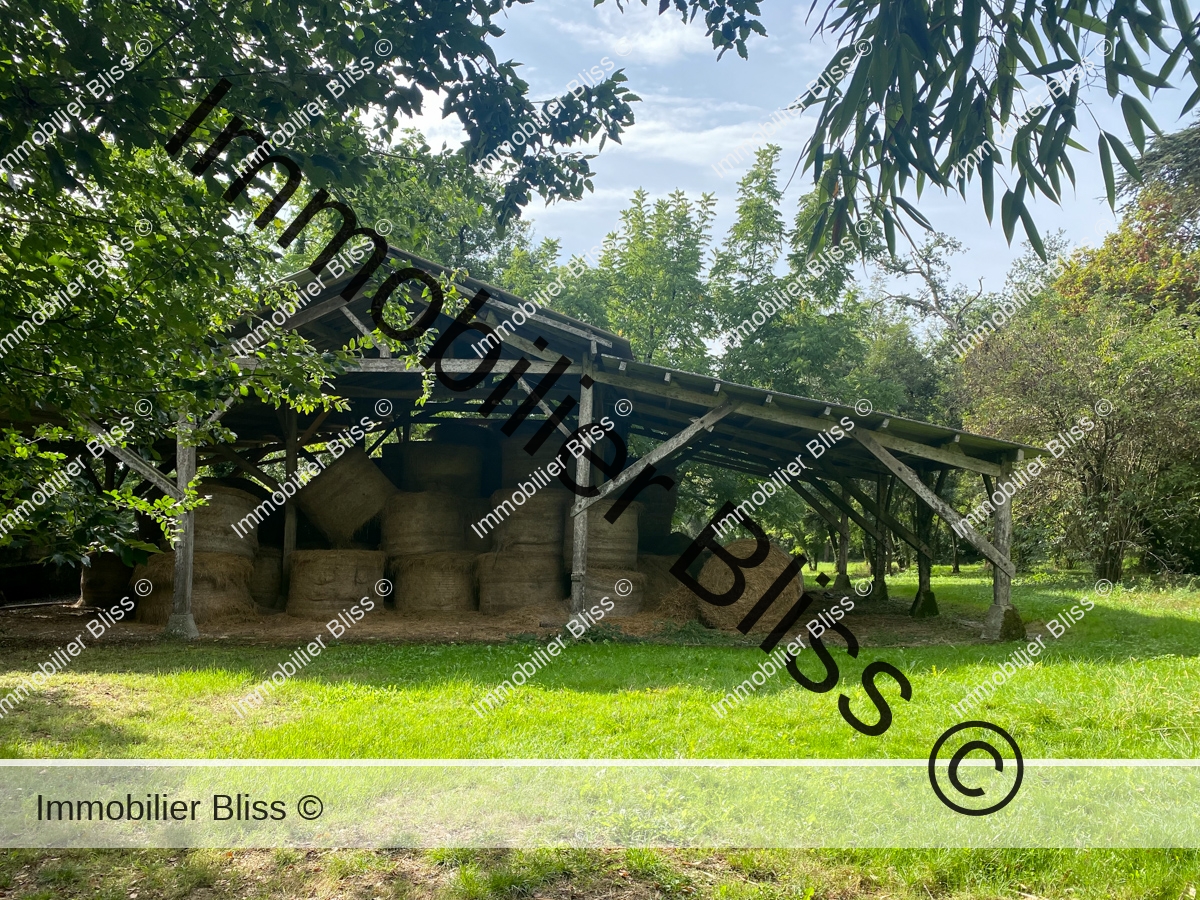 Here at Bliss
This is a house for someone with a vision, and the energy and funds to make that vision a reality.
Ideal for lovers of quiet country living, those who have animals, or a market garden or rural tourism project.
More images…
Click images to enlarge
Technical details
Taxe foncière: 1271 €
well
4.4 hectares around the property
Chauffage : wood burning stove, electric
Stables: 153 m² ground floor + first floor same size
Forge with vaulted ceiling: 20 m²
Workshop with vaulted ceiling: 20 m²
3 Agicultural hangars
Main house measurements
Ground floor
Entry: 23.3 m²
Kitchen: 42m²
Living room: 42m²
Back kitchen: 15.64 m²
Cellar: 7.25 m²
Hall: 4.2 m²
Bedroom 1: 22.73 m²
Bathroom: 5.29 m²
WC: 1.8 m²
Cave: 17.45 m²
Storeroom: 41.6 m²
First Floor
Attic: 87.7 m²
Room: 11 m²
Room: 27 m²
Room: 14 m²
Room: 21.5 m²
Room: 16.7 m²
Hall: 16.7 m²
Terrasse: 70 m²
Bedroom 2: 31.7 m²
Room: 12.2 m²
Bedroom 3: 16.6 m²
Bedroom 4:
Bathroom: 5 m²
Landing: 7.53 m²
Bedroom 5: 22 m²
Bedroom 6: 17.84 m²
Shower room: 6.8 m²
Second Floor
Landing: 21.7 m²
Attic:
Bedroom 7: 20.4 m²
Room: 10.8 m²
Dressing room: 10.32 m²
Bedroom 8: 21.2 m²
Bedroom 9: 20 m²
Storage room: 5 m²
All measurements are approximate.