Charming Farmhouse with Guest Cottage
near Montréal du Gers
with Pool, Gites and Artist's Studio
Set on a south-facing hilltop overlooking rolling hills, this restored farmhouse is located just outside a tiny village in the heart of Gascony. You can park your car in one of the shady parking spaces provided for guests and immediately feel the peace and charm of the area as you wander round to the front terraces and look out over the surrounding countryside.
The current owners are both artists so it comes as no surprise that the large swimming pool with fountain and surrounding pool house and terrace were designed by them. It feels a bit like Ibiza as you take in the white stone walls and mature olive trees, the flourishing lavender bushes and fragrant rosemary.
The main house and two of the attached guest cottages face south; each gite has access to 2 terraces.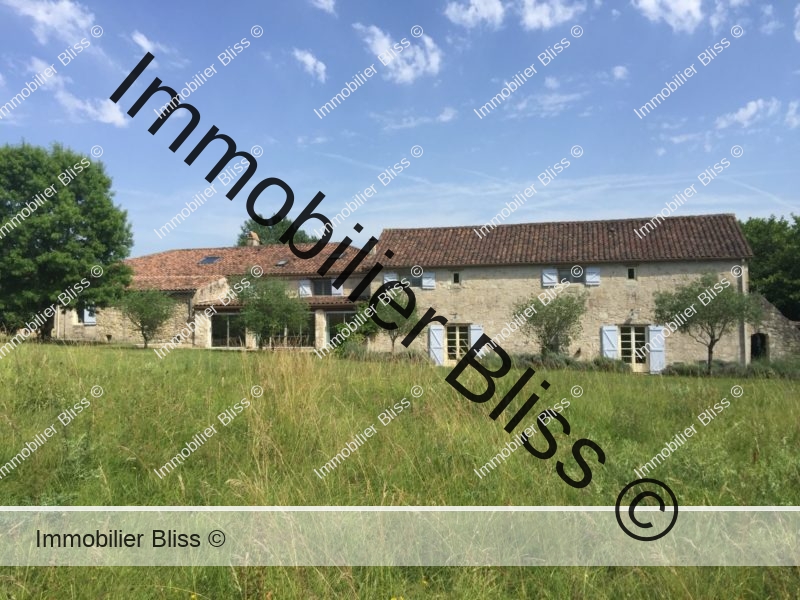 Toutes les mesures sont approximatives
Aéroport de Toulouse
120
Km
Frais d'agence inclus (5%) à la charge du vendeur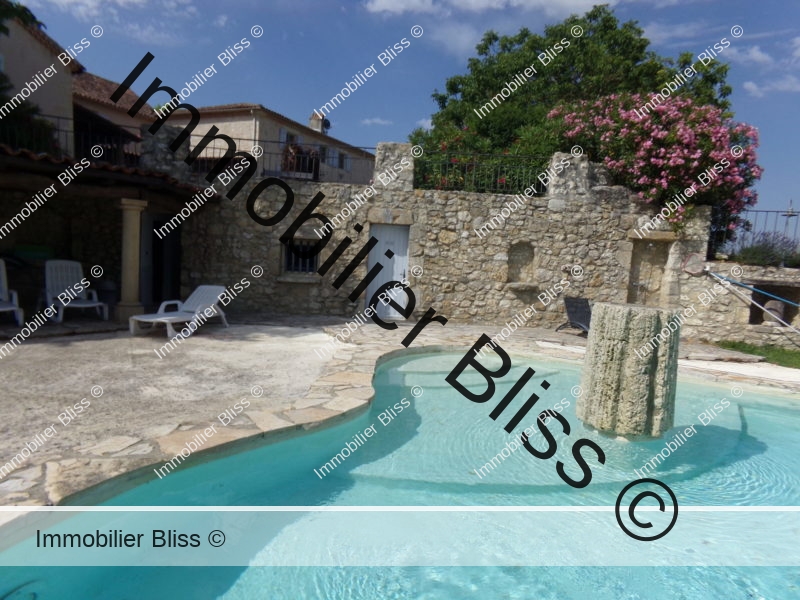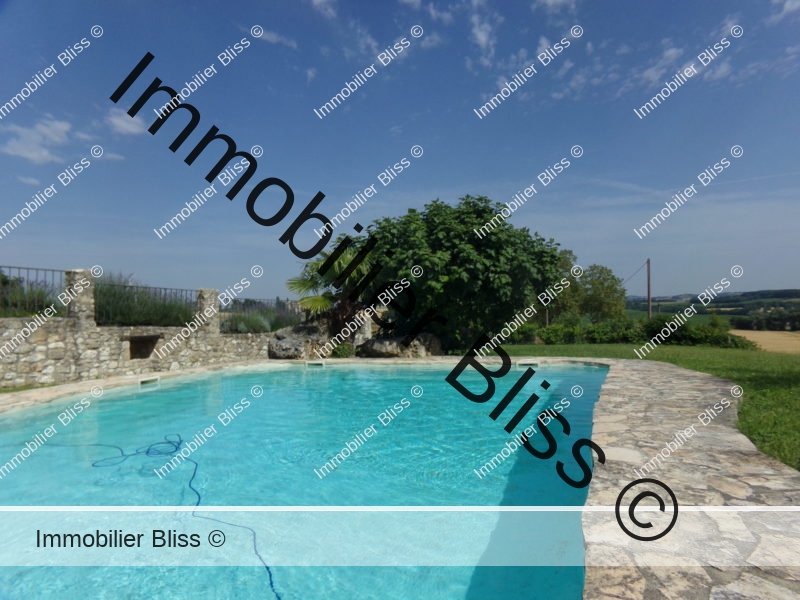 The outstanding feature of the property is undoubtedly the 100 m² great room, with its ideal acoustics for music – the owners have had opera workshops here in the past. For the winter there is underfloor heating in here and a big stone fireplace with a ventilated insert that pushes heat through to the mezzanine, living room and main bedroom.
The large kitchen faces the front terraces so you can open the double doors and feel the warmth of the sun as you cook – or share the conversation of your guests sitting outside.
 For cozy evenings there is a stone-walled dining room and a second kitchen with another dining room at the back of the house.
The main house also has a library which could become a downstairs bedroom, and a shower room. Upstairs there are 2 single bedrooms, each with a big closet and a sleeping platform which children would love. There are also 2 double bedrooms, a shower room, a bathroom with shower, and a separate WC.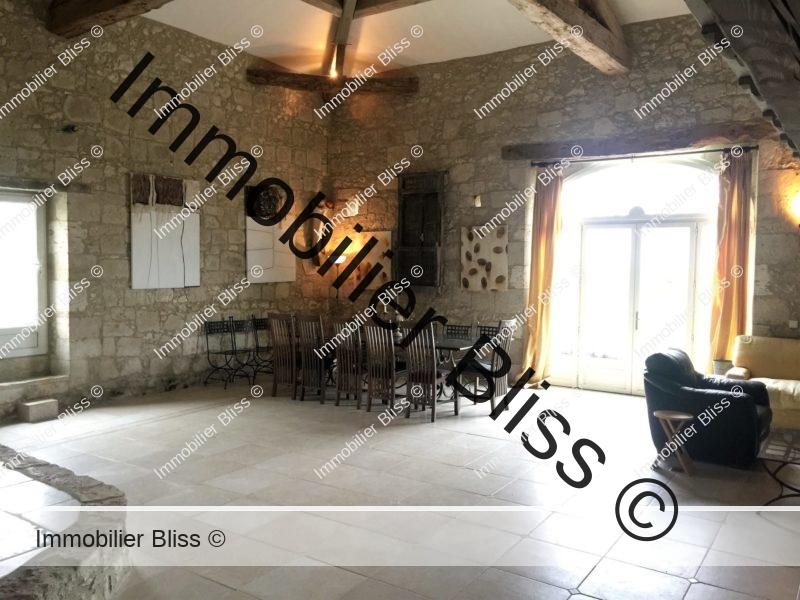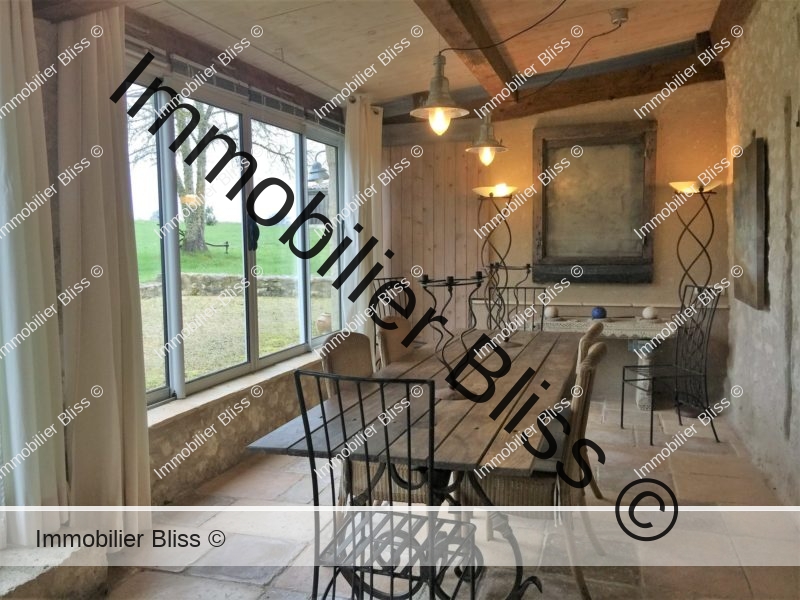 There are 3 tidy gites – each with two bedrooms, a large living room/kitchen, shower room, private terrace and access to a stone BBQ. All gites have fitted kitchens and underfloor heating.
If you have any artistic leanings you will be inspired by the large artist's studio in the grounds where one of the current owners makes unusual art out of twisted vines and old insulation panels. This building was originally an agricultural building but now houses a small storage room with running water and an 80 m² studio with one glass wall facing the surrounding fields.
My favorite part of the grounds is the private BBQ and terrace; the whole area is built around the original bread oven of a long-gone farmer's house, and now offers a shady terrace with vines growing over the top and fig trees nearby.  The waist-high wall which surrounds it was built from the stone of a ruined outbuilding and is now a vegetable plot – in the summer you can actually reach over and pick a tomato or a handful of basil while eating your lunch.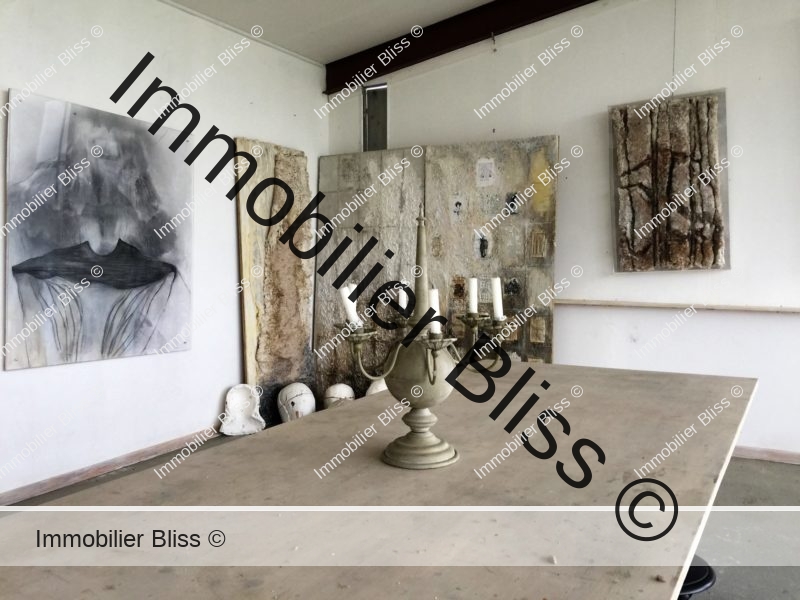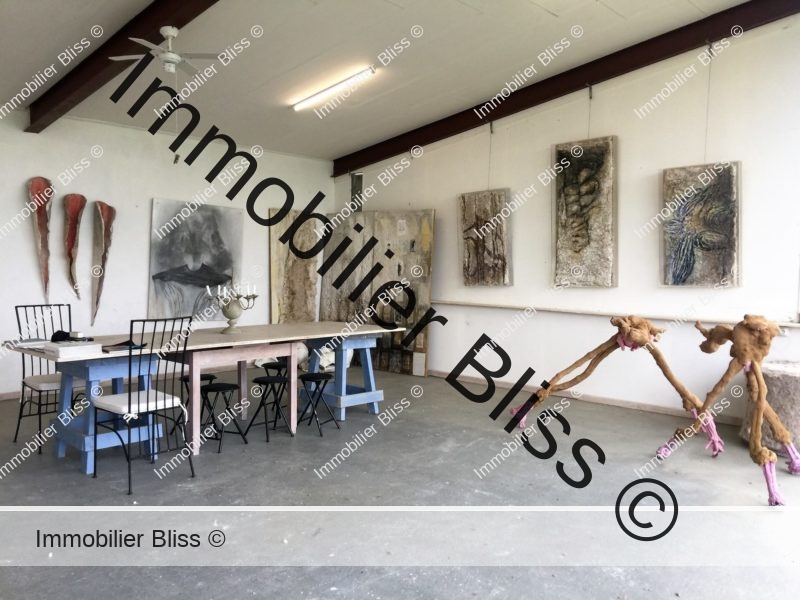 What would I do if this house were mine:
Finish enclosing the swimming pool and plant a thick hedge on the road side
Install geothermic heating to replace the current electric underfloor and radiator system
Main Points
Large main house with 4 bedrooms
3 gites (each with 2 bedrooms + 1 shower room), + big living room/kitchen + 2 terraces
88 m² artist's studio with running water
Large bespoke swimming pool (concrete) with fountain
2.5 hectares of land
Large pool area
3 parking areas
2 BBQ areas for the gites
Large private BBQ/ sitting area/raised beds/ bread oven
Water softener for all taps
10 minutes to a town with all amenities
Our thoughts here at Bliss
Ideal for buyers who love to have big house parties and invite friends and family to spend a weekend or a week enjoying the French lifestyle, this property would also suit those looking to supplement their income by letting out the 3 gites in the spring and summer months.
This is not a traditional property; it has its own quirky charm and would suit someone who thinks outside the box.
More images…
Click images to enlarge