Charming Townhouse with History
Swimming-pool and bright Sun-room
Tranquil Oasis in the Heart of Condom
Originally part of a much larger estate in the 18th century, this delightful home is located in the heart of a popular town in the Gers region, and within walking distance of the beautiful cathedral, shops and restaurants.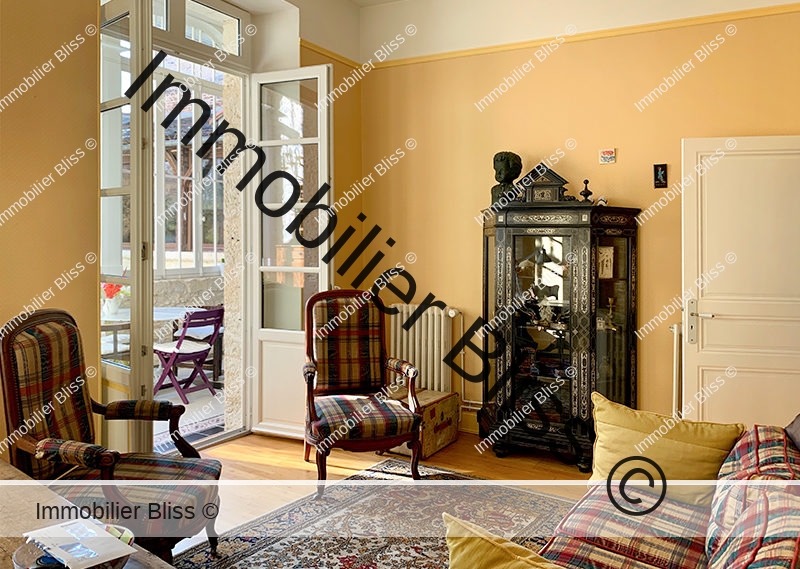 Toutes les mesures sont approximatives
Aéroport de Toulouse
110
Km
Frais d'agence inclus (5%) à la charge du vendeur
First impressions
Like so many bourgeois houses of the period, the life of this property is hidden behind an attractive stone façade which gives the casual passerby no idea of what lies behind the tall windows and painted wooden shutters.
We enter through a door carved out of a much larger set of wooden garage doors, and find that the original garage has been preserved but used more as a foyer and mudroom. Here there is a door to a fully independent studio apartment or guest suite – which we will come back to.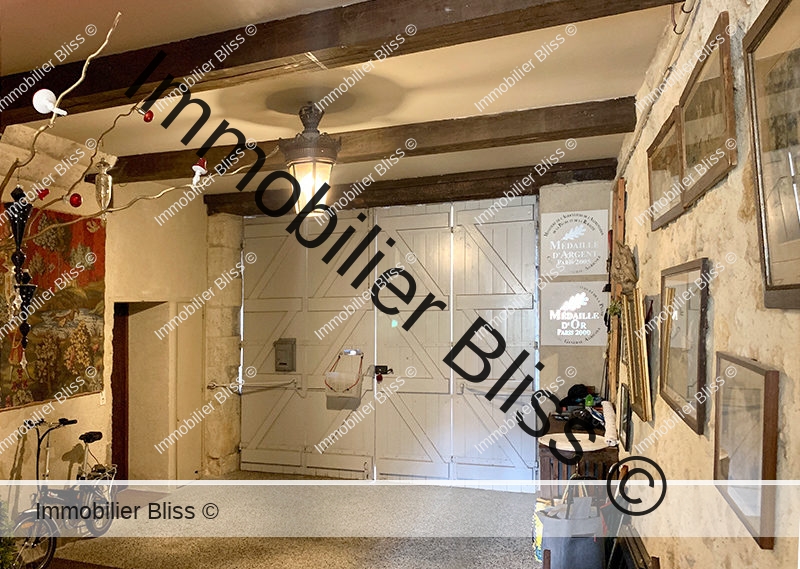 What really draws the attention is the garden which is just visible beyond large double doors at the far end of this large space. As we approach it, we can see, tucked away behind the stairs, a wine cellar and a small laundry space, both of which are very practical and useful.
Once through the doors we come onto a large covered terrace whose stone walls still show traces of ancient archways filled in long ago when these gardens were divided between separate houses.
The terrace is charming, and opens into a small but perfect garden whose high pillars and rose bushes frame the most surprising element of this property; a full-sized swimming pool!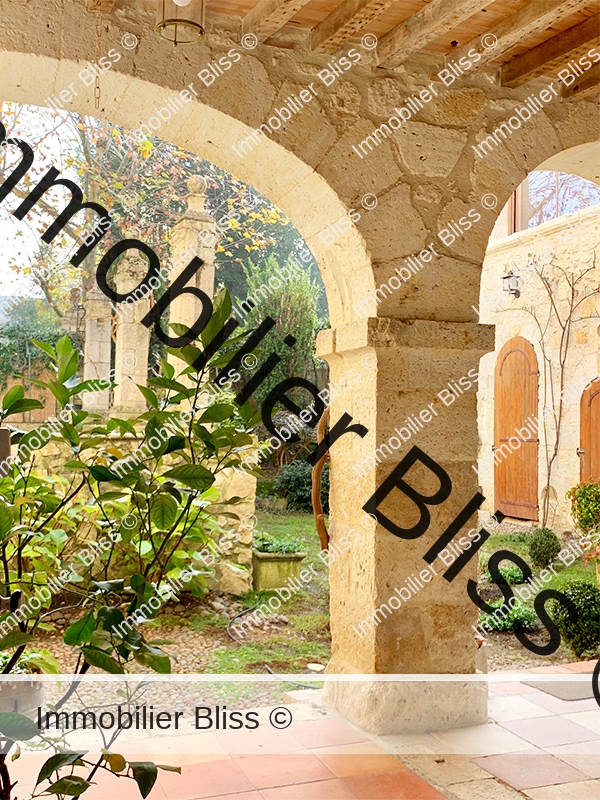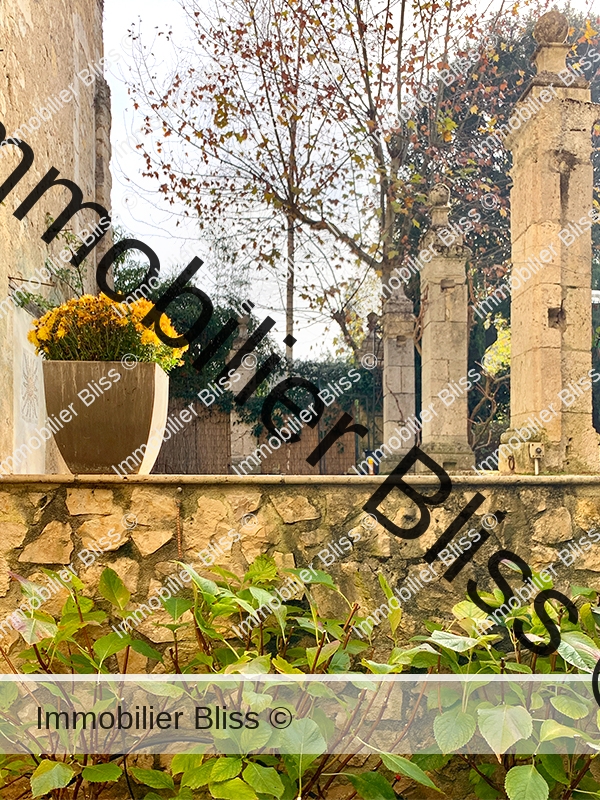 The pool has been beautifully created to seem as if it had always been a part of the property, and in fact previous owners had moved several of the stone pillars so that they now frame the pool deck and help give the impression of timelessness.
Running along one wall of the garden there are small storage rooms with arched doors. One of these spaces has been cleverly used to house the boiler and the pool pump. Three further doors open to reveal garden storage and a workshop.
Let's go back inside
A double door in the terrace leads to a large bedroom with attached shower room and a large living room equipped with a tiny kitchen. As mentioned above, this could function as an independent studio apartment for visiting friends or as a small B&B.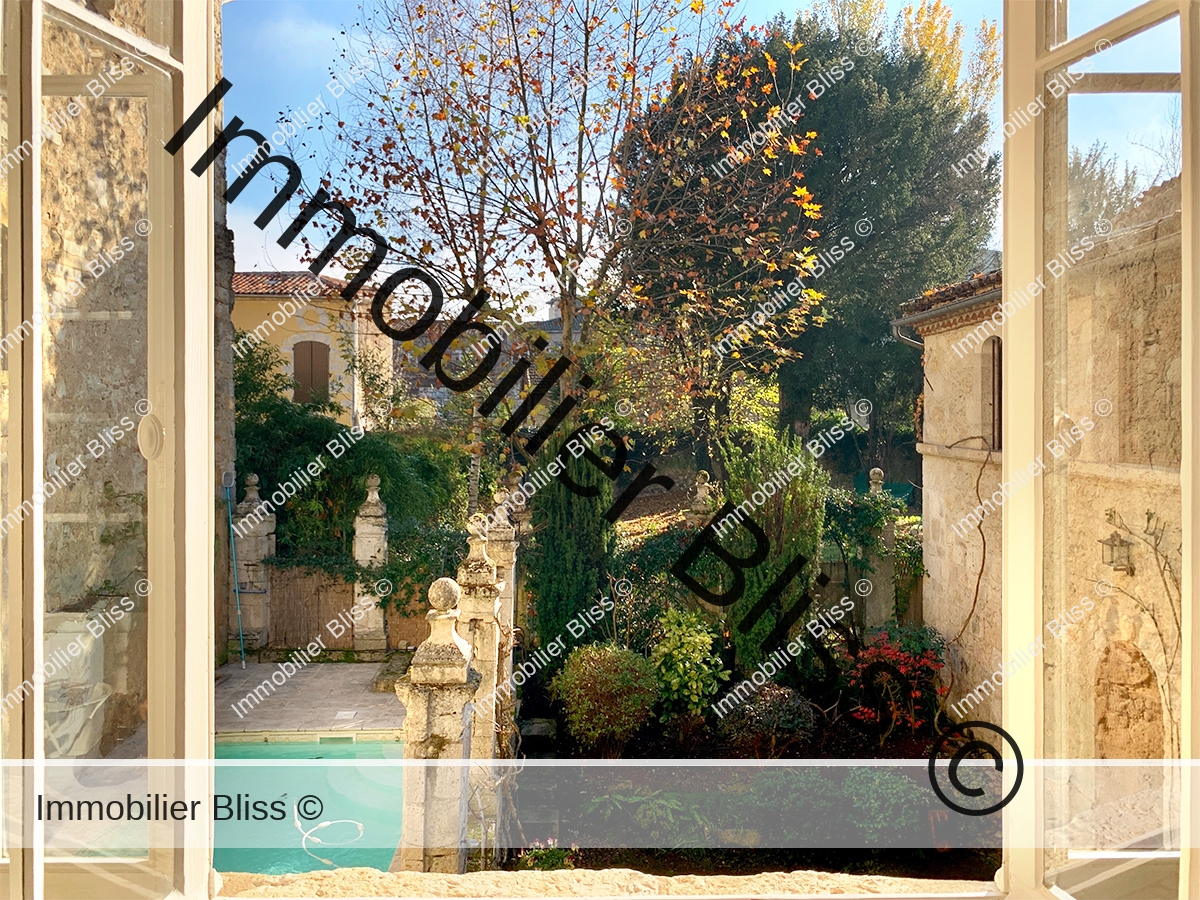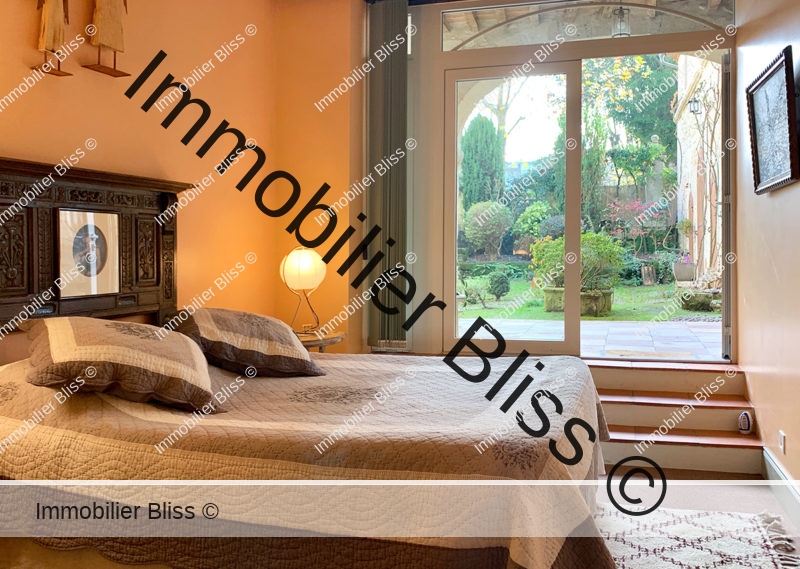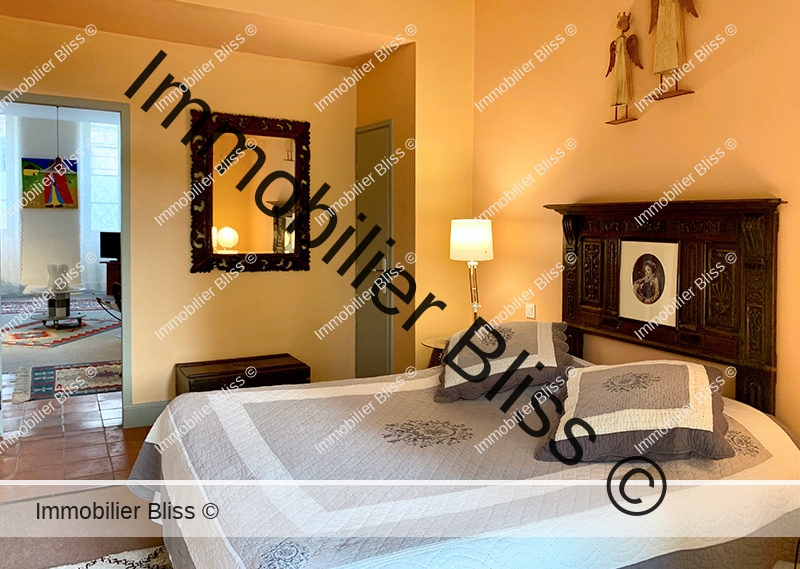 Grimpons quelques marches
We access the first floor by means of an attractive modern staircase in the back of the garage.
This is the heart of the house, and when we step into the hall and are greeted by the current owners, it is easy to feel at home immediately. The first impression is of light and polished wood. And, surprisingly in the heart of a town, stillness and peace.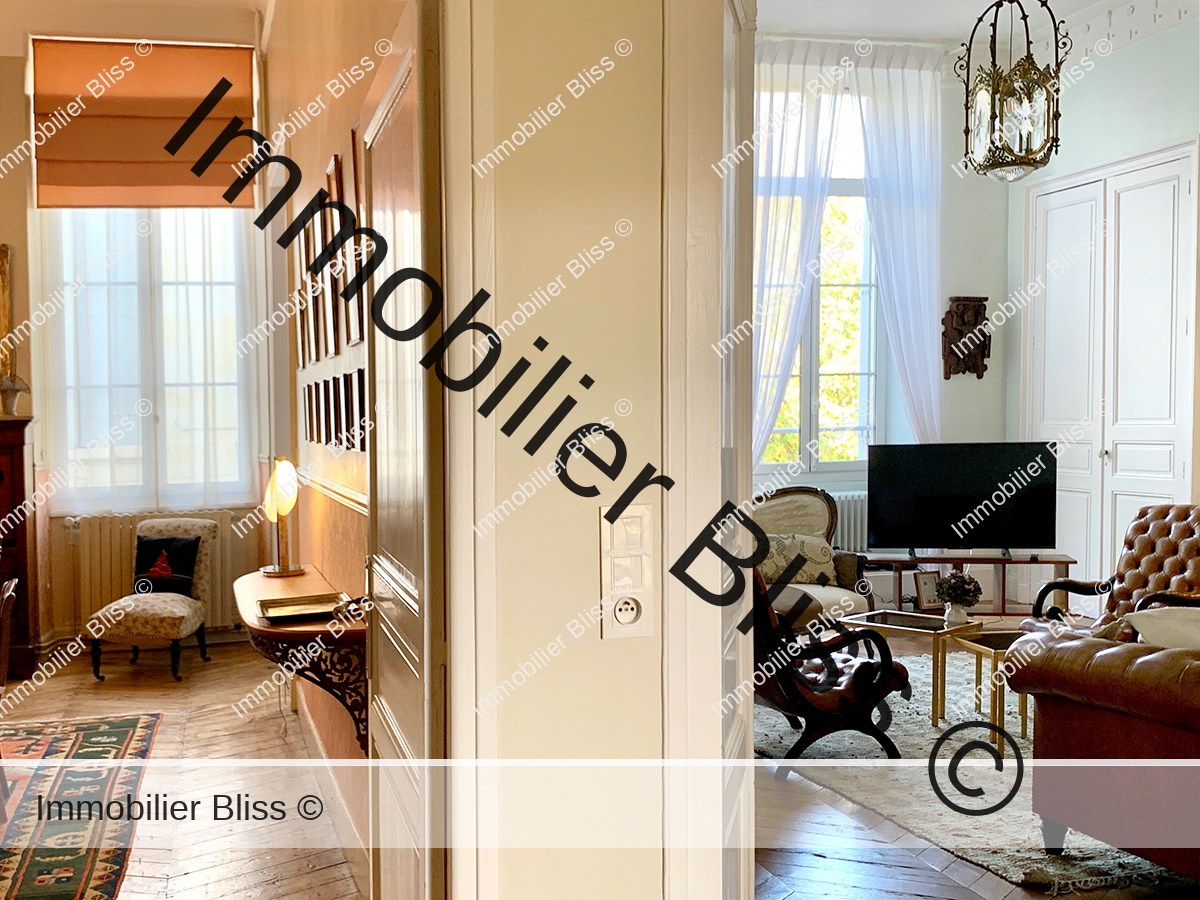 At the front of the house, there are two large reception rooms, each with an elegant fireplace and surrounding molding. These rooms have high ceilings, polished parquet flooring and old-fashioned framed floor-to-ceiling cupboards. There is an air of bourgeois good taste, a scent of roses, a feeling of timelessness here, and it would be so easy to just sit down and stay.
But there is more to see, there is still more to be charmed by, so we continue on.
On the other side of the entry, there is large L-shaped office which could easily become a bedroom should you need an extra one. There is also a practical kitchen, a WC and a large bath/shower room.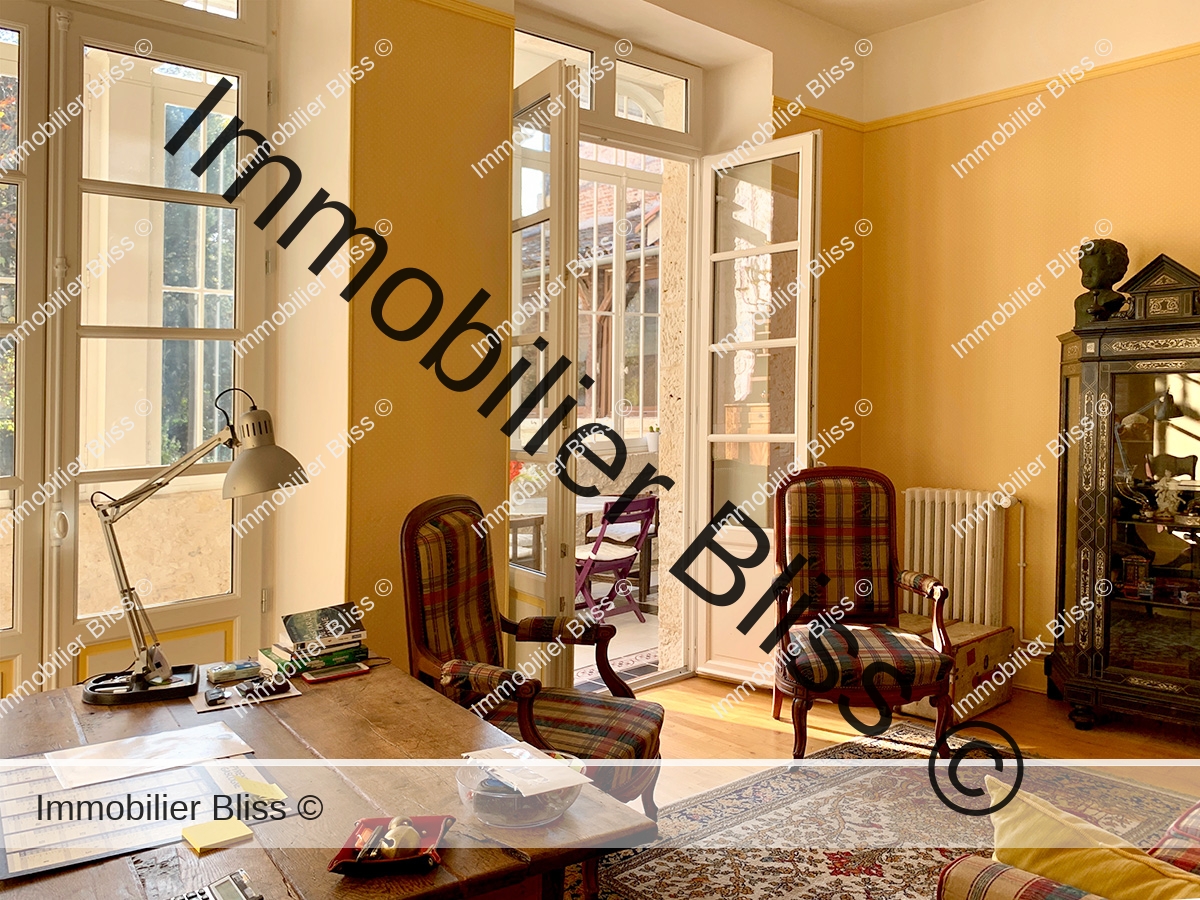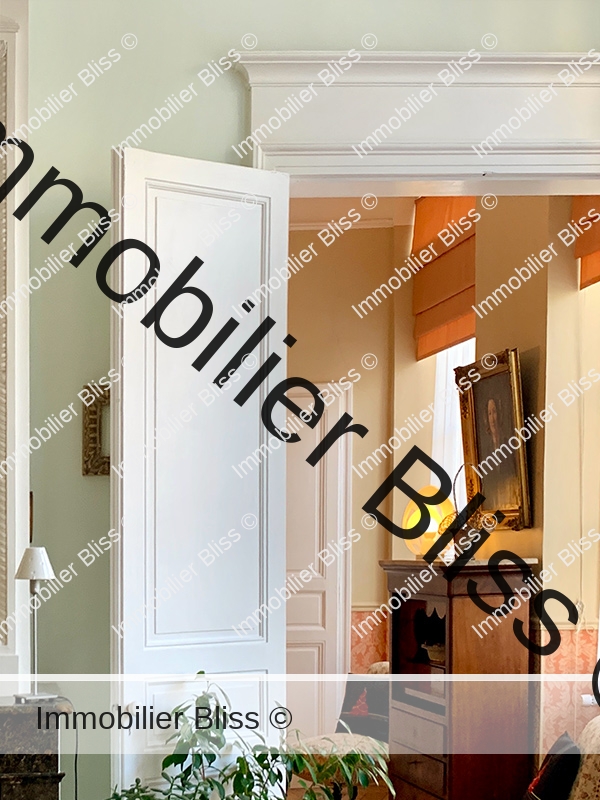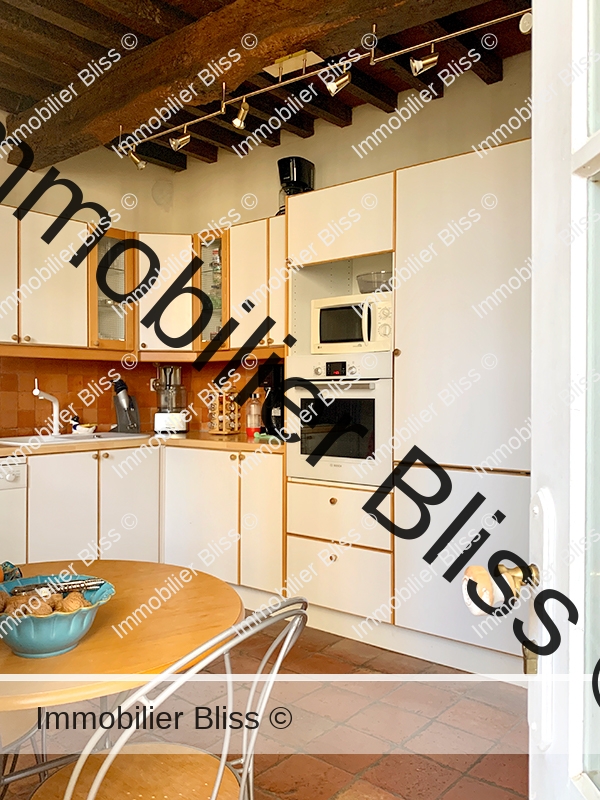 Both the office and the kitchen open onto one of the nicest sun-rooms we have seen. Stretching the width of the house, this room was built above the covered terrace, probably some time in the 19th century, and it has tall iron and glass windows overlooking the garden and swimming pool.
The stone walls and pretty tiled floors add to the charm of this elegant room where you can imagine taking afternoon tea on wicker chairs surrounded by tall ferns and perhaps a parrot.
Off this room is the master bedroom, another large room with picture windows and stone walls. This room would also make a fantastic dining room; in fact, it would be easy to play with the distribution of rooms and change them according to the lifestyle options of the buyers.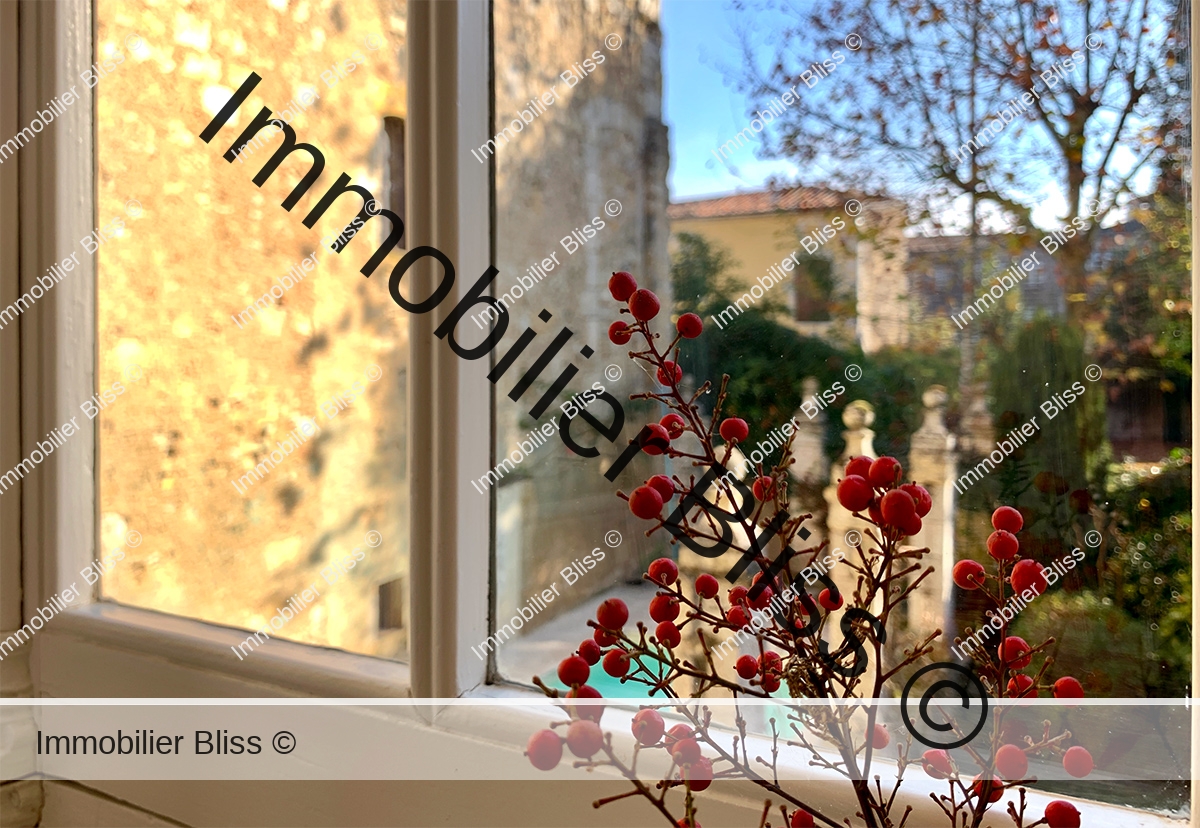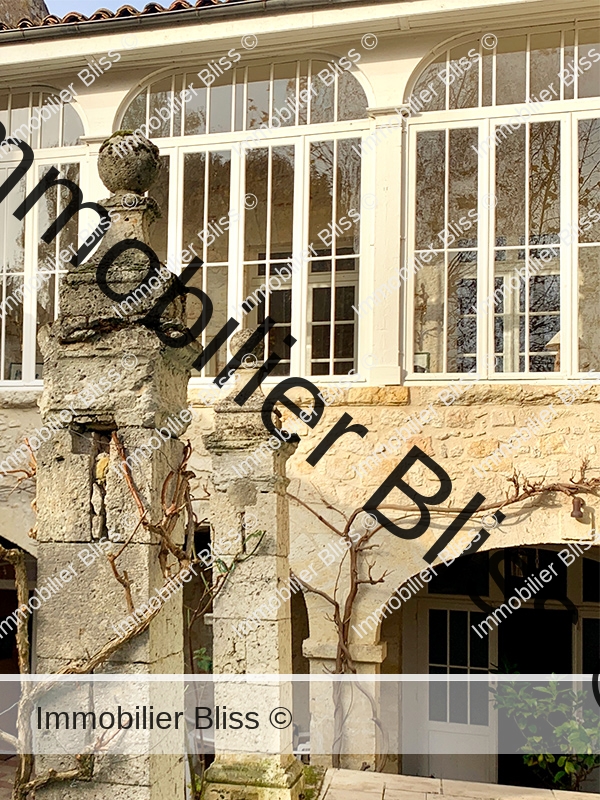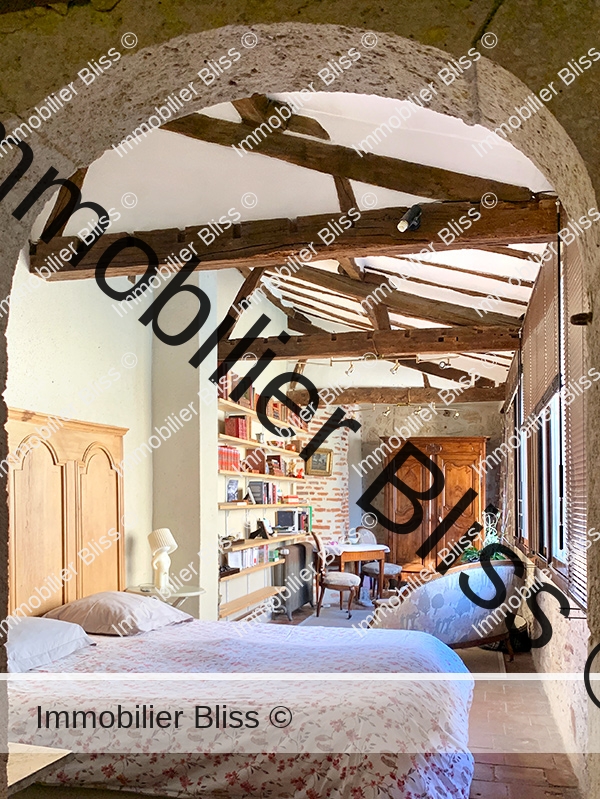 Upstairs on the 2nd floor, there is a spacious bedroom with attached shower room. This suite is really private so could be another great option for an older child or guest.
Access to the crawl space is up here too, but access is restricted due to the insulation.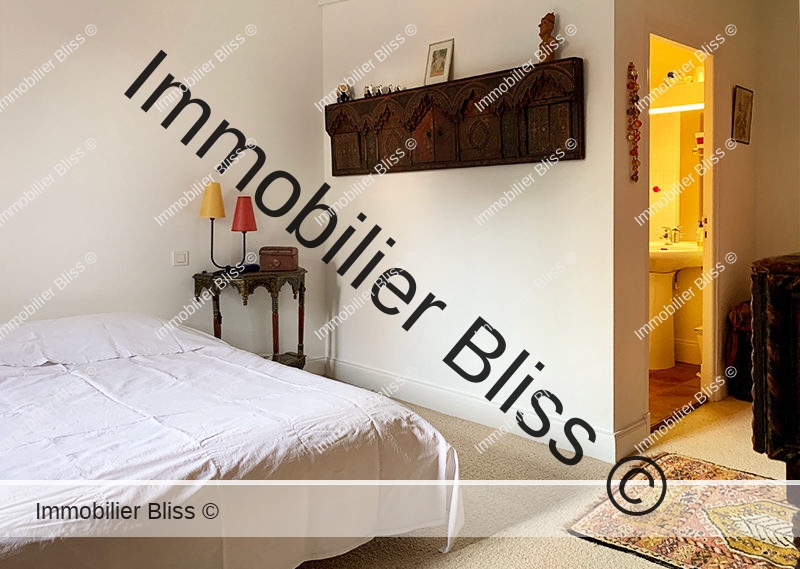 Here at Bliss
This house would be ideal to live in full time, as it is within walking distance of schools, shops, doctors, pharmacy, a huge park for dog walks and many other amenities. But it would also make a great holiday home, as it would be so easy to lock up and leave.
If we bought this house, we would update the kitchen (even though it is totally functional as is).
Replace windows in the studio apartment as these are the only ones that have not been replaced.
Features
Heated swimming pool with electric cover
Gas fired central heating (town gas)
Elegant original features throughout
Fully functioning well with automatic watering system
Most windows replaced with wood-framed, double glazed and sound resistant replicas
More images…
Click images to enlarge