Stone property with views
Farmhouse & outbuildings with pool
Stone Property close to Saint Clar in peaceful location
If views are top of your search criteria, this property could be the one for you.
 Set in a rural position in a perfectly tranquil location, the property benefits from an elevated position with no near neighbours and has far reaching views across the surrounding countryside as far as the eye can see.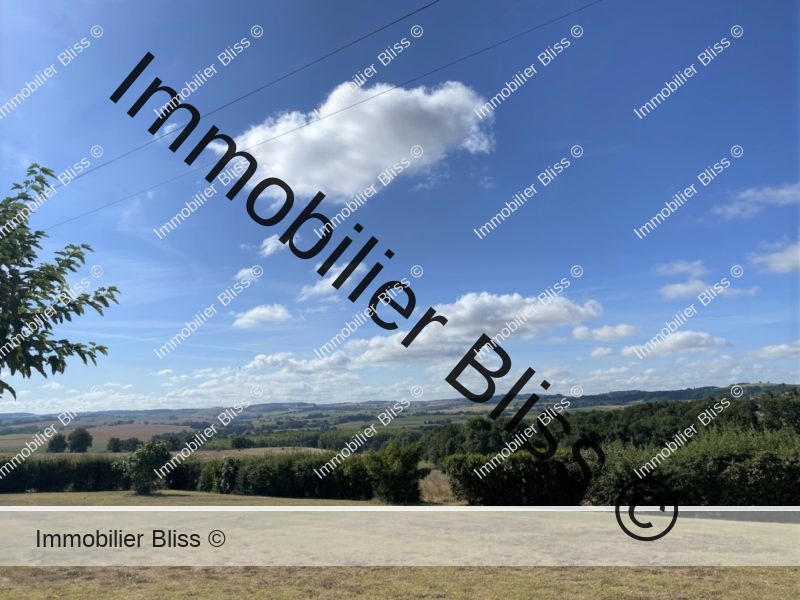 Toutes les mesures sont approximatives
Frais d'agence inclus (5%) à la charge du vendeur
This sizeable property is located on a plot of over 5000m2 with a main house and pool, guest house (for renovation), a stone barn and a hangar.
 The property is accessed down a long driveway and sits far from the road in a location which guarantees that sense of peace for which rural Gascony is best renowned.
The house and adjacent barn occupy a central position on the plot, with an open plan hangar to the rear.
There are a number of trees, shrubs and bushes, including a flaming red Indian lilac which injects a vibrant note of colour by the pool.
The landscape has an open plan aspect which encourages a feeling of space.
 The views from the property stretch over large swathes of agricultural land. This is a property for which big fields and big open skies are an inherent feature.
 The façade is comprised of large cut pale blonde stone, typical of the quarries of Lomagne, the North of Gascony. The windows are framed by wooden shutters.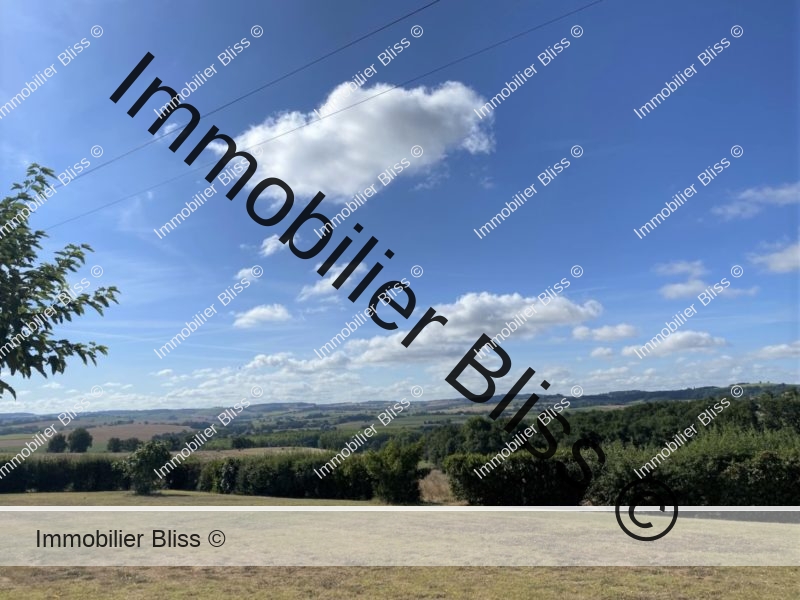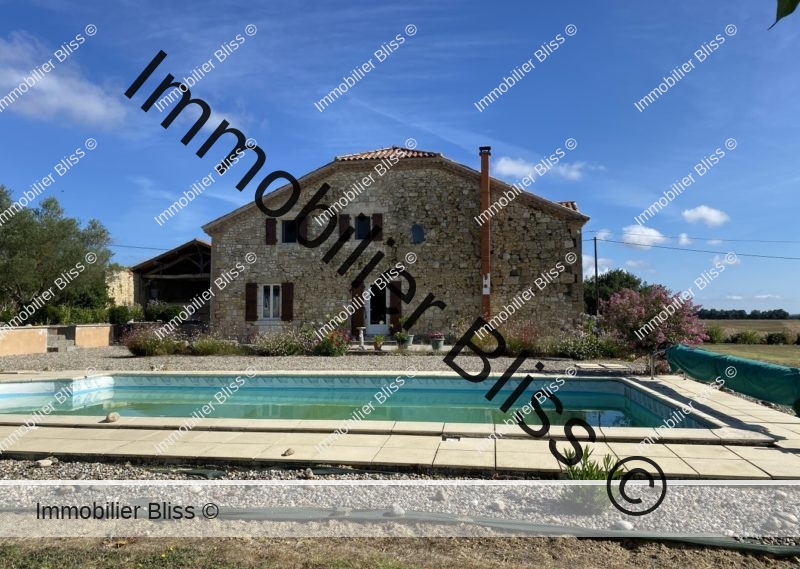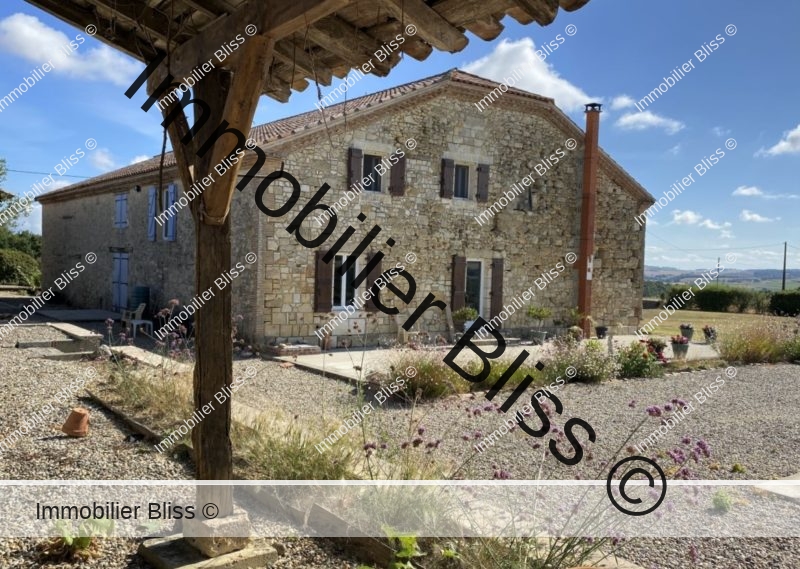 The property has a large central hallway which runs through the heart of the house in the style of most Gascon homes.
We enter the property via an alternative route, through a study room which opens onto the front of the property with French doors and which is currently used as an office area.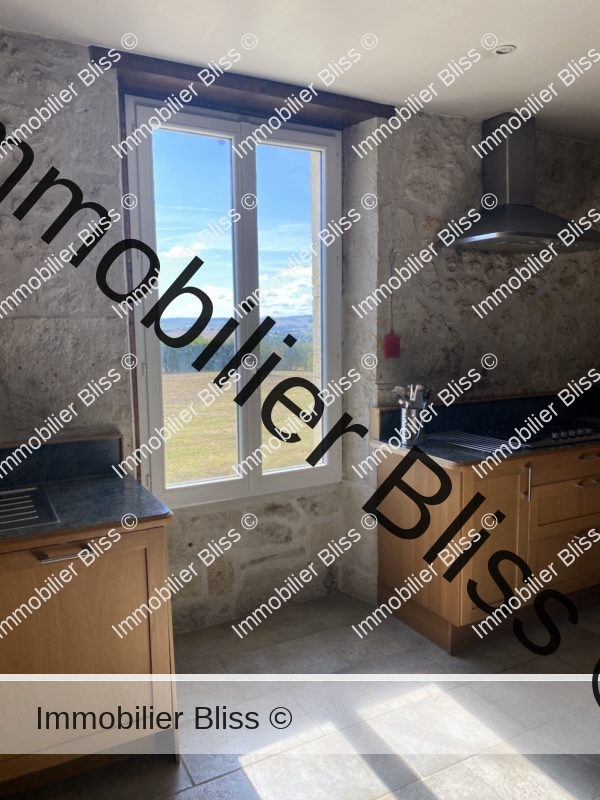 This room opens onto a large kitchen, with a woodburning stove. The kitchen has been fitted with a wide range of contemporary cupboards, and work surfaces which run along the far wall, and there is a vast central space for a large dining-room table opposite the "Jotul" wood-burning stove. The floor has been lain with pale stone floor tiles.
To complete our tour of the ground floor there is the dining-room and reception room to visit, both light and bright, with stone walls and tiled floors.
Also on the ground floor there is a laundry room with a WC, sink, and the hot water boiler.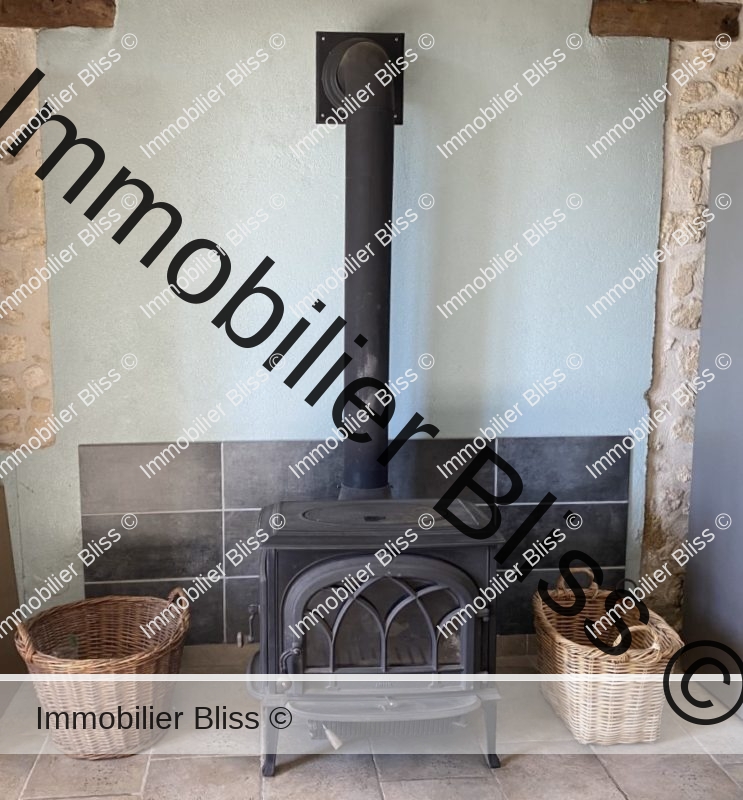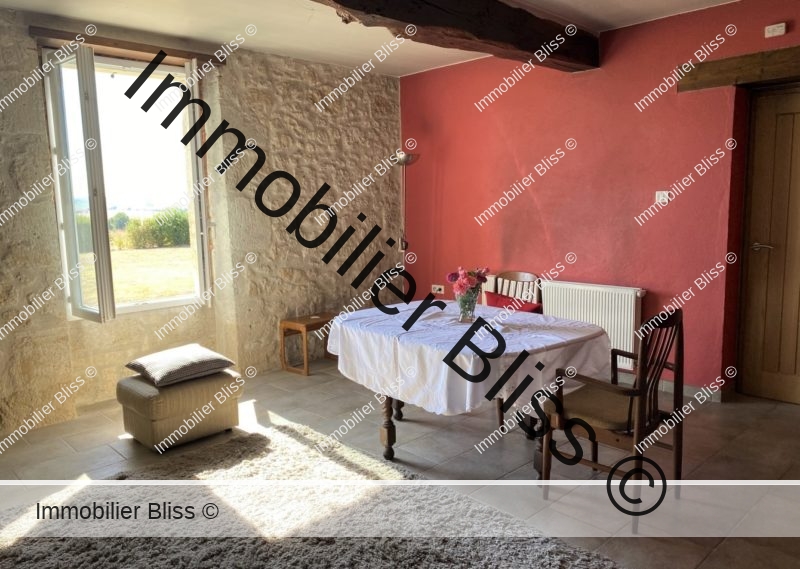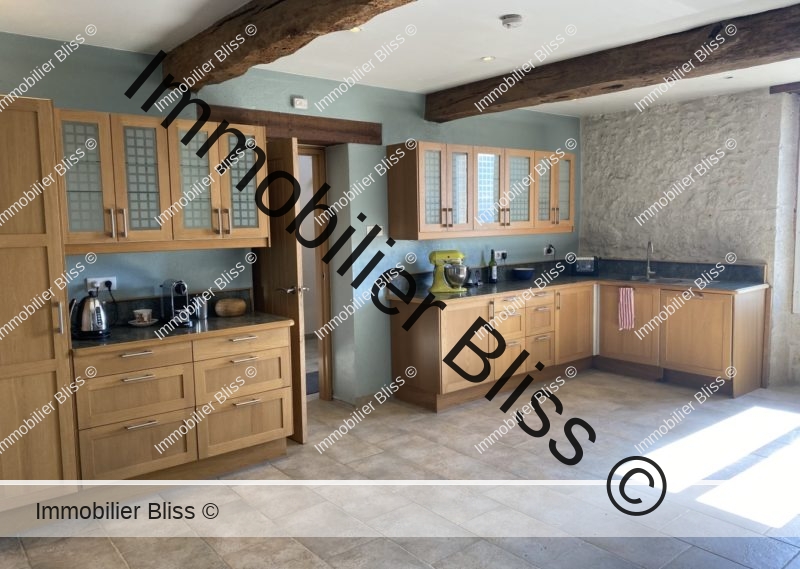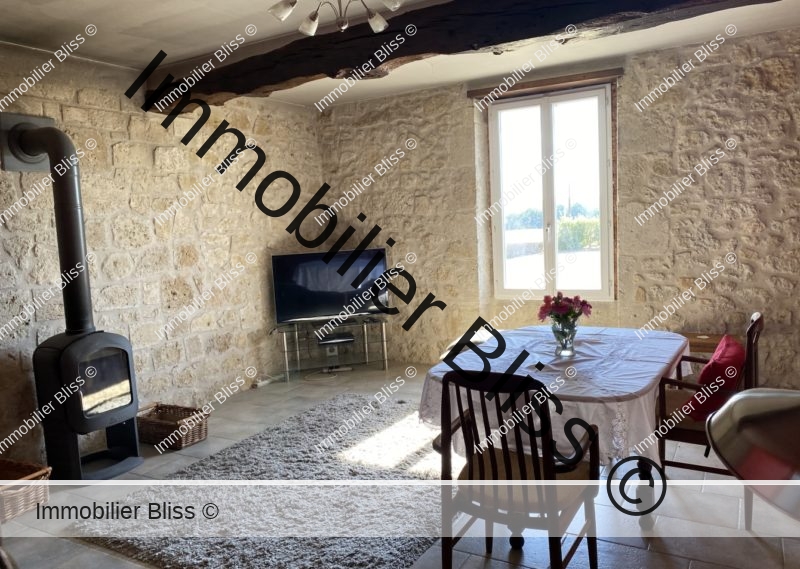 On the first floor there is a large hallway which mirrors the  ground floor hallway and guarantees a sense of space and distance between the bedrooms for guests and family.
There are three bedrooms in total.
The first benefits from its own private bathroom, the second shares the family bathroom, the third requires work to complete, but the plumbing is in place for an en-suite bathroom.
 On the first floor, there is also a separate bathroom, with a shower, WC and two sinks.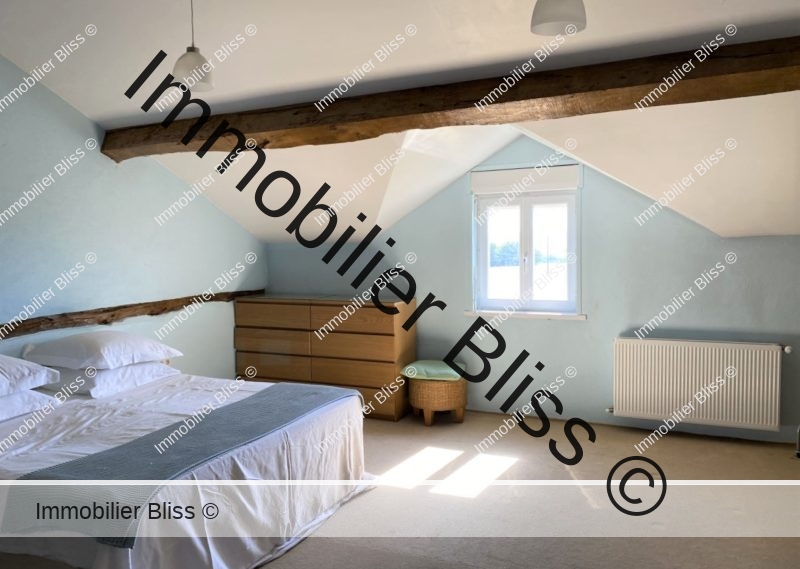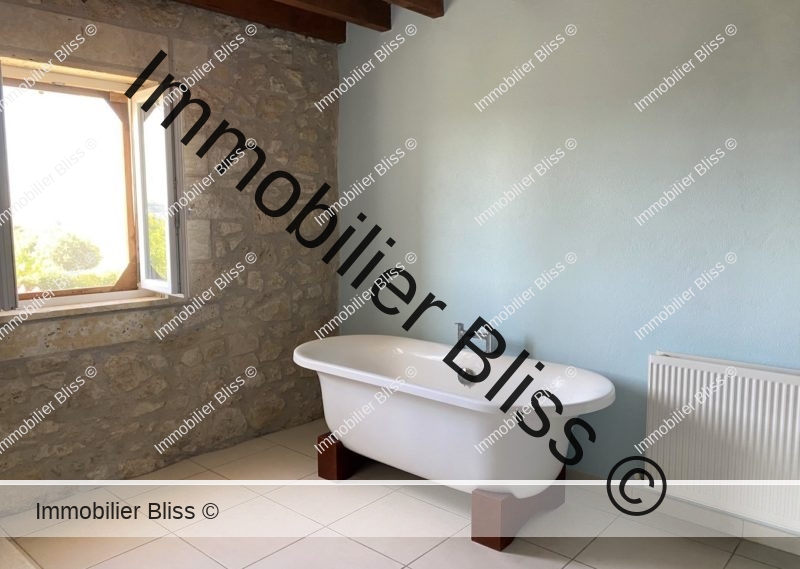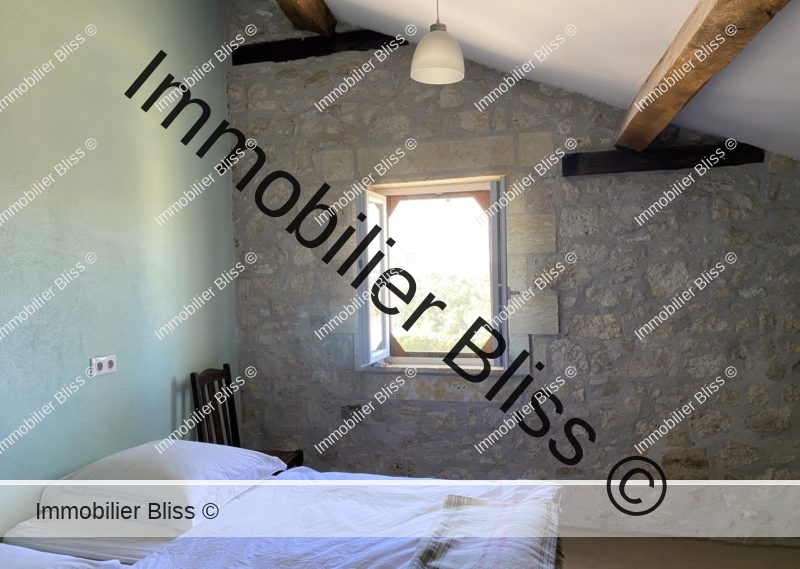 The property has the added advantage of a separate guest house which requires renovation following damage during a fire. Here we find a main reception room with a wood-burning stove, a kitchen, and a WC on the ground-floor level.
On the upper floor of the guest house there is a bedroom with a separate bathroom.
This kitchen area could potentially be extended into the garage (planning permission may be required).
The entire guest house is currently in poor condition but provides an interesting opportunity for a building project in addition to the accommodation in the main house.
We complete our tour of the property with a visit to a 135m2 garage with a concrete floor which was restored ten years ago, and an open plan hangar of 110m2.
The house is interesting from an ecological and economic point of view, as installed with an OKOFEN wood-chip boiler, which is notoriously expensive to install, but highly efficient and economical to run.
To whom would this property appeal?
This property will appeal to anyone seeking views and an interesting surface area to develop, particularly with regards to the immense barn, and the additional guest house which offers potential for extra space, once restored or for the development of a gîte.
 Anyone with a large collection of cars or motor bikes will find the hangar and barn of interest.
 This ensemble of stone buildings will appeal to buyers who are looking for a blank canvas in good condition, and offers a sound basis for anyone wishing to take this project to the next level; where they will find much to please with this property, not least the price.
Who may not like this property?
You will need a vehicle to reach the closest shops in Saint Clar, Lectoure or Valence – so a house to avoid for anyone who wants to be able to do their shopping on foot.
The interior has been recently restored and as such, other than the stone walls, has a spacious contemporary feel throughout. If you are seeking a home which is extremely authentic in style, this may not be the property for you; albeit some of those period features could be reinjected onto what is essentially a clean and blank canvas.
Although there is no real work required in the main house, other than the completion of the final bedroom and bathroom on the top floor, the guest house requires work if not to be left in its current condition – so if you are looking for a property with absolutely no building work whatsoever, this may not be the right property for you.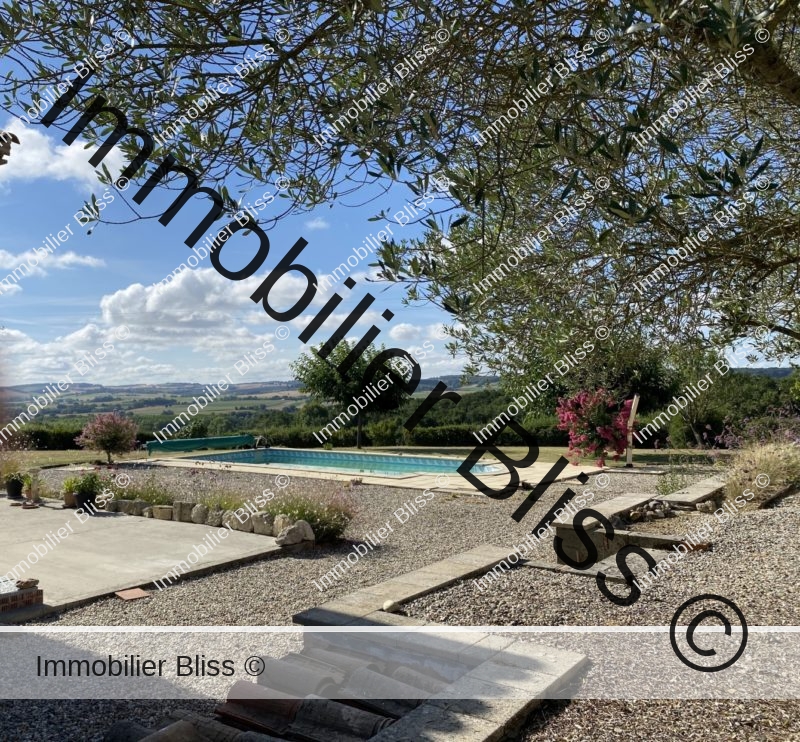 What would I do if this property were mine?            
 I would want to dissimulate the red chimney breast that runs up the main façade of the house, by either plastering it in stone-coloured render, or by any other means to make it less visible.
I would paint the external shutters the same colour. There is currently a mix of both Lectoure blue and natural brown wooden shutters.
The guest house would be a secondary project over time, since the main house is in perfect condition.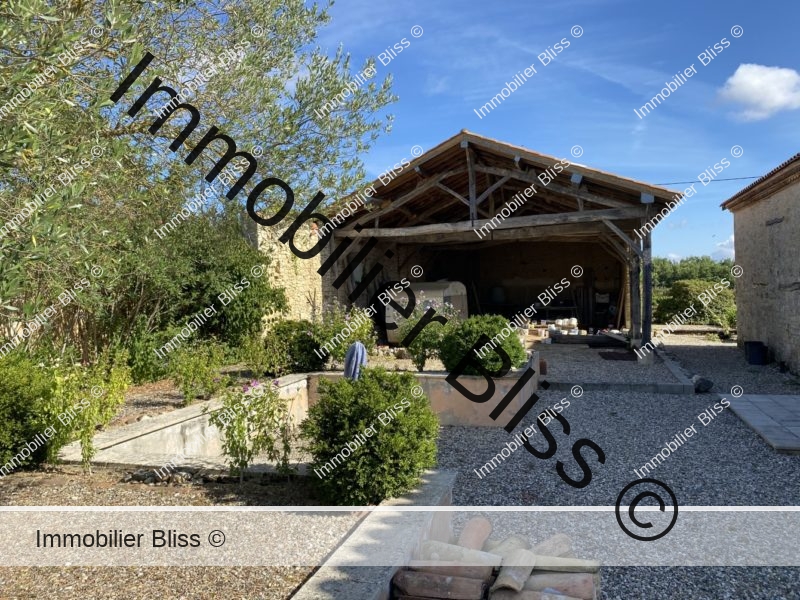 Key Points to retain
Views, Views, Views.
Silent, peaceful rural environment
Spacious main house – recent renovations by current owners
Immense barn & Hangar
Swimming pool on almost 6000m² plot of land
Woodchip burning ecological central-heating system
Easy access to St Clar and Blagnac airport in Toulouse
More images…
Click images to enlarge