Stone house close to Lectoure
Tranquil position
with pretty rural views on 1.2 hectares of land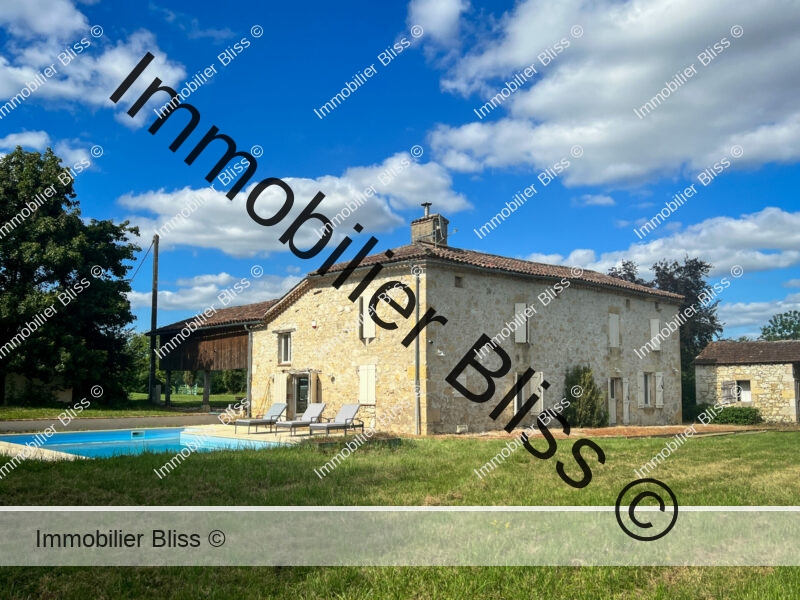 Toutes les mesures sont approximatives
Chauffage
Wood, electrical
The immediate area
This period stone farm house is located at the end of a long rural lane that cuts through peaceful farm land and fields.
The property is located within easy driving distance of Lectoure and St Clar. Both villages are highly sought-after, and much loved by tourists and locals alike.
The TGV station in Paris is a forty minute drive from the property, with Toulouse international airport just an hour and a quarter away.
The area is a haven for wildlife and an area of outstanding natural beauty with many mature trees. Deer regularly come into the gardens to eat the fresh clover, and there are hares and badgers and many birds.
The property at a glance …
The property sits on 1.2 hectares of land with a covered terrace and outbuilding for restoration and a pool.
With approximately 258m² habitable space, the property comprises :
A spacious ground floor entrance (with place for a study), a stunning central reception room (kitchen/dining/reception), a sitting room, laundry room, downstairs cloakroom/WC, a separate apartment (3 rooms with an ensuite shower room and space for a mini kitchen). Family bathroom, ground floor bedroom with ensuite.
Three bedrooms upstairs (2 of which are ensuite – with one bedroom accessible by traversing the first).
The history of the property
The property has undergone extensive renovations in the last few years and with the bulk of renovation work now complete, is ideal for anyone wanting to avoid any major restoration work, yet keen to put their own stamp on a property.
In many ways this property is a blank canvas, with neutral lime stone, exposed stone and timber throughout on a pallet of muted colours.
As the renovation project has only recently terminated, the property is not fully furnished, making it is easy to see at a glance the space available in each room and how one might decorate it.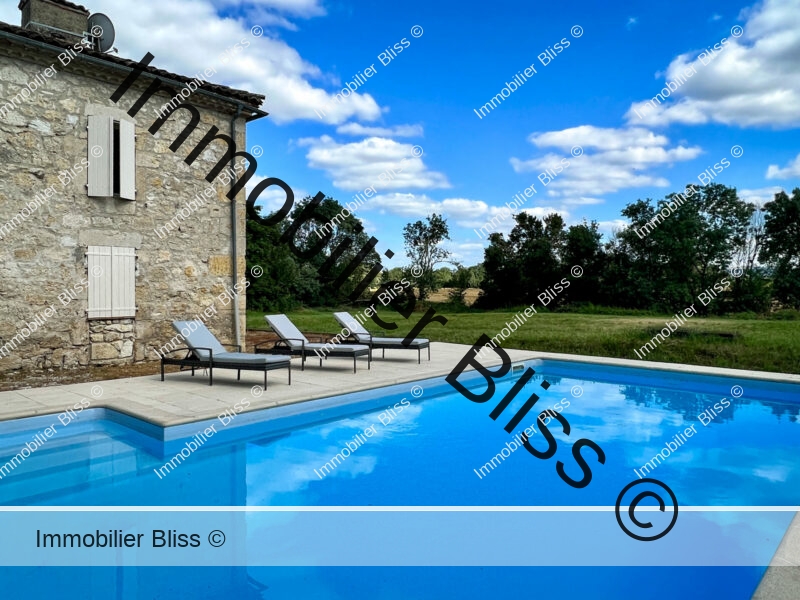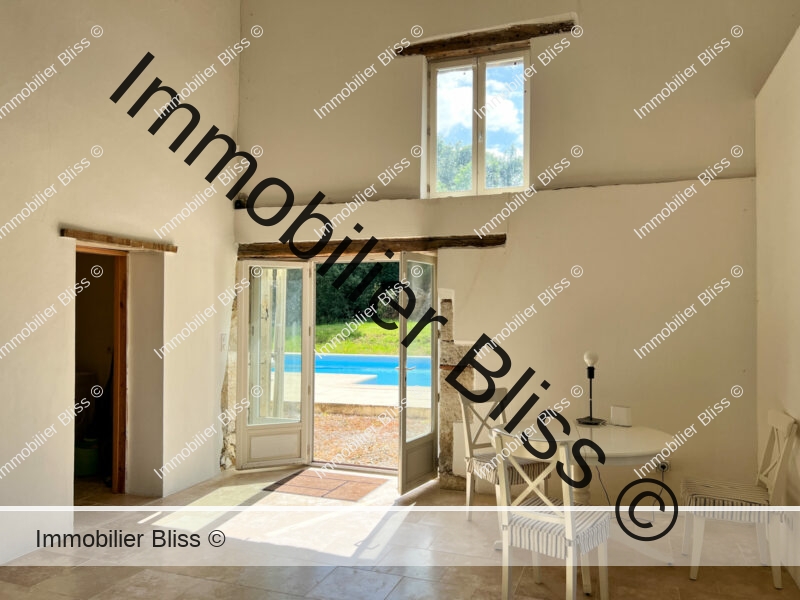 A more detailed look at the property:
The main door opens onto a spacious hallway, which is large enough to make a reception/office area.  Here there is a wooden stairway to the first floor.
The most impressive room in the property is without a doubt the kitchen, which is the heart if the property. This vast space with its high ceilings, exposed beams and stone floor and central island, is a fantastic entertaining area. This long rectangular room is divided into a kitchen/dining-area at one end; with an area at the end which is ideal as an entertaining/ reception-space at the other.  This thoroughly contemporary room is pleasingly light, with bay windows at both ends, and six velux windows in the high ceilings allowing a direct flow of sunlight into the room.
From the kitchen there is direct access to the first downstairs bedroom, which opens onto a second room (an ideal dressing-room or child's room) with an ensuite shower/WC.
Returning to the hallway, we access the sitting-room, which has a fireplace and space for a woodburning-stove.
Behind the reception room there is a downstairs cloakroom (WC) and a laundry-room on one side, and on the other side of the hallway, the second downstairs bedroom, also with an ensuite shower-room.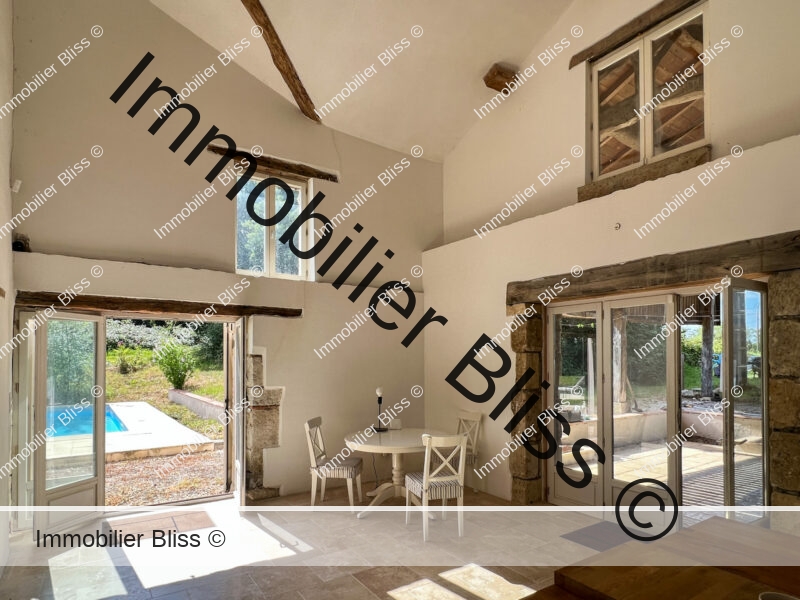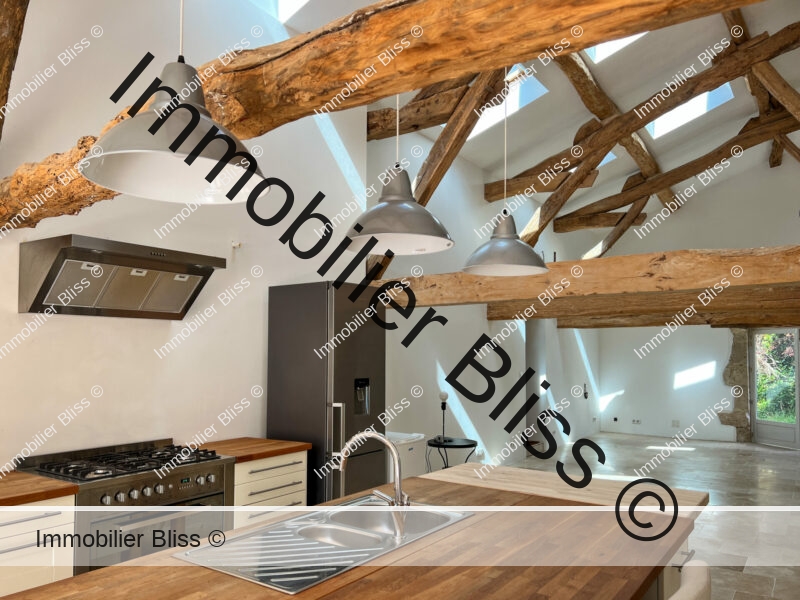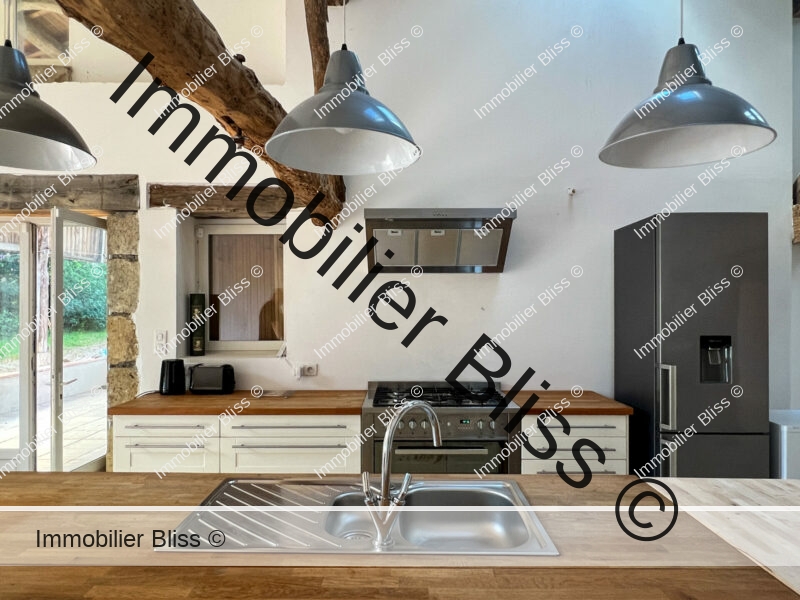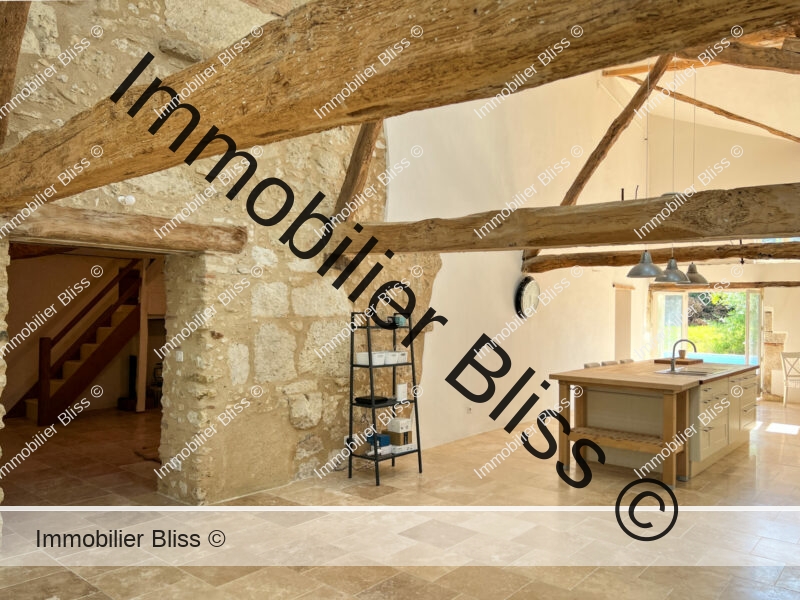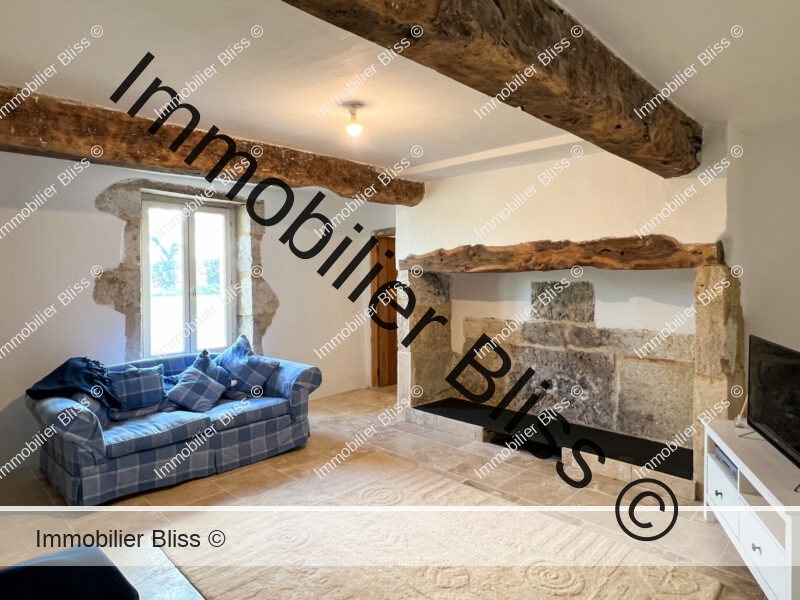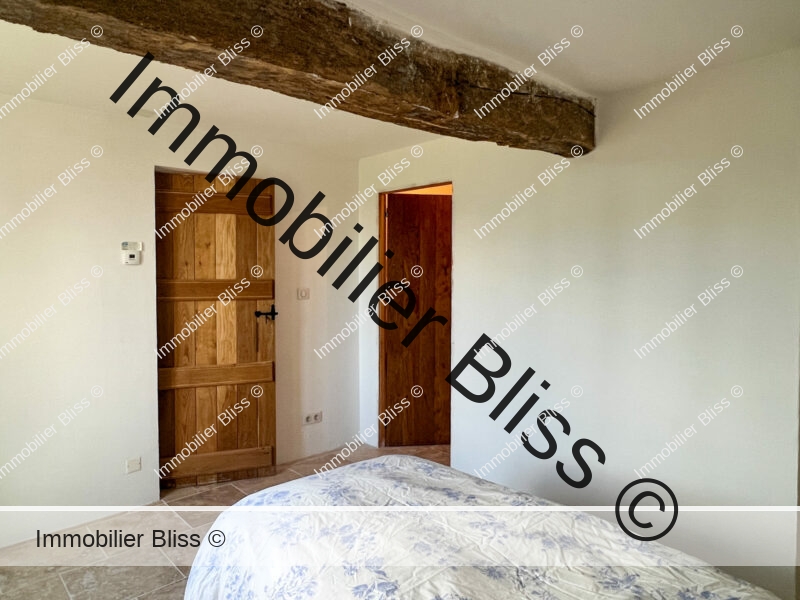 The first floor
A contemporary wooden staircase leads to a small landing with a storage cupboard.
This central landing leads to a double bedroom with an ensuite shower-room on one side, and two linked bedrooms with a shower-room on the other; ideal as a family suite or as two children's rooms. There is also a separate family bathroom, with a bathtub.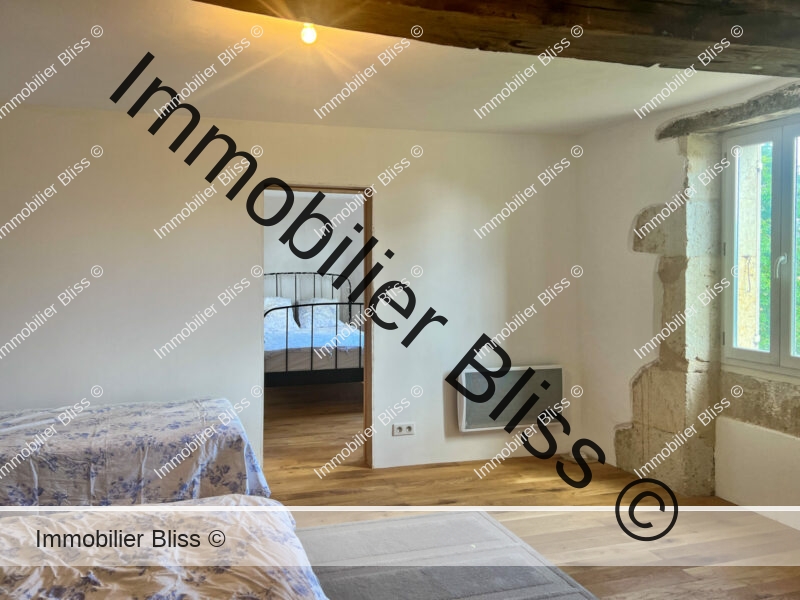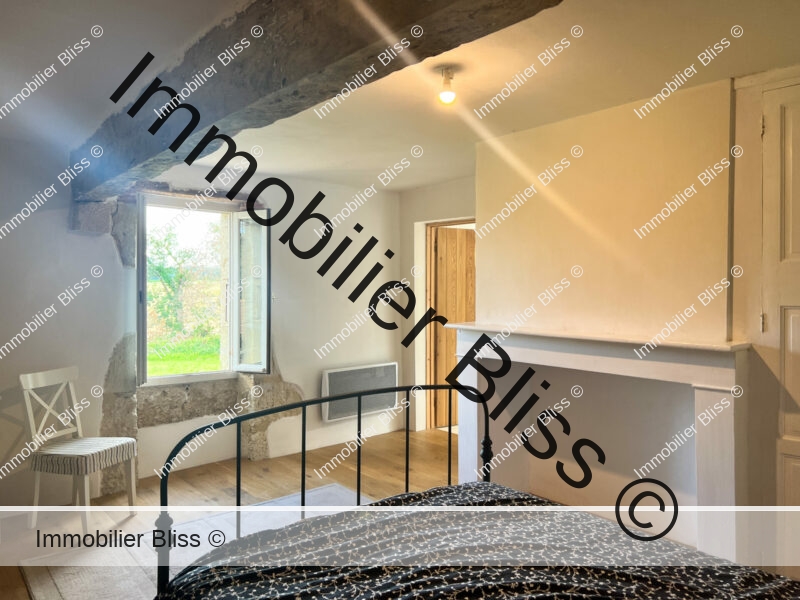 Outside
The property sits in a rural location with pretty fields on all sides.
There is a swimming-pool on one side of the property, and a covered terrace to the front of the kitchen, providing a shady eating area in the summer. A small outbuilding is joined to the main property for restoration.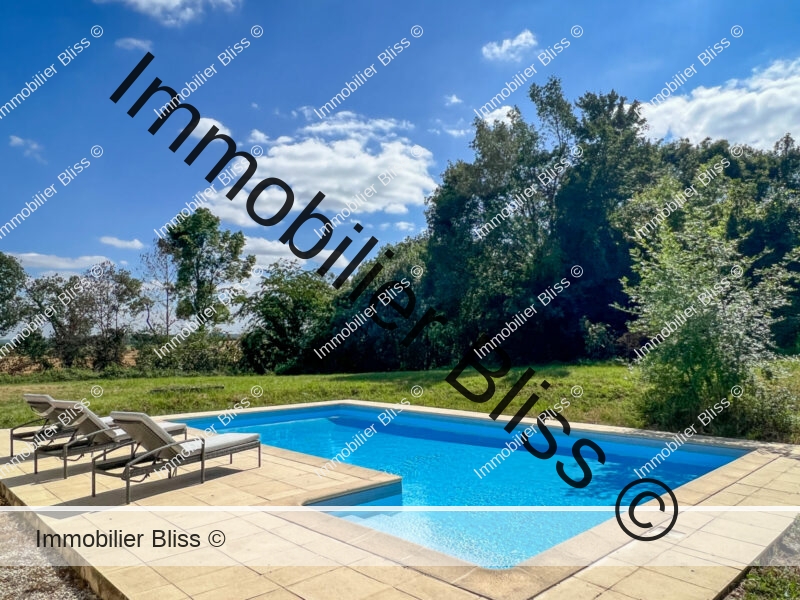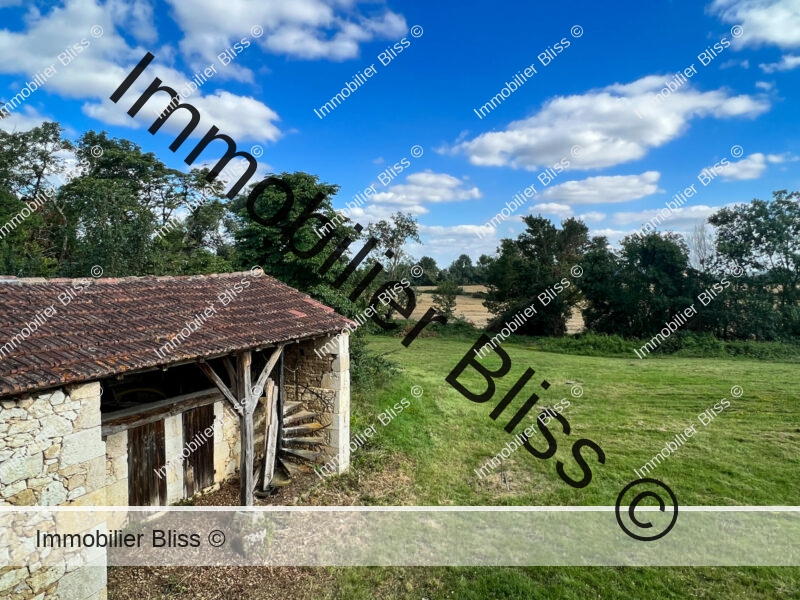 Owner's Comments
It's always interesting to hear the owners' thoughts on a property, and why they loved living there, any challenges they faced or visions for the future!
Over to you!
"When we purchased the property it was in a very different state of repair than today! We have overseen a lot of work over the years and this project has been a labour of love! Our holidays were often spent planning and choosing materials.. but we hope the end result will provide a fabulous blank canvas on which the new owners can put their own personal touch and take the property onto its final stages – the fun stages of decoration and the choice of furniture!"
Our favourite part of the house are the windows and doors on all three sides of the main room (the big kitchen/reception area) and this has been the envy of our friends and guests. We are very proud of this space, and have not ever seen anything comparable with regards to the size and style of the kitchen either in our own property search or since.
The main kitchen/dining/reception room is flooded with light throughout the day and the area of the property to which we gravitate. The kitchen units are at one end with a central bar area, a natural place for a dining-room table is located in the middle of the space, with an area at the far end which in our mind was always going to be the main reception room (with the second reception room/sitting room as a cosy addition).
The spine wall is partly pointed in exposed stone and partly pointed in plaster with overhead windows that have been added to provide a natural flow of light.
The property makes a lovely family home. With the existence of a separate and independent apartment area to the ground floor (the three room suite which has a bedroom, second room and ensuite) there is potential for anyone wanting to provide a chambre d'hôte or gite.
We are within walkable distance to the Chemin de Compostelle for passing pilgrims.
This same space also provides excellent accommodation for anyone with mobility issues wishing to live on the ground floor, or as a separate apartment for an elderly relative, with water pipes installed to connect to set up a 'mini 2nd kitchen' as well as separate telephone and television points.

The new level ground floors are fully insulated with new underfloor heating.
We always found it very useful to have the covered terrasse just outside the kitchen door. Gascony can be incredibly hot in the summer and having a place to sit that provides shade is essential and this space provides a natural extension to the property for outdoor summer living.
We loved the good size bedrooms, all of which all have very good ceiling height. Four of the five bedrooms have ensuite facilities with one family bathroom.  
With a professional family history in carpentry and wood, it was very important for us to have beautiful doors throughout. One of our pet hates is cheap and nasty doors or floors. As such, we have chosen rather lovely wooden oak floors on the first floor, and also lovely oak doors which is in-keeping with the style of the property. On the ground floor we opted for a high quality Travertine stone floor.  
With regards to the outbuildings there is lapsed planning permission in the outdoor stone pigsty. This would need to be reinitiated but there is already electrical and water connections ready to connected that were fitted during restoration of the main house.  
We worked on this project with an architect and professional builders and are happy to pass on such a lovely home to its new owners. "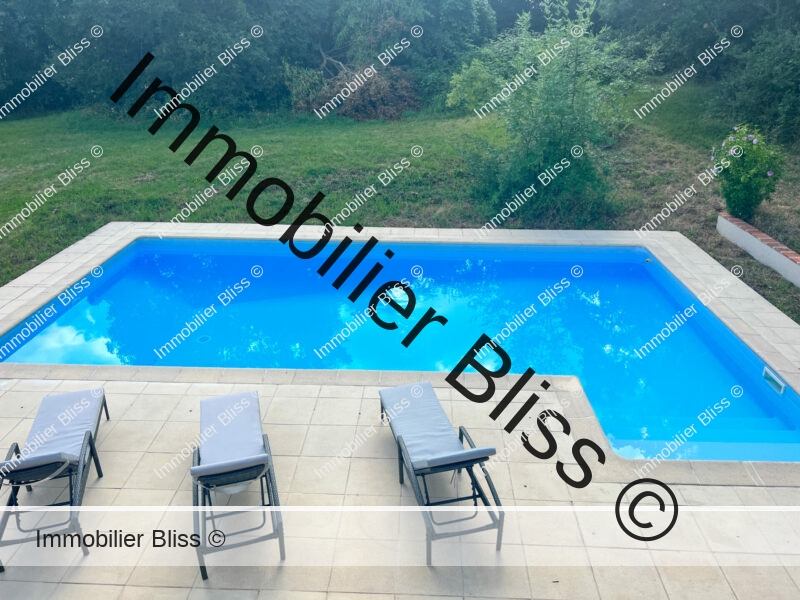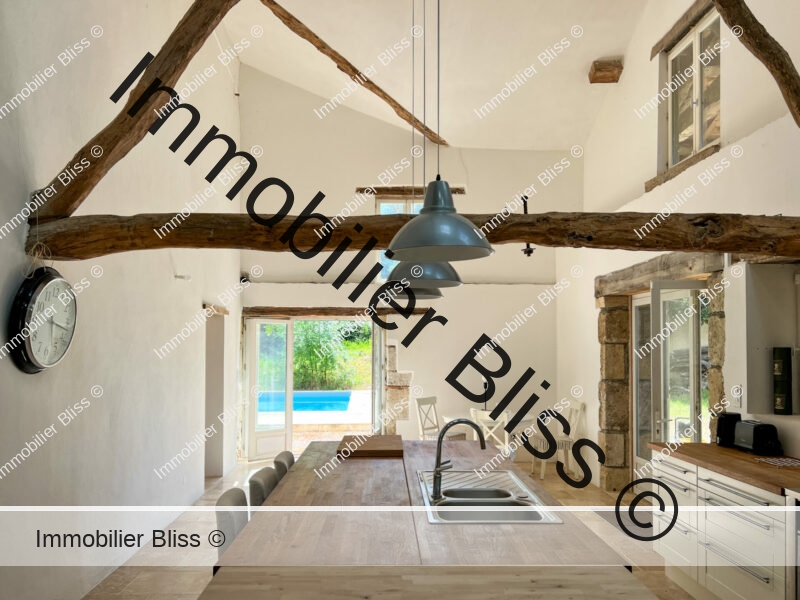 Our thoughts here at Bliss
This property will appeal to lovers of a contemporary interiors, peaceful locations and lovely rural views.
The property has undergone substantial renovation work – new owners will no doubt wish to concentrate on the exterior of the property, landscaping the garden. Internally there is little to do to the property, other than furnishing it and continuing with any personal decorative work one might choose to do. I would be tempted to fit a wood burner in the sitting-room.
More images…
Click images to enlarge
On a technical note
Septic tank (2010)
1.2 hectares of land
Pool : chlorine
5 x 10m (1.85m deep) with Roman steps
Security cover and alarm
New pool liner 2016
2 water wells
Roof works: 2012 (canal tiles)
Underfloor electric heating / ground floor
Electric radiators upstairs
Wooden shutters
Fireplace in sitting-room (needs a liner in the chimney breast)
2 hot-water tanks
Internet (VDSL)
Old outbuilding (pigsty) : now out-dated planning permission was agreed
Room Measurements (Approximate and non-contractual)
Ground Floor
Double kitchen/ dining-room / reception / east, west, north facing + 5 velux windows / 5m high ceilings / travertine stone floor: 72,47m²
Large entrance hallway/ area for study / south facing / stone tiled travertine floor : 21,94m²
Sitting-room  / travertine stone floor / south-facing/ fireplace : 21,87m²
Cloakroom/WC: 5, 25m²
Laundry room / 6,55m²
Bedroom with ensuite shower-room and WC/ south-facing:  16,76m²
Appartement suite comprising bedroom, 2nd room/dressing & ensuite-shower room : 22,71m² + 17,29m²
First Floor
Landing 2,40m2
Large walk-in cupboard: 1,83m2
Bedroom 3: 18,85m2
Bedroom 4: 17, 29m2
Bedroom 5: 23,63m2
Bathroom with bathtub: 10,87m2
Covered terrace: 42m2
Surface area house : 258,78m²