Restored Armagnac farm & outbuildings
on over 4.5 hectares of land
An "island" in a sea of sunflower, wheat & woodland
This beautiful rural property, once an old Armagnac estate, is surrounded by fields on all sides and is accessed by a long private driveway which cuts through the heart of ancient woodland, with trees to each side.
An overhead view of the property shows the estate nestling in a sea of wheat and sunflower like a small island, perfectly tranquil and far from any close neighbours.
When we chose the name "BLISS" for our agency we were conscious of a state of mind which we wanted for our buyers, BLISS implying tranquility or blessings to be bestowed upon the owners of a property.
This is the first time we have encountered a property which is also named "BLISS" in old Gascony, and arriving at the property, despite a sudden autumn shower, it is easy to see why.
Peace and tranquility are assured, as are lovely views, comprising both fields and woodland.
The estate comprises two buildings: the original old farm-house and a converted barn, which has been used for guests over the years, and with its wooden structure and suspended wooden terrace has the feel of an old Dutch barn.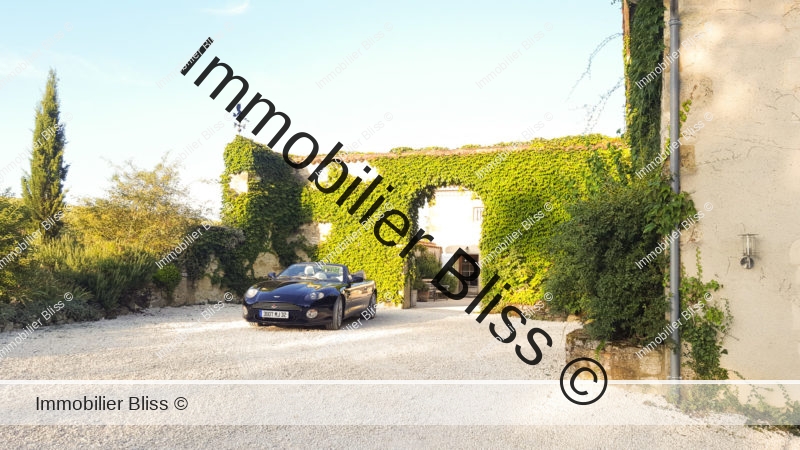 Toutes les mesures sont approximatives
Frais d'agence inclus (5%) à la charge du vendeur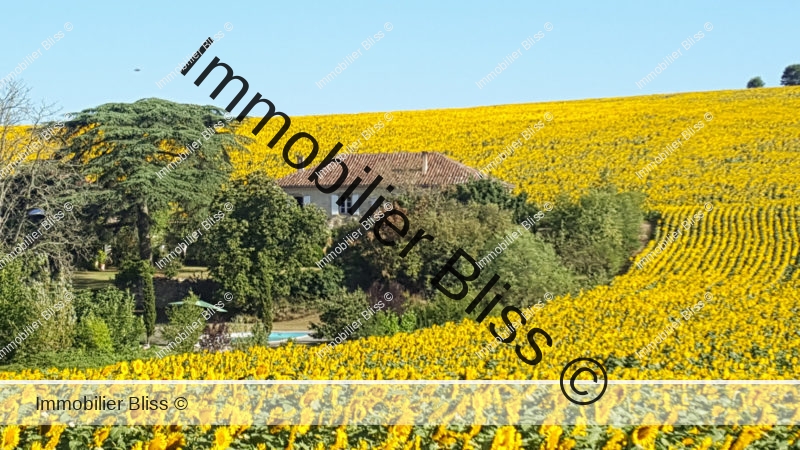 We enter the main house through a lovely archway and through an internal courtyard.
The current owners have lived in this property for over sixteen years, and it has been a wonderful base for their family and in which their son grew up. As such there is a level of care an attention given to the interior of the property, which ensures all the comforts of a modern home and a main place of residence. There is a finery in the choice of paint on the walls, and of the wallpaper. The fittings and fixtures are of the highest quality throughout (for example the Gruhe taps in all the bathrooms).
The style of decoration encourages warmth and comfort, and some of the old stone walls have been plastered, as to opposed to exposed, a choice which lends an 18th century feel to the house, accentuated by the tasteful choice of wallpapers and chalk-based subtle paint colours.
The main entrance to the property lies to the south, as do most of the reception rooms – ensuring that this is a light-filled and "happy" feeling house, in keeping with its name.
In the spacious south-facing family kitchen, a blue gas-fuelled Rayburn stove throws off a gentle heat from the far corner. As well as providing an ambient heat this provides a perfect place to "slow" cook (as demonstrated by the tall stack of Quince jams which have been bottled on the morning of our visit).
A range of fitted units combine to make this a perfect cosy country kitchen, in the middle of which sits a large table where we sit for coffee.
To the rear of the kitchen is a second utility space (or rear kitchen area) with a sink and a separate shower room/WC and an outside door to the courtyard and gardens.
A small inner hallway leads from the kitchen to the main reception-rooms, where there is a useful walk-in wine-cellar/storage-room.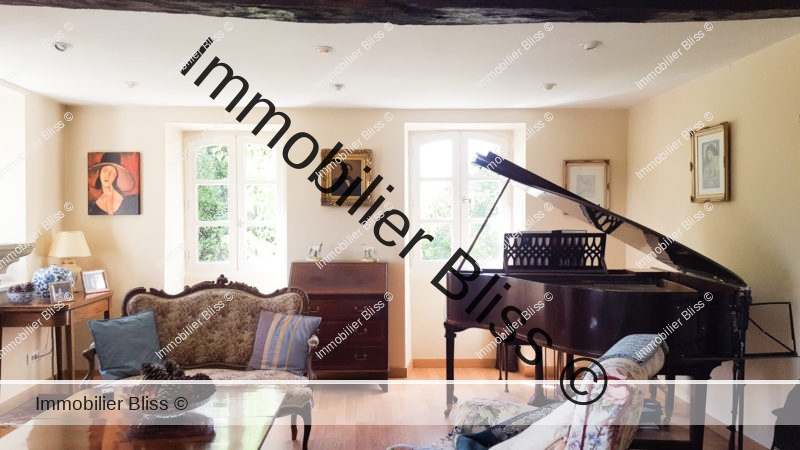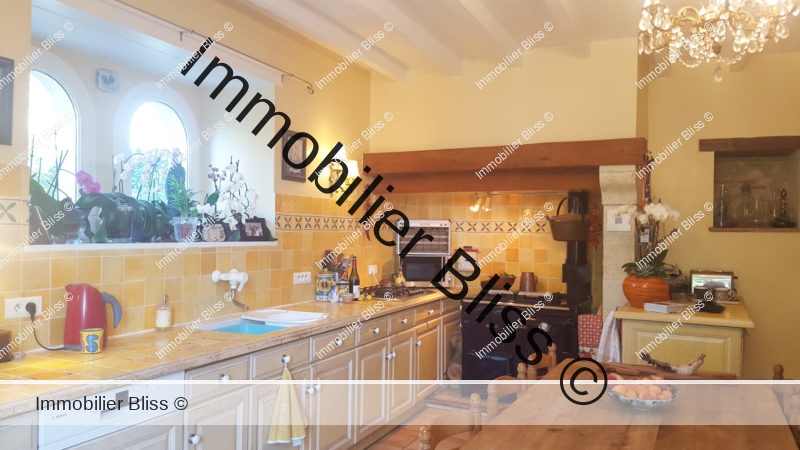 There is an immediate sense of elegance to the two main reception-rooms, the first of which is south-facing (25,84) the second (24,71m2) with double-aspect southerly and easterly views onto the gardens. Both reception-rooms are spacious, elegant; light and beautifully decorated.
The first reception-room holds an attractive GODIN wood-burning stove, the second spacious sitting-room a central stone surround fireplace which houses an electric fire. This lovely fireplace could hold a wood-burner or an open fire, with the addition of a chimney breast to the outside wall.
The dining-room sits to the east of the property, a spacious room (39,42m2) with a tiled floor, leading to a further inner-hallway which leads back to the rear-kitchen and side-door to the gardens.
The split-level landings and double staircase are an attractive feature of this property.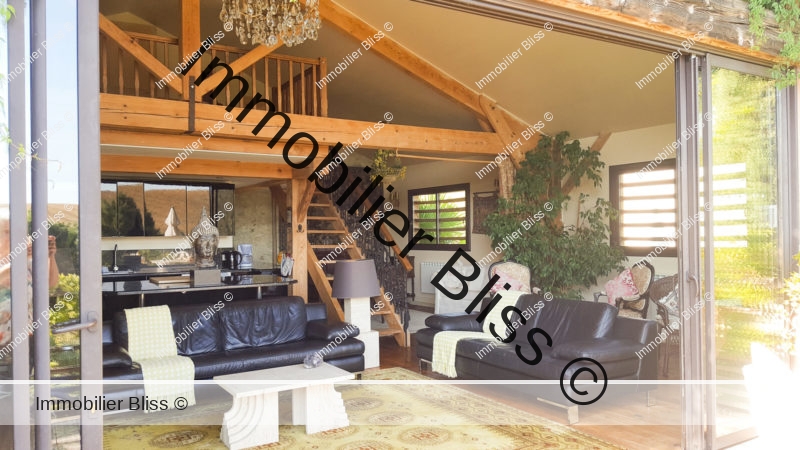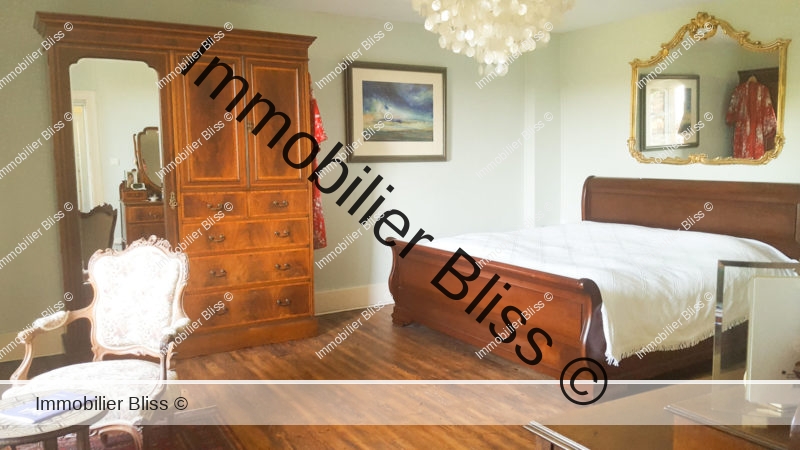 At the top of the landing lies a vast area, too spacious to be named a landing, and which with its high cathedral-ceilings and exposed oak beams, could be used as an upstairs private family sitting-room, a library area, or a study.
A vast bathroom (17,75m2) with hand-applied silver-leaf walls, an attractive free-standing bath-tub, and a large walk-in Italian-style shower, opens directly onto the south-facing master bedroom (24,98m2), with parquet flooring and a built-in wardrobe.
The landing area to the south (9,52m2) leads to a south-facing and spacious study (24,30m2) which could also be used as a bedroom.
A further spacious bedroom (16,97m2) enjoys a southerly and easterly view of the garden as well an en-suite bathroom, with a bath-tub, sink and WC (9,91m).
An inner hallway (3,53m2) leads from the landing towards two north-facing bedrooms (11,15m2 and 16,58m2).
GARAGE AND CONVERTED BARN:
At a short distance from the house a spacious garage (44.07m2) offers ample space for vehicles and garden equipment, as well as housing an outside kitchen for the summer (9.11M2).
This beautiful old barn has been converted into a spacious and contemporary loft-style appartment (65m2) with an attractive wooden façade and suspended terrace-area.
Access to the loft is via a set of wooden stairs, where the high-ceiling reception-room, with its exposed beams and central wood-burning stove, offer an entirely different ambiance to that of the main house.
Upstairs there are two bedrooms both of which with en-suite shower-rooms (17.75m2 and 10.95m2).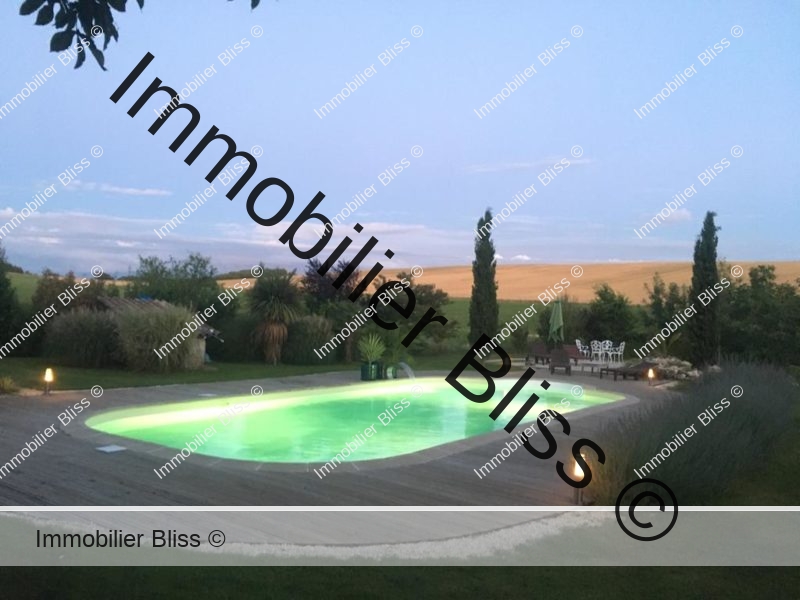 To whom might this property appeal ?
If you are seeking a rural retreat, a tranquil island at the end of a long woodland track, far from the madding-crowd, then this property could be for you.
It is sometimes said that a buyer with similar needs and desires as the current owners will fall in love with a property.
If this is the case, then we can say with certainty that this is a happy home, with a lovely zen ambiance, light and peaceful, where there a sense of well-being emanates from every room – undoubtedly a fantastic estate on which to raise a family.
The addition of the second loft-style converted barn offers a number of possibilities, either as a rental home, or as a second-home for an extended family.
This is a property which requires very little work, and which is in beautiful decorative order throughout, so it will appeal to house-seekers looking to move immediately into a property, without having to undertake a large work project.
More images…
Click images to enlarge