Magnificent Chateau
with over 7 hectares of parkland
a world of classical French elegance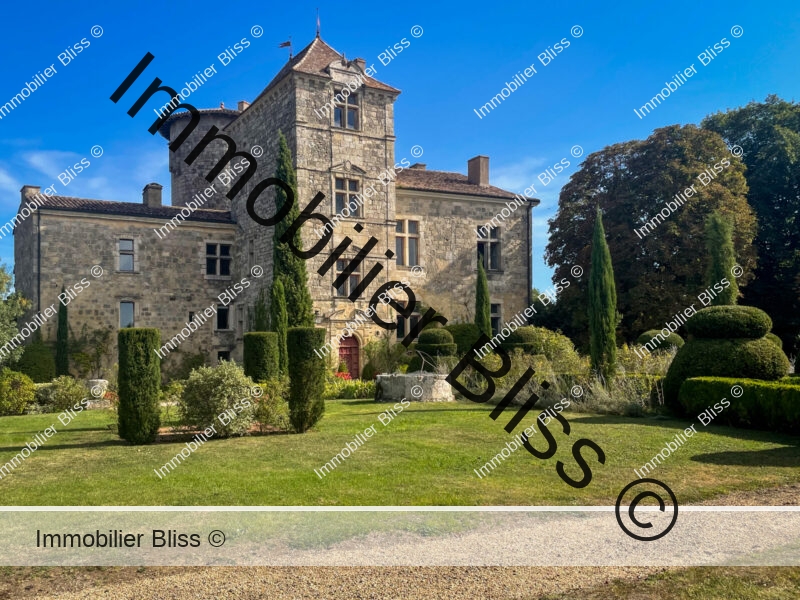 Toutes les mesures sont approximatives
Overview
As soon as we pass through the huge stone archway, protected by wooden doors that can swing open to allow cars to enter, or remain closed for total privacy, we find ourselves in a world of classical French elegance. The gardens here are beautifully maintained and elegantly thought-out. They make a marvelous frame for the stunning chateau that is only really visible from inside the grounds.
Although the eye is immediately drawn to the tower, there is a lot more to see. A classical orangery of 125 m² has generous stone arches and can be used as a party room, a venue for concerts or art exhibits, or even a wedding.
There is a beautifully built stone barn between the orangery and the chateau.
Behind the main gardens, there is a grassy area with a large Gascon pigeonnier which looks out over the valley below and provides a charming contrast to the classical lines of the rest of the property.
And of course, the gatehouse itself has a room hidden on the first floor!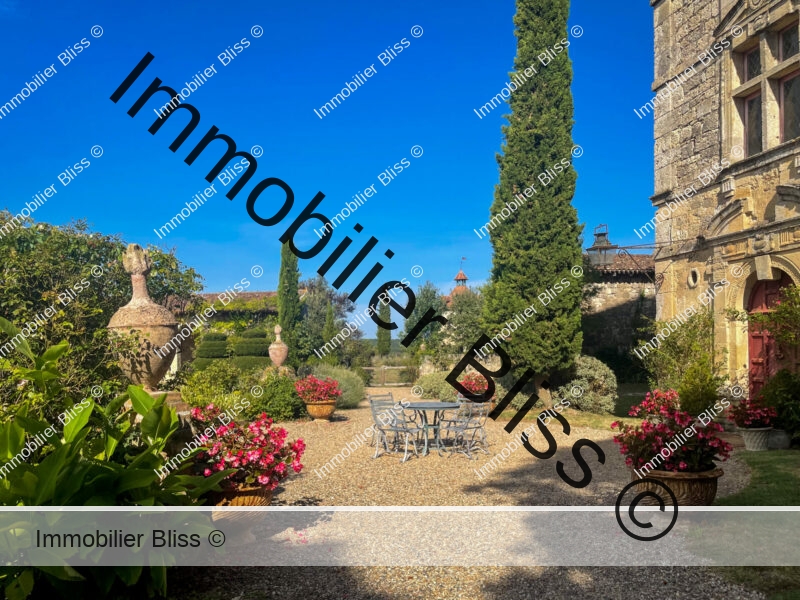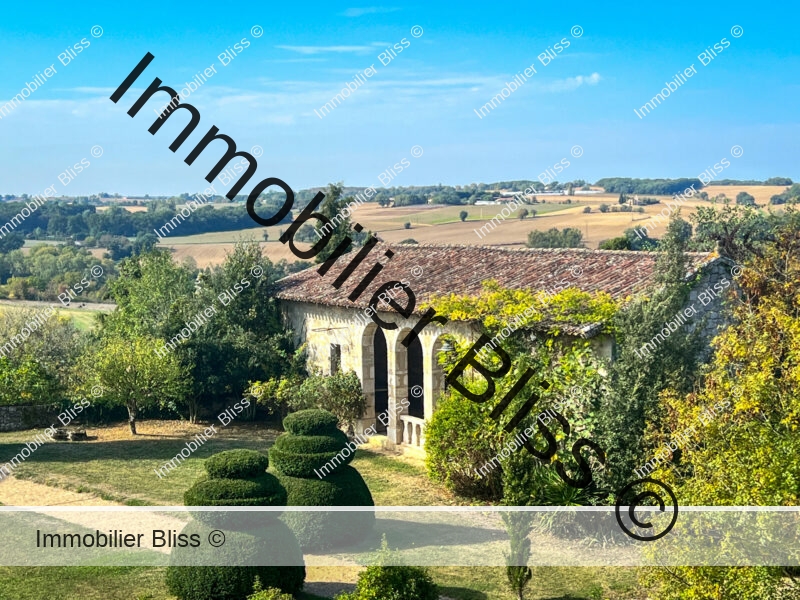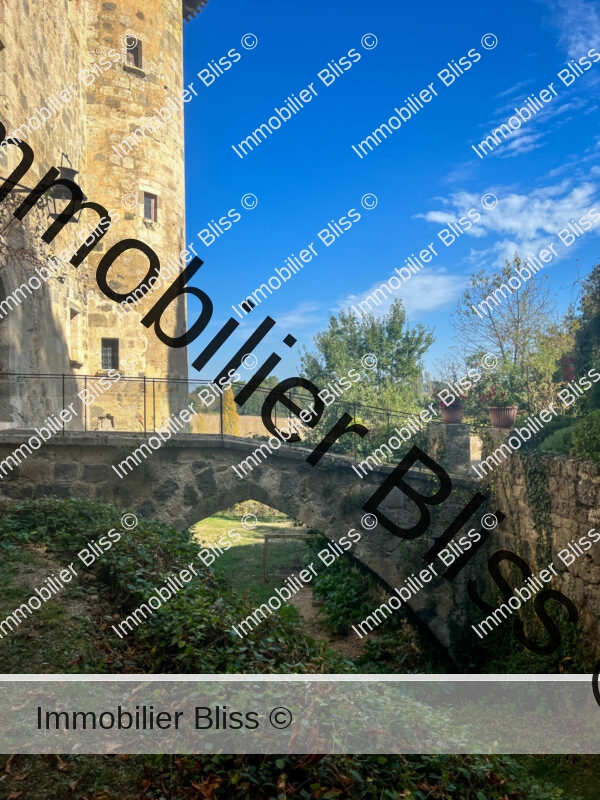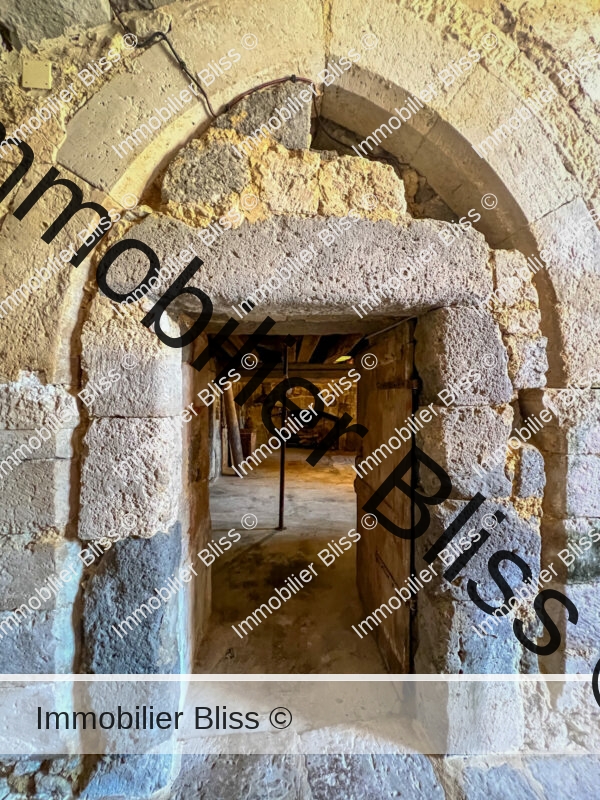 The history
Begun in the 13th century, this property has a long and interesting history that we would be delighted to tell our clients about in detail.
It has both medieval and renaissance elements, and both combine to make a stunning property.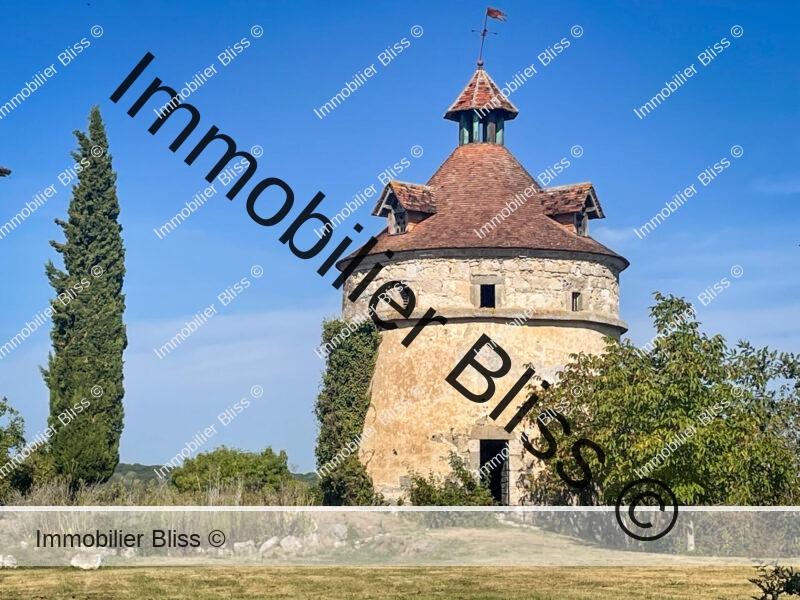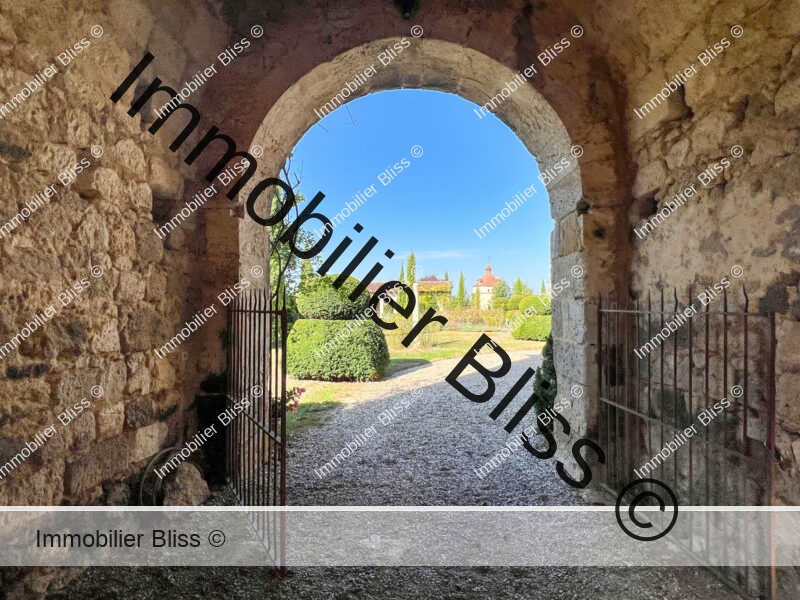 The ground floor
When we enter the front door to this property, there is a front hall that gives us the choice of taking a beautiful stone central staircase either up or down. We chose to go down and here we find a wide hall that opens on the right to a huge original kitchen complete with a large stone fireplace and original stone sink.
This room opens onto a huge room with stone pillars and access to the oubliette – a relic from medieval times which is set in the floor of the tiny round tower set into the wall behind the main chateau.
There is also a large double exhibition room with a large fireplace, stone floors, and two high windows. This room could become a huge family kitchen or a games room or even an art studio, as the light is excellent.
Behind, and a bit below, is a small garage with an original stone inside staircase leading up to the house.
There is a WC on this floor, and the boiler room, housing the oil-fired boiler, is also here.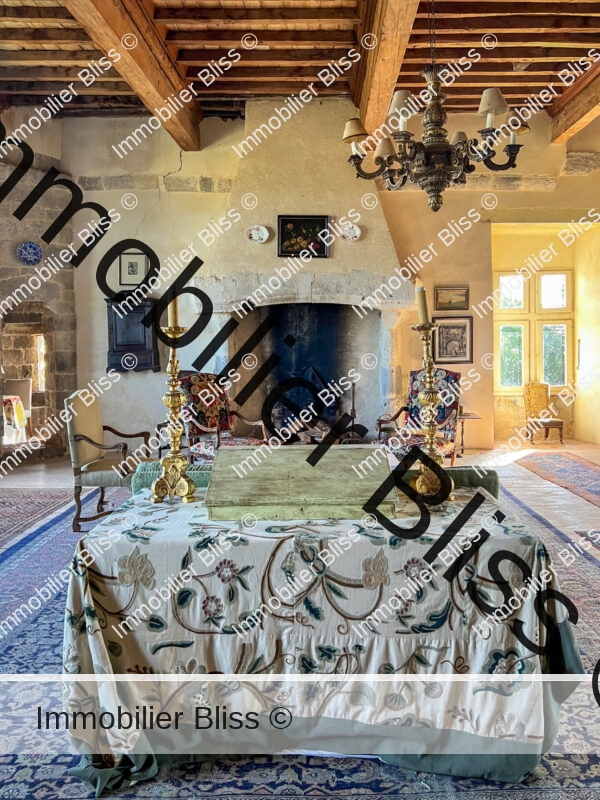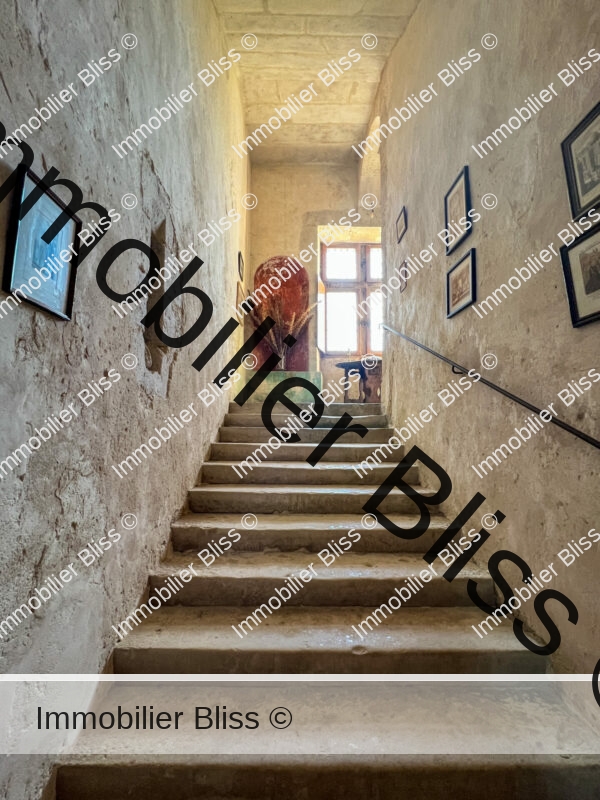 The first floor
This is the main living floor of the chateau, and can be accessed across an arched stone bridge, or up the wide monumental stairs that have served generations, the choice is yours!
We chose to take the stairs and arrive at a pretty little entrance hall which opens into the beautifully proportioned drawing room. This is an absolutely stunning space and has a huge stone fireplace, beautifully painted exposed beams and ceramic floors. Here there are double doors that lead across a stone bridge to a shady terrace with a fountain – the ideal spot to sit and read a book on a sunny afternoon.
Attached to the drawing room we find a delightful little round room – built in the tower – which has been set up as a bar, complete with a beaten copper sink under a stained-glass window.
There is a spacious dining room with south facing windows and large cupboards along one wall. This room has a lovely tomette floor, with occasional fleur-de-lys tiles mixed in to add an extra element of charm.
Next to the dining room is the large, recently renovated kitchen, where we find a ceramic floor and a large south facing double window.
The wall that separates these two rooms consists of large wooden cupboards, installed by a previous owner, so it would be very easy to remove the wall to once again to make one huge room.
Down the hall, there is a beautiful bathroom which features a gorgeous marble bathtub and sink – the taps are the nicest we have ever seen, and the overall feel is of absolute luxury.
There is a practical laundry room tucked in behind the bathroom.
We now come to an attractive and cozy sitting room with a lovely fireplace and windows facing both south and north. Behind it is a large bedroom with a private shower room, a fireplace, and lovely views. These two rooms can be closed off and given private access if desired.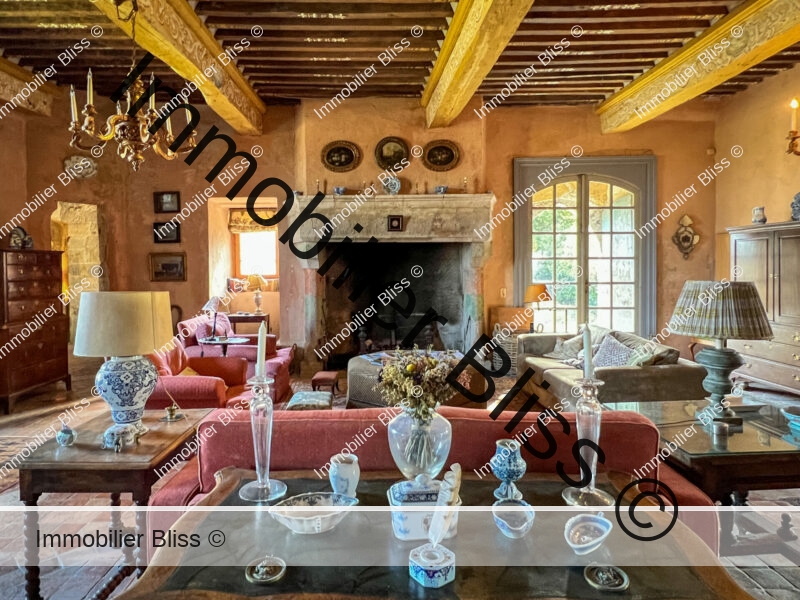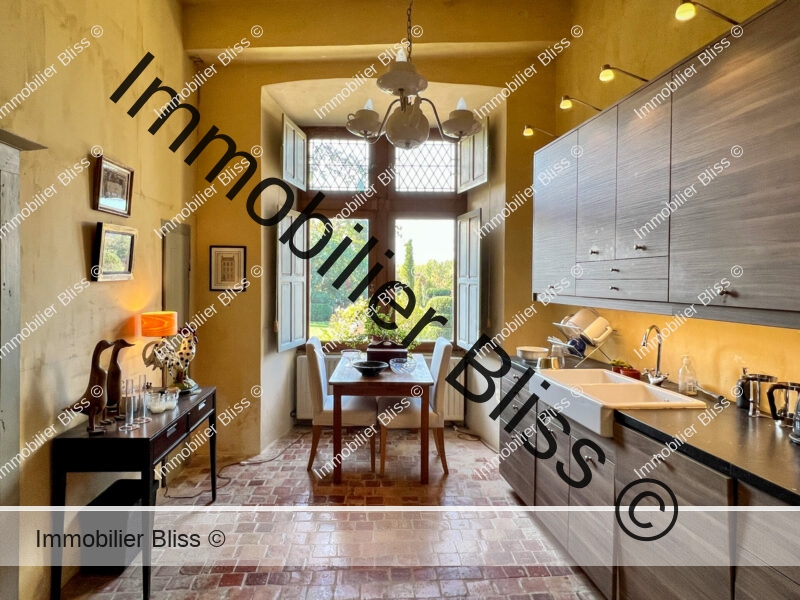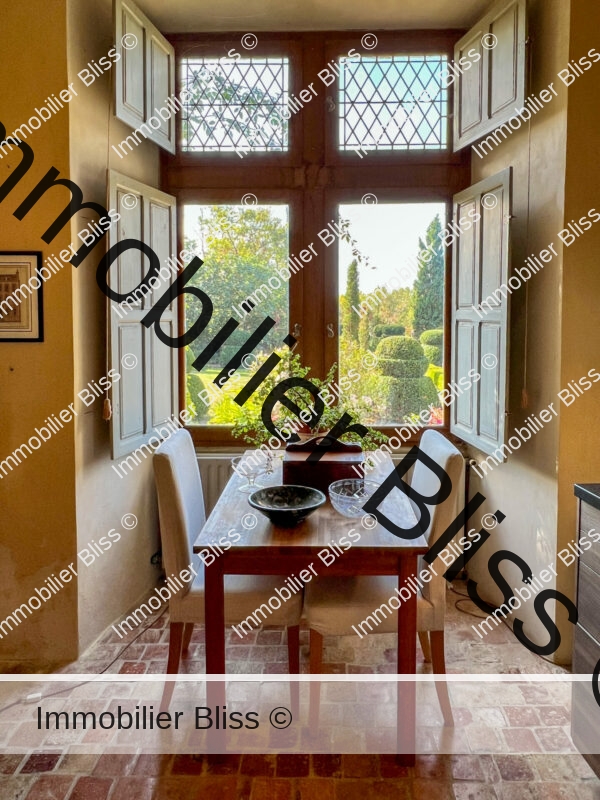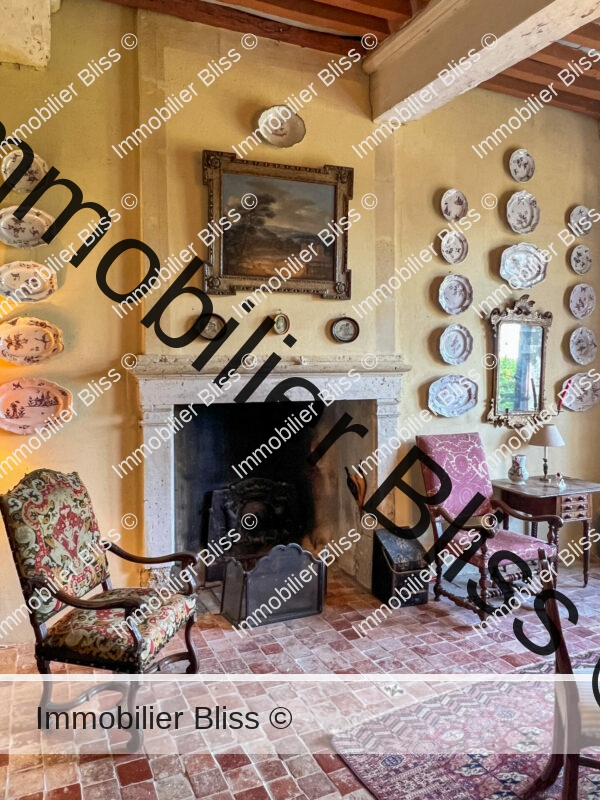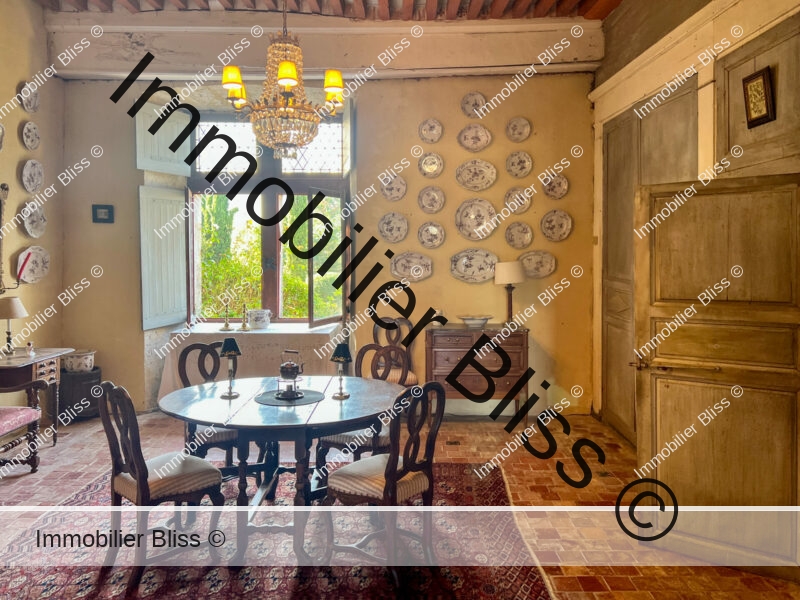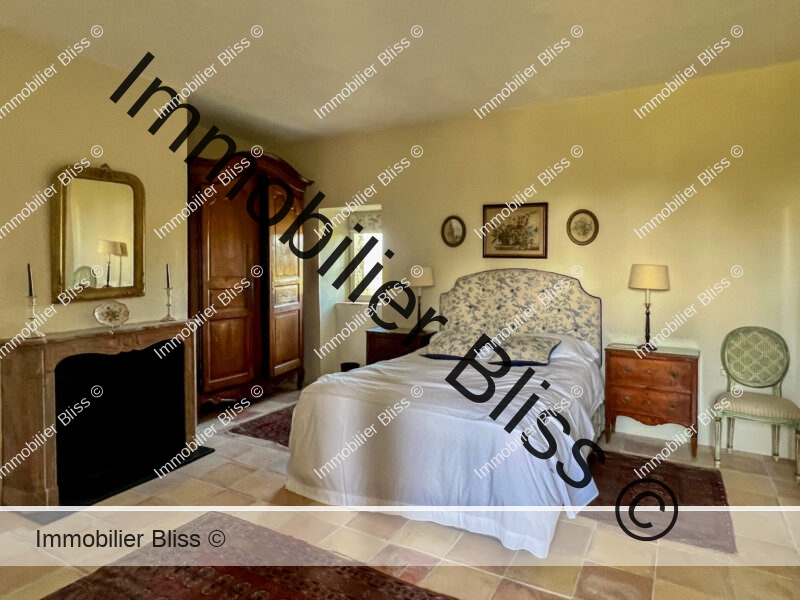 The second floor
We continue up the stairs now and emerge onto a landing with a beautiful stone portal; this leads us directly into the huge music room where the owner delights in hosting private concerts for friends.
 This charming room also has a monumental fireplace, large windows facing both south and north, plain wooden flooring and high beamed ceilings. Tucked behind it, in the round tower, is a tiny, delightful music library.
There are two spacious and comfortable bedrooms on this floor. One of them has a private shower room, and the other one has access to a bathroom and separate WC tucked in behind the music room.
There are a further two large bedrooms here, which are filled with light but do need a bit of finishing off.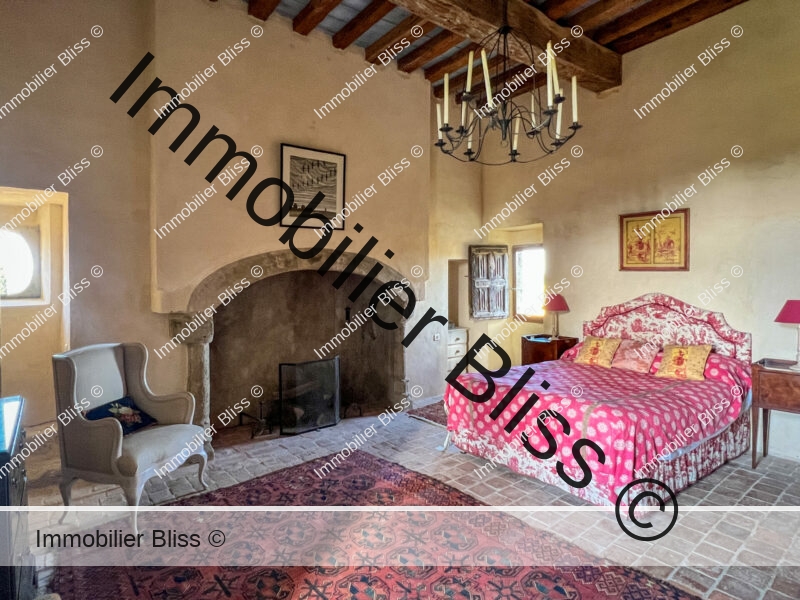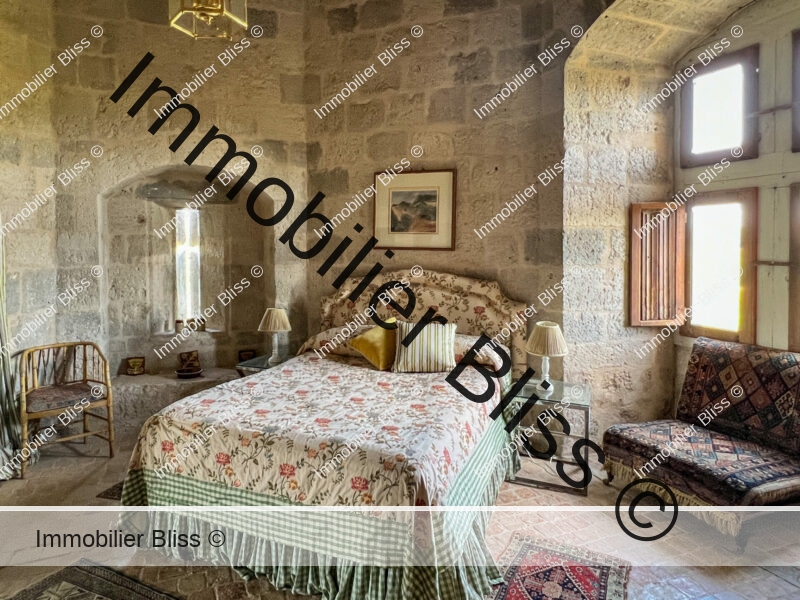 The third floor
Once again, we continue up the wide stone stairs and find at the top a door that leads to extensive attic space. Just a few more stairs and we come to a last, large bedroom. This room is unfinished, but has large windows and could be a beautiful library or private office.
The grounds
The grounds of this property offer many different areas.
First of all, there are the classical formal gardens with their sculpted topiary and the large stone fishpond that offers a perfect mirror image of the chateau in the right light.
There is the orangery, with its air of nineteenth century languor and romanticism.
There is the quiet shady area that is accessed through a flowery arch or across the stone bridge from the main drawing room.
There is the walnut plantation on the south side of the chateau, below the stone walls, and even the huge forest where you can wander in the cool shade of the trees, or even ride your horse!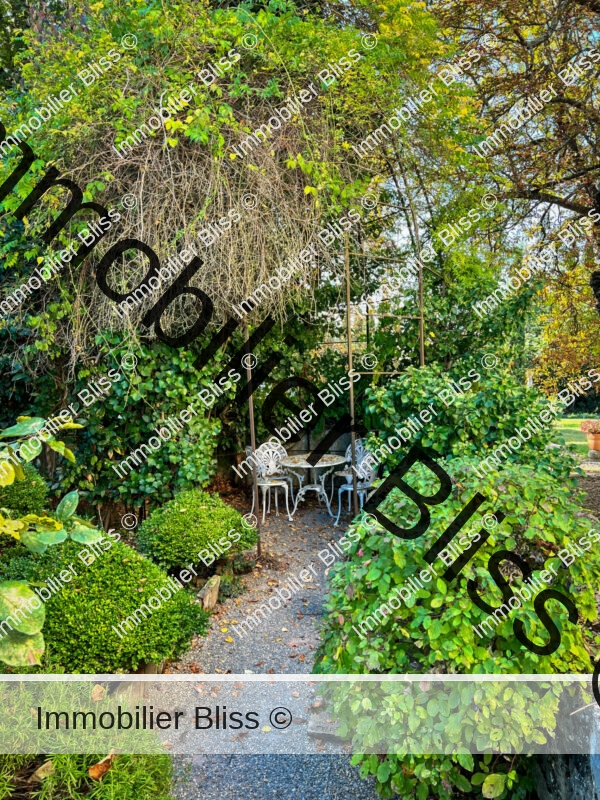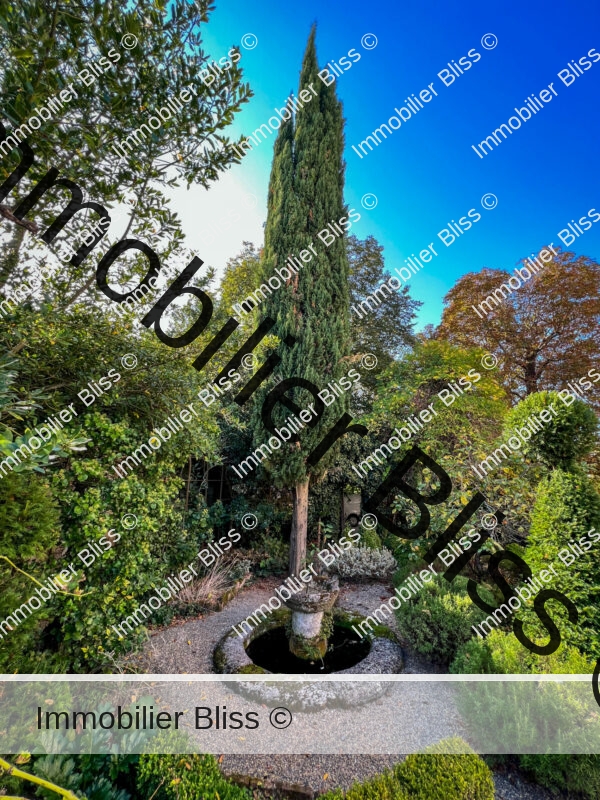 Our thoughts here at Bliss
This property is simply magnificent; we were delighted with it from the moment we walked through the gates. If you are looking for an elegant and private property with a huge amount of history, this is the ideal place for you. You can entertain in style in the gorgeous formal gardens or the stunning main reception rooms, and there is still room to expand the property if you need more living space.
The location is excellent too, as the grounds are totally private but there is an active social life available in the village if you want. And as the property is close to both Nérac and Condom, you have your choice of local markets, restaurants and amenities.
More images…
Click images to enlarge
Technical details
DPE not applicable
Mains drains available in village
Permission for a swimming pool (for current owner)
Oil fired central heating
Huge reception rooms
600 m² living space, including 5 bedrooms
7.4 hectares of land
Extensive views
Approximate measurements
Garden level
Entrance: 30 m²
Old wine storehouse: 85 m²
Old kitchen: 56 m²
Guardroom: 26 m²
Poterne: 20 m²
Ground floor
Entrance : 7 m²
Main living room: 71 m²
Bar – tower: 6 m²
Kitchen: 16 m²
Dining room
Bedroom 1 : 25 m²
Bathroom: 5 m²
Hallway: 6 m²
Utility room: 5 m²
Bedroom 2: 23 m²
Bathroom: 4 m²
1st floor
Antichambre : 30 m²
Bedroom 3: 23 m²
Bathroom : 4 m²
Bedroom 4 : 22 m²
Bathroom : 6 m²
Wc: 2 m²
Upper living room: 85 m²
Bookcase: 6 m²
Bedroom 5: 23 m²
Bedroom 6: 16 m²
2nd floor
Attic: 126 m²
Games room: 22 m²
3rd floor
Bedroom 7: 30 m²
Octagonal attic: 22 m²