Elegant 18th century manor house
on 1,6 hectare
with stunning views to the rear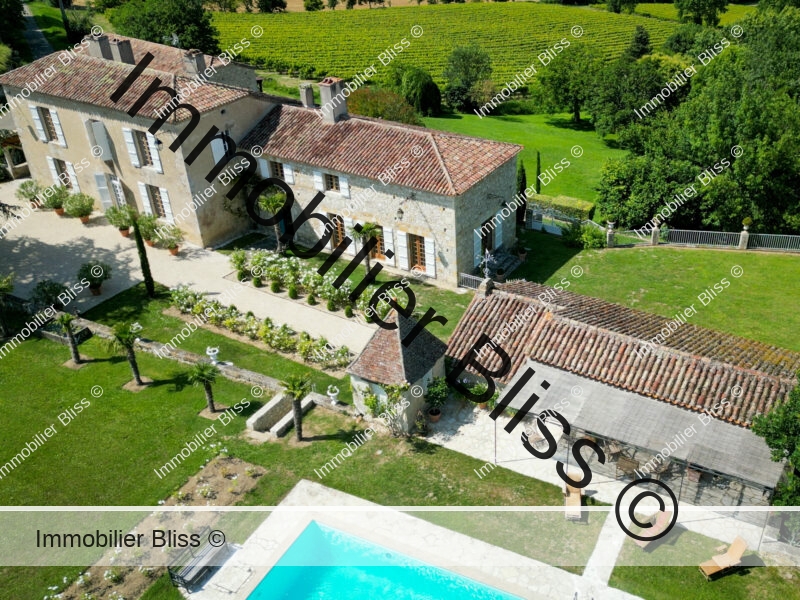 Toutes les mesures sont approximatives
Overview
This elegant and beautifully restored manor house sits in an enviable position with stunning views to the rear.
With a grand pillared entrance, formal gardens to the front, a white rose garden, neatly trimmed lawns, and a pool discreetly located at the far end of a lawned garden, where a vast barn conversion is used as a games' room, this property will appeal to lovers of fine 18th Century properties.
The colour schemes and paint colours chosen, along with the interior fittings and fixtures of the bathrooms and kitchen, combine harmoniously to create a restful, zen and infinitesimally tasteful property in every sense of the word.
This property has been lovingly restored and combines formal elegance with contemporary chic.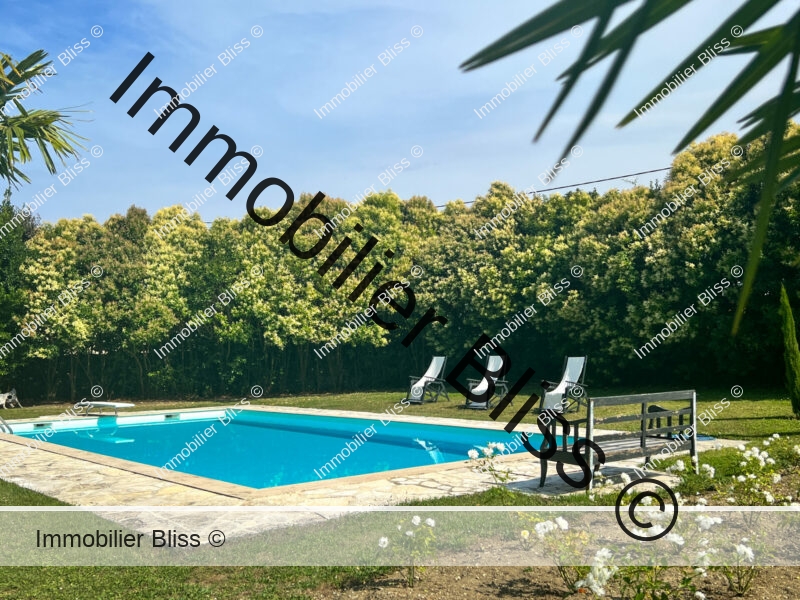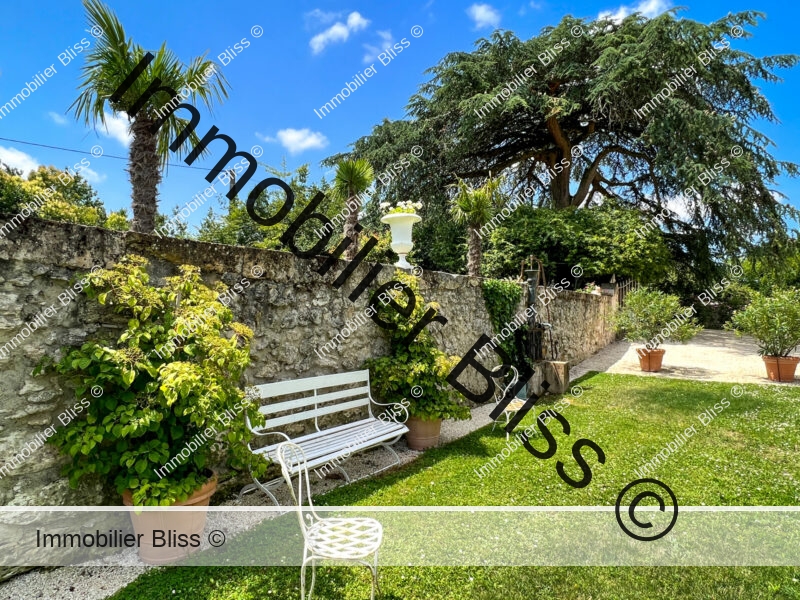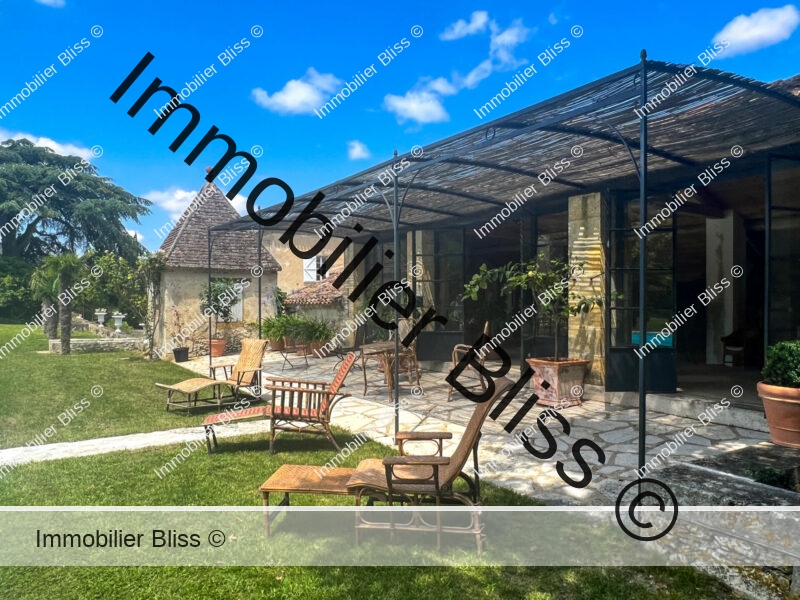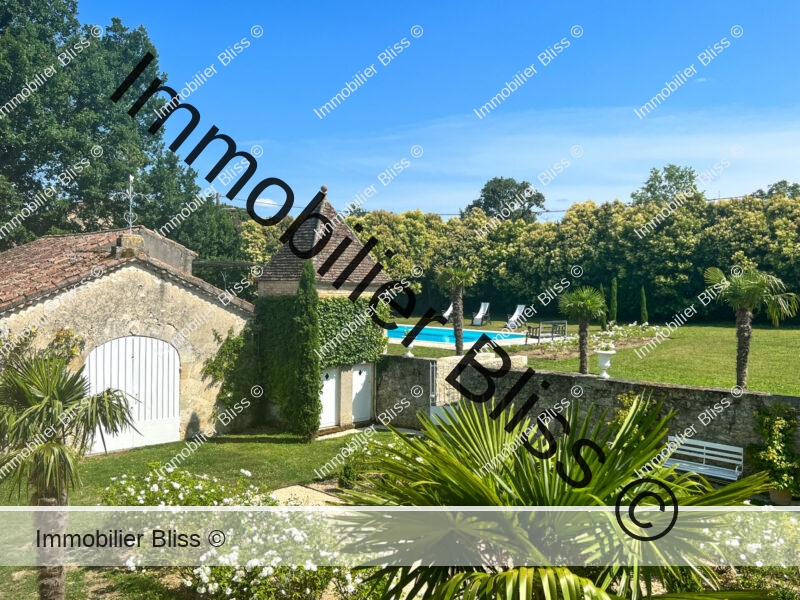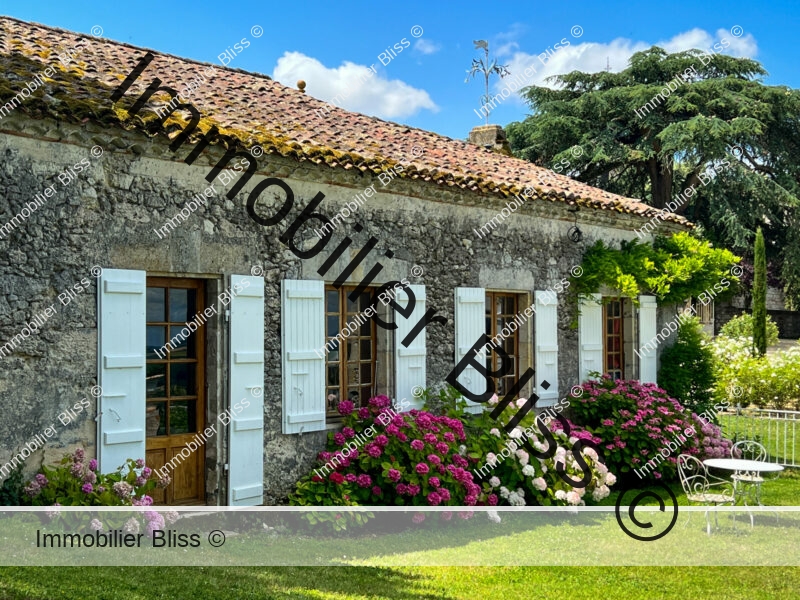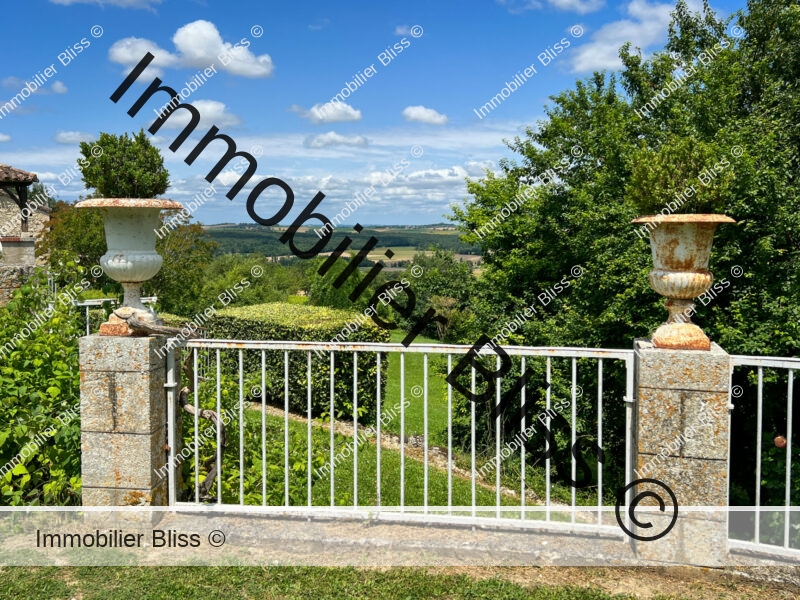 The interior
With two entrance halls, this traditional maison de mâitre is blessed with high ceilings, and spacious rooms.
Comprising, a recently restored kitchen opening directly onto the dining room, a vast 62,99m² reception room, with stunning views, and two downstairs bedrooms, one with an ensuite bathroom. The spacious and beautifully decorated accommodation continues on the first floor, with the third bedroom, bathroom and dressing room, a private reception room, and access to a spacious mezzanine area which overlooks the main reception room.
On the second floor, we find bedrooms 4 and 5 with an ensuite bathroom and WC.
The property has ample storage, with a large basement cellar (perfect for wine!), a vast 68m2 games room, which overlooks the pool and provide a second viable building for potential renovation of an outside studio or guest room, with relevant planning permissions.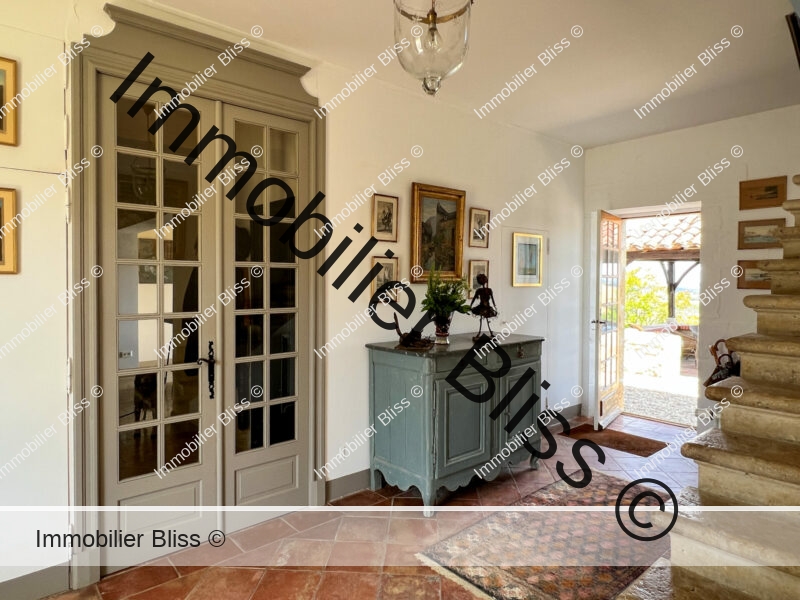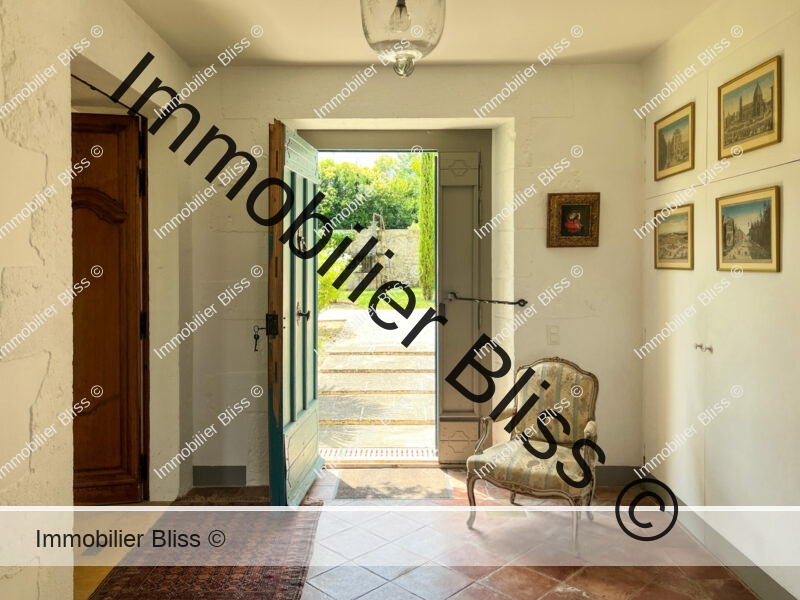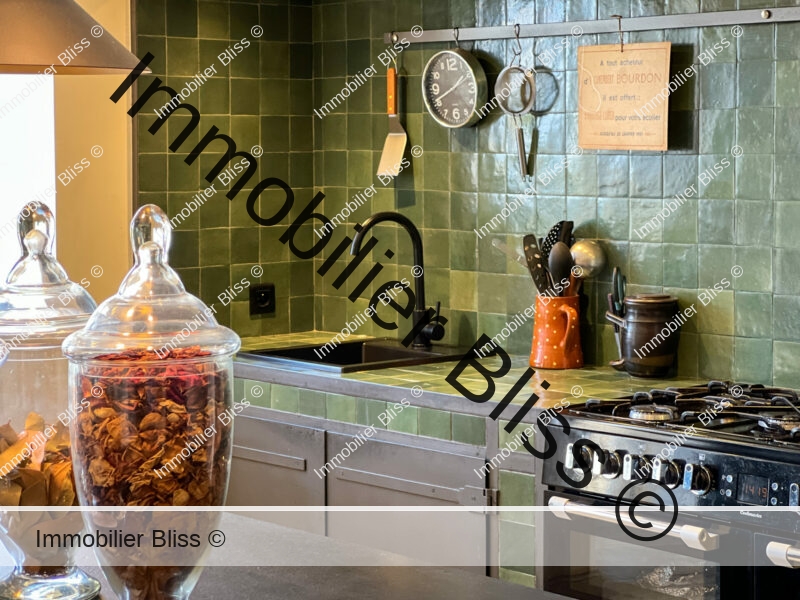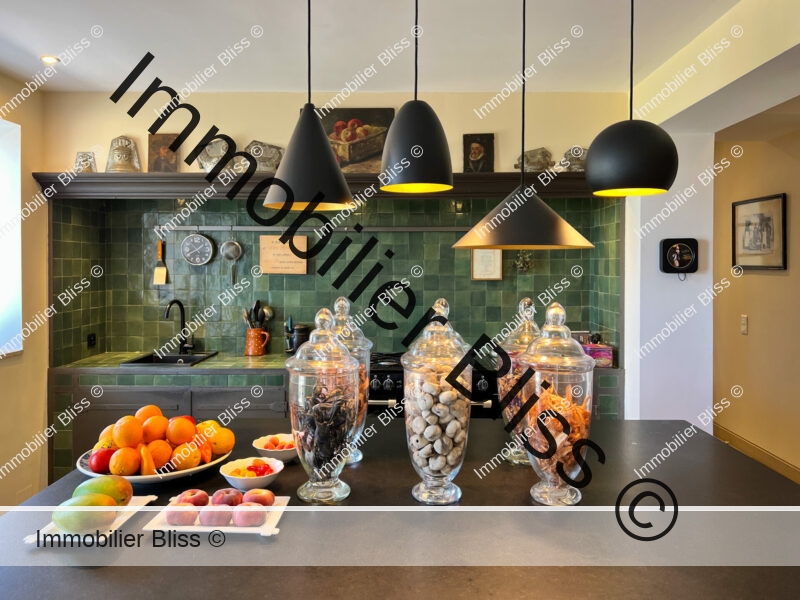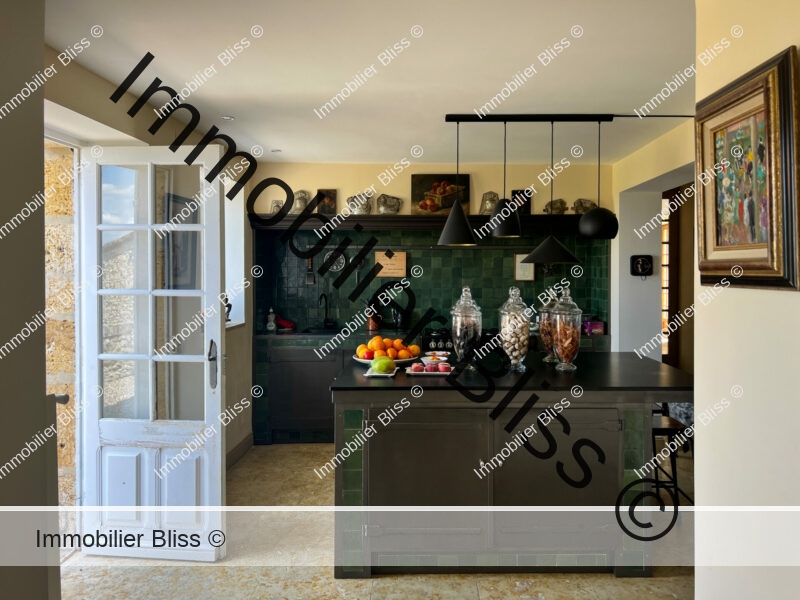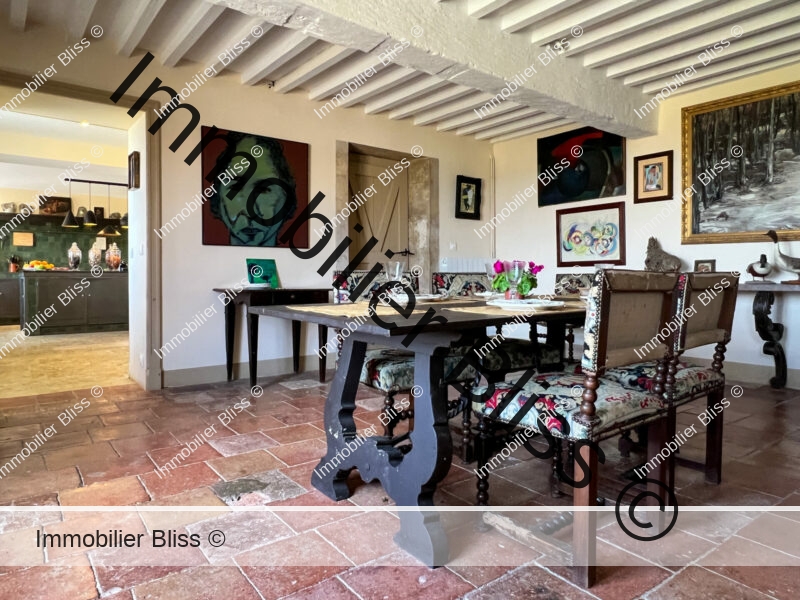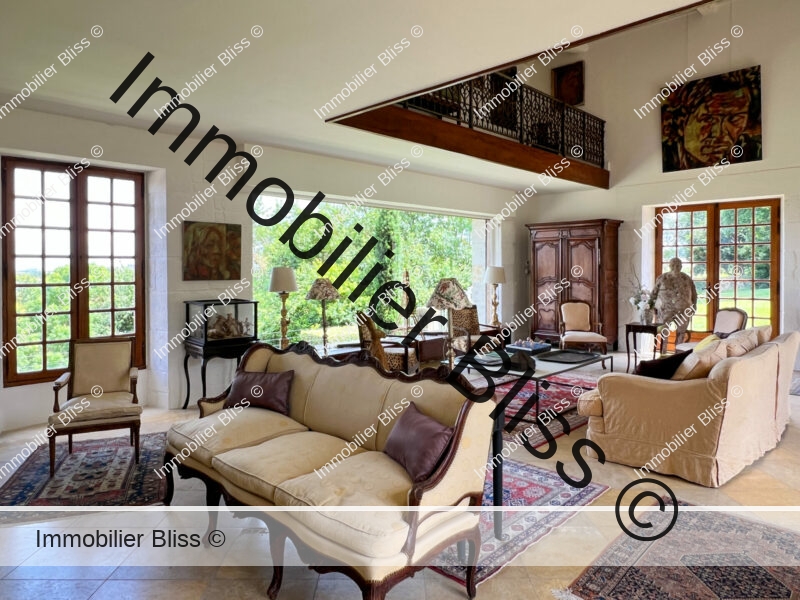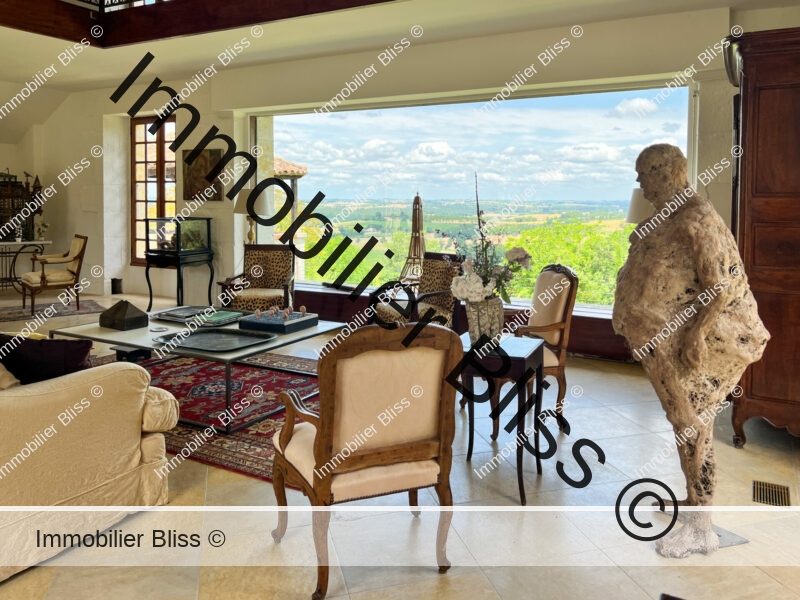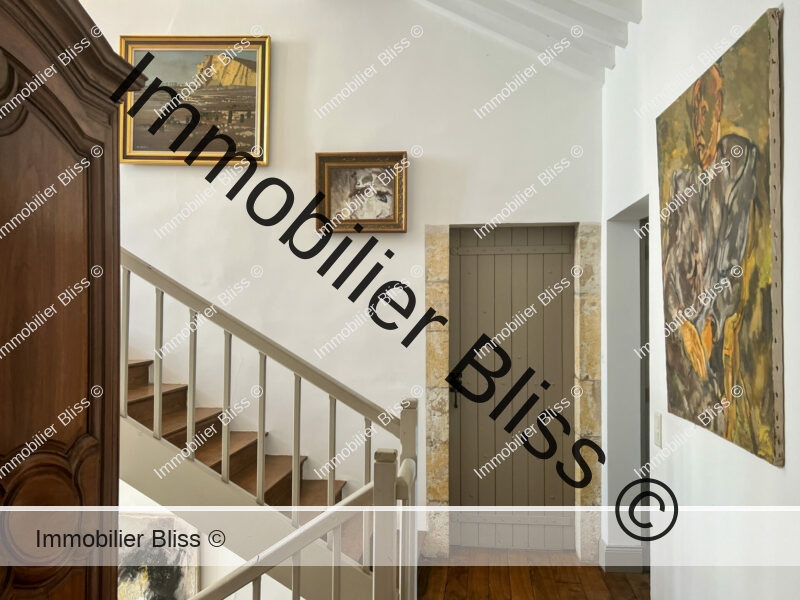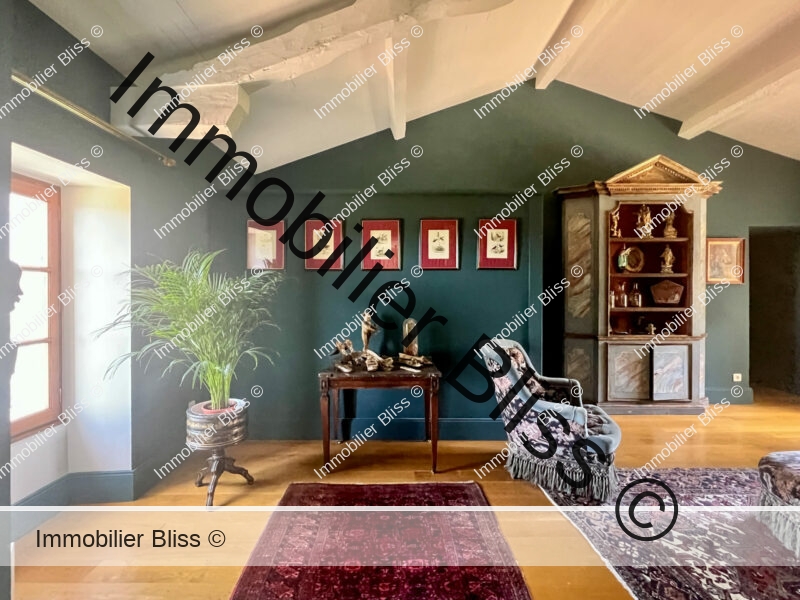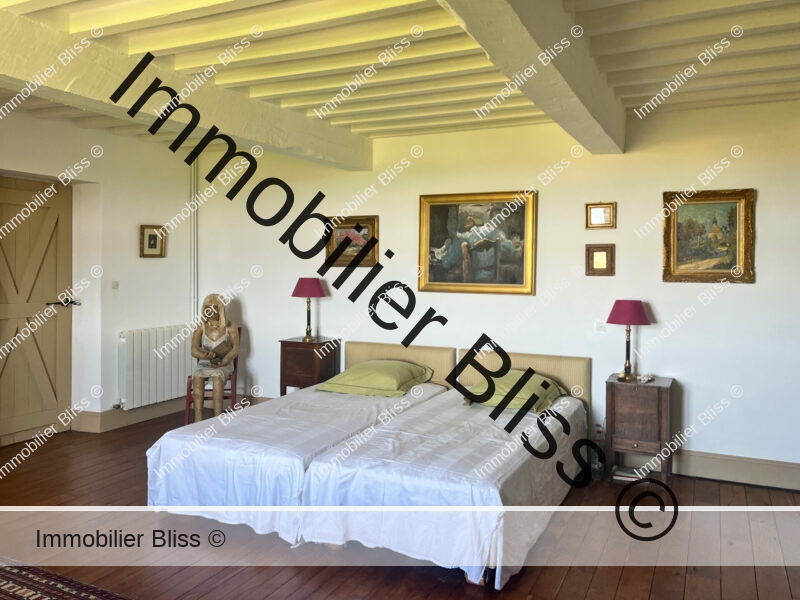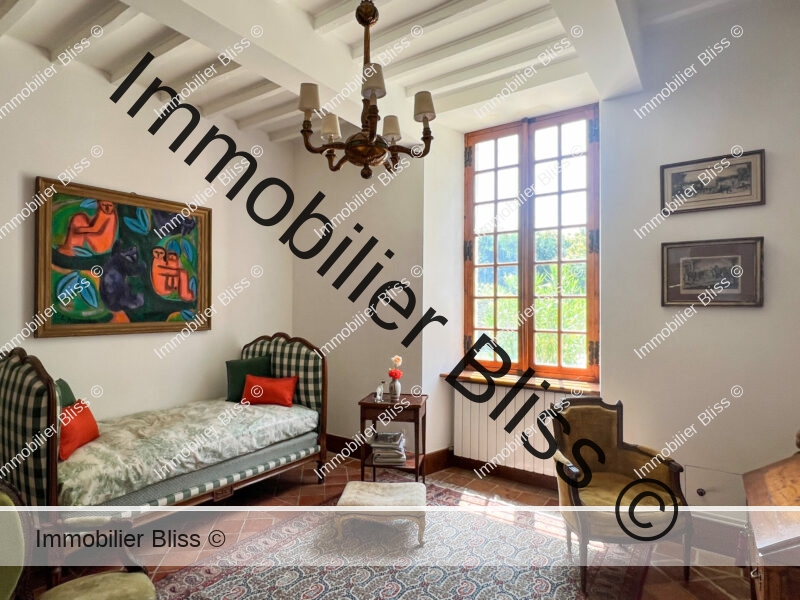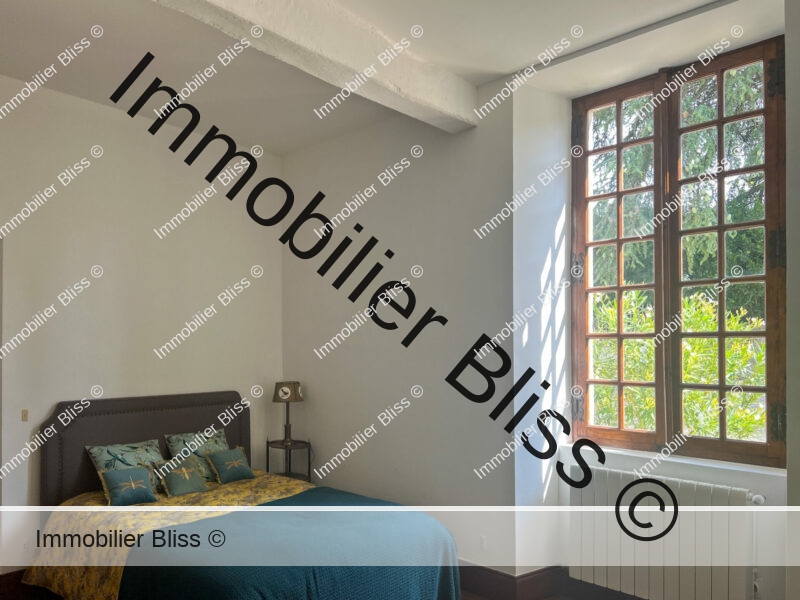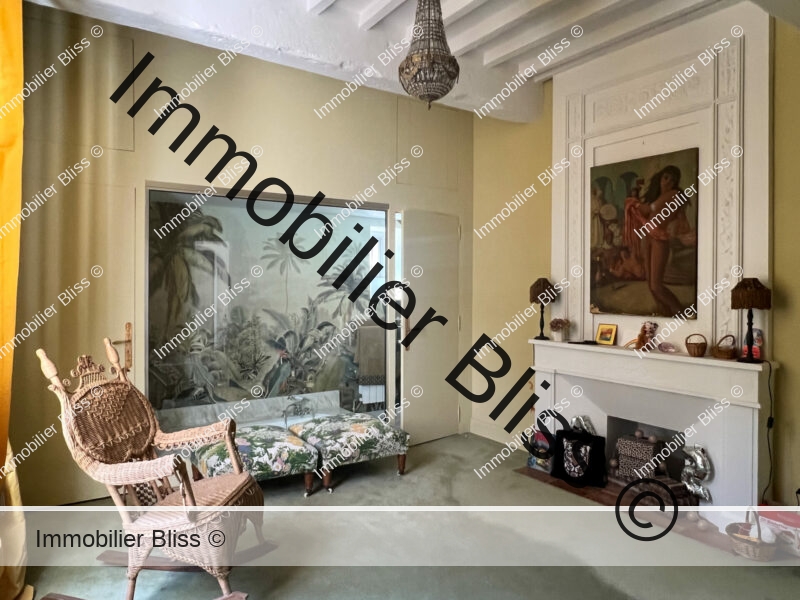 Who will this property appeal to?
There is little if any work necessary from a decorative point of view, and everything has been carefully restored, hence this is a perfect property for home-seekers wishing to enjoy life, and crack open a bottle of bubbles over lunch with a view.
The property is spacious enough with two separate entrance halls, and bedrooms on different levels, to provide luxury accommodation for a large family, or guests.
The gardens give an immense sense of space, but this is in part due to the views over twenty five KM to the south. In reality the gardens are spacious but easy to maintain. Here, it is possible to enjoy a fine landscaped garden, and live in a tranquil position, without an abundance of land to tend.
The property will appeal to anyone in search of space,  elegance and tranquillity, in a non-isolated position.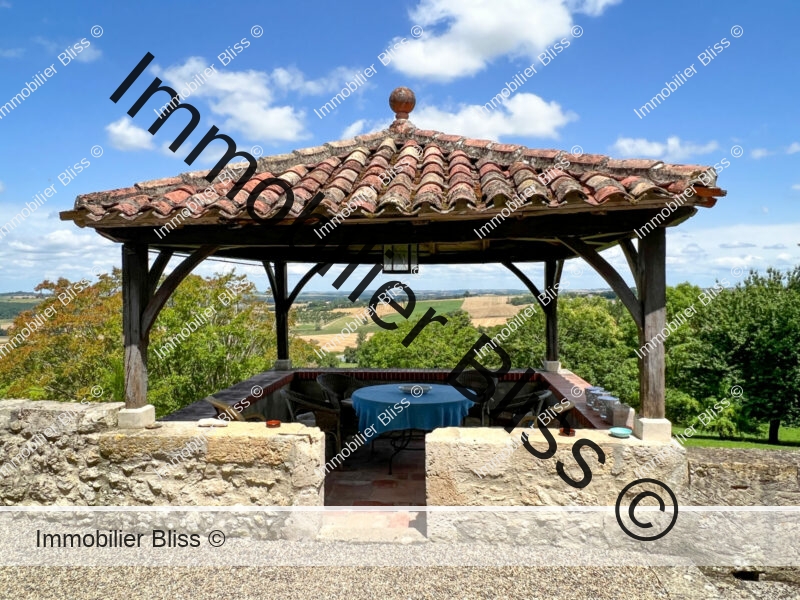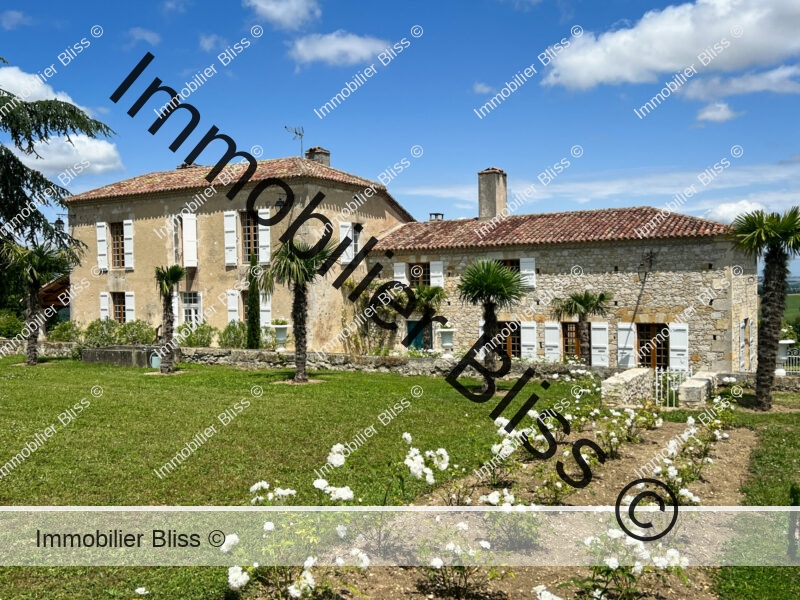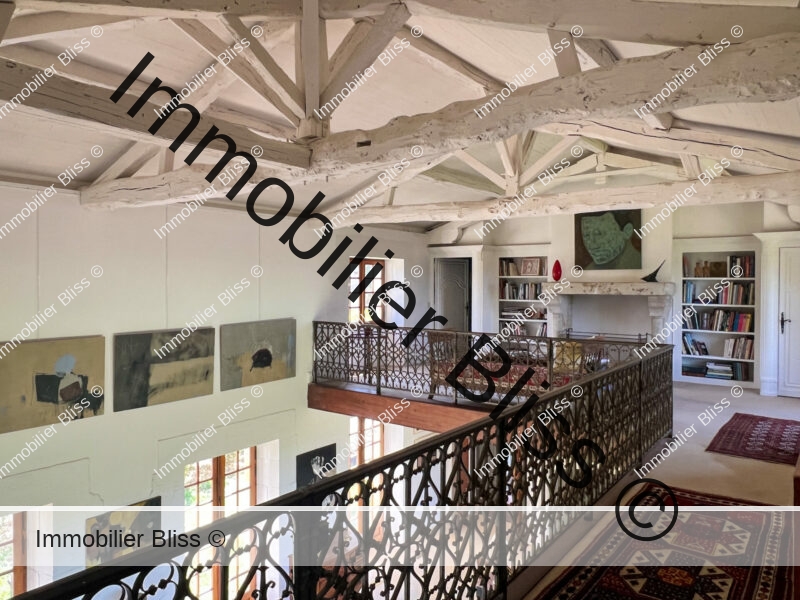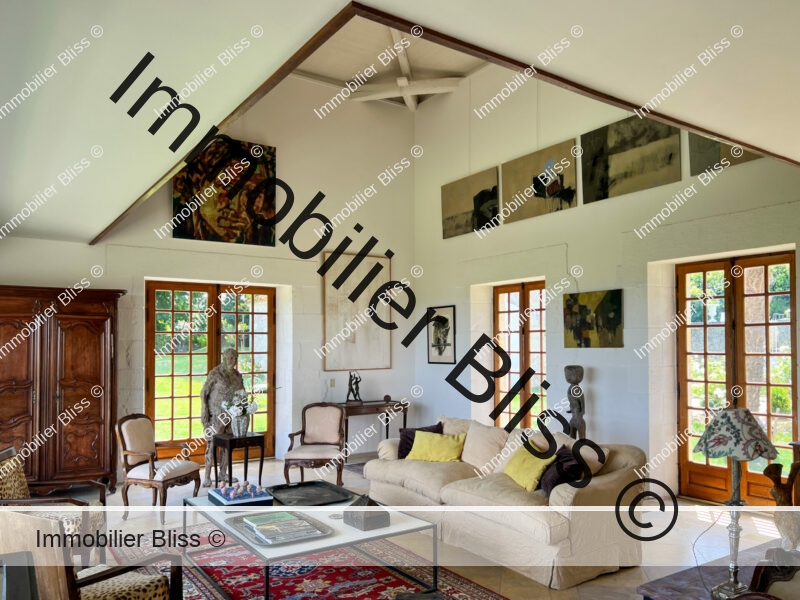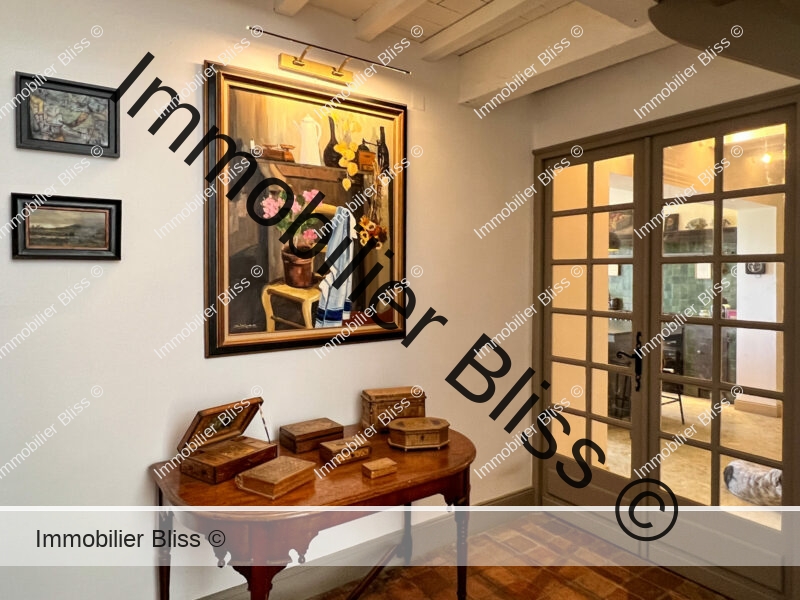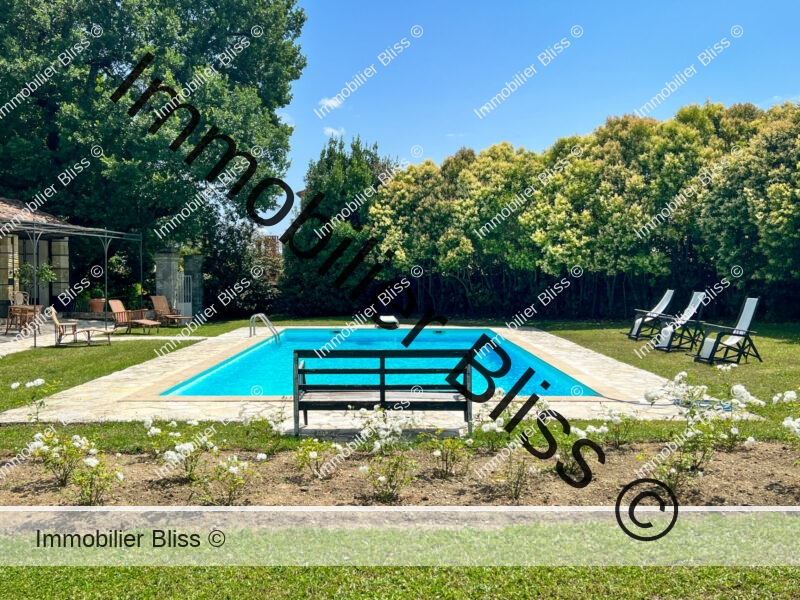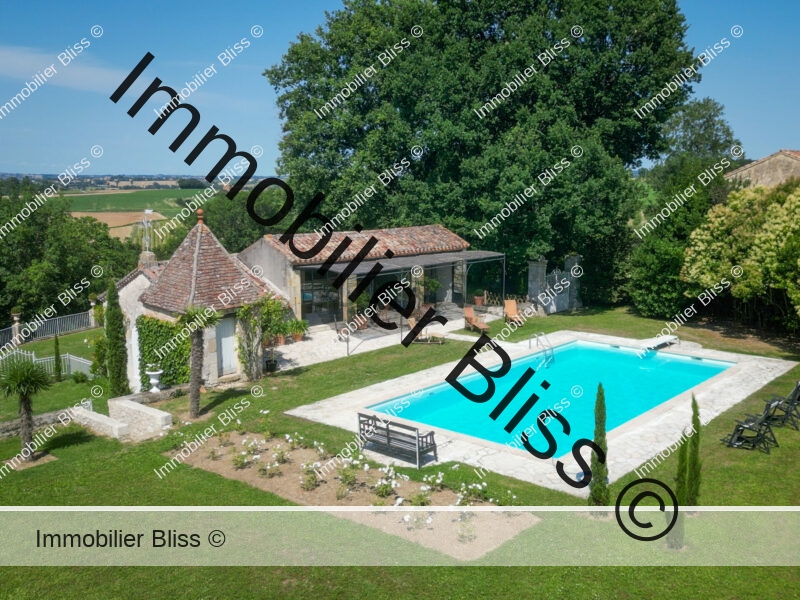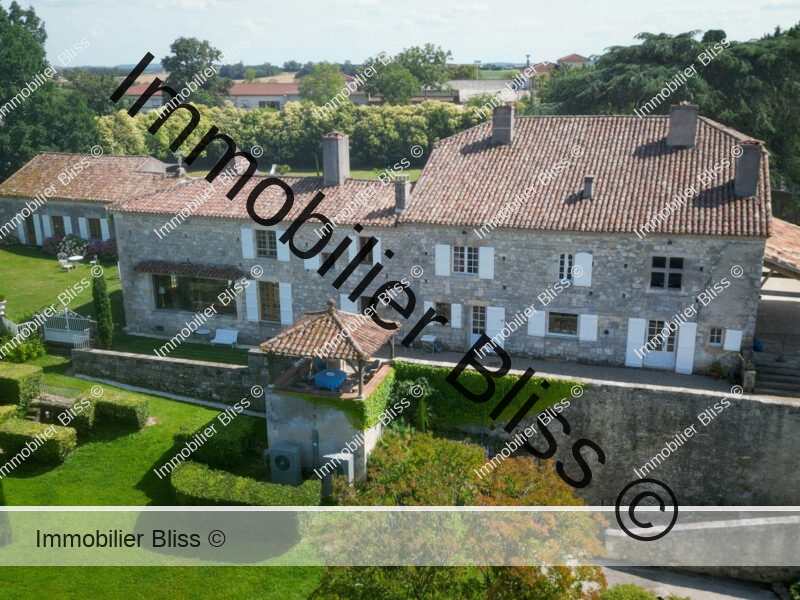 Our thoughts here at Bliss
Much as we love gardens with roses of every colour, the assembly of a collection of white roses in the rose garden to the front of the property is undeniably eye-catching and sets off the elegant architecture of the property perfectly! The smooth green lawns (are we in an English park, about to play bowls?), and the suspended terrace overlooking the countryside with its sheltered dining-area, the line of cedar trees, and the careful choice of shrubs and plants, all contribute to the fabulous setting in which we find this lovely building.
Of particular note, is the elegant entrance to the property with its vast wrought iron gate, stone walls, and ancient cedar trees. This property was clearly built by a bourgeois family, and has these gorgeous decorative touches to remind one of its history and grandeur.
More images…
Click images to enlarge
On a technical note
Septic tank (in working order but non conform)
Roof – works last carried out 2023
Original single-glazed wooden windows
2 open fireplaces in working order
Heat Pump, new, 1 year old
2 thermo dynamic hot water tanks fitted, 200 and 700 litres respectively
Internet by ADSL with fibre is being installed in the area
Swimming pool 6m x 12m with a depth of 2.20m
Fibre pool, no liner to change
Room Sizes
Ground Floor
Entrance: 14,27m²
WC :1,62m²
Reception room :62,99m²
Kitchen :30,11m²
Dining-room :28,72m²
Entrance 2 : 12,12m²
Bedroom 1 : 20,14m²
WC bedroom 1 : 1,29m²
Shower-room in bedroom 1 : 2,81m²
Bedroom 2 : 17,51m²
First Floor
Palier : 4, 13m²
Chambre 3 : 31,26m²
Salle d'eau : 7,58m²
Dressing : 7,50m²
Salle de bain : 14,54m²
Salon : 22,11m²
Mezzanine : 31  ,79m²
2nd floor
Bedroom 4 : 20,23m² (20,23m²)
WC bedroom 4: 0,87m²
Bathroom: 3,24m² with shower
Bedroom 5: 19,98m² (19.98m²)
Landing: 8,48m²
Basement
Cellar: 103,05m²
Outbuildings
Pool house : 58,49m
Pool room : 4,47m²
Swimming pool WC : 2,01m²
Games room : 68,70m²