Country Property in Ancient Stone
close to Lectoure
Characterful country residence
In the heart of the Golden Triangle, within easy driving distance of the popular market and tourist town of Lectoure, this lovely stone house is set back far from the road, down a quiet rural lane, in a medieval hamlet. The stone house is deceptively large, and must be visited for its size to be fully appreciated.
Its 'country-cottage' air, with a host of fragrant roses, wisteria and flowering shrubs around the garden and its extensive well-tended lawns, are perfect for clients in search of an authentic rural Gascon idyll. The gardens protect the property from neighbours who are to be found at a comfortable but reassuring distance, offering a secluded yet safe location for clients who do not wish to be totally isolated.
One of the most remarkable features of the property is its large number of ancient stone windows, with their gently curved lintels dating back to the 16th Century, through which light floods in from the gardens.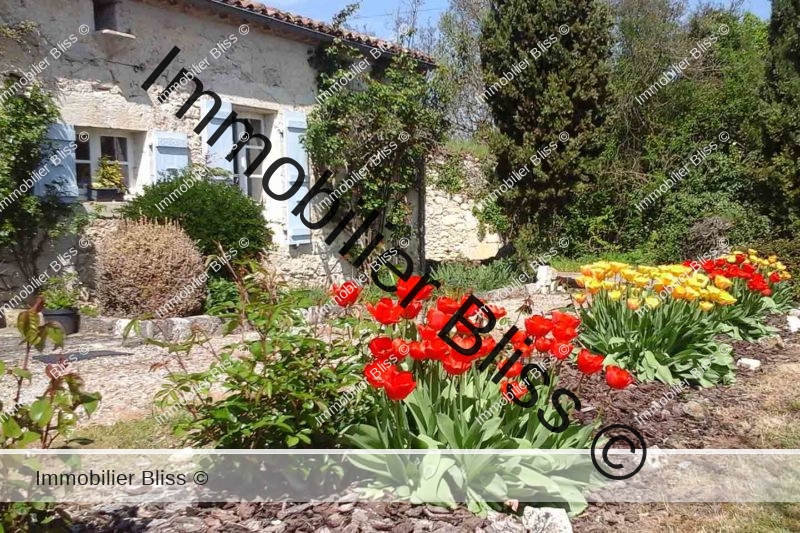 Toutes les mesures sont approximatives
Frais d'agence inclus (5%) à la charge du vendeur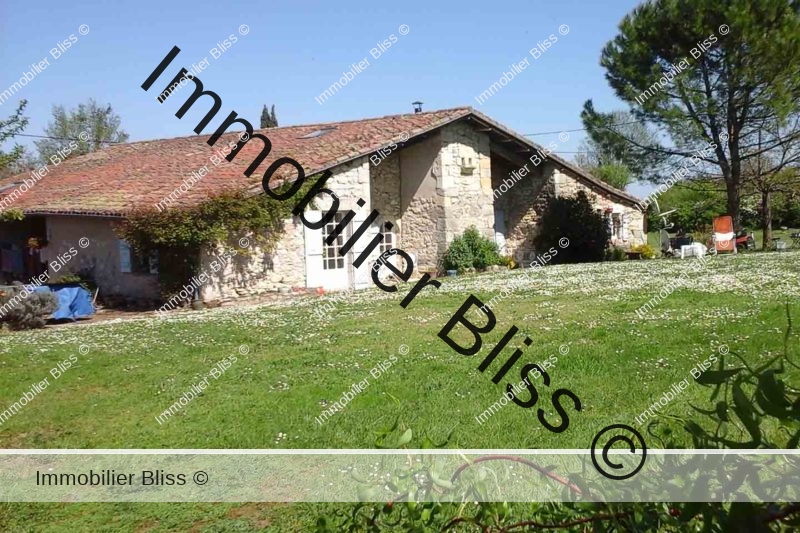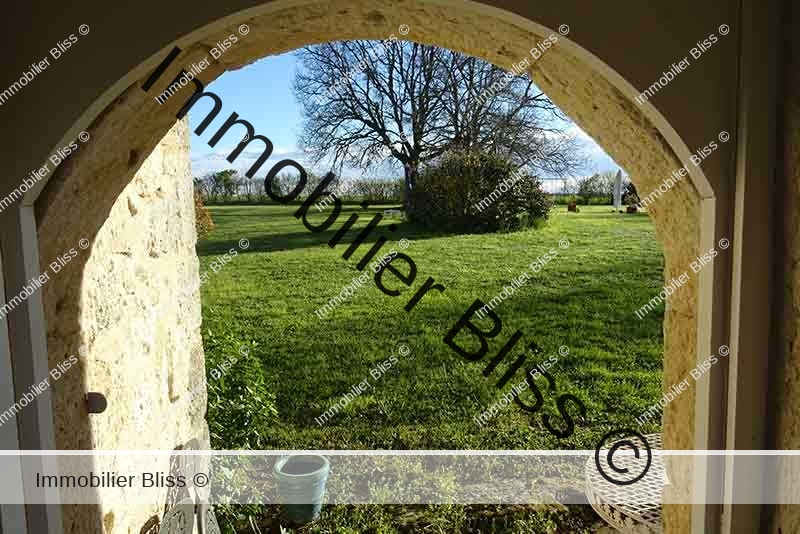 There are two covered terrace areas set back inside the stone façade, offering a sheltered and characterful niche where the current owners enjoy breakfast and an early evening drink.
Part of the charm of the property lies in the number of private secluded areas in which it is possible to eat outside, with many tranquil spots to sit out on the terraces around the houses, and the various views over the garden, with roses in bloom beneath every sill. This play of light and the views onto the garden, create an ambiance in which it's easy to feel close to nature, the rooms opening out on to it, at every turn, with a calming and restful ambiance.
Inside the property is full of surprises as without losing its charming cottage feel, there are more rooms than at first expected!
The charming entrance hall with its old terracotta floor tiles, leads to a spacious dining-room, and a separate kitchen. Beyond the dining-room there is a reception room, with an old bread-oven and a wood-burning stove, with access to the gardens through French windows. From here there is direct access to a double bedroom, and en-suite shower room, and separate dressing-room.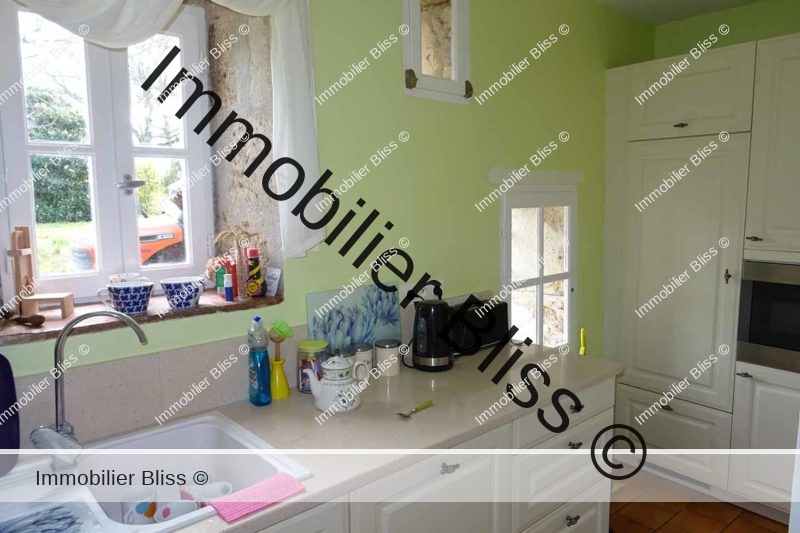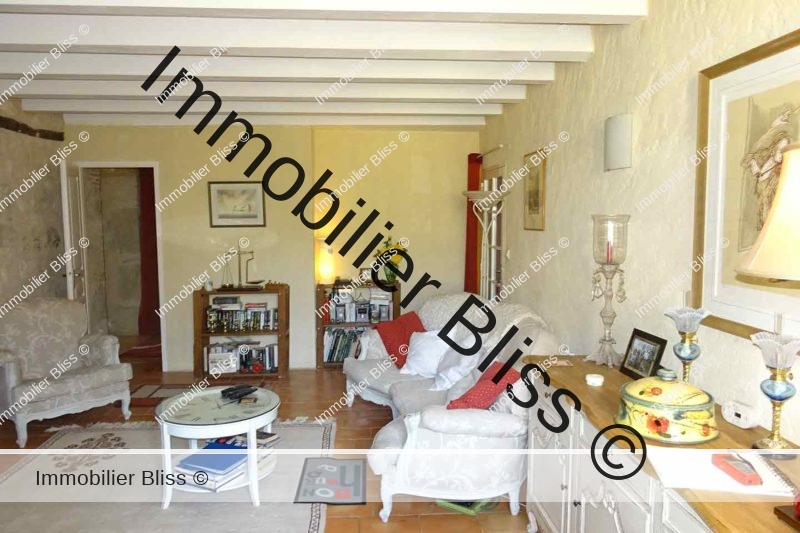 In the second part of the house there a triple-sized reception room which is perfect for entertaining, with a large wood-burning stove. This is a characterful room with a stone-sink, and exposed stones walls. From the second reception room, there is access to two more downstairs bedrooms, with an adjacent shower room and separate wc.
A second b kitchen and scullery room can be found at the rear of the property, with a wooden stair case to the loft where there is some space for development (pending works and verification of load-bearing weight).
There is a handy covered work-shop area to the rear of the property and extensive driveways to each side of the house offering ample off-road parking.
The property is in lovely condition, and has been loved and tended both inside and out for many years, by the current owners.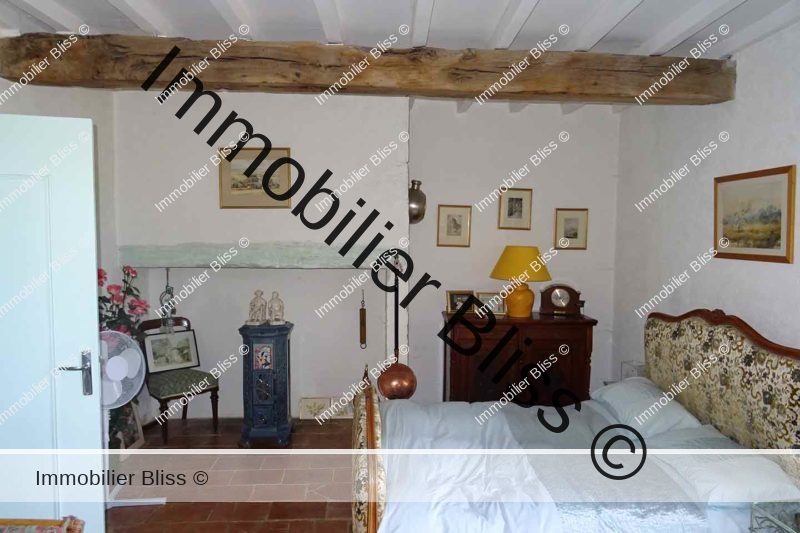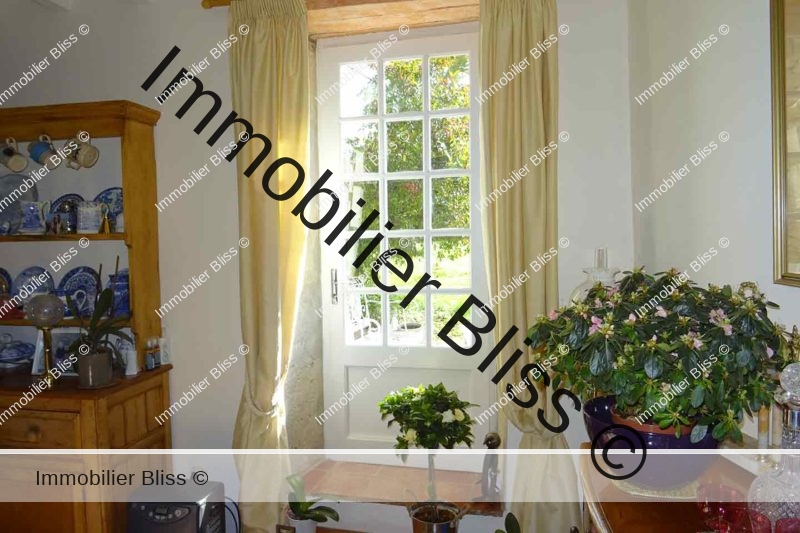 A stone pigeon tower forming part of the external façade houses a barn owl, and the gardens are home to many varieties of birds.
The hamlet backs onto open countryside and farmland, in one of the most verdant areas of Gascony, renowned for its rolling fields and hill-top bastides.
Easy access to school, shops, doctors, and supermarkets by car. This rural idyll offers the tranquillity of the countryside just a short drive from Lectoure, with its weekly market, cultural activities, festivals and shows.
More images…
Click images to enlarge