Converted stone farm cottage
in the Garden of Eden
A truly romantic masterpiece near Lectoure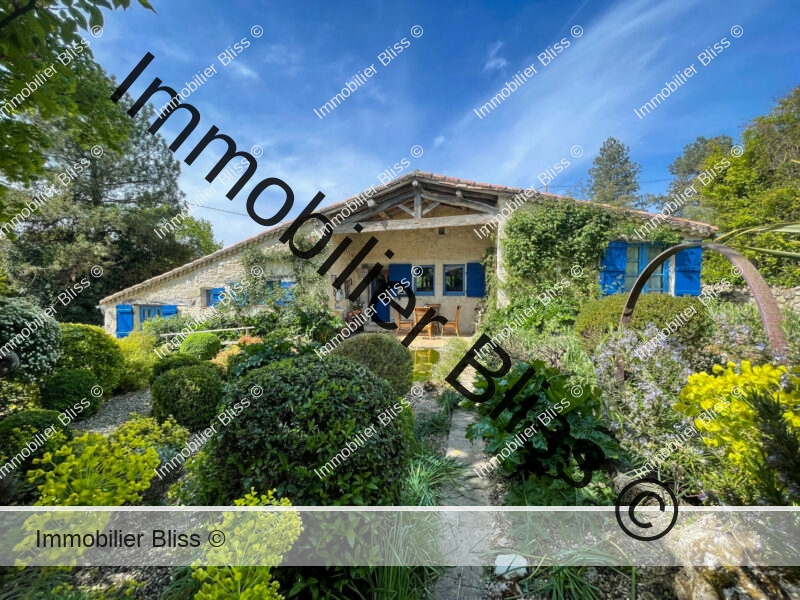 Toutes les mesures sont approximatives
Chauffage
Wood, electrical
Overview
Occasionally, as agents, we are asked to market something truly remarkable – and to find the future owner of a self-contained world.
In this case our mission involves a magical garden. 
The house (and there is even a tree-house!) is almost incidental.  There is a home, a place to live and to sleep, but as with Adam and Eve – the garden comes first.  It is such an integral and defining part of the property, we can only begin there…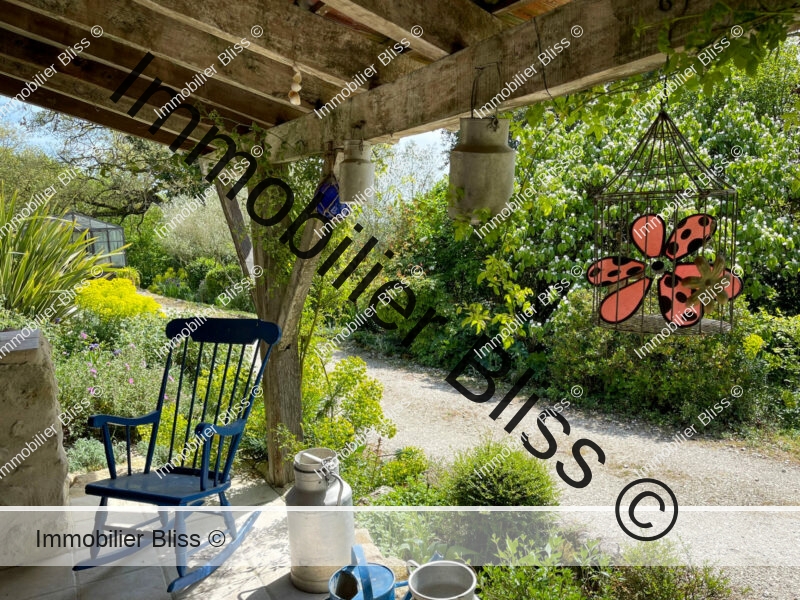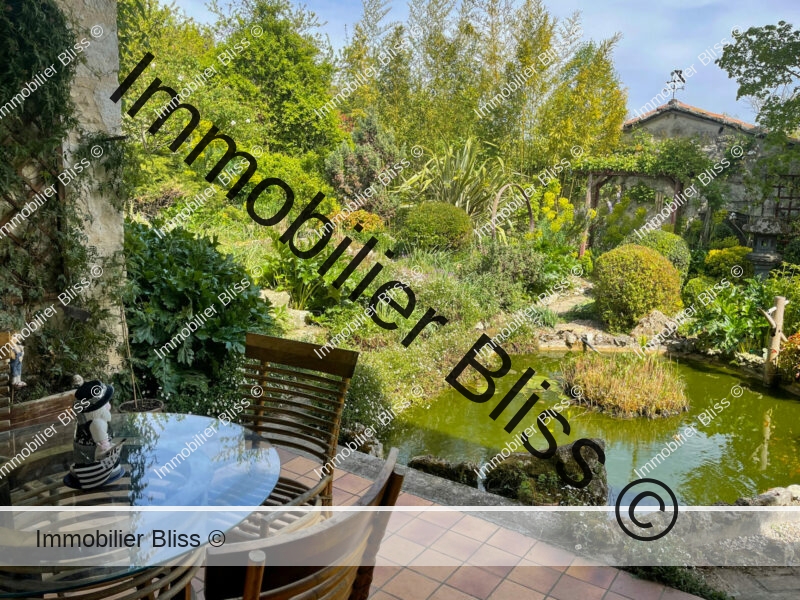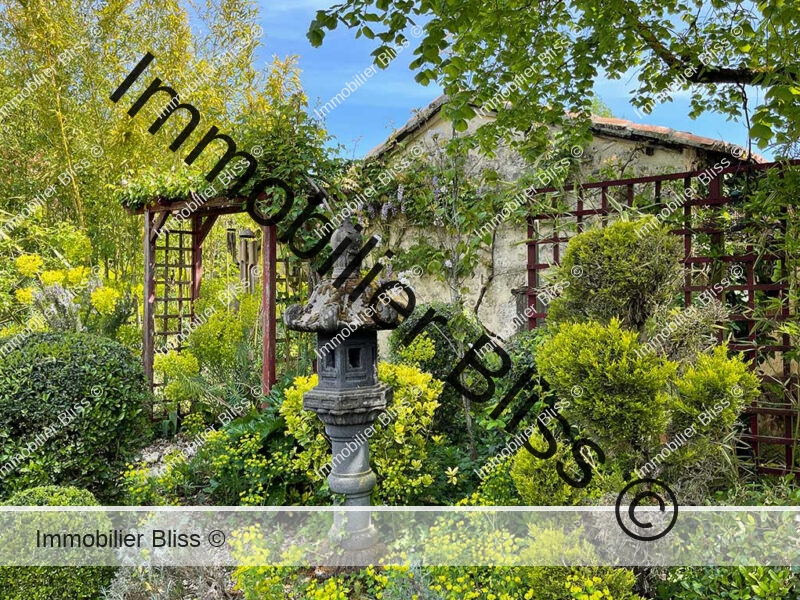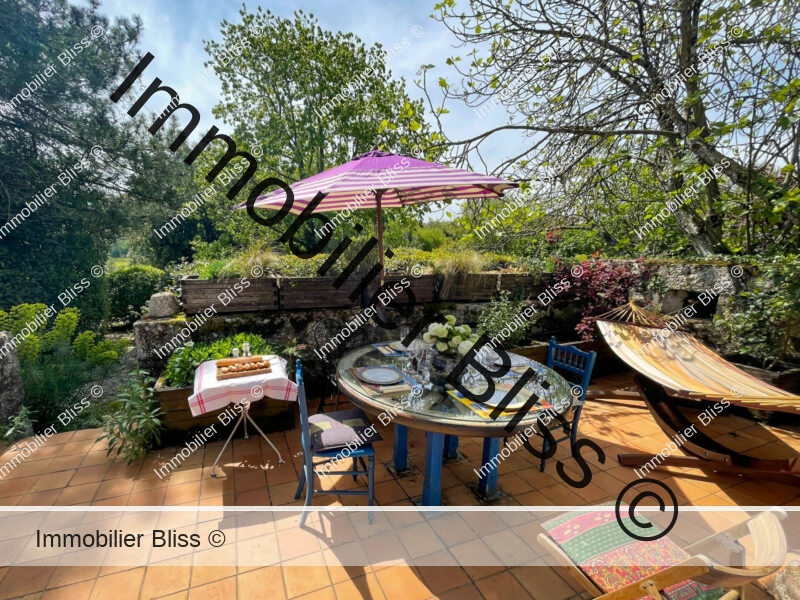 The Garden
This garden is the result of a 29 year horticultural passion – and of immeasurable time and lavished affection. 
The grounds comprise a "dry" garden – perfectly adapted to the long hot summers in the Gers and well suited to plants that thrive in its stony "calcaire" soil. This area is bursting with Mediterranean plants and three Cypress trees to welcome visitors which the owner tells us represent : water – salt – and flour – the ingredients required to welcome any guest. 
There are a variety of other trees and shrubs  including : a butterfly tree, an olive tree, a wig tree, an arbustus or strawberry tree. There's lavender and sage bushes, euphorbias, nepeta cataria, cistus and curry plants. 
This "dry" garden can survive one month without a drop of water.  
Rather than have a lawn in this hot climate, a second garden on gravel was created, and shrubs planted spaced to enable one to walk through the garden. Here various sedums, euphorbias, lavenders and phlomis bloom.  
As in every respectable Gascon garden there is the fig tree – a vegetable plot (tomatoes, asparagus, onions, garlic, beans, potatoes)….  The current owners eat their own organic produce, never needing to buy fruit or vegetables. 
One of the main structures out here is the princely chicken palace – certainly no mean chicken coop – a des-res for any self-respecting hen.  Here you will also find rabbits and, in days gone by, there were even a few vain peacocks in attendance. The external fencing is decorated with climbing ornamental roses and the greenery within the coop provides a natural environment. 
In addition there is a rose garden (with a sub section of English roses) a white garden, a herb garden, a Zen garden, a fountain and a 17m long ornamental pond, full of boisterous frogs. 
There is a view …. a panoramic backdrop of distant valleys and a border of ancient oak.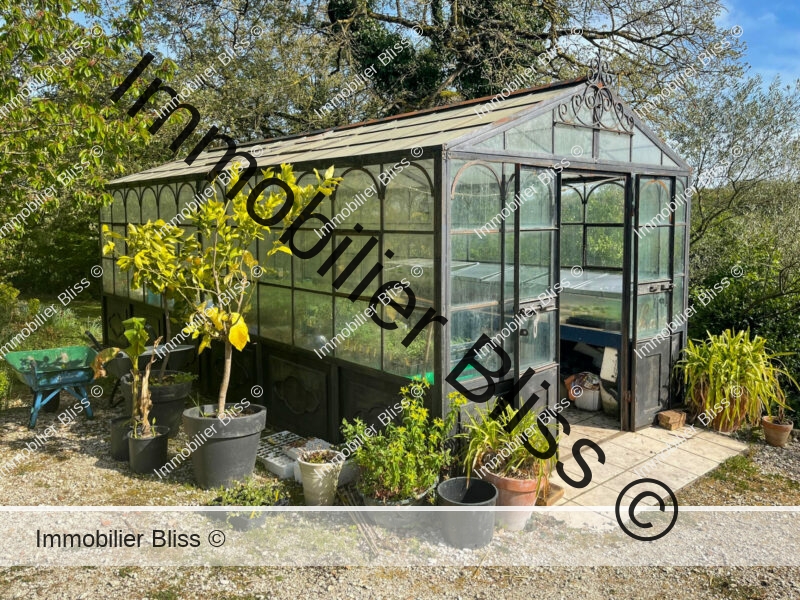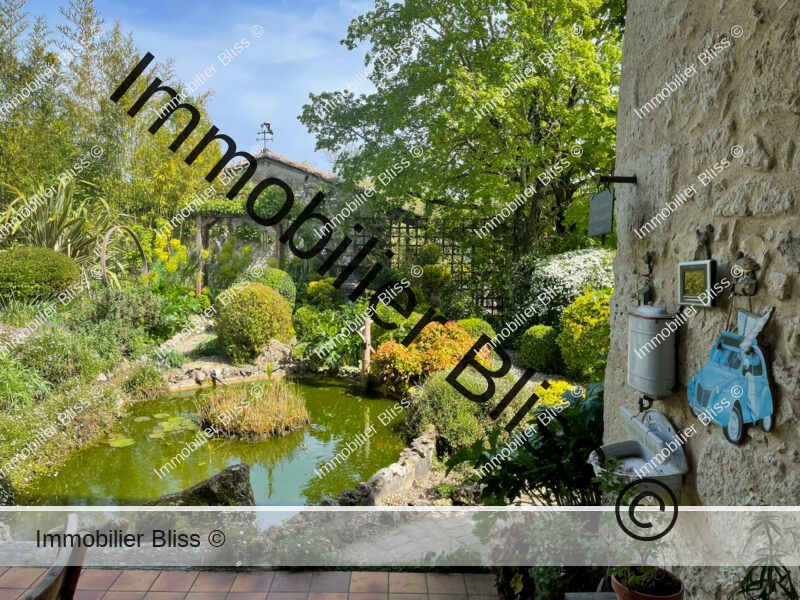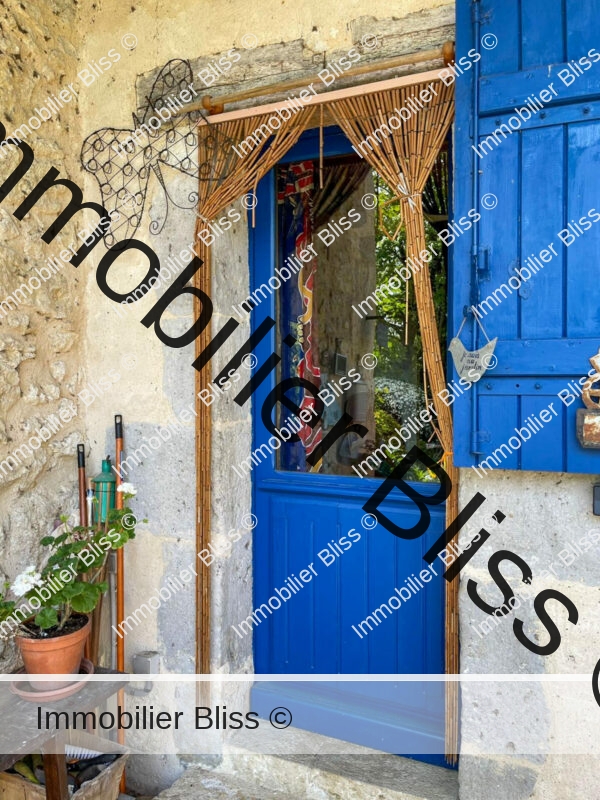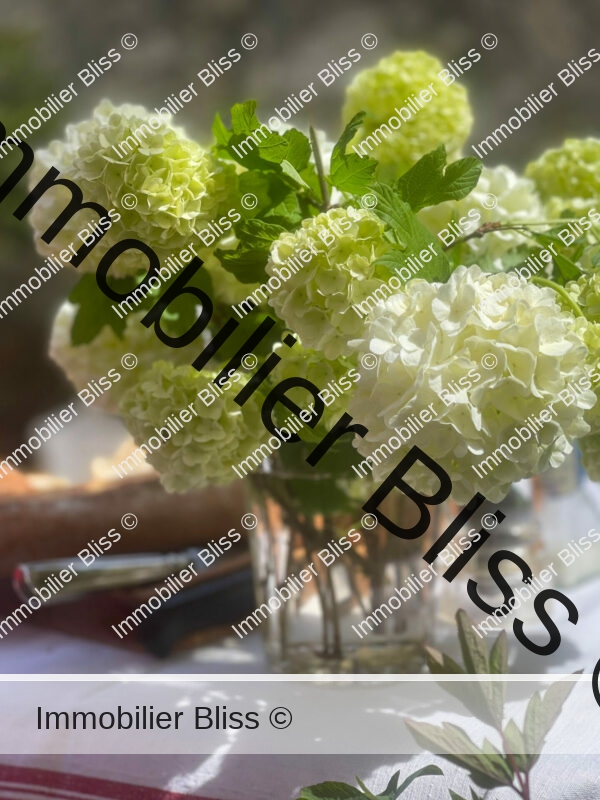 At the far end of the grounds is the two-storey tree house.  
The current owner tells us «  to climb the wooden ladder and to sleep in the tree house, without the comforts of a « normal » house, is a way to embrace nature again – just as we dreamt of doing when we were children. This is the perfect haven to read, write or sip a glass of cool champagne»
Why should we not dare such adventures as adults? The current owner has turned a childhood fantasy into reality and the tree-top bedroom has been enjoyed countless times by guests. 
Here at Bliss, sadly we've not had the luck to test this magical place ourselves so cannot attest to its comfort in a high wind, but the current owner assures us that its construction was an engineering feat, making it perfectly solid enough to provide an occasion double bedroom in the tree tops as well as a wonderful ground floor artists studio or writer's eerie.  There's water but it should be noted that the toilet facilities are very much « au naturelle ».   But it's the panoramic terrasse of this tree house with its fantastic vantage point to observe the setting sun that captures the imagination.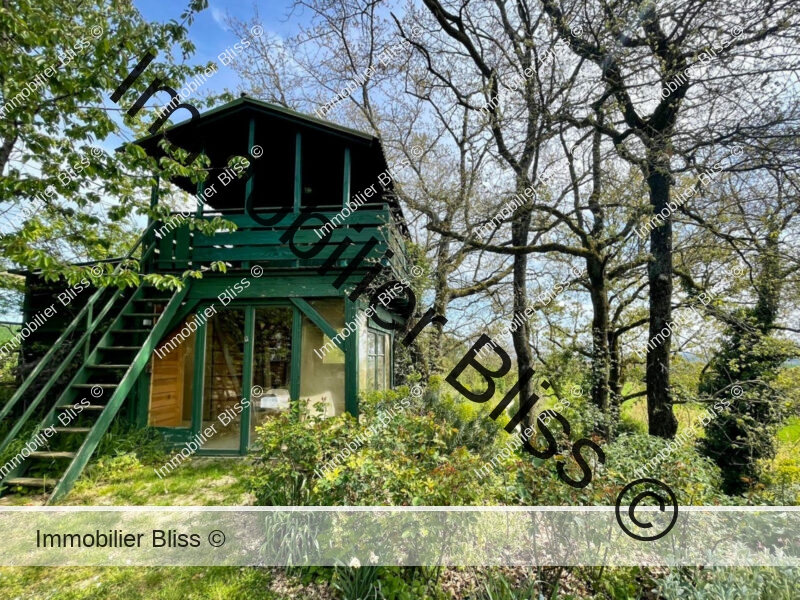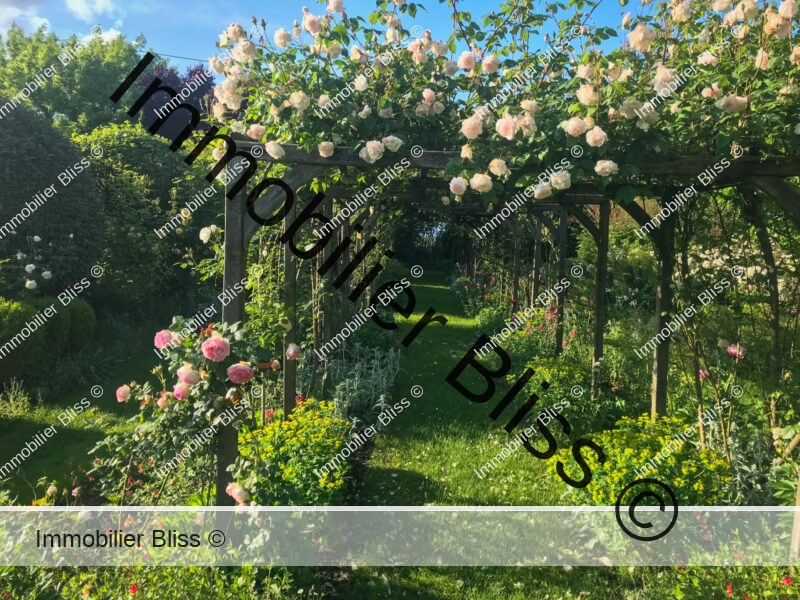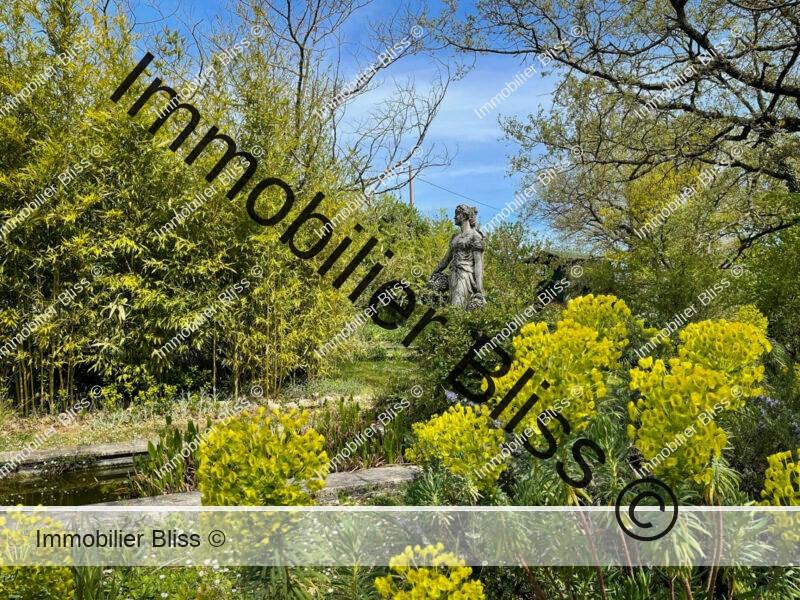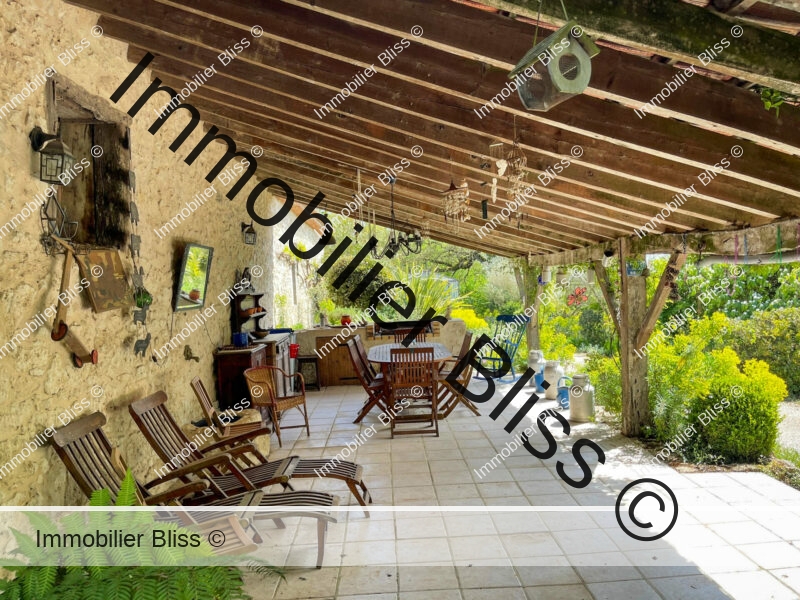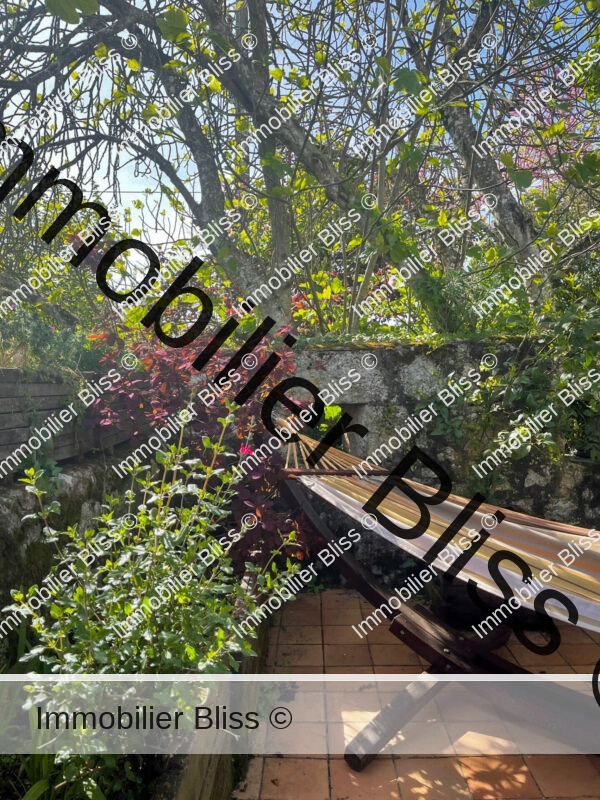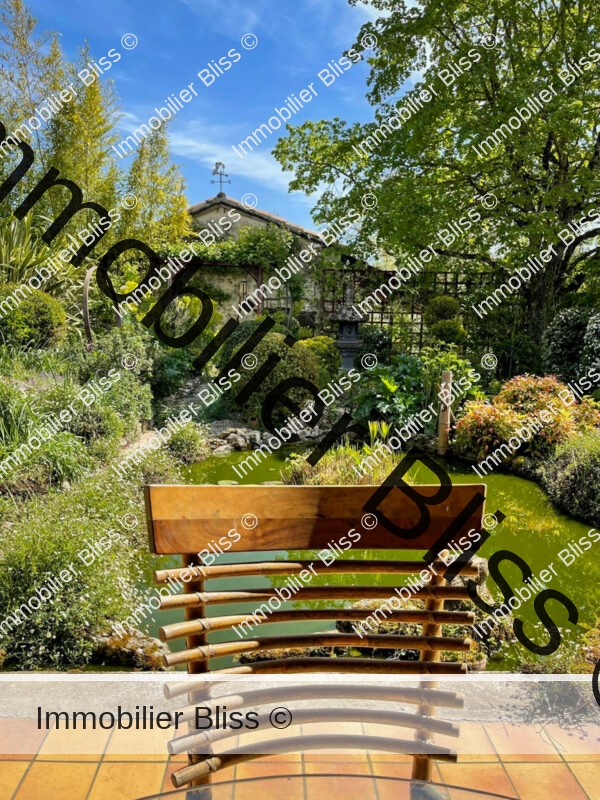 The House  – at a glance
Cottage style – cosy and rustic, one could easily be forgiven for feeling that this is a rural home of days gone by.
We enter a large sitting room. The table is set for lunch and the logs on the large central fire place burning down to embers in anticipation of the duck fillets that will soon sizzle and spit upon them. With a glass of good local red and a platter of cheese, we sit at the hub of the house beneath the thick and ancient beams.  The huge bread oven behind the fire place would have been used to bake the bread for the surrounding houses once upon a time….  How to describe the room? Intimate. Ancient. Profoundly quiet and disconnected from the world. This room might barely have changed in the last two hundred years.
The kitchen opens onto this central sitting-room. Another cosy room with ancient blue wall tiles. Yes – one could refurbish it – modernize it. Yes, in reality it would be nice to bring one's own personal touch into play. The kitchen has been lovingly used for the last thirty years – but what we notice is the opening onto a small terrace for summer dining – walled and discreet, a haven from the wind.
Beyond every window, like art in tableaux, bloom the gardens.
The other main reception room is used principally as a library and television room. It has the darkened atmosphere of a library – and a cottage feel, in keeping with the whole.
A small hallway leads to the bathroom, separate toilet and 3 bedrooms.
Nothing here is pretentious – and certainly it is all in need of a full decorative overhaul – but the ensemble is profoundly cosy.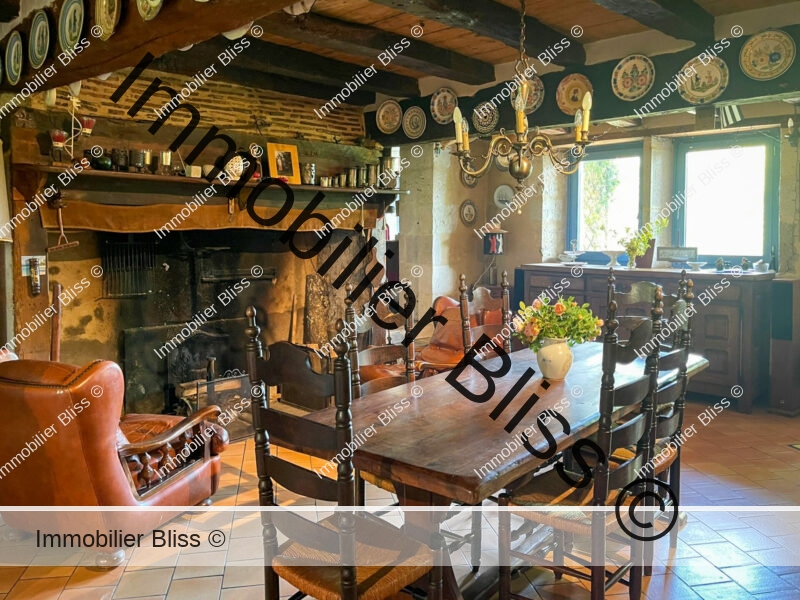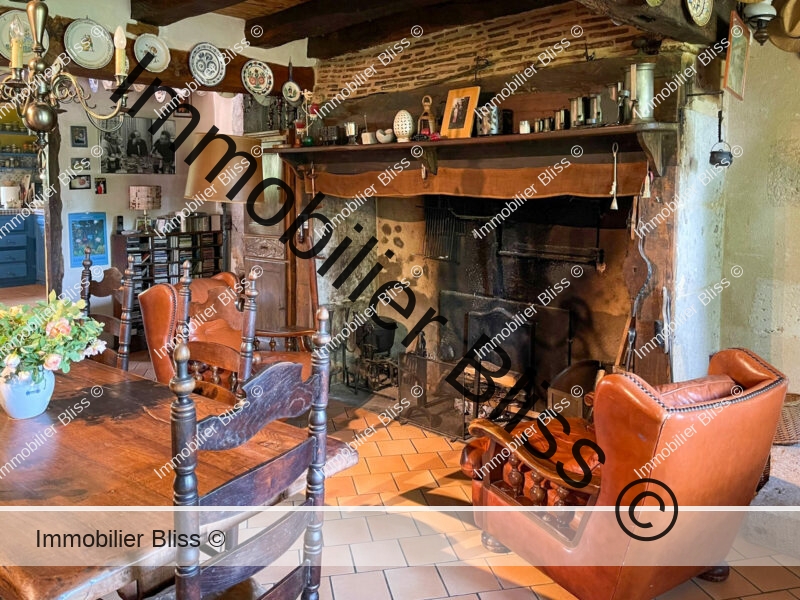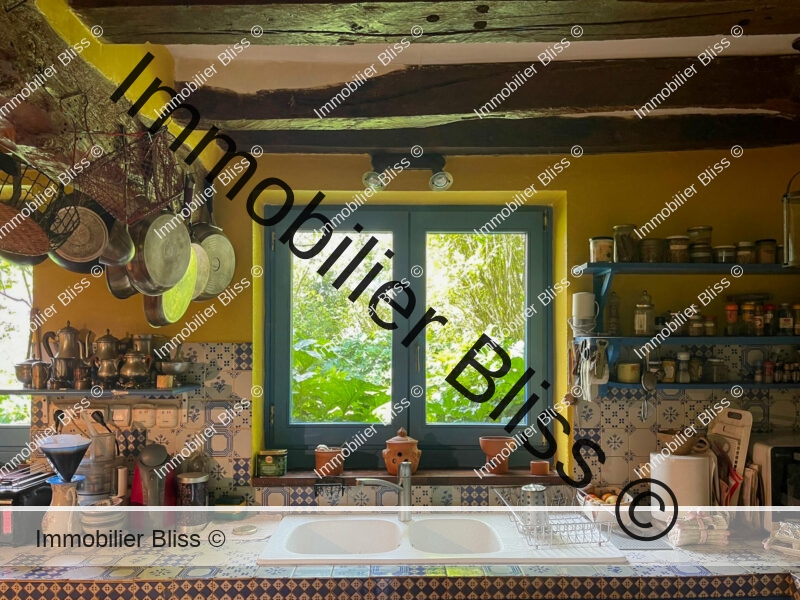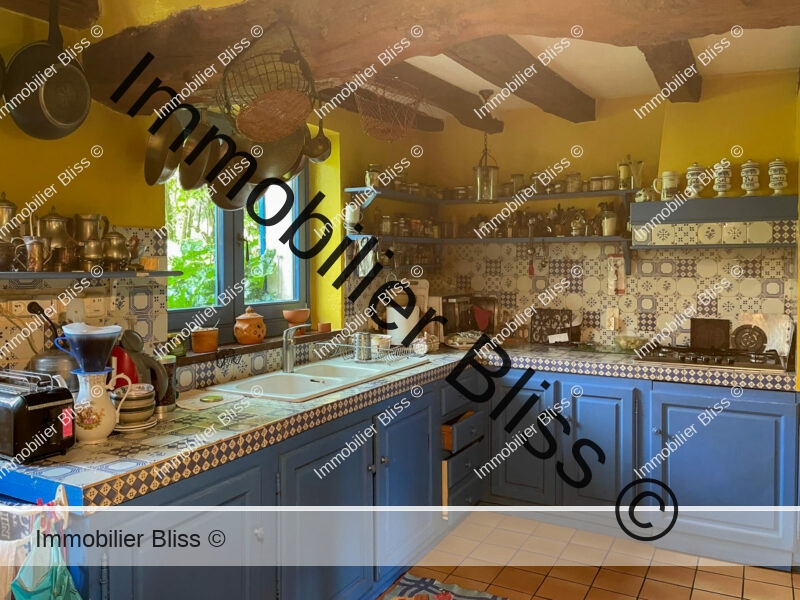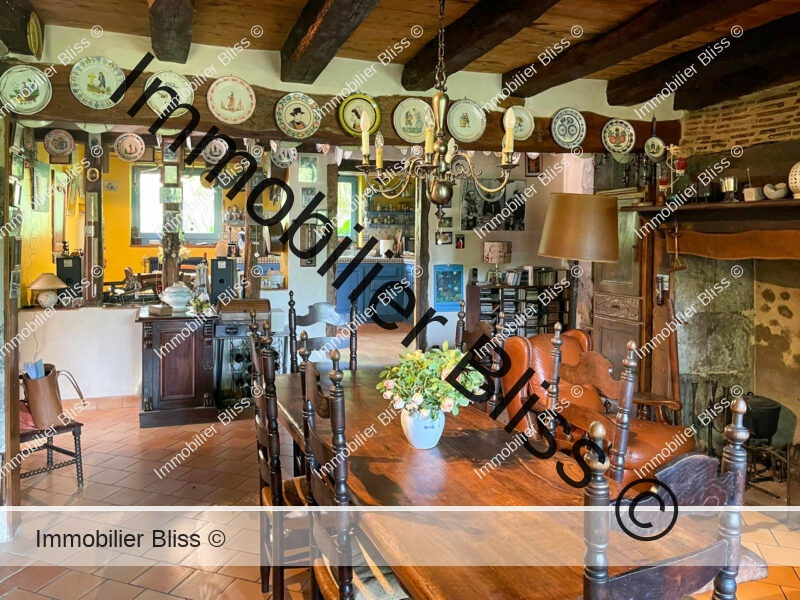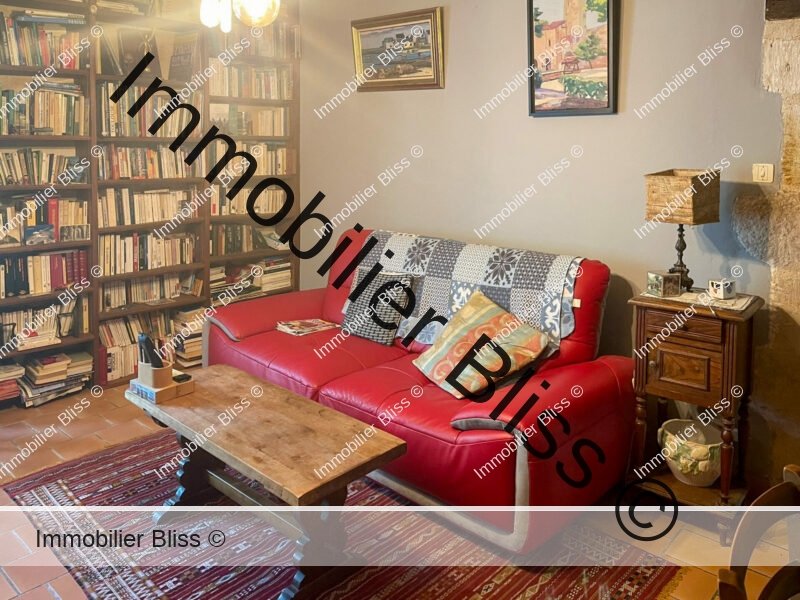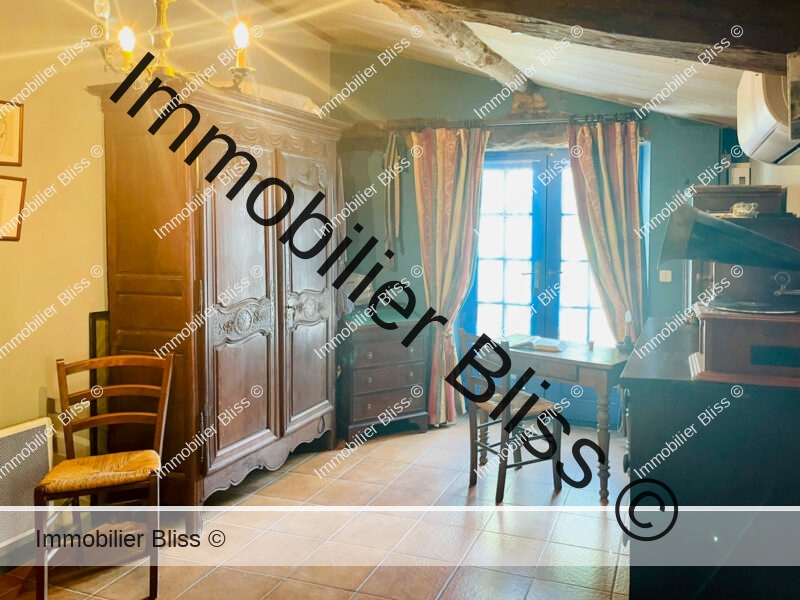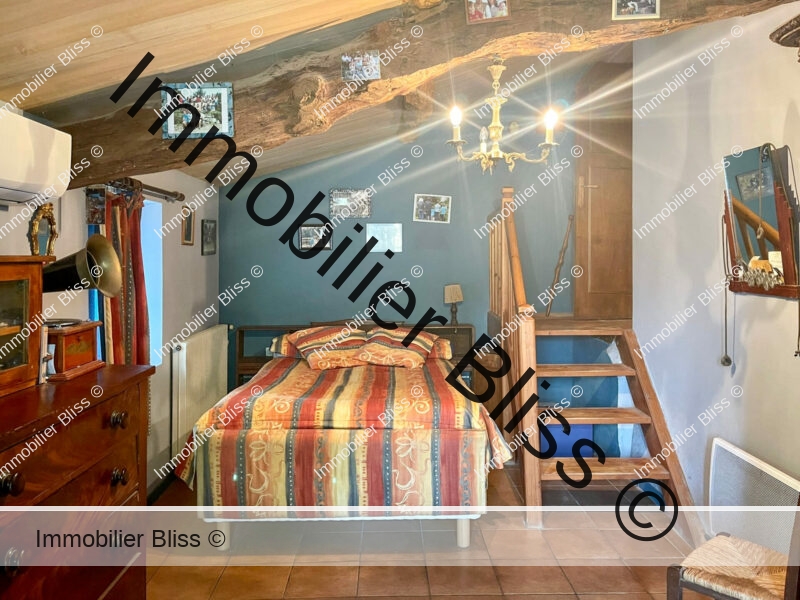 Who should avoid this house?
Anyone who doesn't have the desire to garden. 
Buyers who like high ceilings, large and minimalistic rooms.
Buyers looking for a thoroughly refurbished modern home.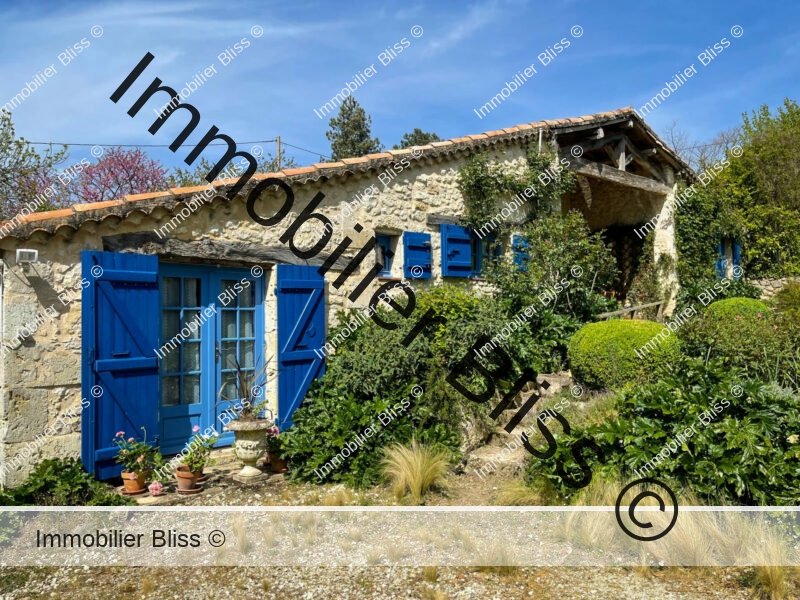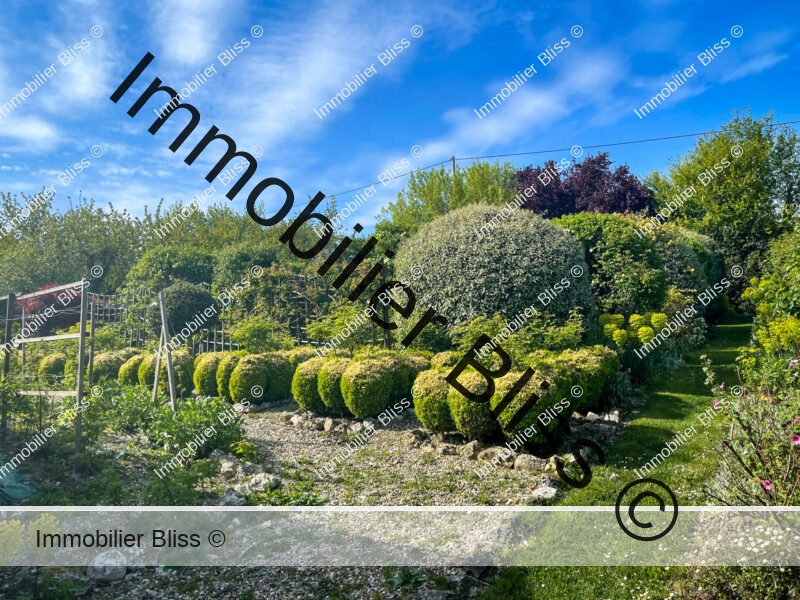 Which Fictional or Historical character might choose to live here?
Little Red Riding Hood
Béatrix Potter
Goldilocks
Miss Marple (Hercule Poirot would require more minimalism)
Adam and Eve.
Our thoughts here at Bliss
This area must be one of the most beautiful parts of Gascony and for anyone with a passion for horticulture, there is an inherent desire to ensure this sublime garden continues long into the future. It's inconceivable that a new owner would not passionately desire to carry the baton for the next decade or more. 
This property will only appeal to lovers of sweet, rural-style cottages and yes – although in good working order – most of the internal decor could be revisited – but it has a country-living appeal and an atmosphere that will captivate anyone looking for a retreat where one can be a little relieved of the modern world.
A holiday property – with a gardening care-taker, why not? A manageable sized cottage for anyone dreaming of an idyllic Gascon life in the countryside – yes. 
More images…
Click images to enlarge
Practical Details
145m² house 
Large living room with original fireplace and bread oven
Reception room / library 
3 bedrooms (terraces facing south and East) 
Bathroom 
Separate WC
Pantry  
Separate building of 85m2 in good condition. 
(Possible studio for artist) 
Covered terrace with barbecue – fantastic party area! 
No immediate neighbours. 
15 minutes from Lectoure and Condom