Charming Property
with outbuildings
on 7 800 m² with 5000 m² of woodland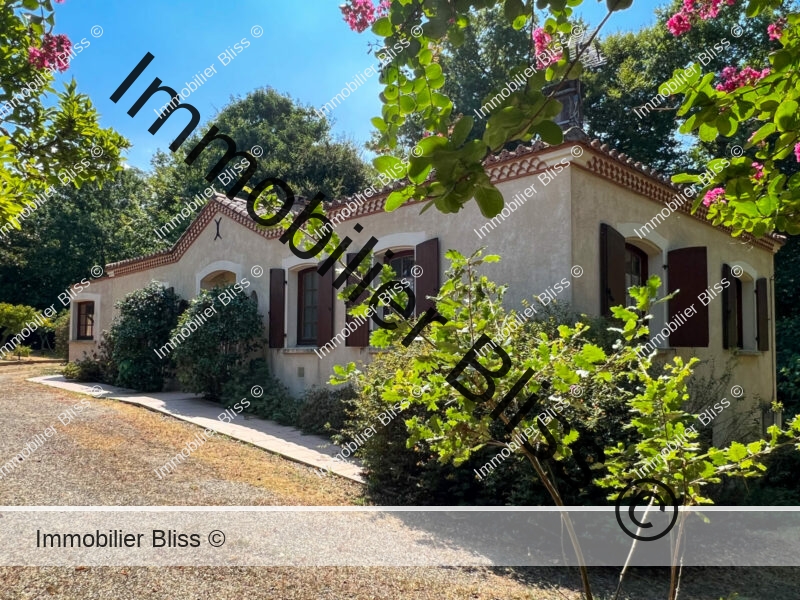 Measurements are approximate, not to scale

6
5
Wood, fuel
245 / E
66 / E
Frais d'agence inclus (5%) à la charge du vendeur
Overview
This warm and welcoming property was built by its current owners in 1975. Although located by roadside the property has been designed internally so that it turns away from the road to the calm and quiet woodland to the rear.
The front gate opens onto a long alleyway, with a bucolic and the welcoming foliage of trees and branches.
As we approach the property the driveway separates, leading either to the main door or to the lower section of the property and to the garage which was built a short distance away.
Let's take a look inside: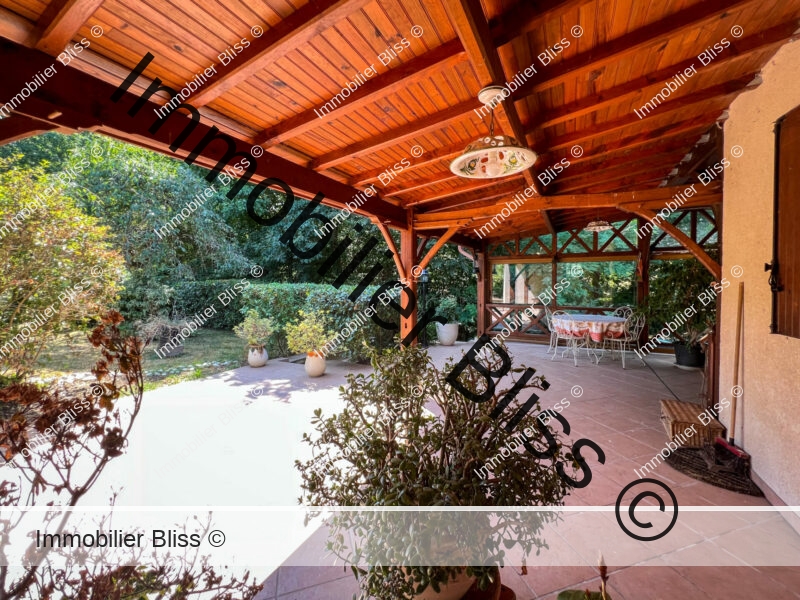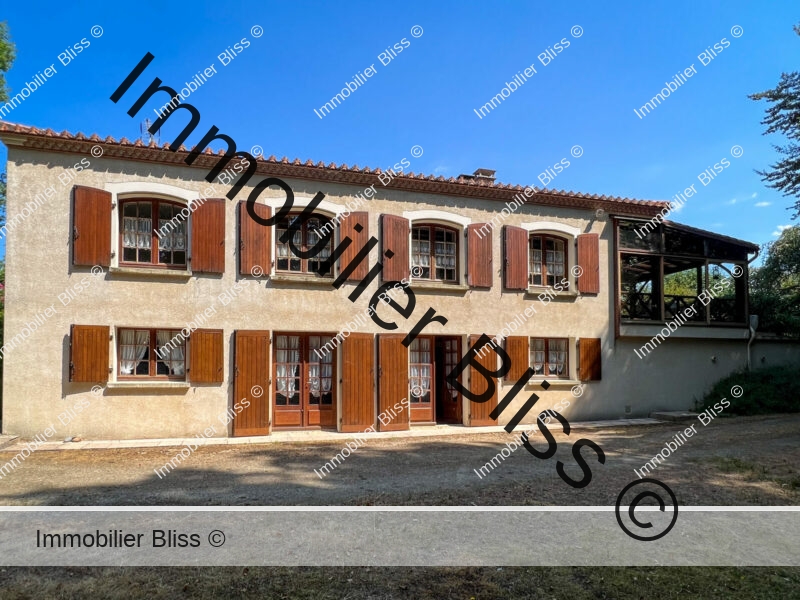 The Ground-Floor
The hallway leads directly to an open-plan kitchen and reception/ dining- room.
These two rooms are blessed with a fantastic open fireplace, which provides the homely crackle of a log-fire to both rooms when winter descends upon the Gers.
French doors lead both from the kitchen and the reception room to a covered terrace; a pleasant place to breakfast, linger over lunch or enjoy an al fresco summer dinner.
To complete our tour of the ground floor, we visit the downstairs cloakroom (WC and basin) as well as two good-sized bedrooms.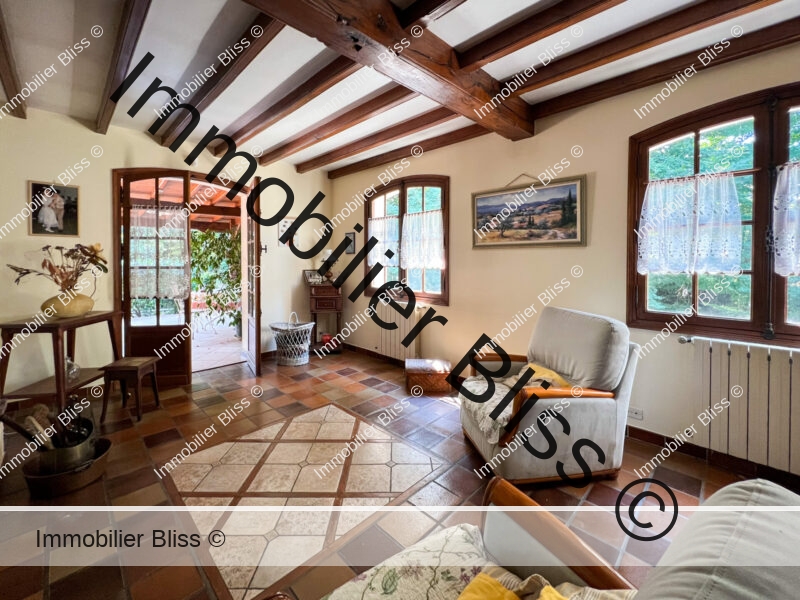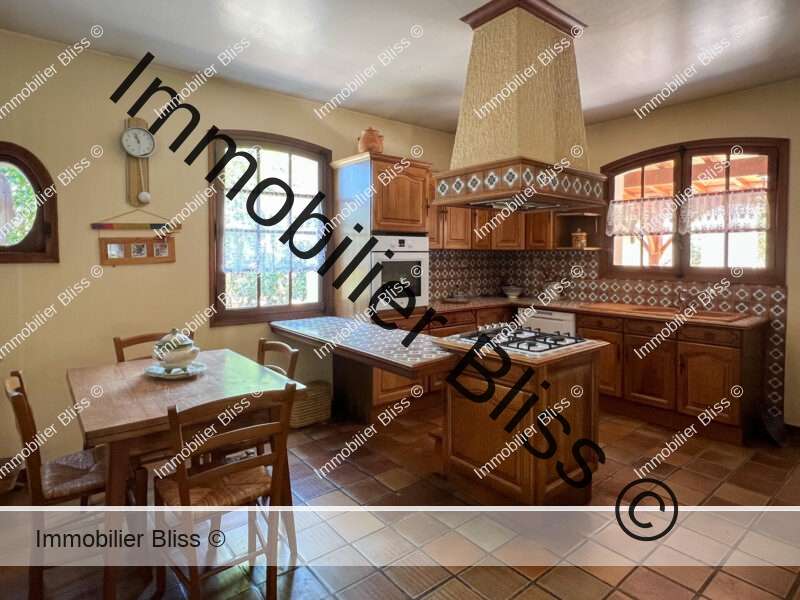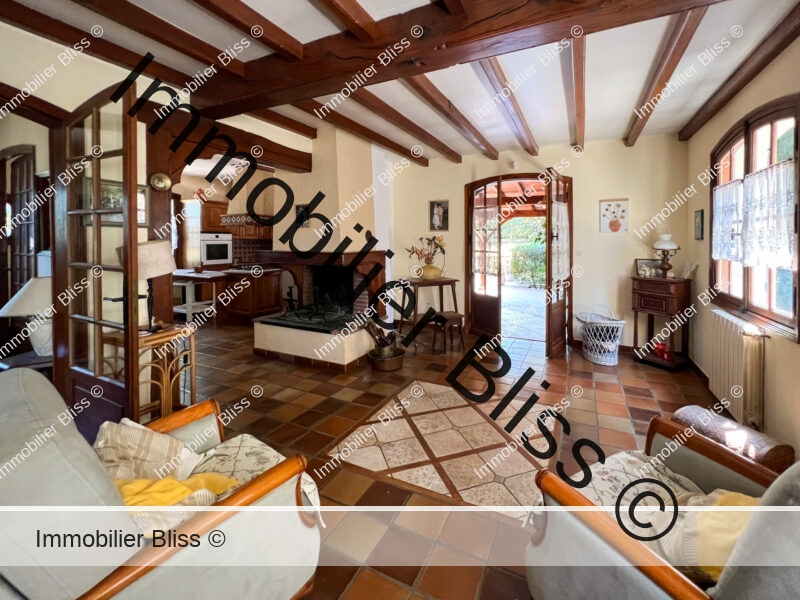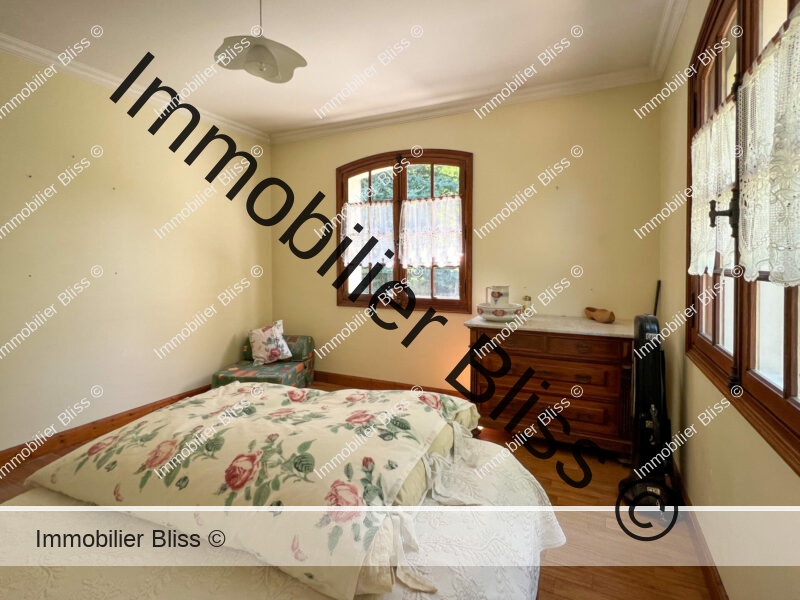 The Lower ground floor
At the end of the hallway, a staircase leads to the lower garden level. Here, over the years, a living-space has been developed for the children and grandchildren to stay with the addition of three extra bedrooms and a WC.
An additional room, used either as a study or a small sitting-room opens outside onto the garden via French windows.
The rest of the lower garden level of the property comprises the utility area with a boiler-room, a wine-cellar, and a summer kitchen.
One remarkable feature of the property is the exceptional quality of the internal woodwork, shutters and beams which have all been put into place by the current owner who was a carpenter by trade.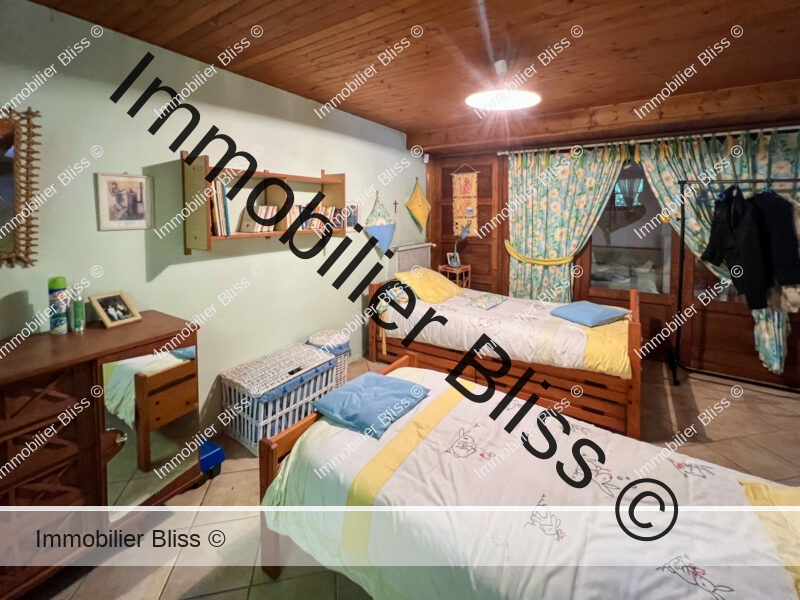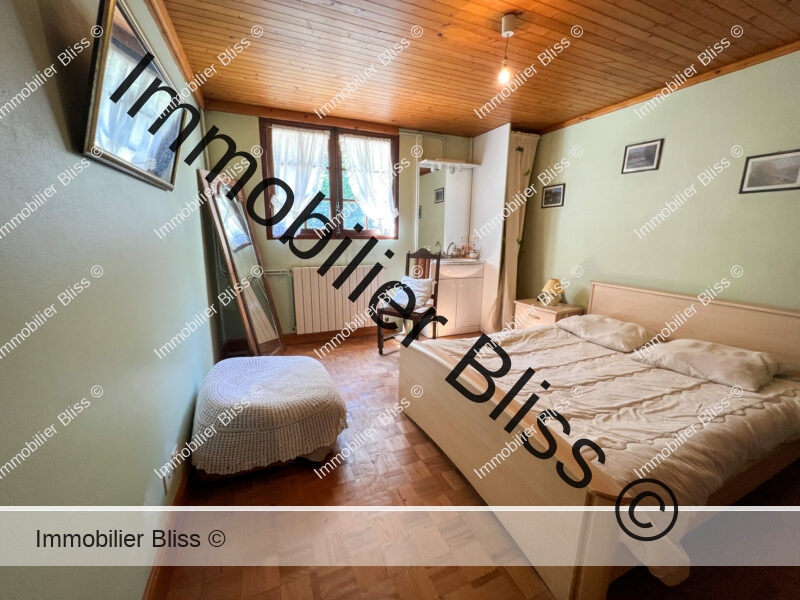 Outbuildings and Gardens
A useful outbuilding was built a short distance from the main house.
On the ground floor of this building there is a garage with an electric door and a workshop.
An external pathway leads to the first floor of the building which was once used as a carpentry workshop for the current owner. This is a bright and spacious area, with both a water and electricity supply.
At the bottom of the garden there is a pretty river which adds a delicate note of romanticism to the pretty gardens.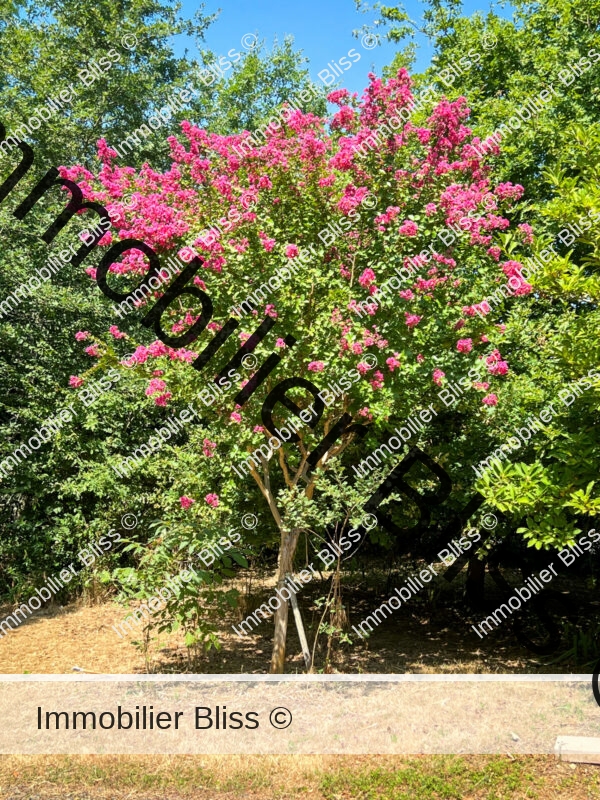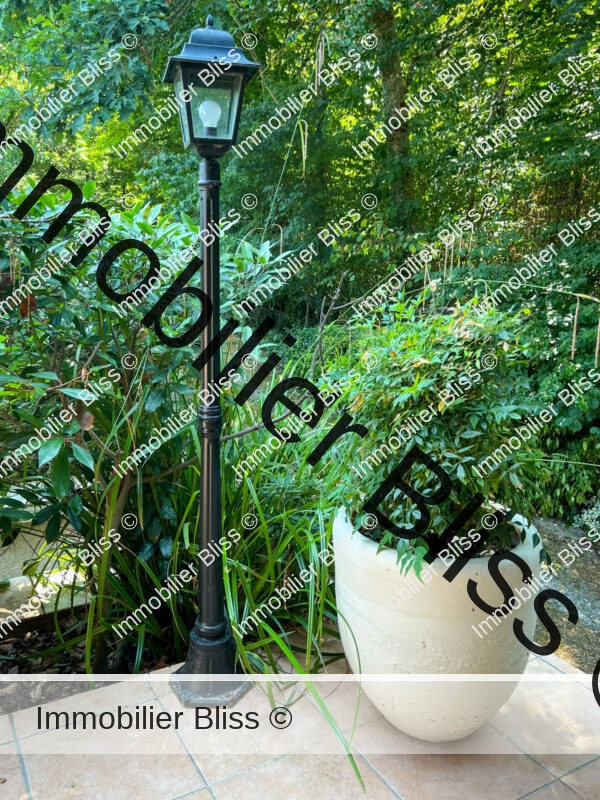 Our thought here at Bliss
This property would suit anyone wishing to live in a single storey house with the possibility of hosting family and friends on the garden level.
It should be noted before visiting that this property is situated on the edge of a road. However, the life of this house is geared towards the quiet and wooded area around it.
More images…
Click images to enlarge
From a technical point of view
Heating system:  oil, wood
Septic tank
Well
Mesures
Hall : 12.50 m²
Toilet : 1.56 m²
Living room : 33 m²
Kitchen : 20.04 m²
Terrace : 29.18 m²
Bathroom : 5.80 m²
Bedroom 1 : 9.10 m²
Bedroom 2 : 13.80 m²
Bedroom 3 : 13.50 m²
Toilet :  0.77 m²
Bedroom 4 : 12.39 m²
Bedroom 5 : 8.60 m²
Game room / living room: 17.50 m²
Summer kitchen : 20.82 m²
Boiler room : 27.50 m²
Cellar : 4.70 m²
Garage : 28.70 m²
Workshop : 8.50 m²
Storage room : 6.47 m²
Workshop : 66.20 m²