Charming period property
with barn and garden
in the heart of Condom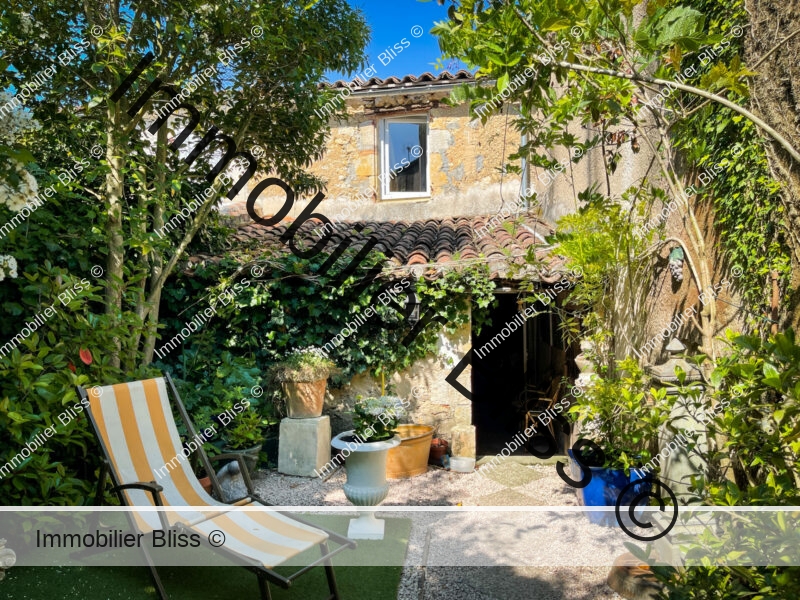 Toutes les mesures sont approximatives
Aéroport de Toulouse
117
Km
Frais d'agence inclus (5%) à la charge du vendeur
Overview
This period property enjoys a convenient location in the heart of Condom and offers the undeniable charm of a turn of the last century décor with an utterly charming and quiet walled garden which is a riot of flower and shrubs.
This spacious home provides over 163m2 habitable space with an adjacent atelier or barn space of 116m2. With an independant kitchen/dining-room, two reception rooms, three bedrooms, and a WC on the ground floor, a vast dressing room, upstairs family bathroom with bathtub and three bedrooms on the first floor, this property offers plenty of space for a family or a lovely second home, with an easy to manage garden.
Dating from the 19th Century, it is said the barn was once used as stables, when travellers came to Condom to sell their wares, and occupies a convenient spot at the entrance to the town.
Within easy walking distance of the town centre, the property has off the street parking, and a small front courtyard garden.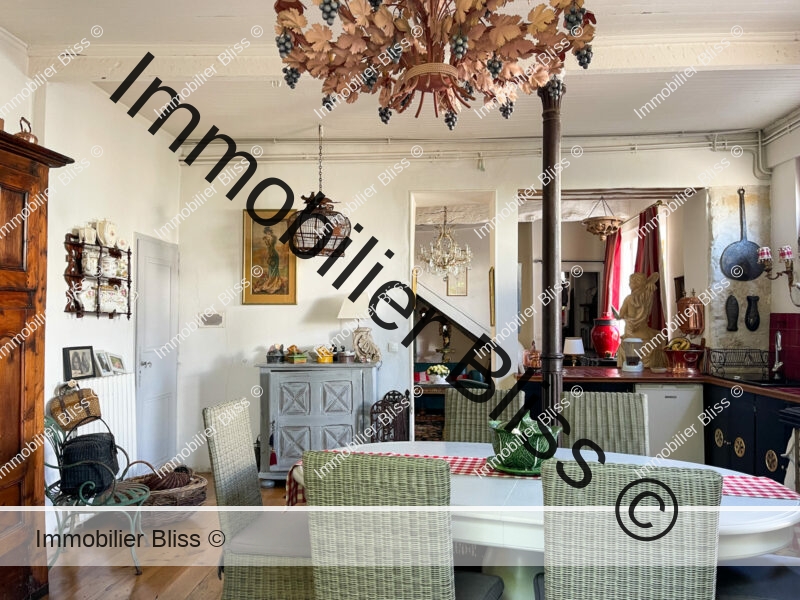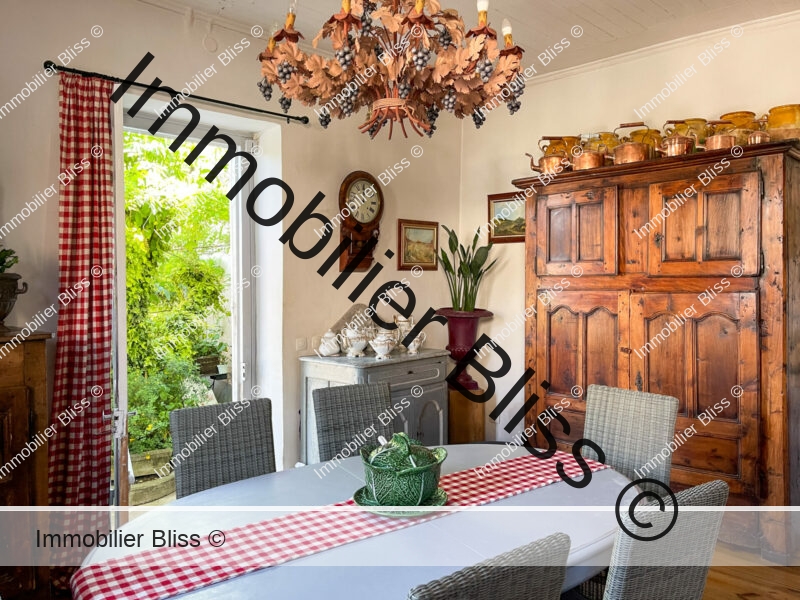 The kitchen is full of period charm and has been opened to create a superb kitchen/dining-room (with features a central Parisian style wrought-iron lamp-post) and a cosy reception room, with an insert fireplace. This space is light and airy with windows to the courtyard and the street, allowing the sunshine to flood in from both sides.
Beyond the Reception room, there is a smaller sitting room/library, leading to a downstairs WC, and a hallway to the internal courtyard garden.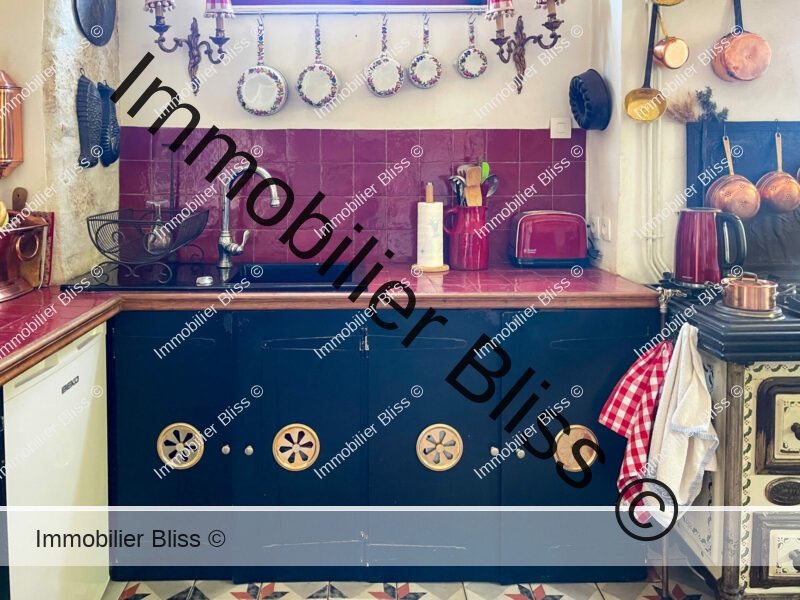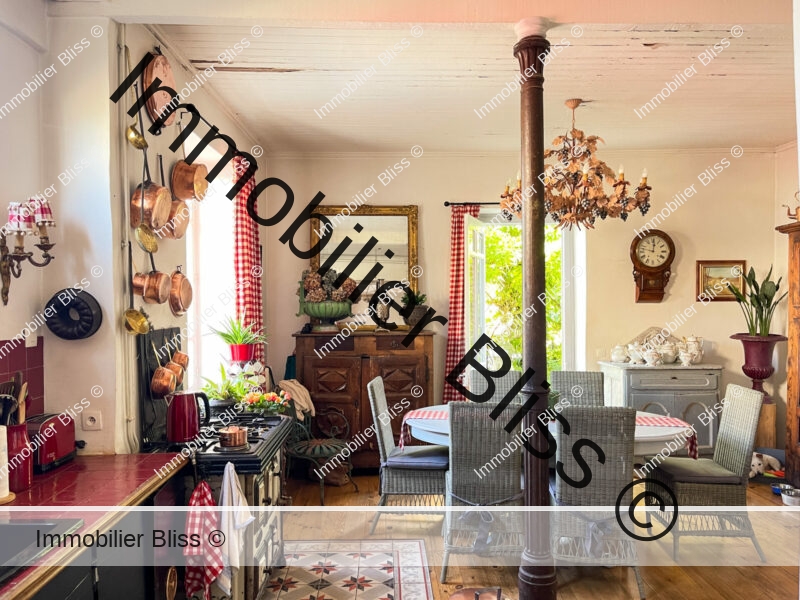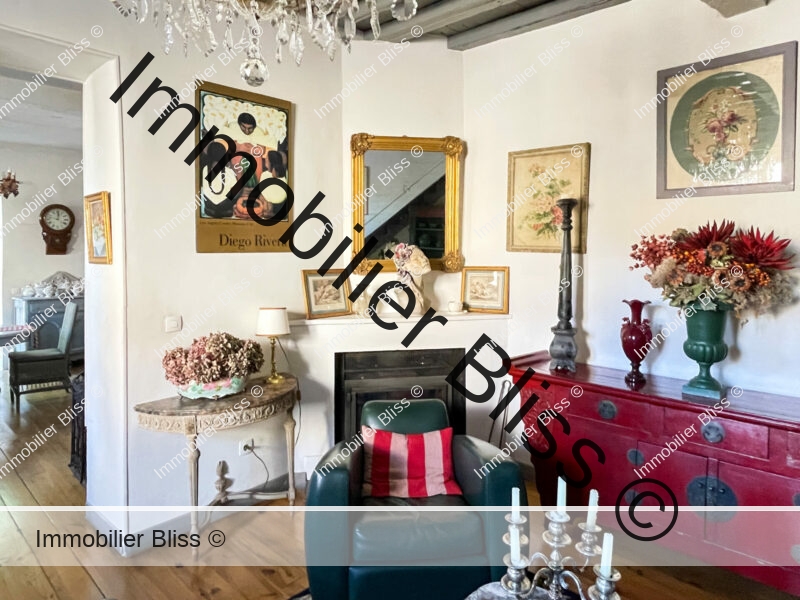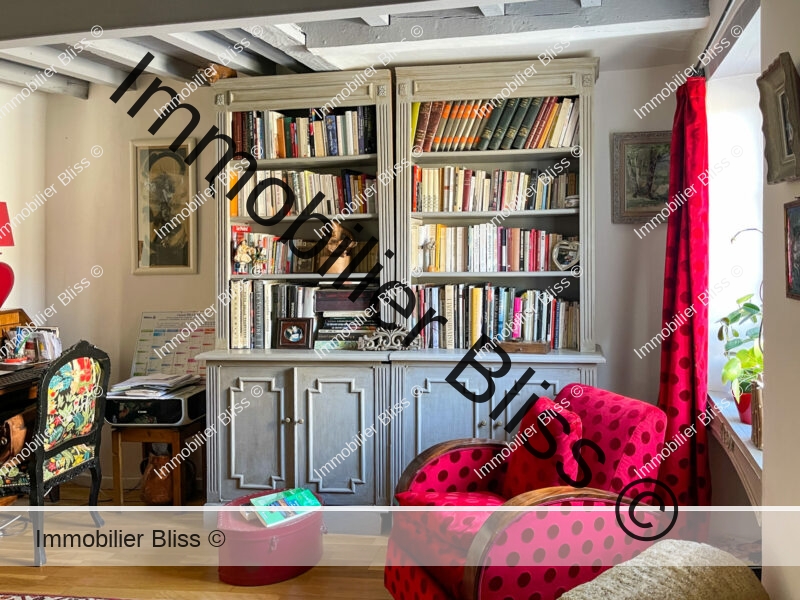 The garden occupies an intimate location, without any vis à vis, and is a riot of colour, with climbing roses, and honeysuckle trailing from the wrought iron framework, and shrubs and roses of every kind springing from every corner.  This is a fine example of how delightful and spacious a small garden space can feel, if its plants are carefully chosen, A perfect sitting area, for an outdoor meal.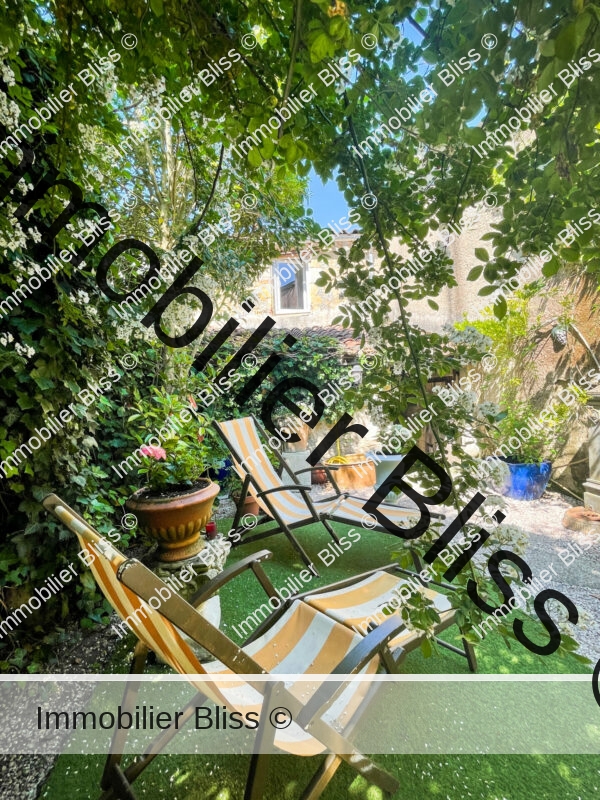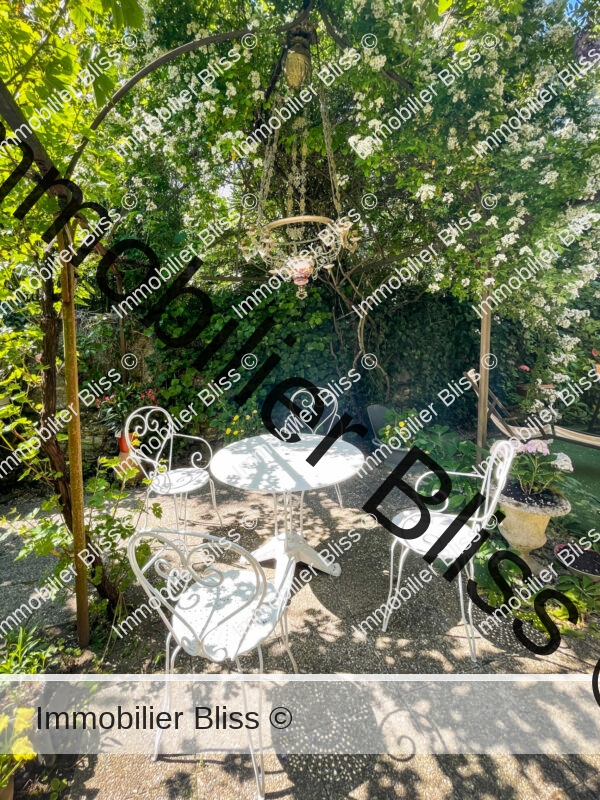 Upstairs the current owners have transformed the master bedroom, creating a large walk in dressing room, an en-suite bathroom with a shower, and finally the master bedroom itself, which has been renovated.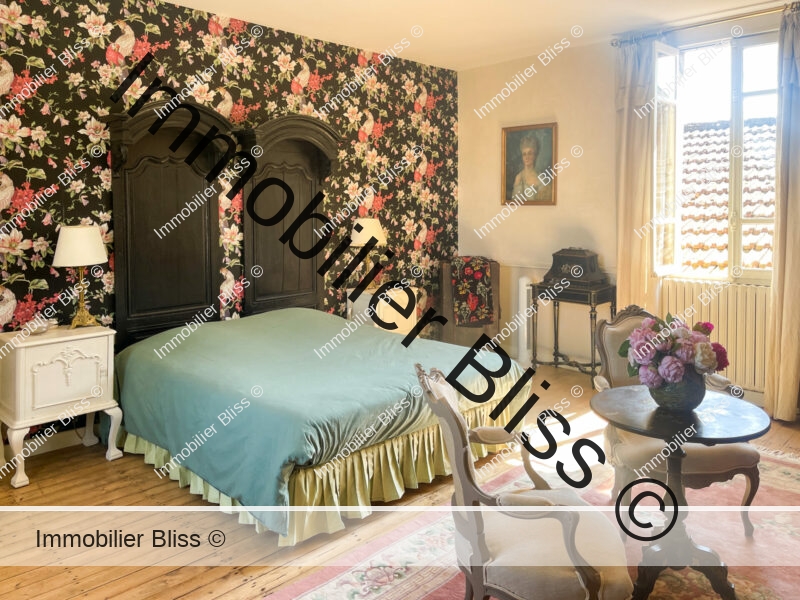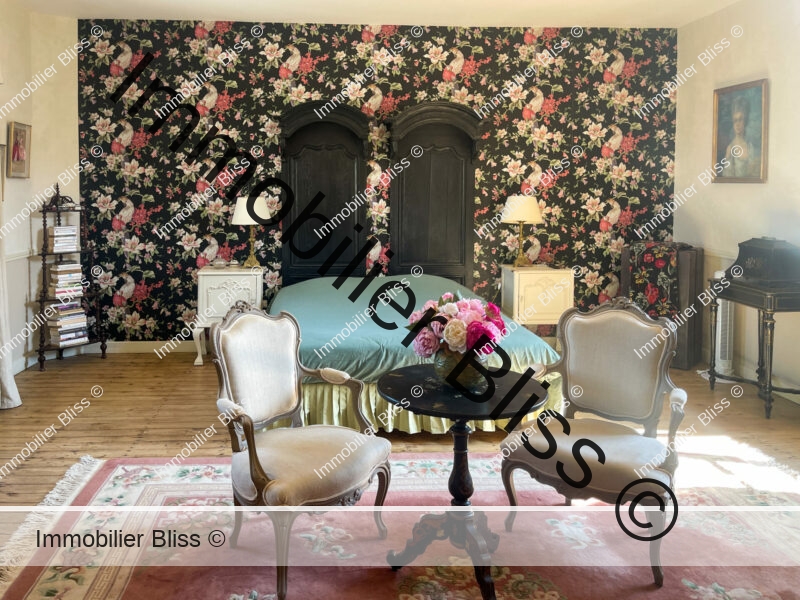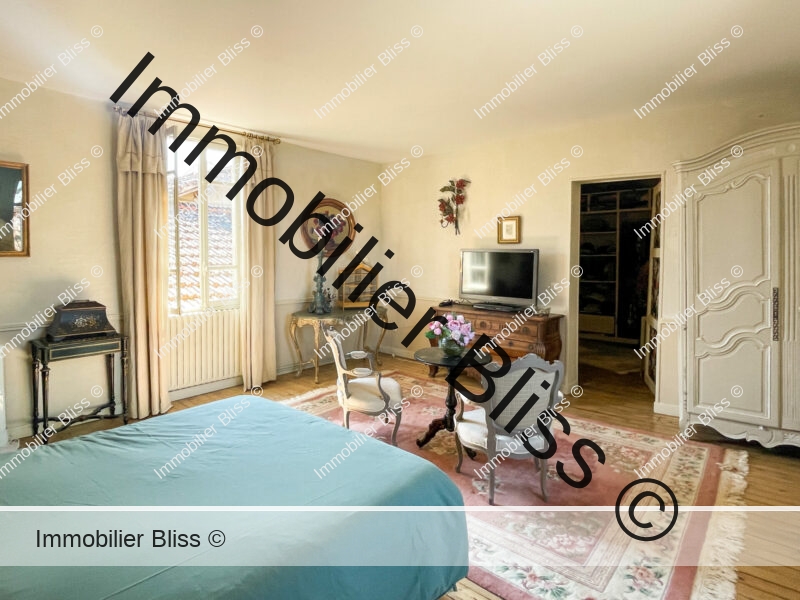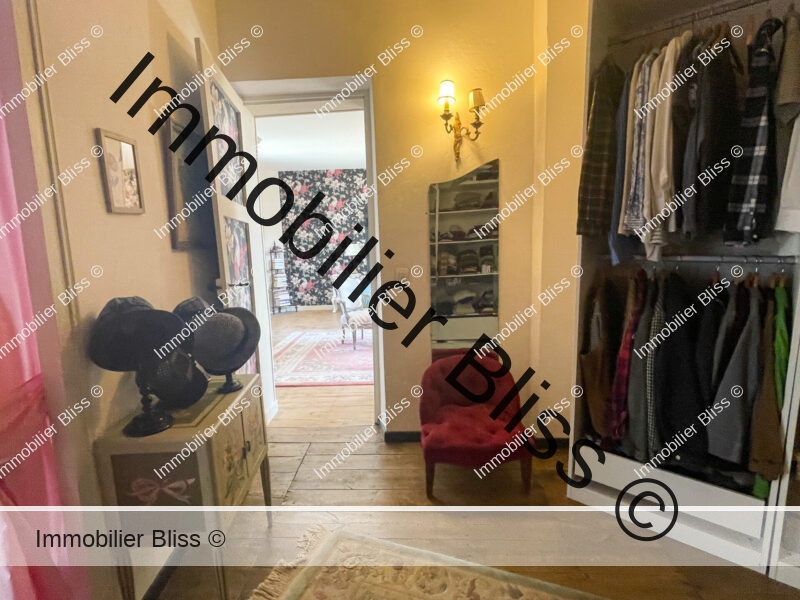 Two further bedrooms are currently used for storage and an ironing room, and still bear traces of the old-fashioned wallpaper. These two rooms have not yet been restored, but if renovated, would make sizeable second and third bedrooms. With a vast attic space beyond, there is further scope for development; planning permissions pertaining, and ample room for a second upstairs bathroom.
The atelier is currently used by an artist, with a small internal work space, but could equally be used a garage, or anyone wishing to have a large covered work space.
The current owners have done much to improve the condition of the property and have turned it into an agreeable and cosy space.
The choice of neutral stone floor tiles, and exposed stone walls ensure our sense of history.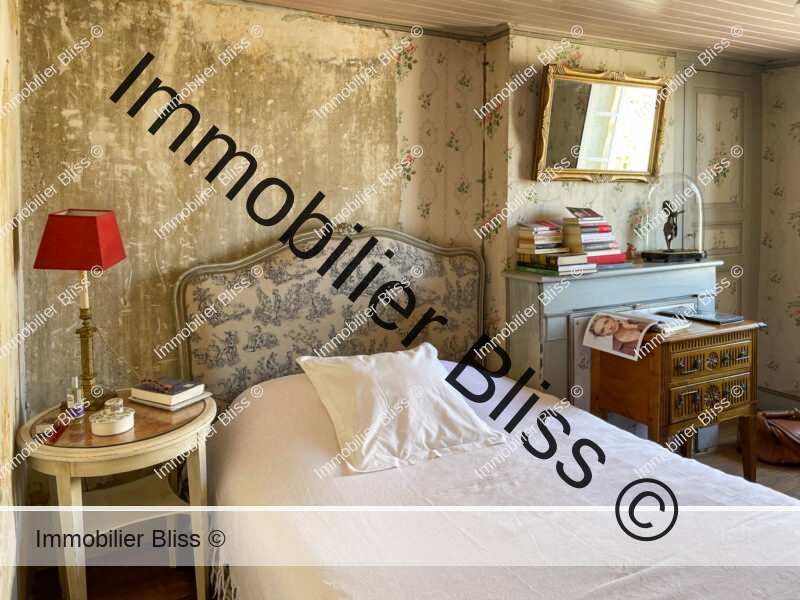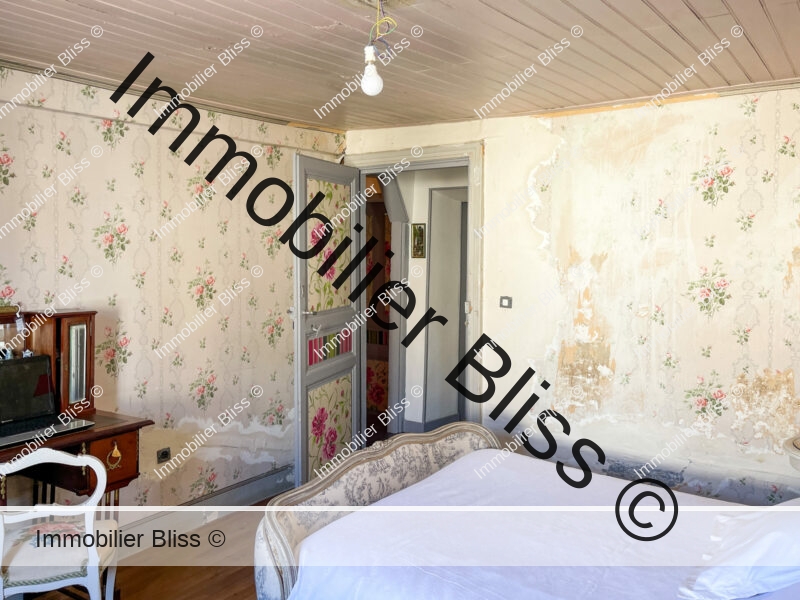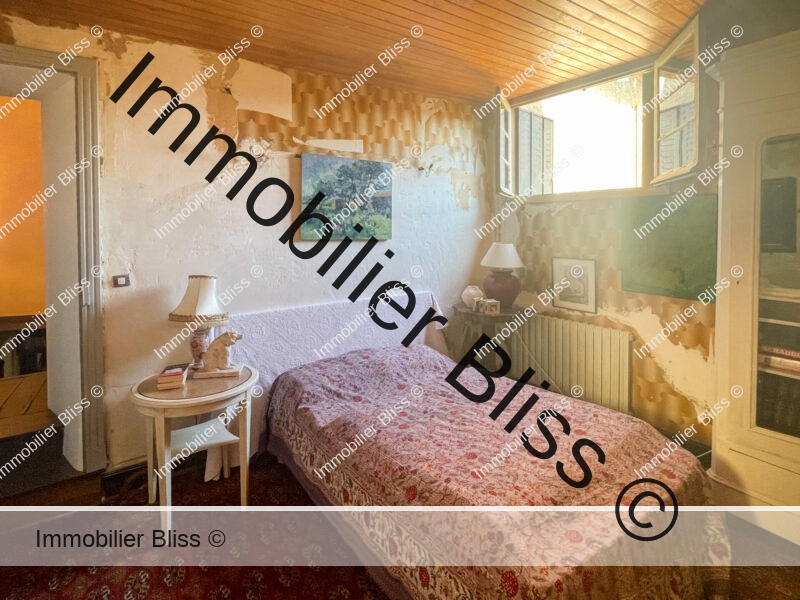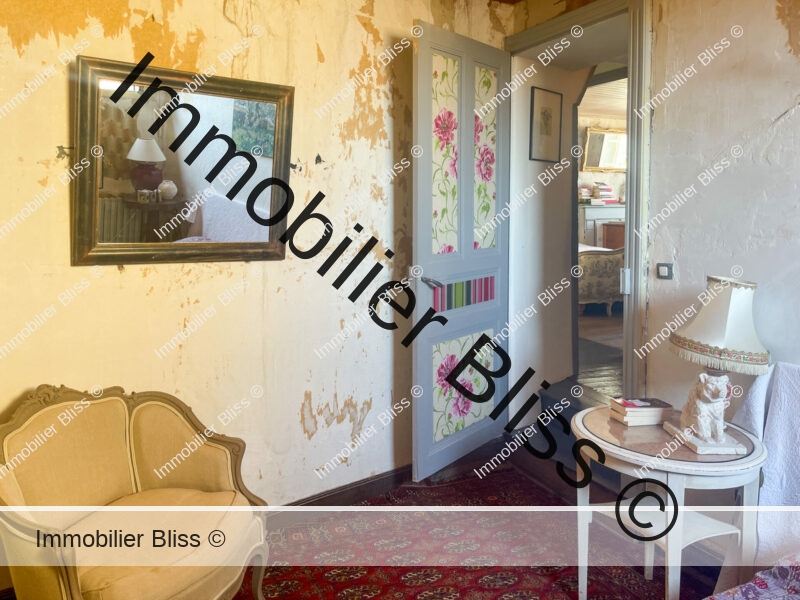 What I would do if the property were mine?
The roof tiles above the main atelier may need refixing or checking. Some repairs to one garden wall are required.
These are the only property owners we have known at Bliss who manage to make torn and faded wallpaper feel like a design feature in two of the bedrooms, yet undoubtedly they do need redecorating if one were to introduce a more "finished" feel to these two rooms, which currently have all the charm of a Parisian "chambre de bonne."
Other than this the property is in excellent order and a delight from top to bottom.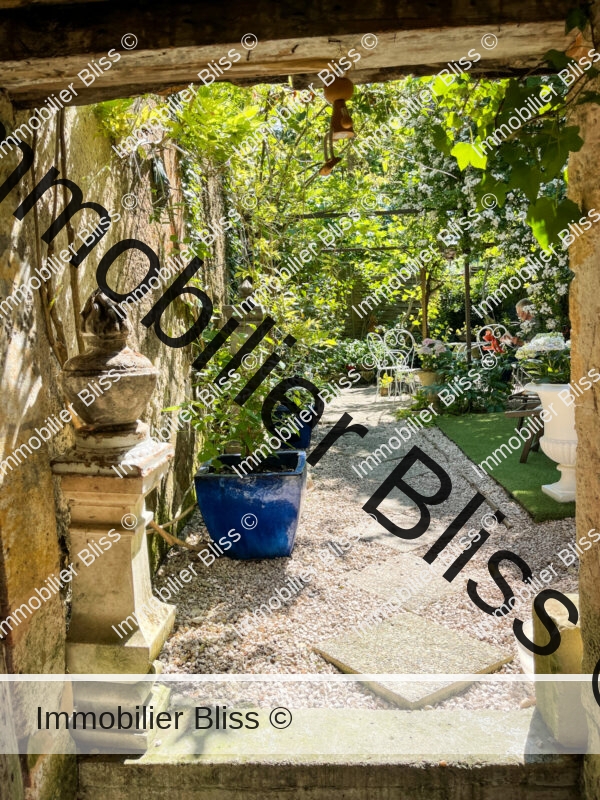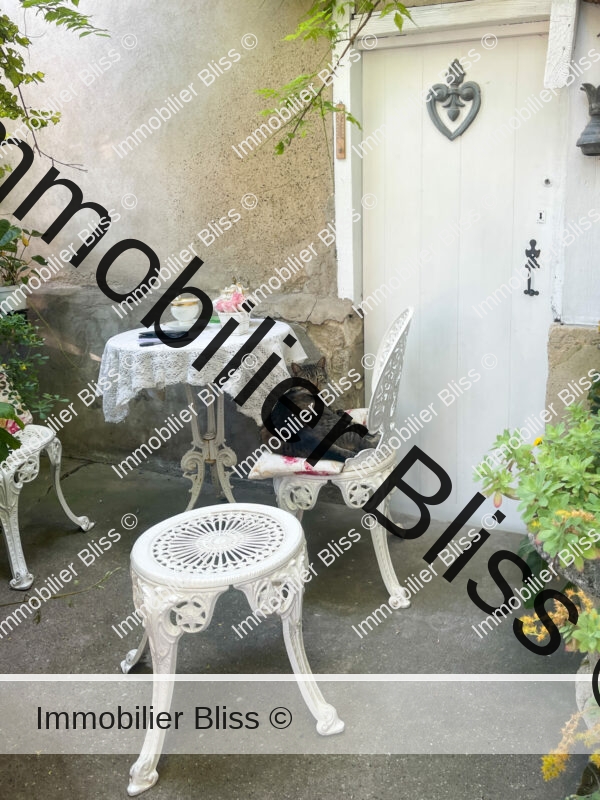 To whom will this property appeal, and who a less so…
Being in the heart of town there is a road, and there are cars that pass by. Curiously, unlike other roadside properties, once inside the house and the garden, the road feels far away and unobstructive. We were particularly delighted by the peace and quiet afforded by the garden, and the complete sense of privacy.
Lovers of period properties, with a romantic turn of the century feel cannot fail to be charmed. Artists or anyone wishing to make use of the vast atelier will love the space available on site. The property is ideal for families being within walking distance of the shops and schools or anyone who wants to live in the heart of Condom, without feeling as if one is on stage at the Bandas festival in the month of May. This property has all the benefits of town life yet there is a sense of space and light.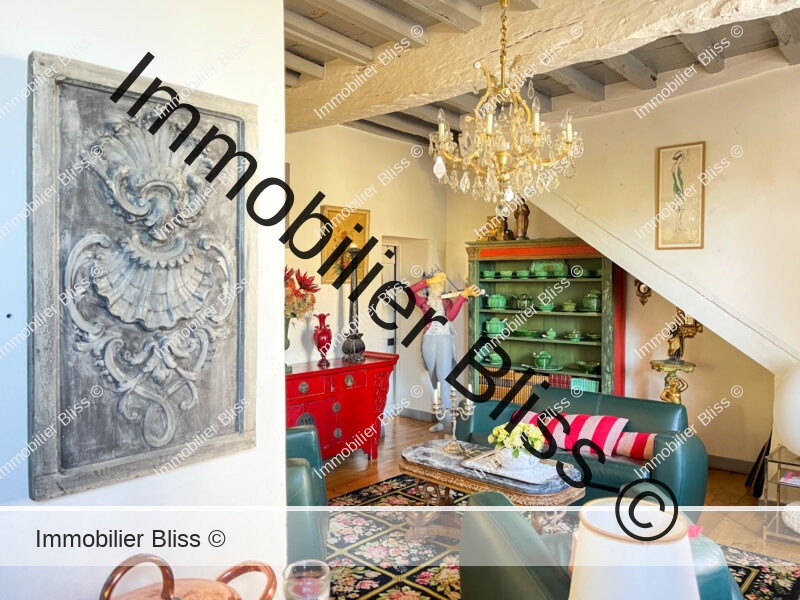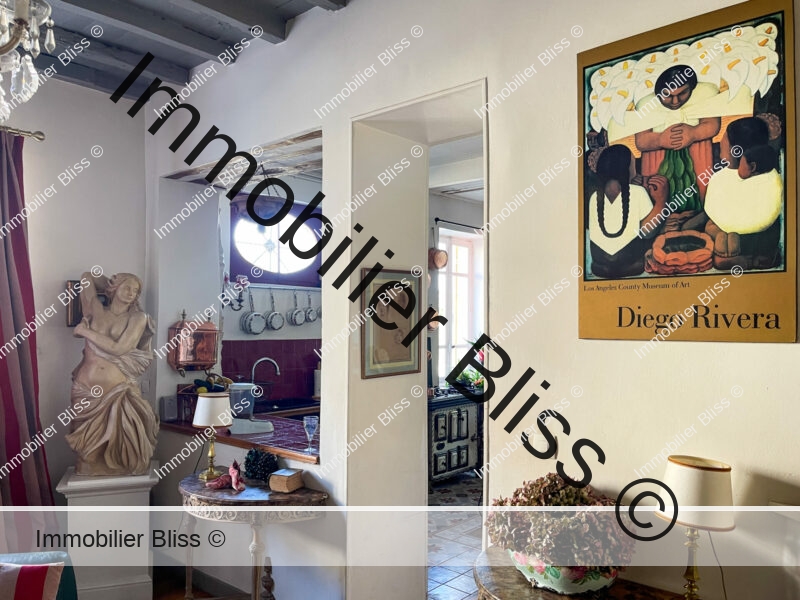 Our thought here at Bliss
Here at Bliss we particularly love the central location, coupled with the countryside romance of the beautiful courtyard garden. The property is quiet and it is easy to forget, sitting beneath the trellis of trailing roses, that the town centre is so close at hand.
This period property with its charming and artistic feel, is the creation to two artists and lovers of antique furniture: the attention to detail is perfect throughout (we adore the Parisian iron lampost in the kitchen!) Lovers of 18th century properties and turn of the last century décor will be instantly charmed – and there is a seamless flow of charm to the pretty walled garden.
More images…
Click images to enlarge
On a technical note
Mains drains
Property tax (taxe foncière) 1489 euros
Garden : 417 m² including the imprint of the house
Heating : new air/water pump in 2016
Approximative Measurements
Kitchen – 27.39 m²
Reception Room – 23.16 m² with fireplace & wood-burning stove
Sitting Room & library – 16.43 m²
Downstairs WC with washbasin – 1.07 m²
Hallway: 4.45 m²
Overhang/small atelier leading to garden: 13.27 m²
Total Surface Area of Ground Floor: 85.80 m²
First Floor
Dressing Room: 14.63 m²
Bathroom (with bathtub, sink) 7.91 m²
Master Bedroom: 29.26 m²
Bedroom (in need of updating overlooking the garden) 13.99 m²
Bedroom (in need of updating overlooking the street) 13.67 m²
Attic space: 35.69 m²
Total Surface area of First Floor: 76.46 m²
Total Surface area of House = 163 m²
Atelier/Garage: 116.01 m²