A Beautiful Secret Garden
Near Saint-Clar
Bright Restored Village House
Come, let me show you my lair, my little secret garden.  The door is just here, left of the gargoyle that has been keeping an eye on my entrance for centuries.
Here we are, in my courtyard, 20m2 (65 sq feet) of sand coloured travertine tiles.  To the left stone steps lead up to a second courtyard but we will go there later.  First I want to show you the main house.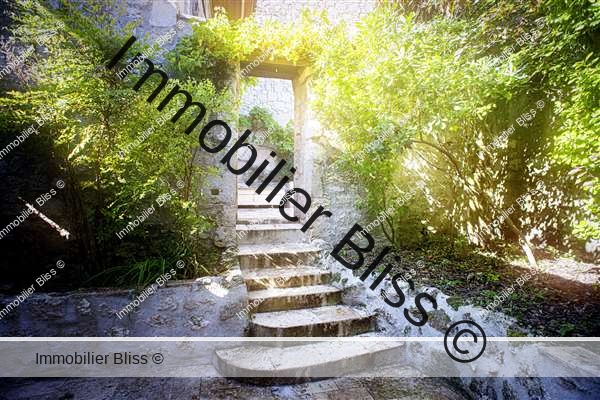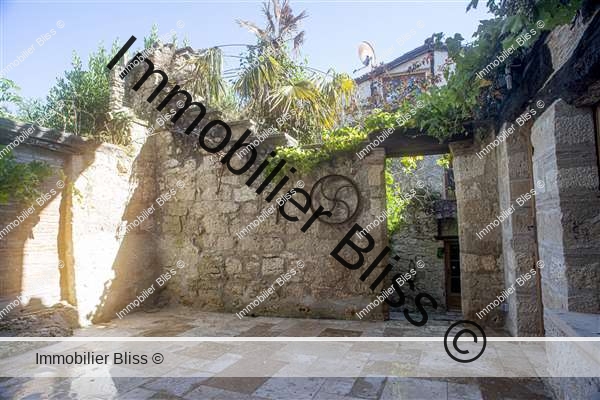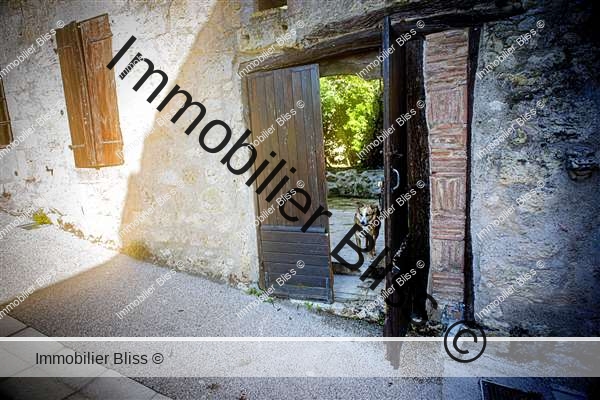 Let's start at the beginning.  The wood and glass double glazed entrance door is brand new, made to measure by a local craftsman.  All the doors and windows are new and double glazed.  That way you will be warm in winter.
On the ground floor is a lovely 31 m2 (101 sq ft) kitchen/living room with a brand-new fireplace.  The modern kitchen was rebuilt in 2016 and blends in harmoniously with the ancient stone walls and rust red tiles on the floor.
At the far end of the living room area a door opens onto a little garden.  In summer you will pick yellow and purple plums here, some figs as well.  Rosemary grows all year round, and when you want to unwind on the terrace a southern breeze will sooth you as it strokes the blades of a small palm tree.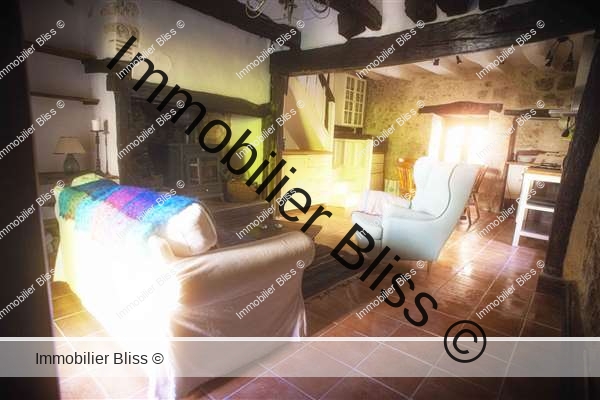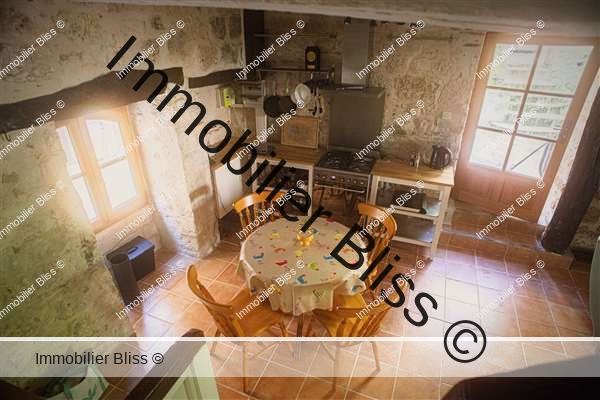 On the first floor, a bedroom opens onto a bright and quiet study/dressing room.  A bathroom with a full bath and shower hides behind a red velvet curtain, and the whole area is suffused in the soft light of a large arched window.
A second bedroom is hidden under the attic roof, where the maximum height is 1m80.  A double glazed Velux window opens onto the sky and another window looks onto the patio with its lovely flower beds.
On the first floor and in the attic, the solid wooden floors have been lovingly polished and waxed by the present owner.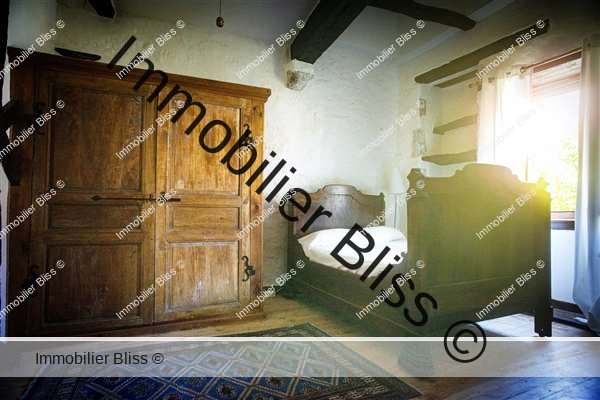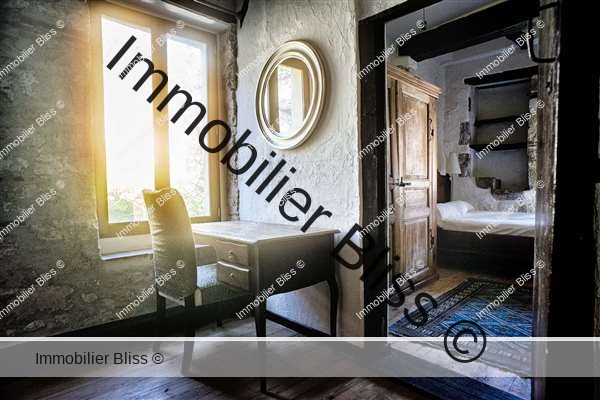 Now let's go back to the courtyard, and this is where I would like to invite you to walk up some steps discover my second courtyard and my  little guest house, or maybe it could be an artist's studio, or even a hideaway for growing children who want a bid of independence.
Vines cover the walls.  If you are visiting in late summer pick some of the grapes.  They are sweet and tender.
The courtyard floor has recently been retiled with sand colour travertine stone, and the same tiles cover the floor of the small outhouse that was completely renovated in 2019.  Two floors of 12m2 (40 sq ft)  each give us a total living space of 24 m2 (80 sq ft).
Large double-glazed windows cover the walls looking out onto the courtyard, and the whole building is bathed in light.  This would be a perfect retreat for an artist, a writer, or anyone wanting peace, warmth and sunshine.  A small shower room and a kitchen corner on the ground floor and a bedroom on the second floor, accessible via a narrow spiral staircase, make this a perfectly self-contained unit.
Before we end our visit, I must mention the vegetable garden that comes with the house. It is in an allotment, five minutes' walk away, and comes with a natural spring, thus ensuring that you will be able to grow all the vegetables and flowers that you want.
More images…
Click images to enlarge