Large stone Property
Peaceful Views & Tranquility
with pool and guest house north of Saint Clar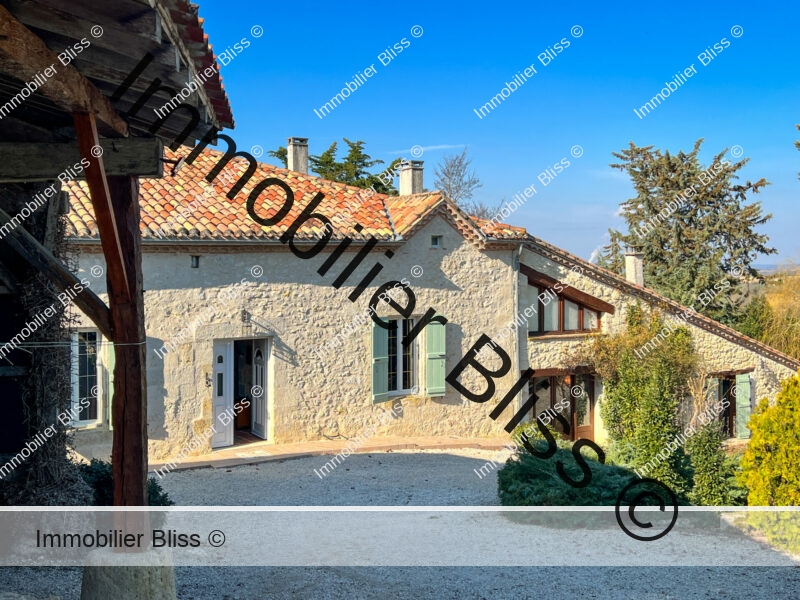 Measurements are approximate, not to scale

8
5
Wood, fuel
194 / D
33 / D
Overview
If you are looking to begin a new life in a peaceful rural location, with lovely views, ten-minutes from the vibrant market village of Saint Clar, then this property could be for you.
The property comprises a main house with 3/4 bedrooms, and an adjacent guest house with a further 2 double bedrooms, and a child's room.
There is a lovely swimming pool area, with a covered terrace and a separate building with a kitchen and a shower.
There is no overview from any neighbours and the property is set in an elevated position surrounded by fields on all sides which are filled with sunflowers and wheat in the summer. A quiet lane with no other traffic leads up to the property; an assurance of complete tranquillity for anyone who resides here.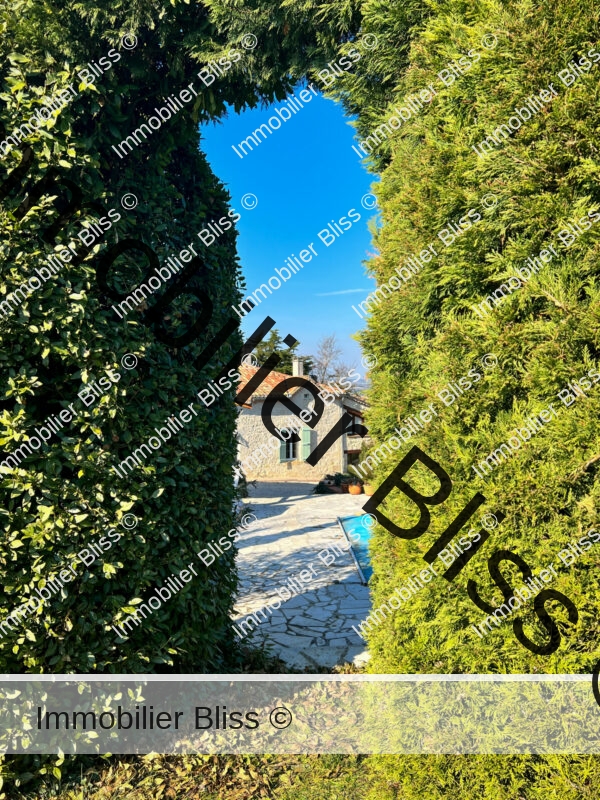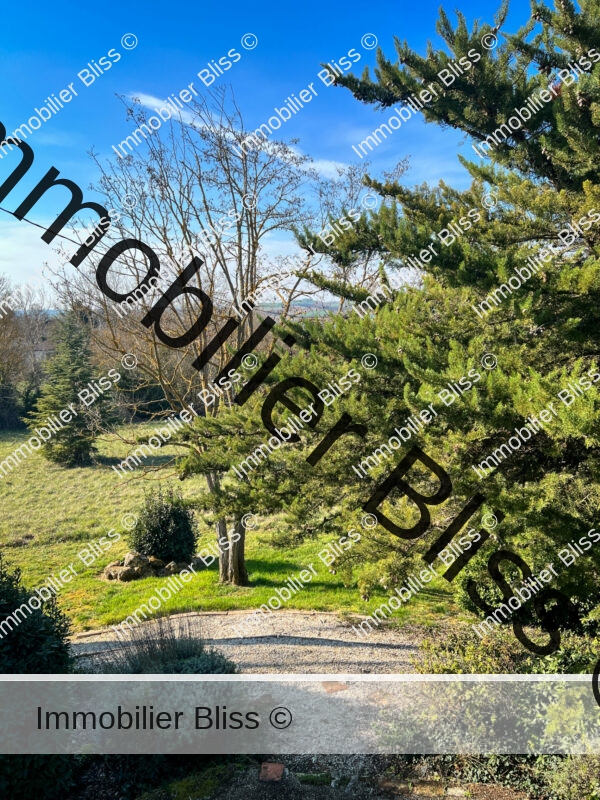 A Closer Look
A rural lane winds up high, leaving a tapestry of Gascon countryside below : fields of wheat and corn, ancient oak trees, and a bastide village perched on the hillside opposite, with its Tuscan air.
We turn into a gravelled circular drive, in a landscaped garden. There are old oak trees, a covered barn for parking or the storage of a healthy pile of logs for those winter months.
On the upper level of the tiered garden, we find the pool and terrace; with a second building housing the pool-side kitchen and shower room.
There is a large covered terrace, with a view over a sand-filled boulodrome, for those summer afternoons playing pétanque.
The gardens are nicely designed, with a pond and ornamental flowers and bushes.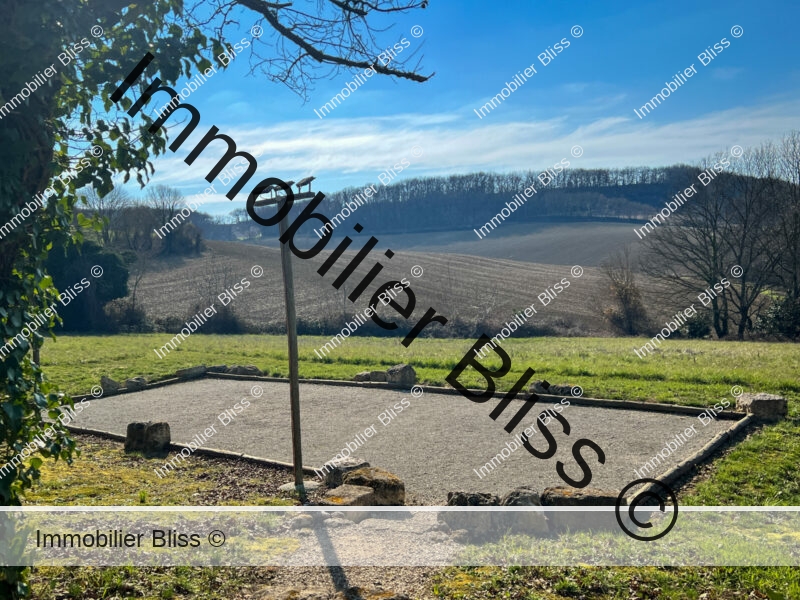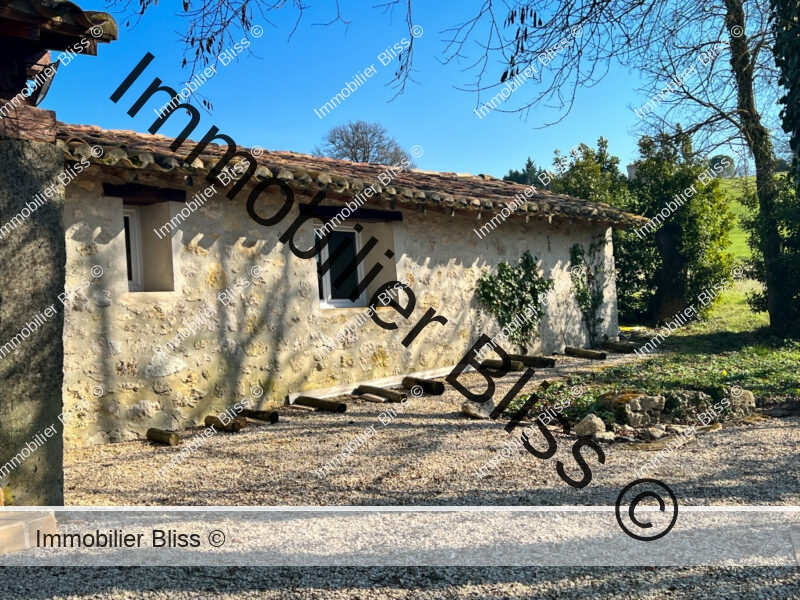 The Main House
We enter the property directly into the main reception, a vast room, which opens onto the dining-room via a stone archway.
The main reception-room and the dining-room sit side by side, and are divided by a central passage to the kitchen area (also partially open) which creates a sense of space, with a stone fireplace and wood burner in the main room and the dining- room. The ceilings are high and traversed by old oak beams.
The kitchen is only partially enclosed, with a door and window overlooking the rear gardens. There are fitted units and tiled work-tops in Provençal lavender-blue, and steps down to the laundry room, boiler room and cellar.
Also on the ground floor, there is a separate toilet, by the door to the rear gardens.
A visit to a spacious double bedroom with lovely terra-cotta floor tiles, completes our tour of the ground floor of the main house.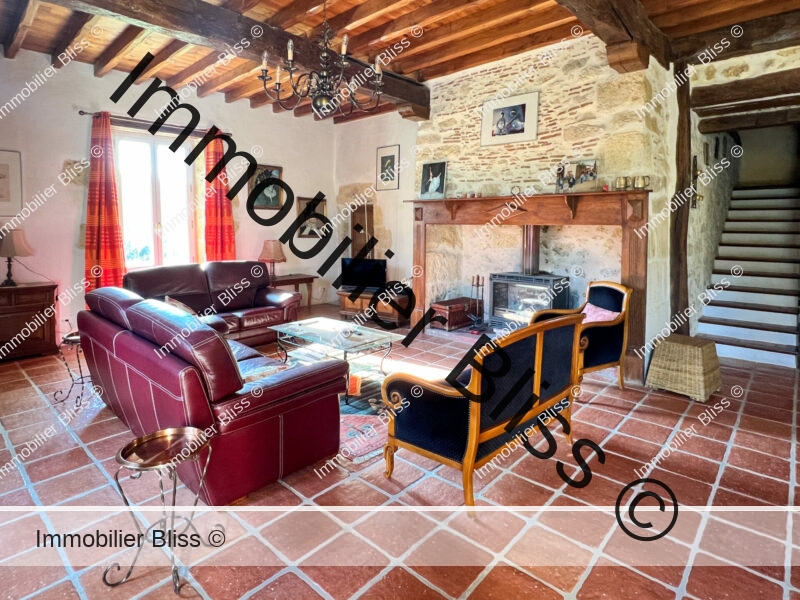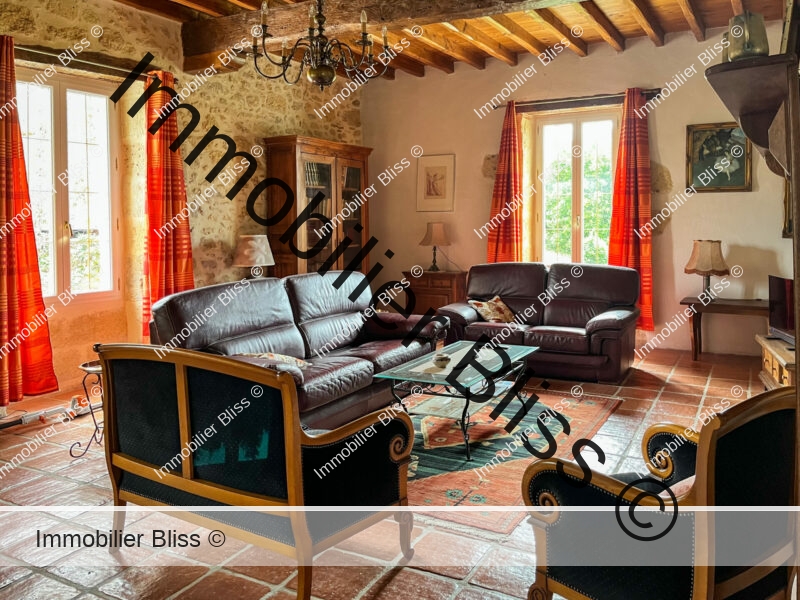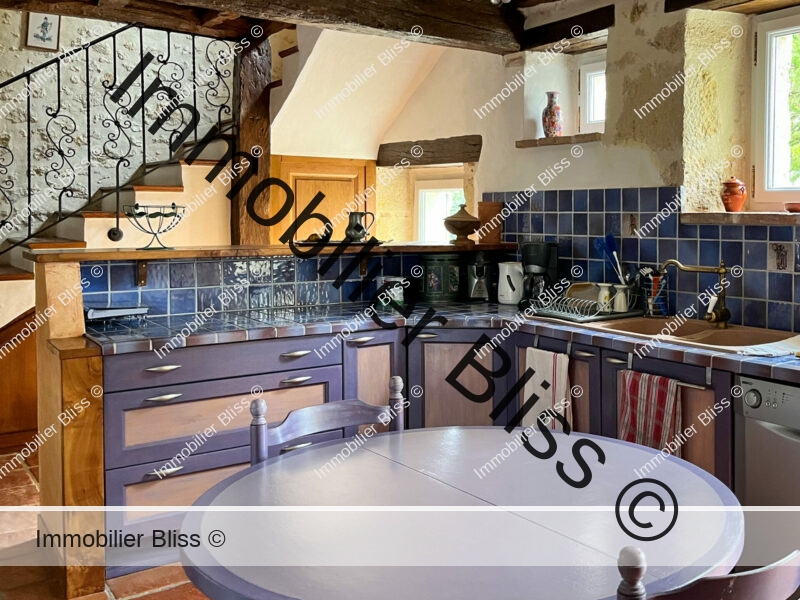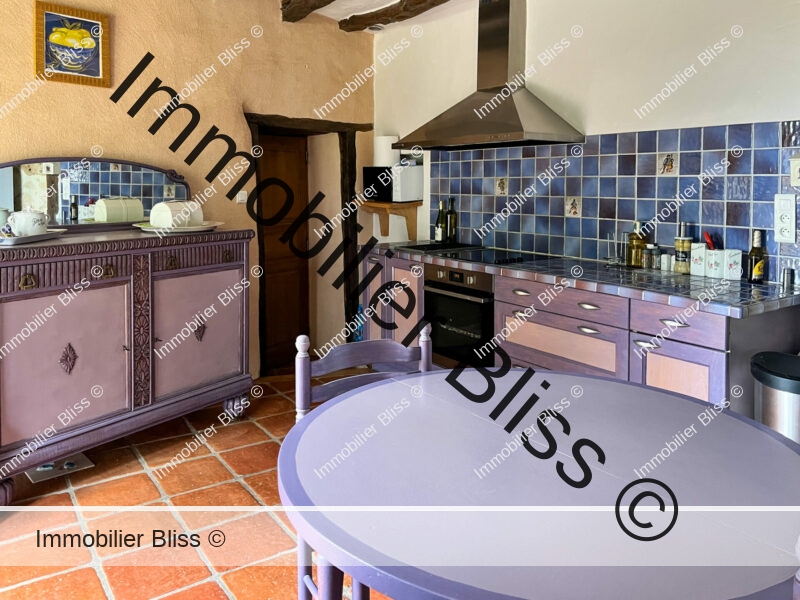 The First Floor (main house)
 A tiled staircase with a wrought iron bespoke banister leads to the first floor landing, which distributes the rooms as follows.
There is a large bathroom, with both a corner bath, double sink unit and a shower. Beside the bathroom there is a separate toilet.
Across from the bathroom there is a double bedroom, with two windows, and a wooden floor.
A couple of steps up, there is a large open-plan mezzanine area, which could potentially be divided into two bedrooms, as there are windows at each end, and skylights. Currently the room is used as a big open plan dormitory.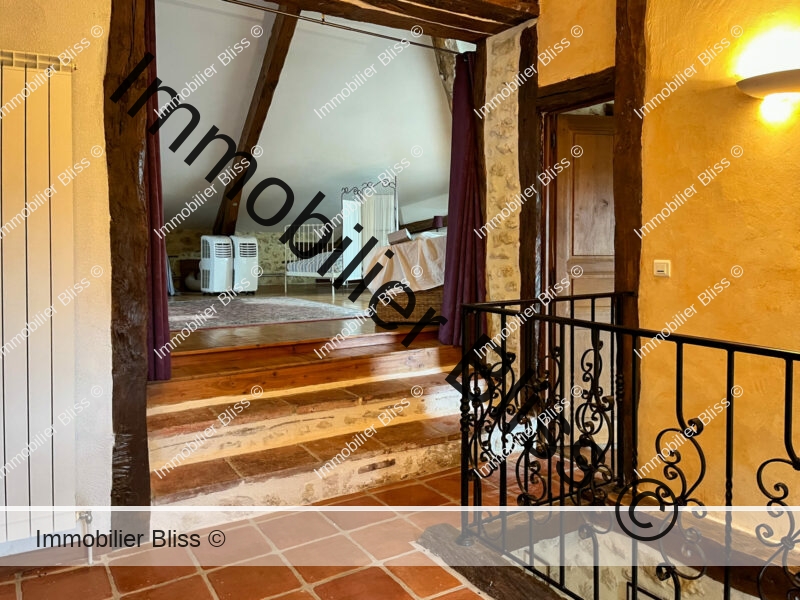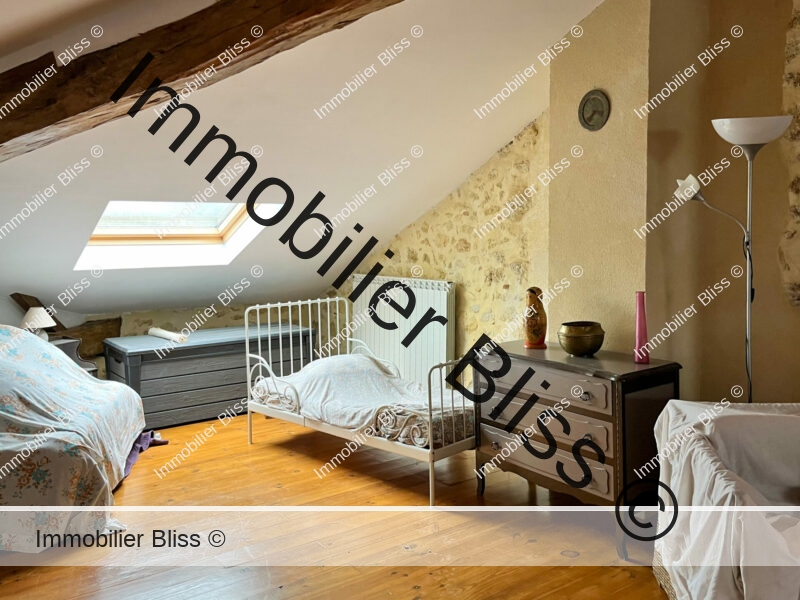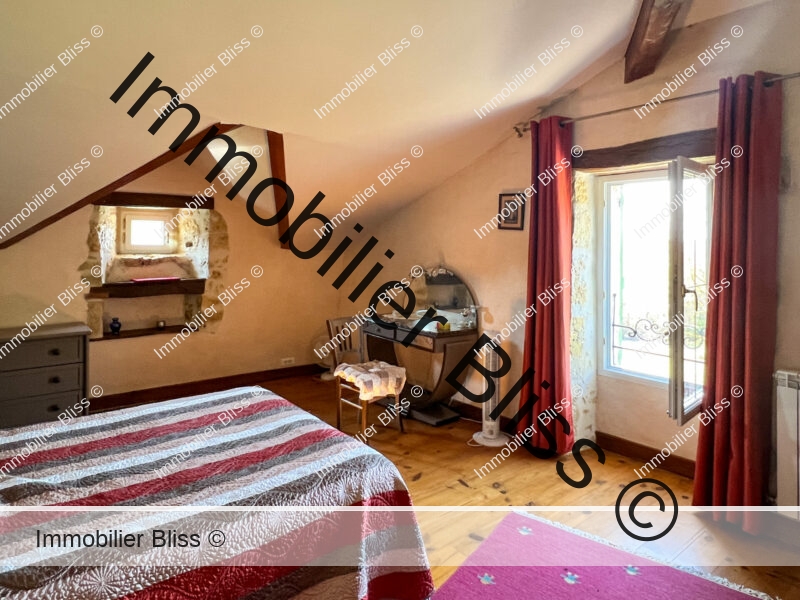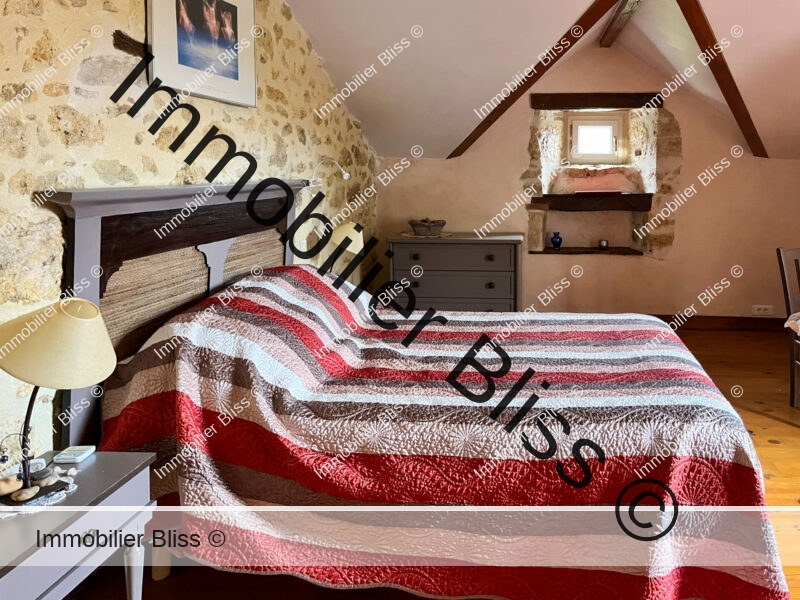 The Guest House
The guest house is adjacent to the main property. There is are two internal routes to the guest house from the main house : either down some steps from the dining-room or through the boiler room, but the guest house has its own formal entrance and glass-fronted door from the front of driveway.
The guest house is surprisingly spacious and has been carved out of the old stables. As such, it has a rustic feel, with the old feedings pens running along one wall, and the ancient beams overhead.
The guest house comprises a large open-plan reception room, with an open-plan kitchen/bar area.
A room which currently houses a pool table.
A flight of wooden stairs runs up to the first floor, where there is a small landing with a large double bedroom on each side, and a central bathroom with a shower-room dividing the two.
There is also a small downstairs bedroom, with a mezzanine, which is perfect as a child's bedroom.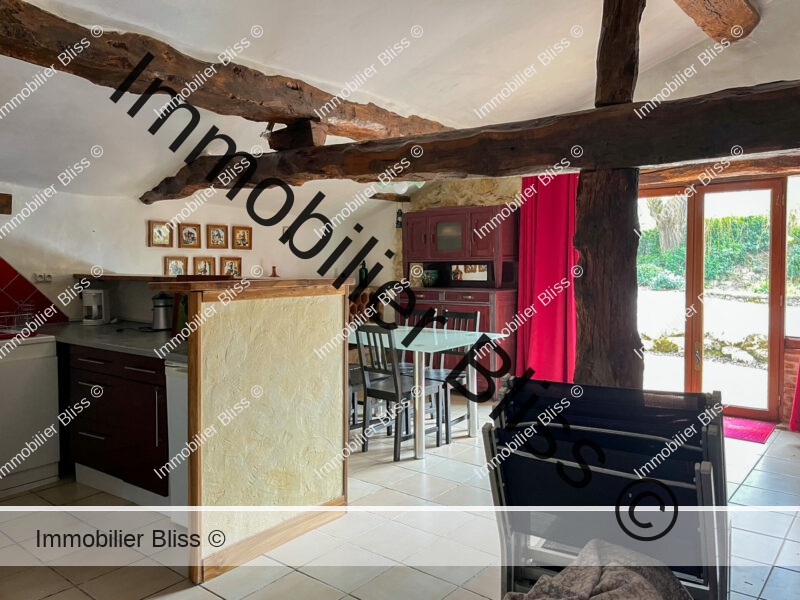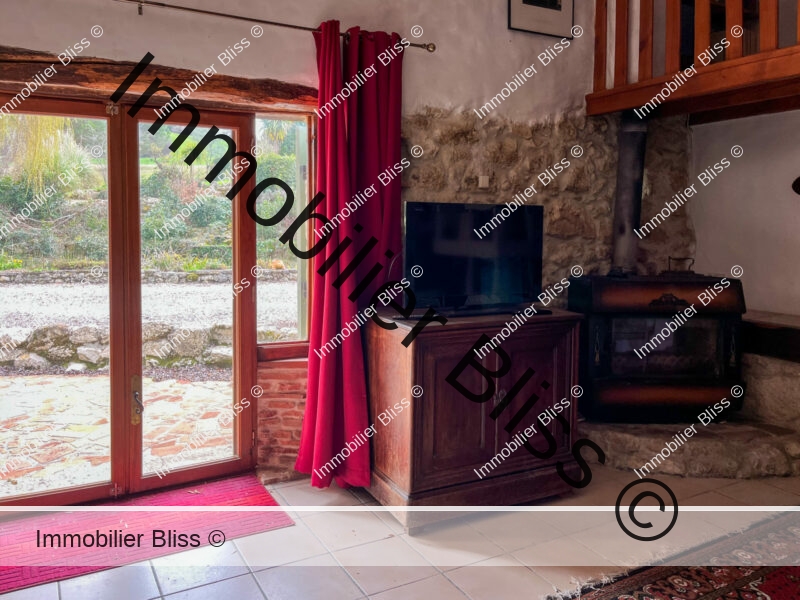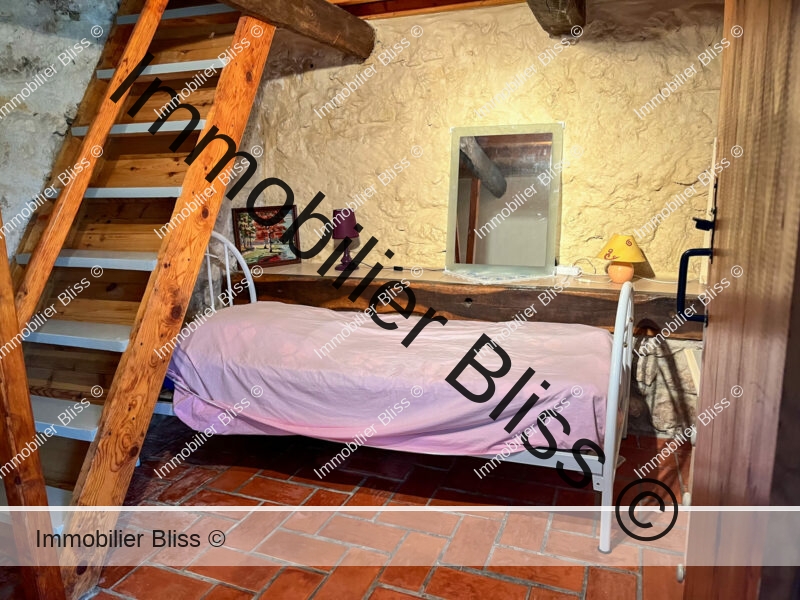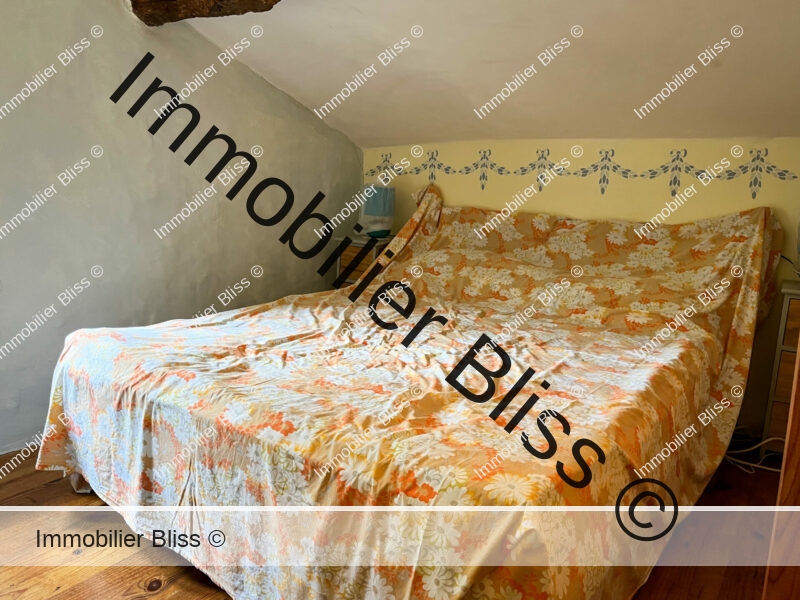 Our thoughts here at Bliss
We love the location of this property. From the gardens one has an elevated sense of space, and calm, over the neighbouring fields, with interesting views all around, and far-reaching views of the closest village. This is a good location for tourism, and popular all-year round. The local market town of Saint Clar has seen much development in recent years, as Lectoure has become busier and fuller by the year, new shops have spilled over into Saint Clar, with the recent opening of a very good tea-room, and an organic vegetable shop, as well as the existing shops and supermarkets. There is strong local flavour and colour to the town of Saint Clar, which has preserved its authenticity. Each year there are meals held under the central covered market place, and an annual garlic festival. The town also benefits from a doctor's surgery, a fantastic chemist's, a pizzeria and two other restaurants. There is also a fantastic library and mediatech on the main square by the church.
This is a good local village to have for anyone wishing to be part of a busy Gascon community. The local lake and restaurant of St Clar are popular with anyone thinking of developing a chambre d'hôte or gite.
This property is the perfect all- year round residence, but is spacious enough for family and friends, or for the development of a business, with the rental of the guest annexe.
More images…
Click images to enlarge
On a Technical Note
Central Heating
Septic Tank
Swimming Pool
Double-glazed PCV windows
Measures (approximate)
Main house
Ground floor 
Living room : 44.60 m²
Dining room : 30 m²
Kitchen : 17.70 m²
Clearance and  toilet : 6.70 m²
Bedroom : 18.25 m²
Cellar / boilier room / wine cellar : 14 m²
1st floor 
Bearing : 1.20 m²
Bedroom : 20.15 m²
Bathroom : 13.50 m²
Toilet : 1.90 m²
Bedroom / game room : 36.25 m²
Guest house
Ground floor 
Entrance / room : 22.70 m²
Living room / dining room / kitchen : 44.50 m²
Riddance : 2.40 m²
Bedroom  with mezzanine : 9.70 m²
Storage : 2.40 m²
Sjower room WC : 7.70 m²
1st floor
Bearing : 1.20 m²
Bathroom : 12.50 m²
Toilet : 1.90 m²
Bedroom : 15.50 m²