Stunning Maison de Maître
in Auch
Family Home in a Quiet Neighborhood
Close to the centre of Gascony's lively capital city this elegant 18th century property sits in a quiet lane with a surprisingly rural feel for a home which has a vast array of amenities on its doorstep.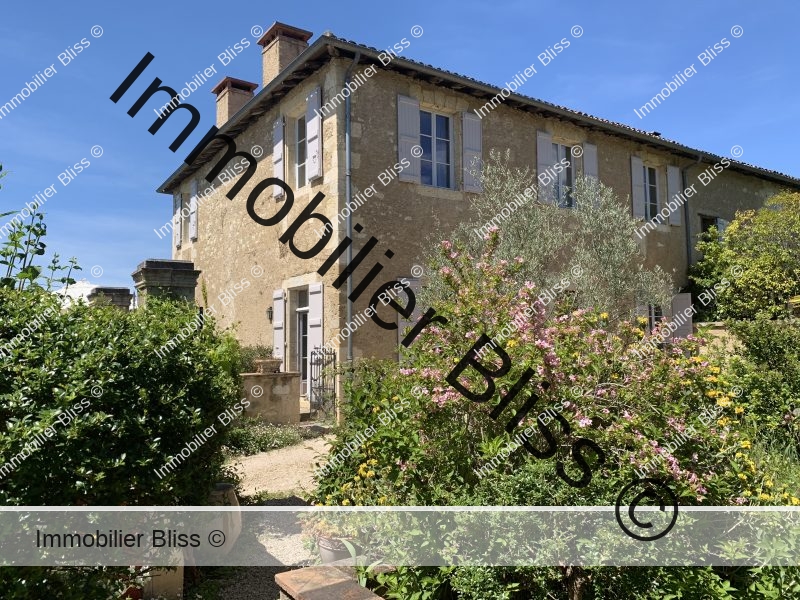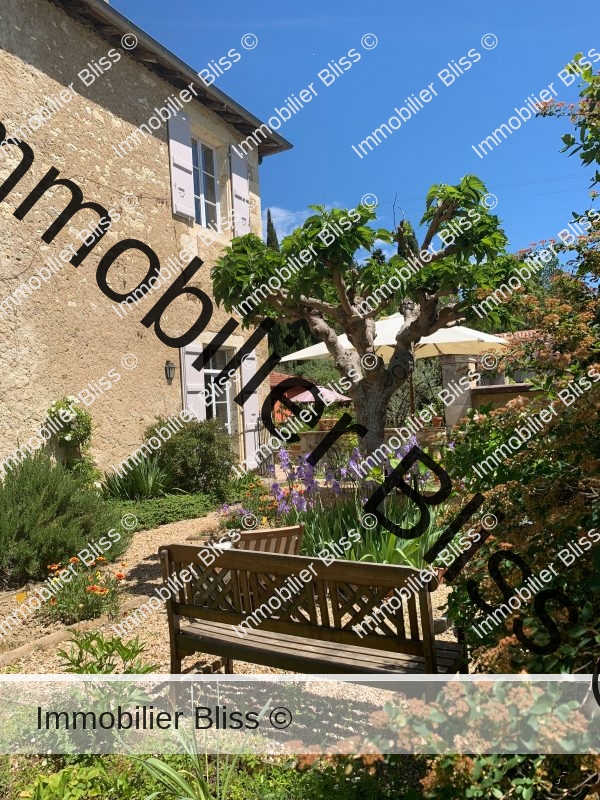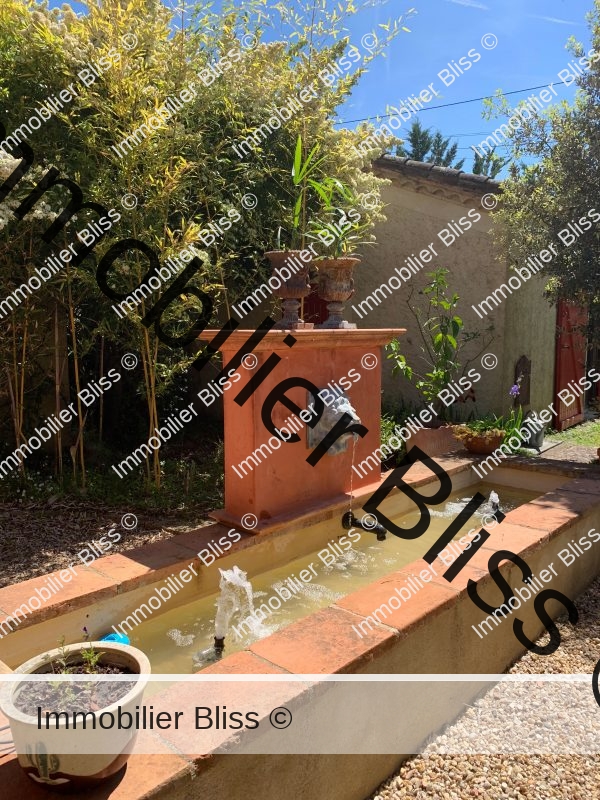 The impressive high stone walls of this typical Gascon manor house, rise from a country-style garden which has been created from scratch by its green-fingered owner. The garden comprises several different sitting areas, a fountain and a red-walled building with echoes of the Chinese gazebo in its burnt cherry walls. This outbuilding could be used as an artist's atelier and is a vibrant flash of colour amidst the pale green foliage.
The current owners have put their heart into the restoration of both the house and garden over the last twelve years. Works have been extensive, including the fitting of a new roof, a new kitchen and bathrooms. The result is a fine home, which has maintained many of its original features, and whose internal fixtures and fittings are in perfect harmony with the period of its construction.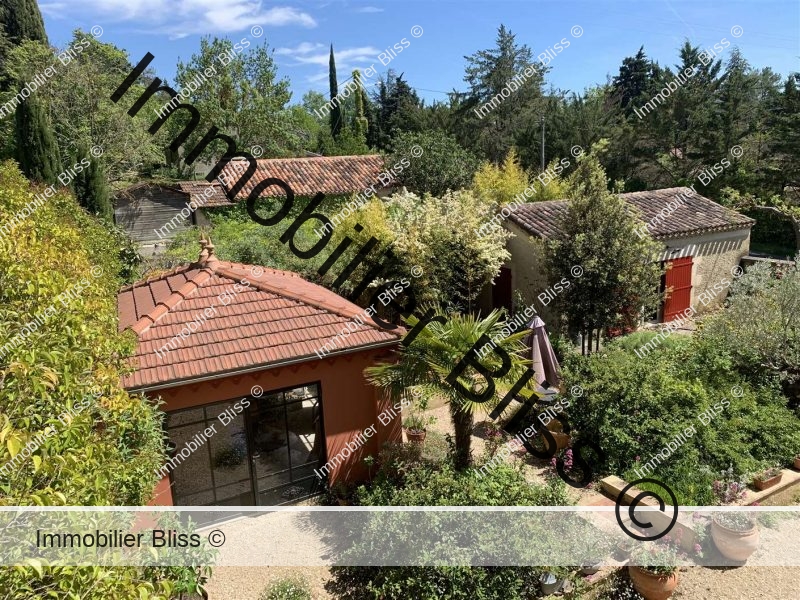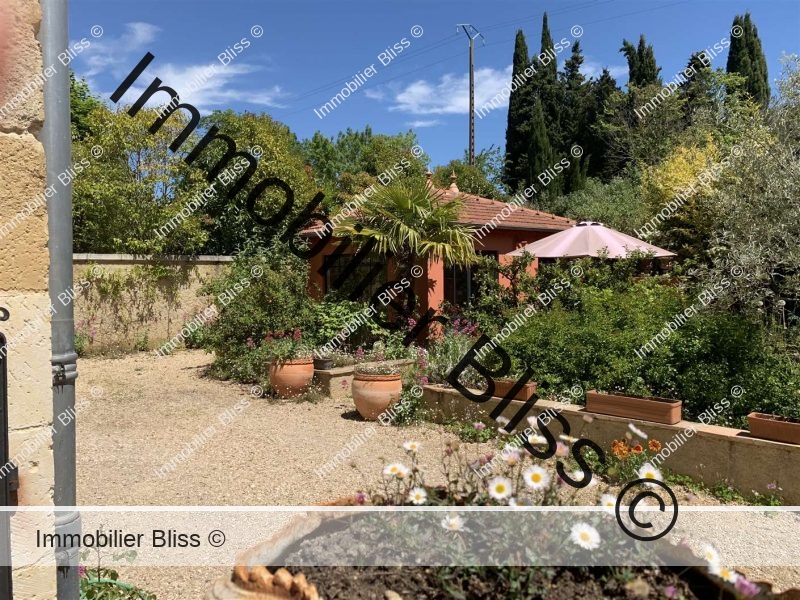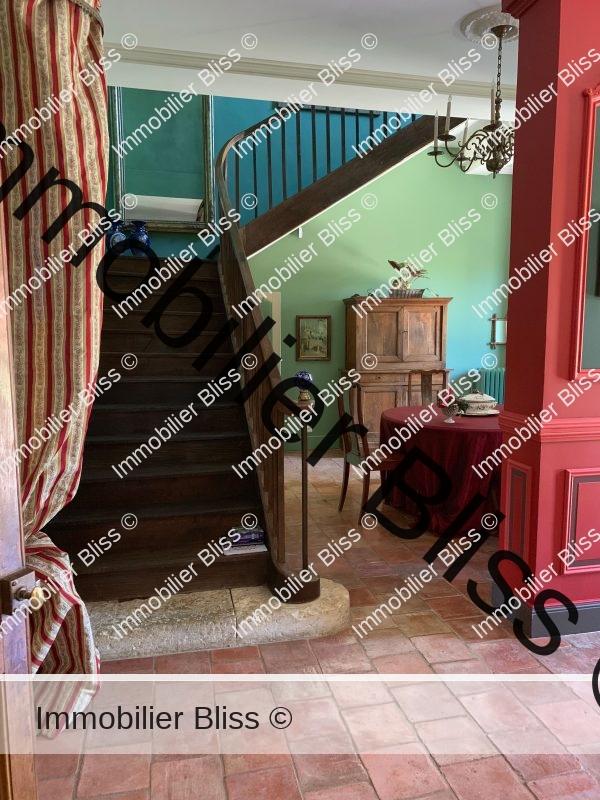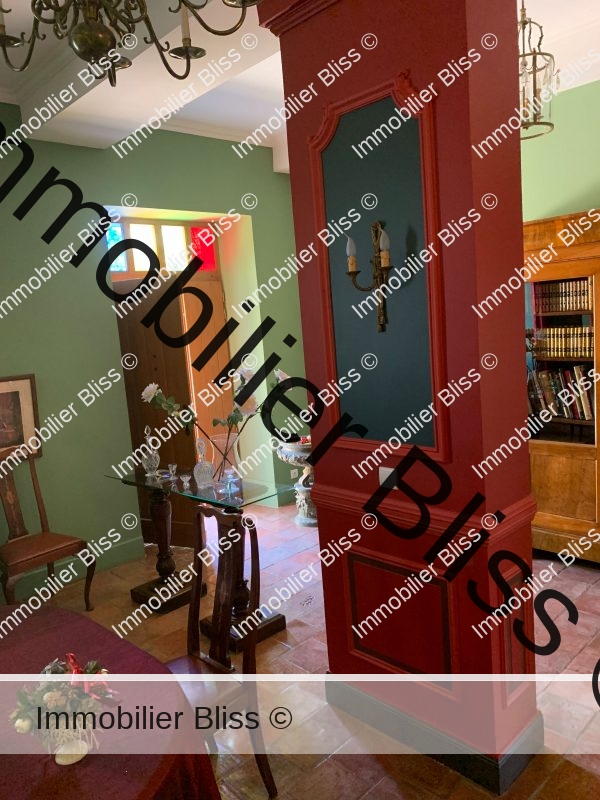 We enter the property through a grand hallway our eyes focusing immediately on the original staircase which rises gently upwards, with its oak steps and wrought-iron handrail.
The kitchen is south-east facing, and a naturally light room, generous both in length, breadth and height. Throughout the property the high ceilings lend an air of grandeur and space to the house. There are French doors from the kitchen to the gardens and to the feature water-basin.
The main reception room, also double aspect, showcases a lovely stone fireplace. The downstairs is completed by a corridor leading to a bedroom with a dressing room/bathroom with shower, and utility room.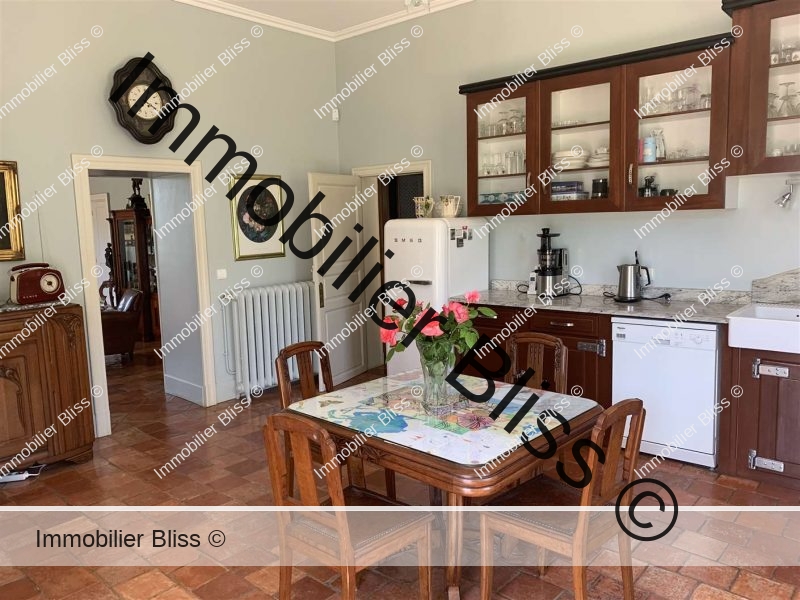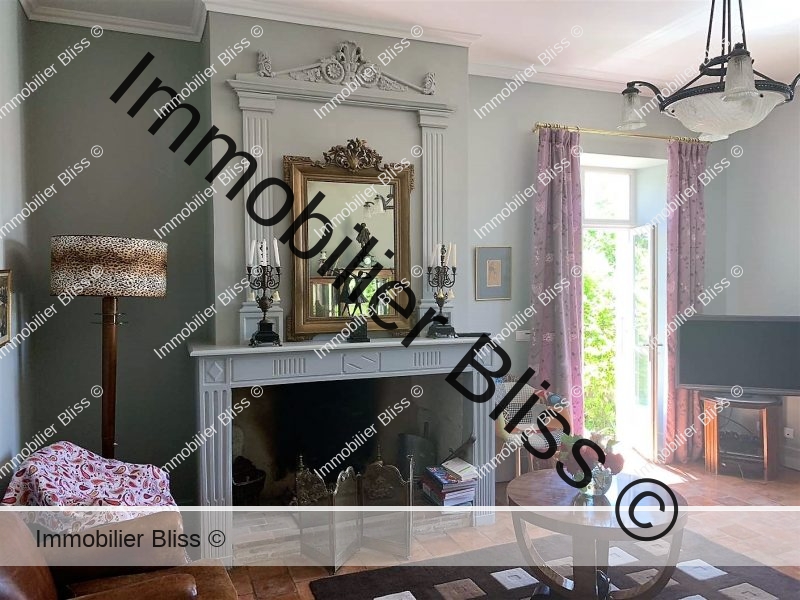 Upstairs the wide landing spans the breadth of the house and is divided in the middle by a set of original doors.
There are three good sized bedrooms, one of which has a fabulous old-fashioned bathroom as well as a more modern shower/toilet annexe. The other two bedrooms share a shower-room and a separate WC.
The property has a wealth of original features throughout and it is clear to see in every room the evidence of fine quality materials: fine parquet floors, doors and fireplaces. This would have been a grand home for the 18th Century Gascon master who lived here.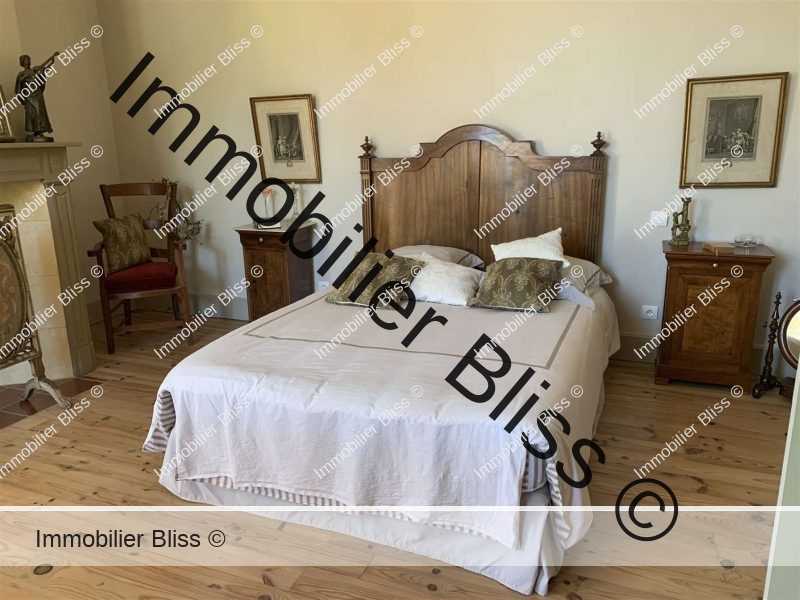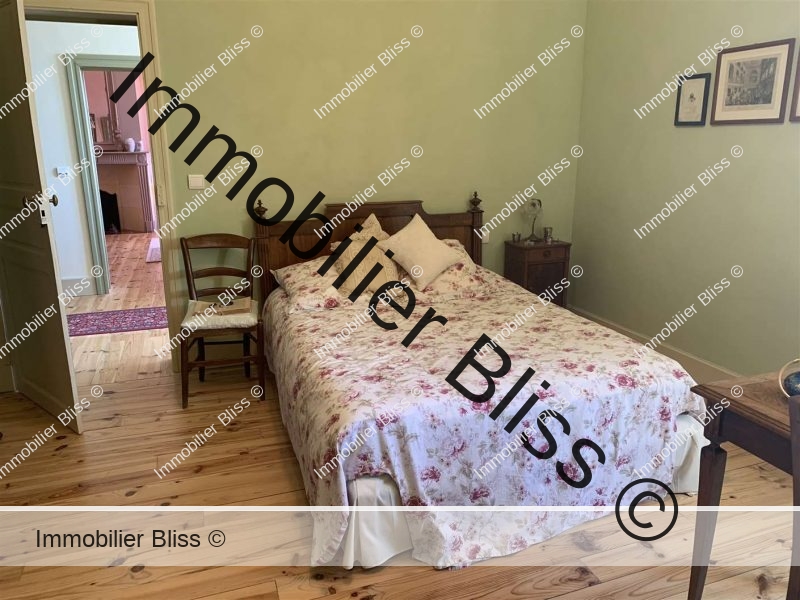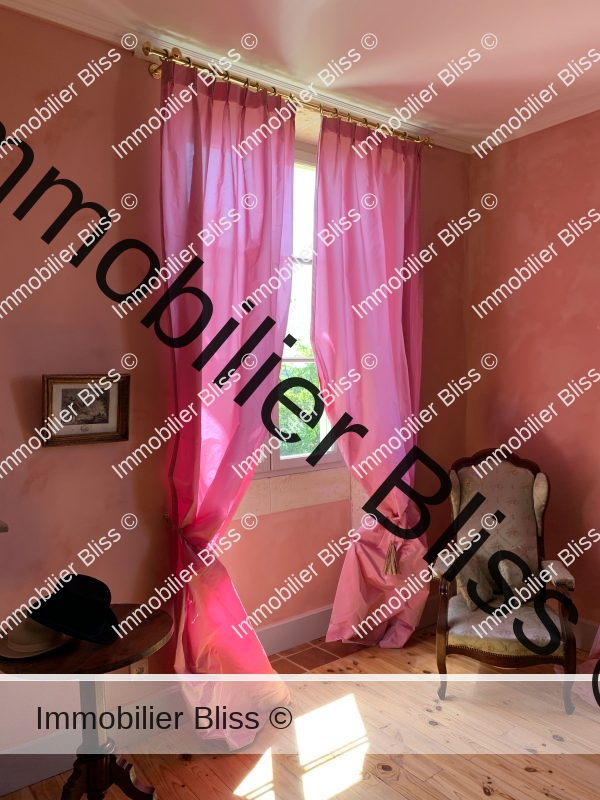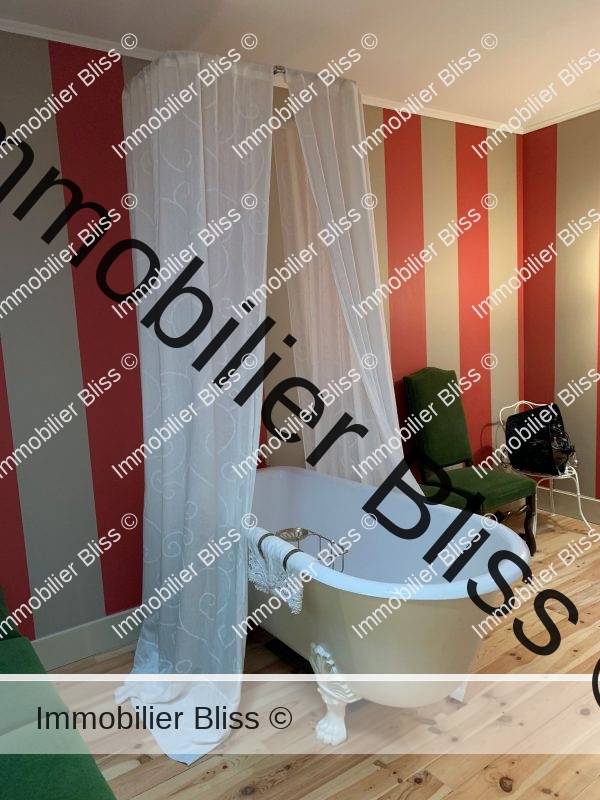 To whom will this property appeal?
Lovers of the elegant style of the 18th Century and a family looking for a grand style home within easy access of the town centre. A professional might easily work from home using the gazebo-style outbuilding as an office. A family with children wishing to live close to town.
The current owners have dressed the home with pieces redolent of the Art Déco period. This is a home where fine chairs and tables; vases and paintings sit well.
This is a coquettish house; one can imagine a grand lady in a long dress, floating down the stairs to dinner, candles twinkling in the gilded mirrors.
This home is the opposite of rustic. There are no beams here, the walls are smoothly plastered and painted in freshest white.
A house certain to appeal to lovers of antiques, who enjoy the refurbishment of a period-style home.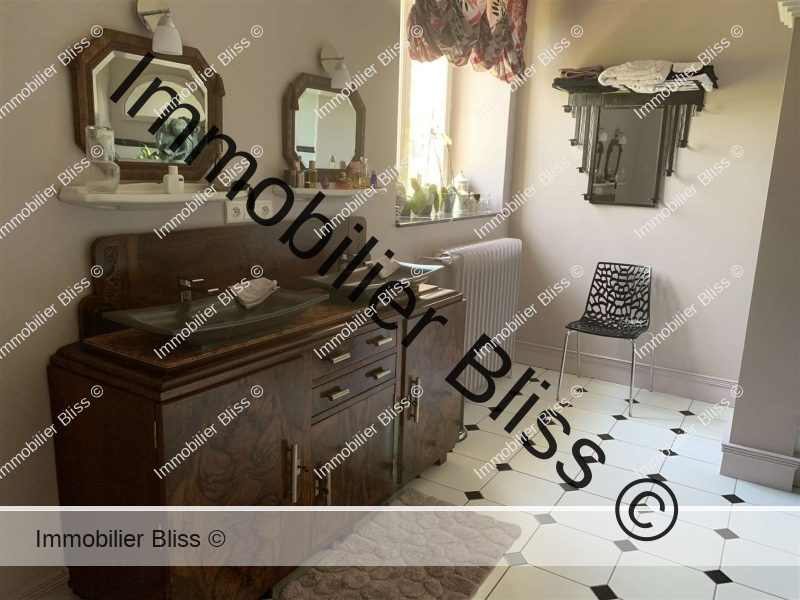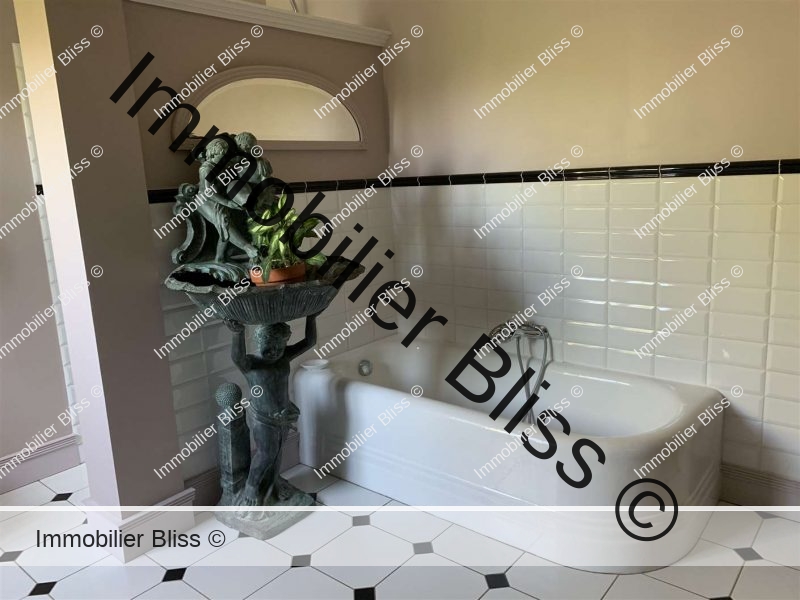 Here at Bliss
A beautiful home where it is clear to see how much attention and care has been given in its restoration. Tomorrow's owners can move in, and crack open that ubiquitous bottle of Champagne and enjoy life on the rim of Gascony's capital city.
More images…
Click images to enlarge