Authentic 17th century house
renovated, 5 rooms and two flats
with pool on large wooded grounds, Gamarde les Bains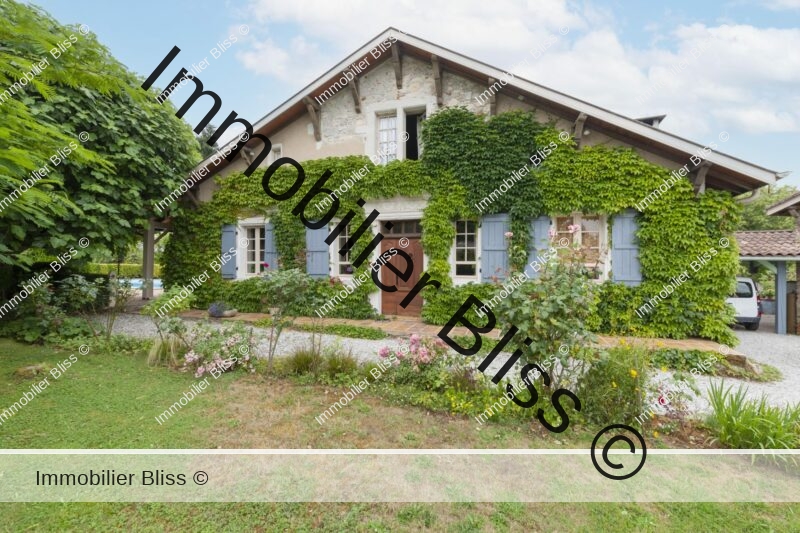 Toutes les mesures sont approximatives
Chauffage
Oil-fired central
Frais d'agence inclus (5%) à la charge du vendeur
Where are we?
Just outside the village of Gamarde les Bains and a few minutes from the villages of Montfort en Chalosse and Hinx. Close to Dax and its TGV station and about forty kilometres from the Landes beaches. In Gamarde you will find an important social and community life and an impressive historical heritage.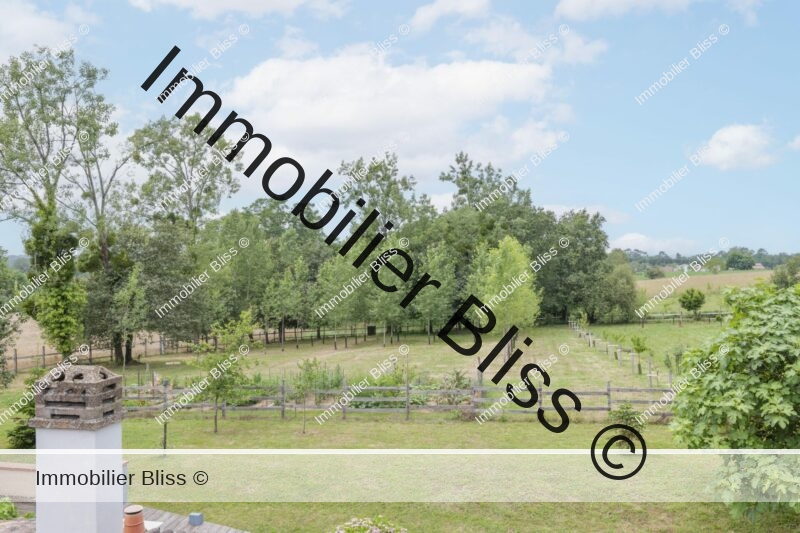 Tell me about the house
This stone house with its typical "capcazalière" architecture has been completely renovated by the current owners. It has two levels and approximately 260 m² of living space. It is composed of two communicating flats with independent access. The property is completely closed and private. It has a very convivial swimming pool area, a garage, a workshop and an additional area where the old bread oven is located.  The whole property, both inside and outside, is perfectly maintained by the current owners.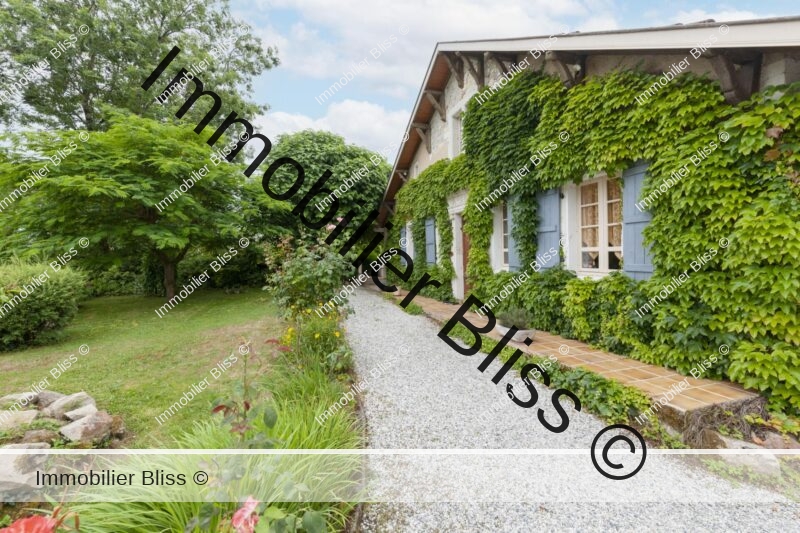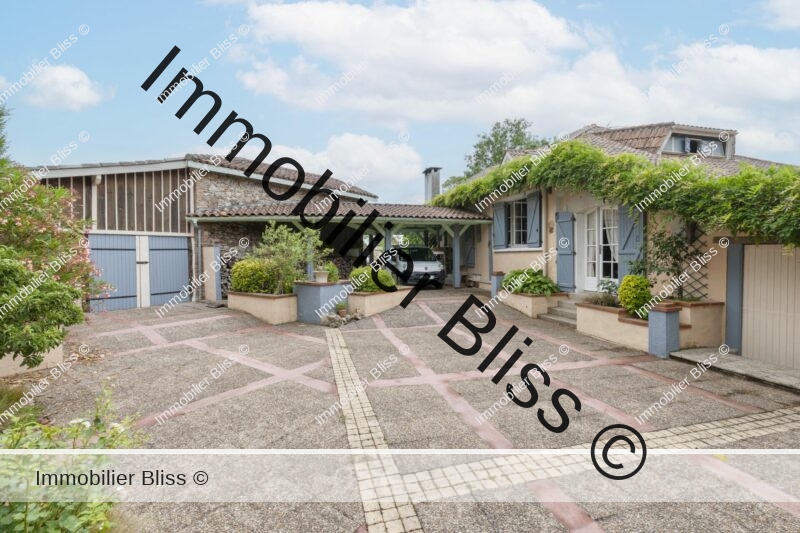 The interior
The entrance
The main entrance leads directly into a large space with a bar, which opens onto the dining room, which is very bright and has a skylight. Next to it is a study area and a library created by the owner with old oak beams recovered here and there. The majestic stone fireplace gives character to the room but is not in working order.
The kitchen
To the right of the entrance is the kitchen and its scullery, which can also be accessed from the car park: very practical when returning from shopping!
The living room
The living room has been designed on the ground floor to provide a cosy space to watch television and enjoy the fireplace.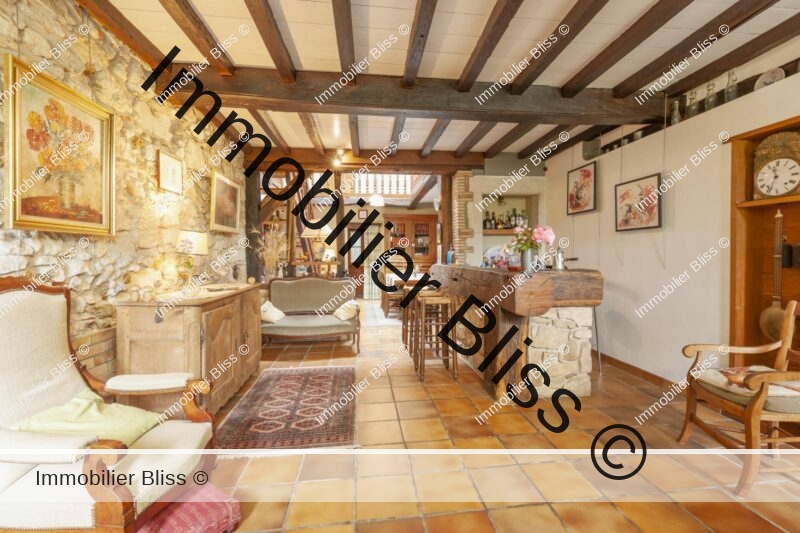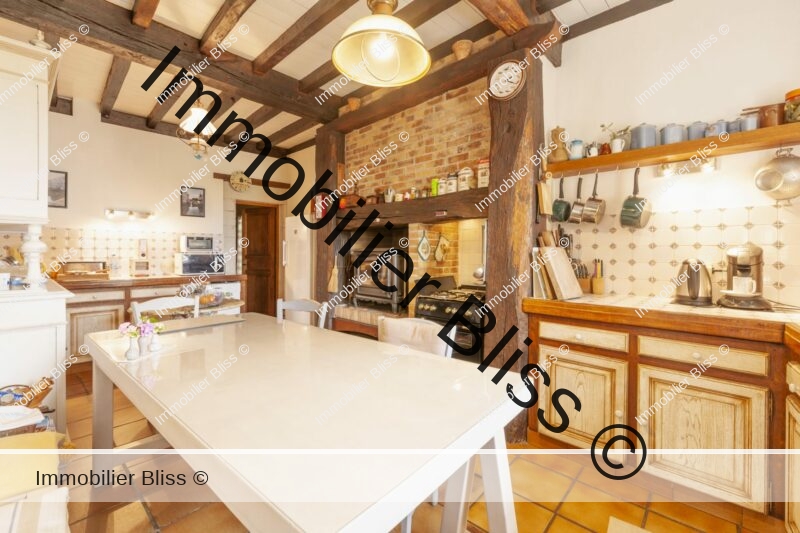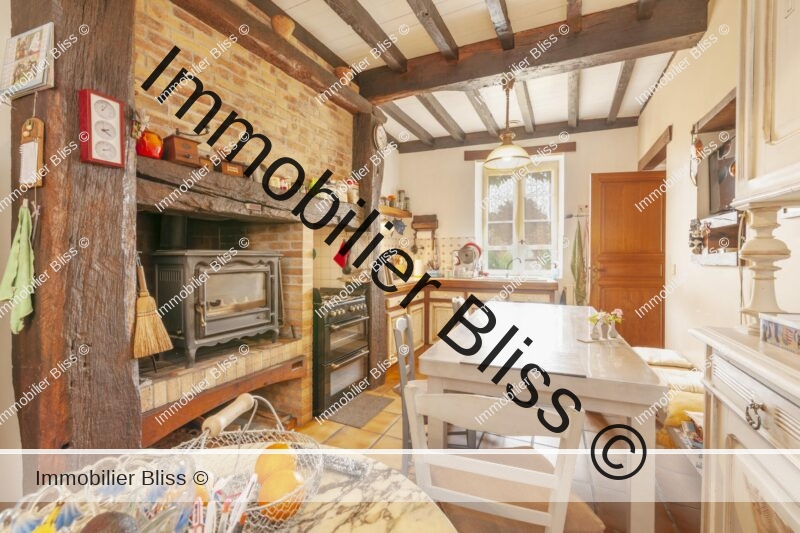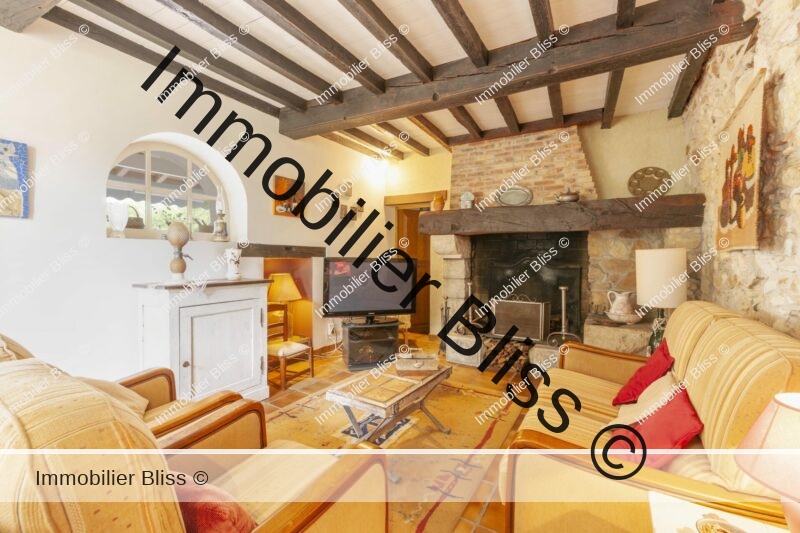 The first floor
From the dining area we climb the stairs to the first floor landing which has 4 large bedrooms, all with air conditioning, a bathroom and a toilet.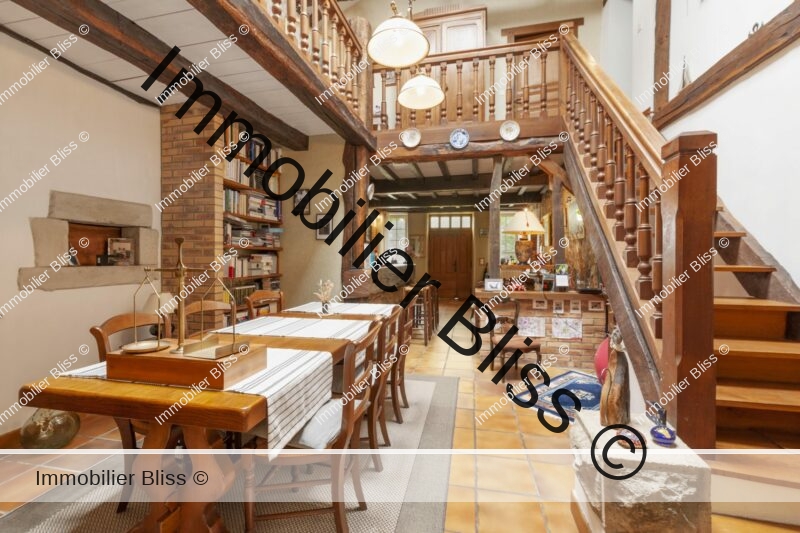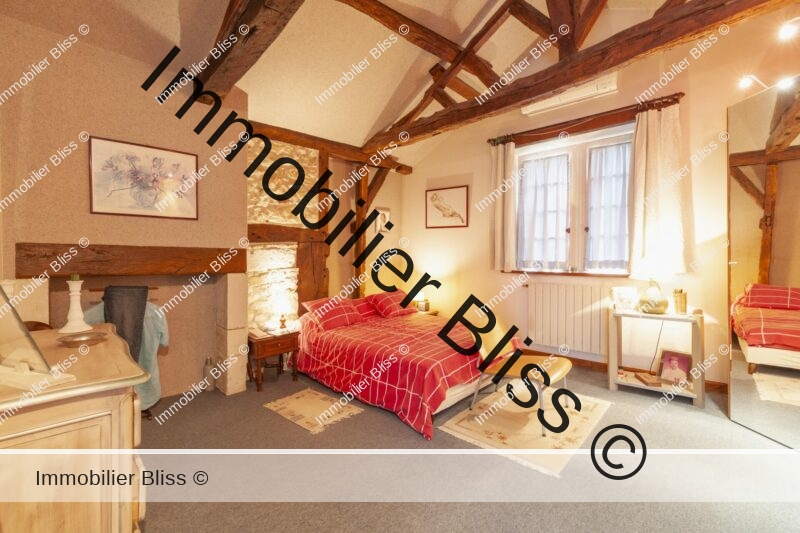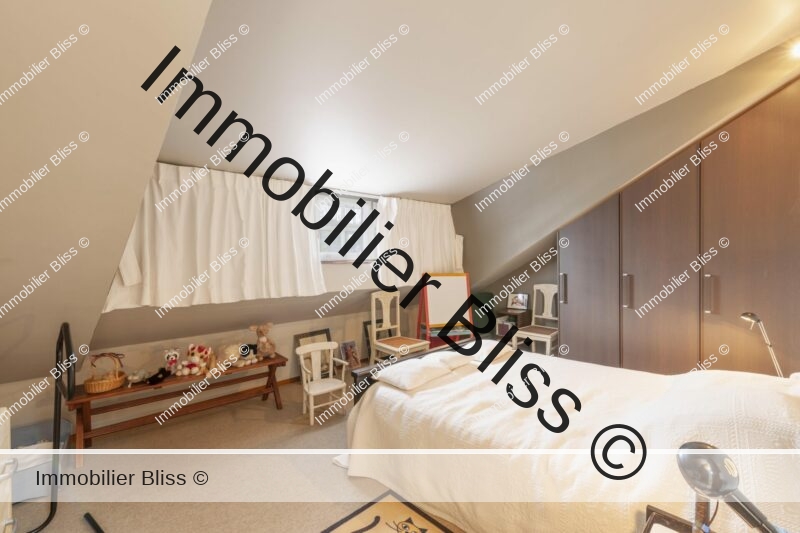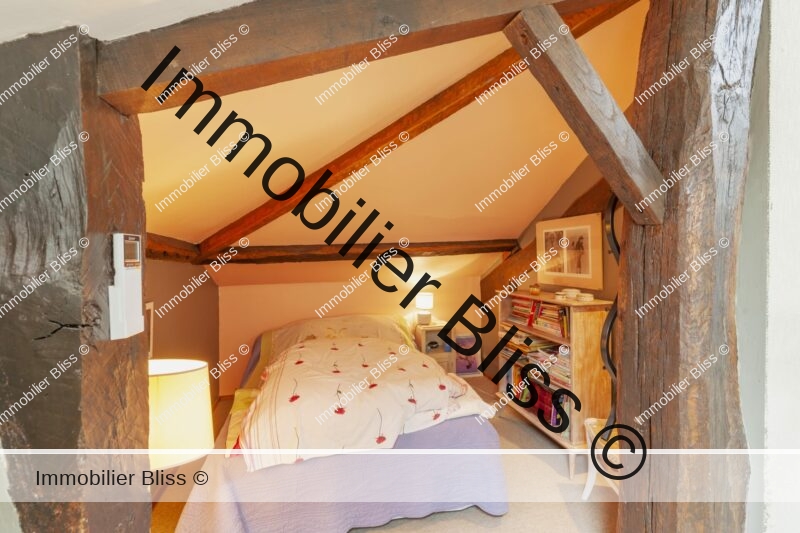 The second living area
On the ground floor there is a second living area: it can be accessed through a door from the dining room or directly from outside the house. This additional area of approximately 75 m² was created by the owners to accommodate their parents: it consists of a living and dining room, an open kitchen, a bedroom (air-conditioned) and a large bathroom with stump and bathtub and a separate toilet.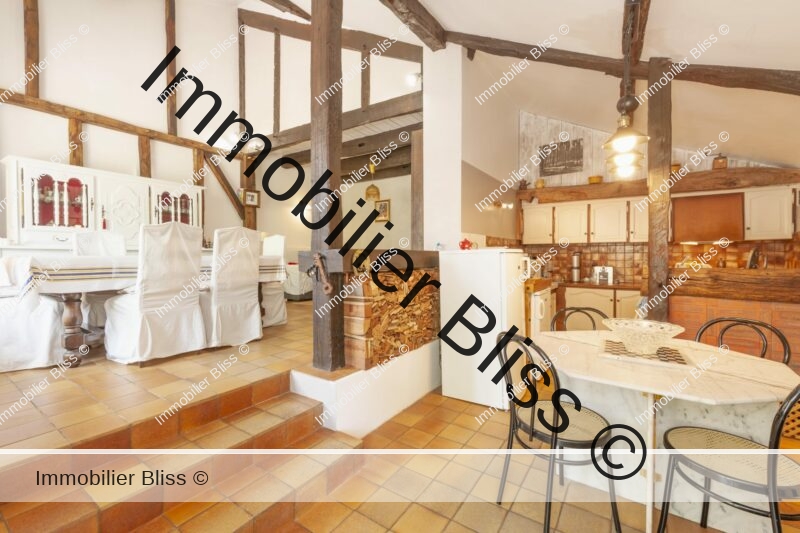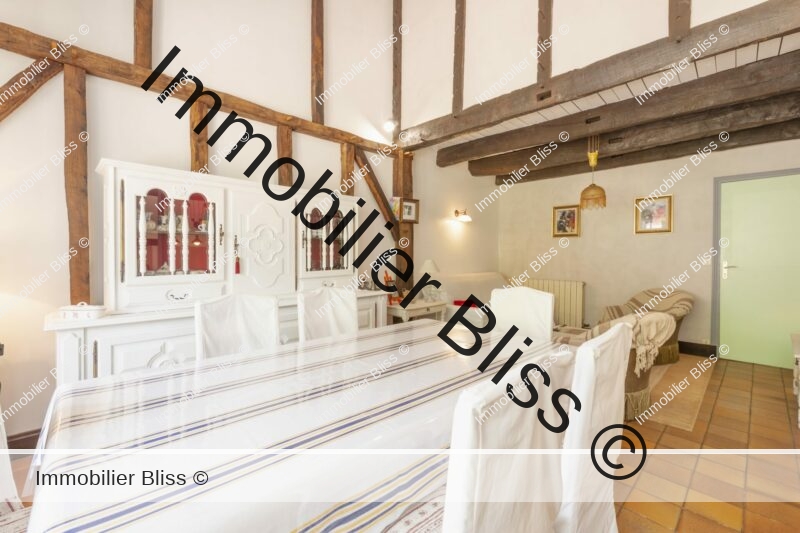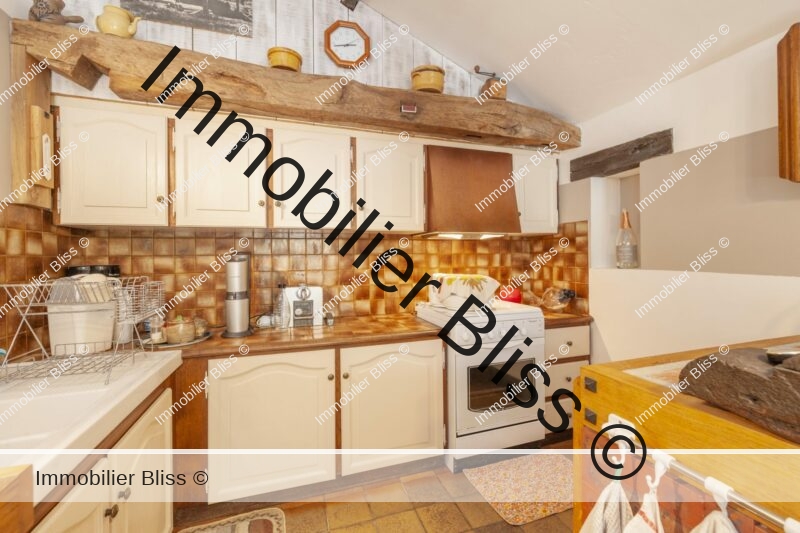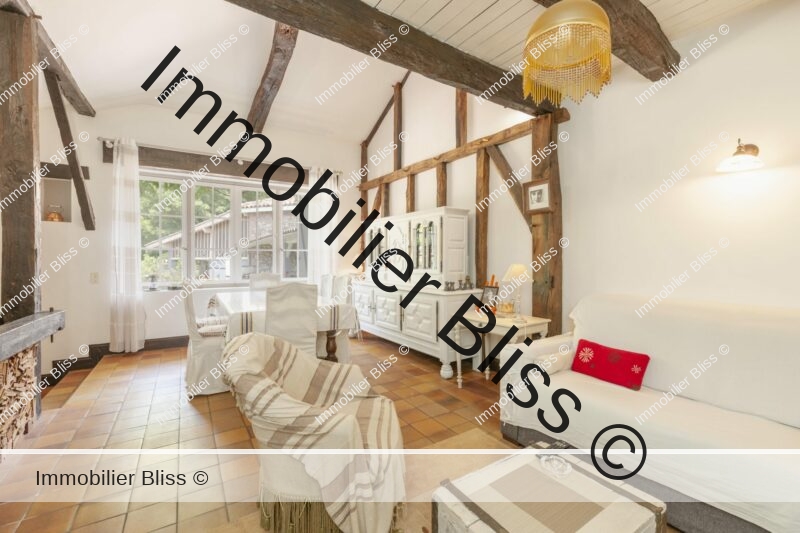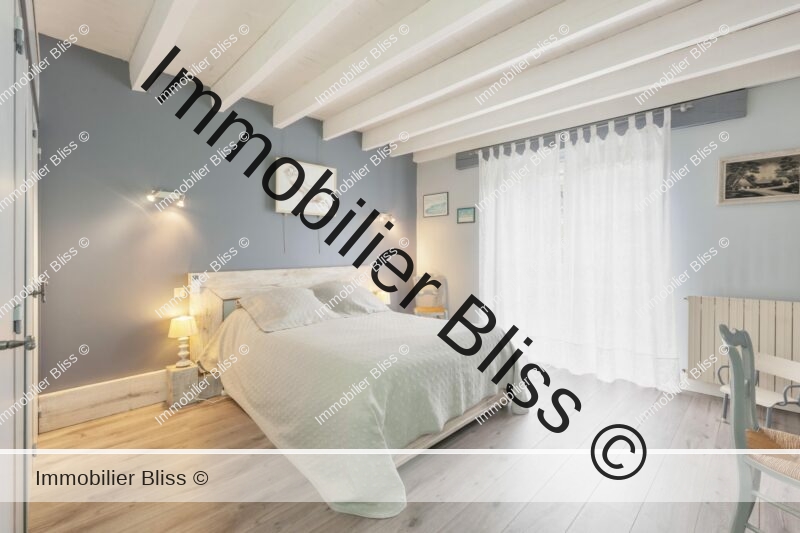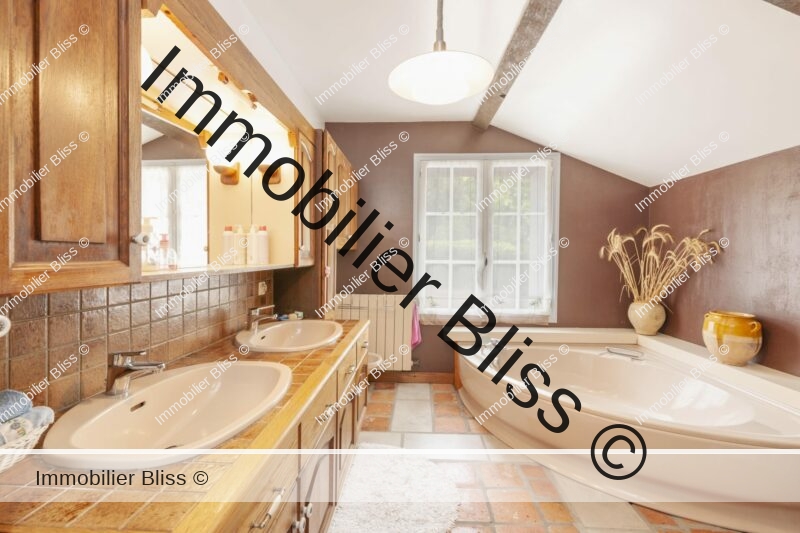 The exteriors
Great care has been taken with the outside areas and many varieties of flowers, shrubs and trees have been planted. Around the swimming pool the area is fully landscaped and tiled with a summer kitchen and a covered terrace which provides welcome shade on hot summer days.
To the rear of the house is the workshop and immediately adjacent to the house is a barn with an upper floor for parking a car. There is also an old bread oven in working order.
The whole land is about 8000 m² and part of it is used as a vegetable garden, and finally at the bottom of the property there is a fenced meadow that could accommodate an animal.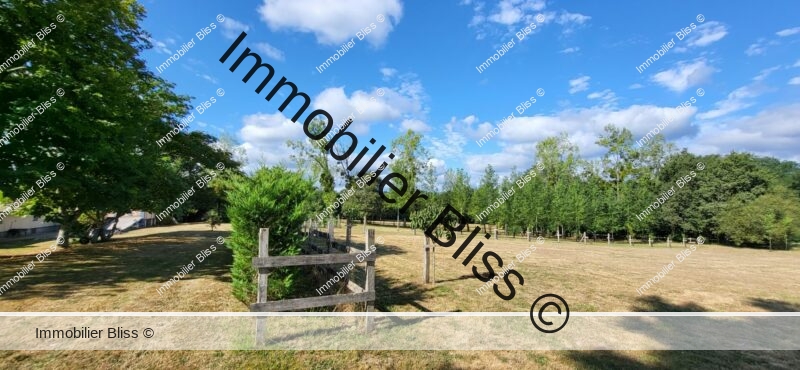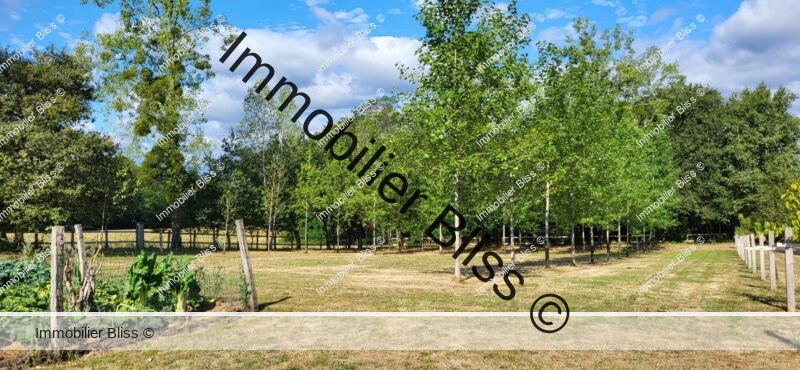 Our thoughts here at Bliss
This property is very well maintained and will not require major work. It could make a lovely family home. It is rustic in style and will appeal to lovers of old stone looking for a house with character that does not look like its neighbour. It has all the comforts.
The swimming pool area is very convivial and offers the promise of good moments of conviviality.
The second dwelling can accommodate family and friends independently or can be rented out to tourists or spa visitors: there is a significant demand in the area with the thermal baths of Préchacq les Bains located a few kilometres away.
In the things to be done we think that it will be necessary to plan to replace the oil boiler by a more recent system.
However, if you are looking for absolute peace and quiet, this house is not for you, as the road passes in front of the house.
More images…
Click images to enlarge
Positive points to remember:
Geographical location 20 minutes from Dax and close to villages offering all services (shops, pharmacy, doctor, associations, leisure activities ….)
Additional flat that can be rented
Large plot of land
Technical aspects
Oil-fired central heating
Air conditioning on the first floor and in the ground floor bedroom
Fireplace in the living room
Septic tank
12×6 m chlorine pool with alarm
Well
Working bread oven
Measures
Main house
Entrance Bar : 43 m²
Kitchen : 21.10 m²
Living room: 21 m²
Dining room : 15.9 m²
Cellar : 9.50 m²
Bedroom 1: 17 m²
Bedroom 2: 19.8 m²
Bedroom 3 : 15.40 m²
Bedroom 4: 11 m²
Bathroom: 5.9 m²
Workshop/boiler room: 45.5 m²
Barn and bread oven: 64 m² plus first floor 28 m².
Flat
Kitchen: 19.10 m²
Living room: 23.10 m²
Bedroom: 15.80 m²
Bathroom: 17.10 m²